A Lot of People Want Bernie Sanders to Run in 2020
Including the Republicans who believe there's no way he can beat Donald Trump.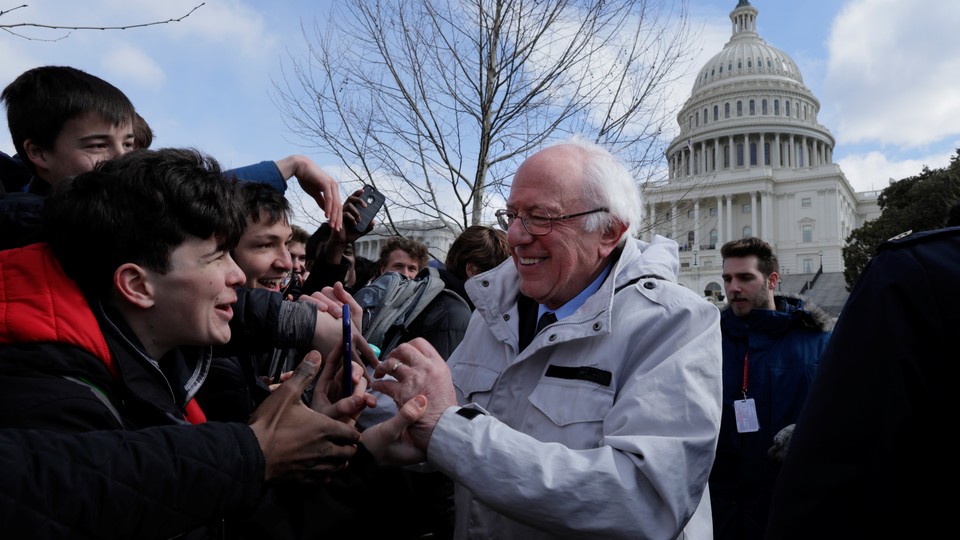 Bernie Sanders's decision about  running for president again isn't about trying to bend the race toward his progressive politics—it's about whether he can convince himself that he's the Democratic candidate with the best chance of beating Donald Trump.
He thinks the answer might be yes, but he isn't quite sure.
On Tuesday, he'll release his new book, Where We Go From Here, a rundown of the ways he's been able to keep a hold on American politics, from the demands he gave Hillary Clinton at their post-primary meeting to his political and legislative wins since. He'll kick off the release with a speech at George Washington University on Tuesday night, and later in the week he'll convene a summit of allies at his Sanders Institute, back home in Burlington, Vermont.
Meanwhile, Sanders is trying to figure out where he goes from here.
"Going out there and being able to articulate a progressive vision and not being able to beat Trump is not good enough," said Jeff Weaver, Sanders's 2016 campaign manager and part of his inner circle.
Among many Sanders supporters who love him and cheer for him at rallies but still wonder whether he could really go all the way, that's the debate circulating: Would he be able to have a bigger influence on the 2020 race by getting in himself or by sitting it out and looming over everyone who ran?
Most Republicans would see a Sanders candidacy as a gift, letting them paint the entire Democratic Party in socialism. The idea that he might emerge as the candidate against Trump is too much of a dream for them to even admit. Many Democrats agree.
Sanders's team thinks all those people haven't woken up to the new political reality, or to the power clearly demonstrated this year by independents and Millennials.
"He's uniquely positioned to do better against Trump in the general because he appeals to white working-class and rural voters—much better than a conventional Democrat does," said Ben Tulchin, who was Sanders's 2016 pollster and remains in touch with his team. "He also is very popular and has done well in the Midwest, such as Michigan and Wisconsin, which are critical to winning."
Most of the potential 2020 Democratic candidates deciding whether to pull the trigger are deep into staff interviews and debates about the timing of exploratory-committee announcements, but Sanders has turned inward. The number of people he's actually talking to is tiny. The time they're spending on what they consider the transactional politics of endorsements and influence is close to nonexistent.
"The place where the country is now is so far off, so out of whack, that those kinds of tactical discussions really don't give an appropriate amount of appreciation of the danger that Trump and his kind of politics represent to American policy," Weaver said. "If you had a crystal ball and could say, 'This is the person, and the only person who could beat Trump,' then you would have the entire party lining up against him. But I don't think that's clear yet."
Sanders knows that a 2020 campaign would be his last shot at running for president—he turned 77 in September. But he also knows that running isn't the only way he could be a factor. Some around the senator, who was just reelected to a third term, think he could be a presence in the chamber while continuing to be the kind of outside force that helped pressure Amazon to raise wages over the summer.
Sanders's midterm campaign swing was, on the one hand, a success—no prospective presidential candidate drew crowds as big as his, and he drew them consistently, from South Carolina to Iowa to Colorado. Candidates as varied as Jacky Rosen, who won her Senate race, and Andrew Gillum, who narrowly lost his governor race in Florida, were eager to appear with him. On the way to the University of Reno rally, Sanders stopped by the Culinary Workers' union hall and was greeted with chants of "2020! 2020!" There were a number of events like that off the public schedule during Sanders's tour, as well as meetings with local politicians and other leaders who struck the senator and his team as being much more open to him than they were the last time around.
And he and the crowd were both clearly enjoying it in Reno when he directly took on the protesters holding a Trump flag off the side of a multistory parking lot. "Really?" he said. "Do you really want to give a trillion dollars in tax breaks to the 1 percent? Do you really want to throw 32 million Americans off the health care that they have?"
On the other hand, many of the candidates Sanders campaigned for lost, and many of the bigger calculations that would be part of a 2020 run are setting in. In a field this big and fluid, none of the candidates can claim their chances of winning are high, and Sanders has slowly accepted that he'd likely start with a much smaller share of the vote than he ended up with when it was a binary choice between Hillary Clinton and him in 2016. He is high up in the polls, and he might have high name recognition, but he'd be fighting for attention and votes in a field that could range from Elizabeth Warren to Mike Bloomberg, and include everyone in between.
Imagine instead, say some Sanders supporters and some operatives working for competitors not eager to compete with him, that he sits out the race. He could then have everyone else spend the campaign appealing to him for support and living in fear of even a chiding tweet about straying too far from him on Medicare for All, college tuition, or anything else. He could boost or kneecap whomever he wanted, whenever he wanted. They'd all be dancing to his music.
To Vincent Fort, an early Sanders supporter and a Georgia state senator, the idea of being an outside influence sounds a lot like the argument that was used to urge him against getting into last year's Atlanta mayoral race.
"It seems like you've got candidates putting up schemes or ideas to undercut his candidacy," Fort said. "You've got people saying, 'Bernie elder statesman, influence maker.' The best way to influence policy in this country is to be president of the United States."
Fort lost his race, failing to make the runoff round.
Abdul El-Sayed, who ran a Sanders-inspired and Sanders-endorsed primary campaign for governor in Michigan this year, which ended in a distant loss, said he knows jumping in again will be a difficult decision, but he hopes the answer will be yes. El-Sayed said he thinks Sanders will "make an extremely strong president." And if it doesn't lead to the Oval Office, El-Sayed said, "that race is more robust with him in it, independently of where we ultimately end up."
Ro Khanna, a California congressman who in 2016 knocked out an incumbent Democrat on his second try for the seat, said he thinks Sanders should run again—and he has told the senator directly.
The goal, Khanna said, is "not simply occupying the presidency, but shaping the policy direction for the nation and the policy direction of the progressive movement and the country … I don't think you can do that behind the scenes, being a kingmaker."
In Where We Go From Here, Sanders notes his successes in getting the Democratic National Committee to eliminate superdelegates and in persuading many Democratic politicians to sign on to Medicare for All. He lays out his foreign-policy philosophy. He also devotes chapters to his support for gun-control laws, addressing a weakness in his record that Clinton exploited in the 2016 campaign, and another to Martin Luther King Jr., which seems aimed at the weakness he had attracting black voters.
"The political revolution is about thinking big. It's not about one election, one candidate, one issue. It's about creating a movement that will transform the economic, political, social and environmental life of our country," Sanders writes in the final chapter.
A few pages later, he ends the book on a vaguer note than Weaver, whose own book, out this past spring, ended, "Run Bernie run!"
"This is not a time for despair. This is not a time for depression. This is a time to stand up and fight back," Sanders writes. "Please join us."