What Sessions's Resignation Means for Robert Mueller
His temporary replacement, Matthew Whitaker, has expressed skepticism over the scope of the Russia investigation—which he'll now oversee.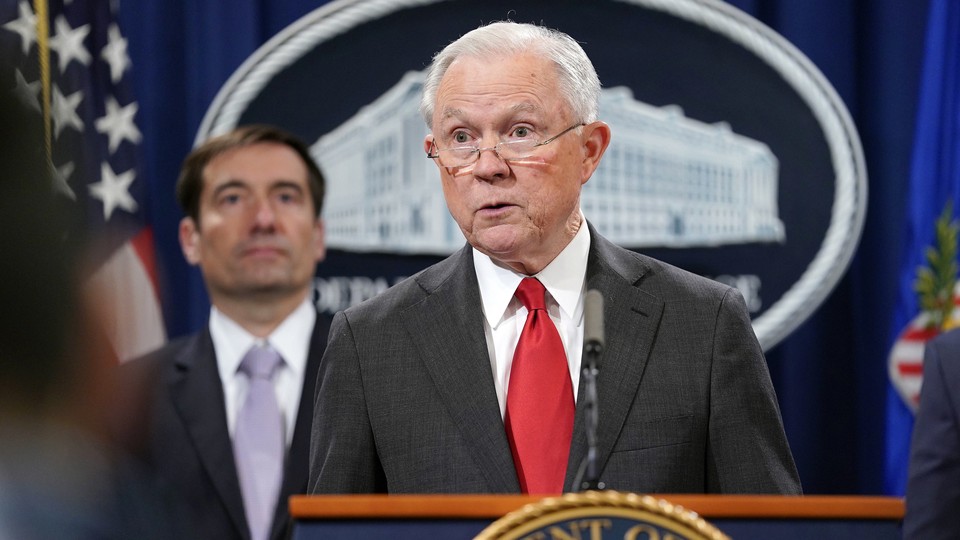 President Donald Trump has forced out Attorney General Jeff Sessions just one day after the midterm elections and after nearly a year of berating him for recusing himself from the Justice Department's Russia investigation. Sessions's temporary replacement—Matthew Whitaker, his chief of staff—is now effectively Special Counsel Robert Mueller's new boss. But he's expressed repeated skepticism over the scope of Mueller's inquiry in the past, raising immediate questions about whether he will try to limit it.
Trump, who has been unsparing in publicly castigating his own Cabinet official, had been hinting that he would ask for Sessions's resignation following the elections. Privately, Trump has reportedly called him an "idiot" and said that hiring him was a mistake. He first asked Sessions to resign following Mueller's appointment to lead the probe in May 2017, according to The New York Times, but then wouldn't accept his resignation.
Legal experts and political strategists who have either worked directly with the president or observed his behavior from afar attributed Trump's reluctance to fire Sessions to two major considerations: fears in the White House that the move would cost the president support among GOP voters and members of Congress, who generally like and support Sessions, and the risk of provoking further allegations of obstruction of justice—both of which could deepen the challenges already facing the administration.
Elie Honig, a former federal prosecutor in the Southern District of New York, told me that Trump's decision to oust Sessions and replace him with Whitaker probably wouldn't be considered an obstructive act in and of itself. But it could add to the "totality of the circumstances" surrounding a series of moves Trump has taken to try to stymie the Russia investigation since early last year, Honig said, including his firing of former FBI Director James Comey and his attacks on Sessions.
David Kris, a founder of Culper Partners who served as the assistant attorney general for the DOJ's National Security Division from 2009 to 2011, said it was "obvious" that Trump was motivated "by his well-expressed feelings of dislike toward the Mueller investigation. There can be no serious question about that." Kris, like Honig, said that ousting Sessions and appointing Whitaker "could be another element in a bill of particulars" used by prosecutors to specify the ways that Trump "has used the powers of the presidency toward a corrupt end."
With the midterms out of the way, however, Trump evidently feels freer to make changes to his Cabinet, regardless of how it may be perceived by investigators who have been closely examining his behavior for signs of corrupt intent with regard to the Russia investigation over the last 18 months.
Whitaker will be the acting attorney general until a permanent replacement is nominated, Trump tweeted on Wednesday, and he'll be overseeing the Mueller investigation directly in his new post. While he has touted Mueller's character—"There is no honest person that sits in the world of politics, in the world of law, that can find anything wrong with Bob Mueller," he told CNN last year—he seems to have already formed an opinion on the probe itself. In a tweet, Whitaker said an article that characterized Mueller's investigators as a "lynch mob" was a "must read," and he told CNN that if Sessions were fired, his replacement could "reduce" Mueller's budget in such a way that it would grind his investigation almost to a halt. He also shared an article on Twitter that explored the process by which Trump could fire Mueller, said in a radio interview that "there is no criminal obstruction-of-justice charge to be had" against Trump, and defended the Trump campaign's decision to meet with Russian nationals to obtain dirt on Hillary Clinton—a meeting Mueller has been closely examining."You would always take the meeting," Whitaker told CNN last year. "You certainly want to have any advantage, any legal advantage you can." Whitaker is also friendly with Sam Clovis—a key grand-jury witness in the Mueller probe—and chaired his state-treasurer campaign in 2014.
Whitaker most clearly expressed his view of the Mueller probe in an op-ed last year, writing that the inquiry had gone "too far," and arguing that the president's personal finances were a "red line" that the special counsel had come "dangerously close to crossing." (Mueller subpoenaed the Trump Organization earlier this year, but it is not clear which documents his team had requested. ) Whitaker added that "investigating Donald Trump's finances or his family's finances falls completely outside of the realm of his 2016 campaign and allegations that the campaign coordinated with the Russian government or anyone else. That goes beyond the scope of the appointment of the special counsel."
In reality, Deputy Attorney General Rod Rosenstein gave Mueller a fairly broad mandate when he appointed him following Sessions's recusal in May 2017: Mueller was free to investigate not only Russia's election interference and potential coordination between Trump's campaign and Moscow, but "any matters that arose or may arise directly from the investigation" as well. Mueller has also been farming out aspects of the investigation to prosecutors in New York and Washington, D.C., that don't fall squarely within his mandate.
Moreover, intelligence and law-enforcement experts—as well as sitting members of Congress—have pointed out that the question of whether Russia has any kind of financial leverage over the president is highly relevant to determining whether Trump could have been coerced into conspiring with Moscow's election interference in 2016. Indeed, several of the Justice Department and FBI officials who have investigated Trump's campaign—and who have been attacked by Trump directly—have extensive experience in probing money laundering and organized crime, particularly as they pertain to Russia.
David Laufman, a former high-ranking DOJ official who oversaw parts of the Russia investigation in his role as chief of the Counterintelligence and Export Control Section, said Trump's "installation of a political loyalist who previously questioned the merits of the special counsel investigation must be viewed precisely for what it is: a preliminary assault on the special counsel's latitude to complete his essential work and by extension on the rule of law."
Senate Minority Leader Chuck Schumer said on Wednesday, following Sessions's resignation, that Whitaker "should recuse himself from" the Russia probe "for the duration of his time as acting attorney general" given his previous comments "advocating defunding and imposing limitations on the Mueller investigation." Democratic Representative Elijah Cummings, who is set to chair the House Oversight Committee when the new Congress convenes next year, called Whitaker's supervision of the Russia probe "wholly inappropriate" and told the Justice Department to preserve documents in preparation for an inquiry into his appointment. House Democrats could also opt to subpoena Whitaker to testify under oath once they take power in January.
Trump's move could still backfire. Without the administration's protection, Sessions may now find himself both more vulnerable and more inclined to cooperate with Mueller, who has been investigating a period last summer when Trump privately discussed firing Sessions and attacked him in a series of tweets. At one point, the FBI opened an investigation into whether Sessions perjured himself in congressional testimony when he said he had no contact with Russians during the campaign."It's possible that Sessions will now be either angry or, at a minimum, no longer feel any need to curry favor with the president," Kris said. Sessions's conversations during the campaign with former Russian Ambassador Sergey Kislyak and the Trump campaign adviser George Papadopoulos have been closely scrutinized by the special counsel, moreover, and Sessions's campaign-era interactions with Trump would not be covered by executive privilege, Kris noted.
Sessions had mostly laid low in the face of the president's taunts, but he's not shied away from defending himself when necessary. "I took control of the Department of Justice the day I was sworn in," he said in August. "While I am attorney general, the actions of the Department of Justice will not be improperly influenced by political considerations. I demand the highest standards, and where they are not met, I take action."