The Democrats' Delayed Gratification in the Midterms
It was a blue tide, not a blue wave: While some results have been slow to arrive, they show that Democrats had more success in the elections than was immediately clear.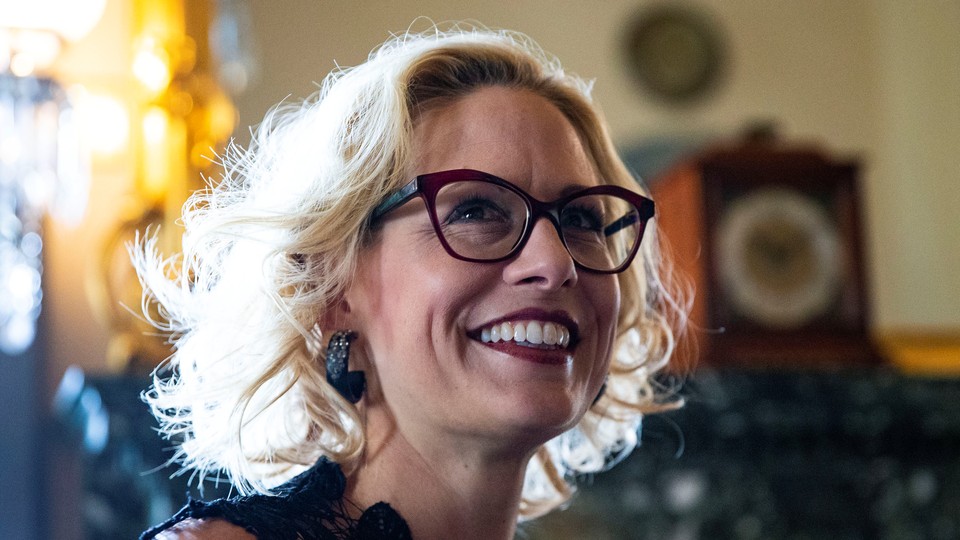 Thursday was a bad day for House Republicans.
In the morning, Maine officials declared that Democrat Jared Golden had defeated Representative Bruce Poliquin, the last Republican in Congress from New England, with the aid of the state's new instant-runoff voting system. Then, in the evening, the Associated Press projected that Democrat Katie Porter would unseat Representative Mimi Walters, yet another loss for the GOP in historically rock-ribbed Orange County, California. Meanwhile, elsewhere in the O.C., Democrat Gil Cisneros edged ahead of Republican Young Kim.
There have been a surprising number of these bad days for Republicans since November 6, which was itself a pretty bad day. As the outstanding races continue to gradually come in, they are changing the way the midterm elections look. Instead of the "blue wave" that pundits predicted before Election Day, it's more like a blue tide—rolling slowly but inexorably in and washing Republicans away.
Here's a quick recap:
On November 8, Kim Schrier beat Dino Rossi in Washington State's Eighth House District, replacing Republican Dave Reichert.
The same day, Lucy McBath closed out a win over Republican Karen Handel—who had beaten Jon Ossoff in the heavily covered 2017 special election in Georgia's Sixth.
On November 9, Katie Hill was projected as the winner over Representative Steve Knight in California's Twenty-Fifth, north of Los Angeles.
On November 10, Harley Rouda was projected to beat Representative Dana Rohrabacher in Orange County, in California's Forty-Eighth.
On November 12, Republican Martha McSally conceded to Democrat Kyrsten Sinema in the U.S. Senate race in Arizona.
On November 13, Josh Harder pulled out a win over Representative Jeff Denham in the tenth district, in California's Central Valley.
On November 14, Representative Tom MacArthur conceded to Democrat Andy Kim in New Jersey's third district.
Not all of these outcomes are surprises—for example, Sinema was the slight favorite headed into Election Day, and Rohrabacher was the slight underdog. But with the late results in, Democrats have netted 36 seats. In the six remaining races, Democrats lead in three and Republicans lead in three, so if the results hold, Democrats will end up gaining 39 seats—at the high end of the range of predictions heading into Election Day. Even without those races called, it's the party's biggest pickup since Watergate.
It was clear on Election Night that Democrats would win the House, but the scale of the victory was perhaps underappreciated. Why did such a big win seem initially underwhelming?
For one thing, there were several major moral defeats for Democrats Tuesday night. Beto O'Rourke, the most hyped Democratic candidate of the cycle, lost his Senate race against the incumbent Ted Cruz. That wasn't unexpected—an O'Rourke win would have been an epochal surprise—but it took some wind out of the sails of Democrats.
A few Democrats who were expected to win also appeared to lose. In Florida, polling showed the gubernatorial candidate Andrew Gillum and Senator Bill Nelson both with an edge, but when the results came in, they were down. Neither race is officially called yet, and the Senate contest is headed to a hand recount, but Republicans Ron DeSantis and Rick Scott lead in those two races, for governor and Senate, respectively. In Georgia, Democrat Stacey Abrams also trails Republican Brian Kemp in a close, and closely watched, race.
Second, a sort of progressive-pundit panic took hold early in the night on November 6. The first upset of the evening had Democrat Jennifer Wexton unseating Representative Barbara Comstock in Virginia, but then there was a long stretch without big Dem wins. Liberals started to get edgy, as they do. The longtime operative James Carville declared, "It's not going to be a wave election." CNN's Van Jones called the results "heartbreaking." The narrative took on a life of its own, spreading contagiously across TV and Twitter. Even your faithful correspondent was swept up by the sense that Dems were falling short. Later in the night, as more results came in, it became apparent that Democrats were sticking closely to projections—but the narrative of underwhelming results, once established, stuck.
Finally, many of these results, especially those in California and in Arizona, took days to arrive. That shouldn't be a surprise. Many of these races were always going to be close, and both of those states often report vote totals late. But without the results immediately available, it wasn't clear just how well Democrats had done—for example, that they might have just about conquered Orange County.
There are still those six U.S. House seats to go, plus the Florida and Georgia races. But even if Democrats lose all of those, which seems unlikely, their success on Election Day will have been huge—and bigger than it seemed on Election Night.