The Midterms Swept in a New Class of Black Politicians
Most of the winners are under 40. And most seem likely to run for even higher offices down the line.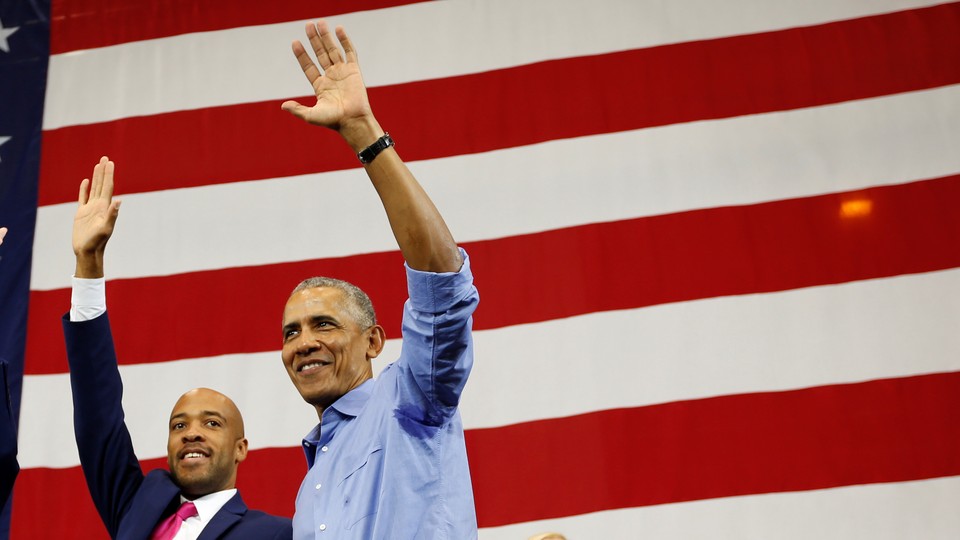 Ben Jealous lost. Andrew Gillum is heading to a recount. Stacey Abrams is chasing legal challenges that might give her a second chance in a runoff.
But a new generation of black politicians is already in place.
Tuesday saw the election of three new African American lieutenant governors, four new African American attorneys general, and seven new African American members of the House. (An eighth candidate, Steve Horsford, won back a seat he had previously held.) Other elections had reverberations lower down, like those of the 19 black women to county-judge spots in Texas, or that of the black woman who will now become the majority leader of the New York state Senate.
Most of these winners are under 40 years old. Most are the first African Americans elected to the jobs they now hold. And most seem likely to run for even higher offices down the line.
"We stand on this stage upon the shoulders of giants who had a vision that went beyond generations," said Garlin Gilchrist II, the new lieutenant governor of Michigan, claiming victory on Tuesday night. "And it's our generation's responsibility to live up to that responsibility by having our imaginations exceed our expectations."
Gilchrist got into politics two years ago, after he tried to vote in the 2016 election, had a problem with his ballot at the local library, and was urged by the people around him to run for city clerk in Detroit to address those same access issues. He lost, but ended up making a big enough impression that Gretchen Whitmer picked him as her running mate over the summer, making him the first African American elected to the job in Michigan.* Not far away, Mandela Barnes, a 31-year-old former community organizer from Milwaukee, was elected lieutenant governor after two terms in the state assembly.
In public and in interviews, many of these new elected officials talk about the larger historical legacy they're part of, and what policy problems they want to tackle now that they've won. "There is definitely the sense that there is a certain weight that comes with it," Barnes said, referring to the responsibility of being elected in this moment as a young black leader. "And I accept it."
They also talk about the racism and bias, implicit and explicit, that they faced during their campaigns. Barnes's opponent suggested that he had kneeled during the national anthem when he hadn't. Antonio Delgado, who took a GOP-held House seat in New York, is a Rhodes scholar with a Harvard Law degree who was tagged as a "big-city rapper" in campaign ads because of an album he put out in 2007. A negative ad about Aaron Ford, the Nevada state Senate majority leader who won the attorney general's race there, questioned his qualifications and focused on charges he'd incurred for public intoxication while in college.
Ford said he hoped his election would help other black would-be candidates see past the "fear of making yourself vulnerable to your community, and to the voters." But the attacks still clearly stung—he brought up the hits on his qualifications unprompted, and pointed out that he has five degrees, including a doctorate, and has been practicing law for 17 years.
"It would be naive not to think that implicit bias and implicit prejudice still don't exist here. They definitely do," Ford said. "I would hope that there is not a large segment of the population, but there is a segment of the population that has an aversion to voting for someone who looks different or comes from a different background than they do."
Ford and others in the new class of African American leaders stressed that they don't want to be known as the black attorney general or lieutenant governor or member of Congress. And they also emphasized the importance of bringing additional, needed perspectives into conversations around issues with particular resonance for many African Americans, such as criminal-justice reform and economic inequality.
"We don't want policy to be made about us; we want policy to be made for us and by us," said Juliana Stratton, who was elected lieutenant governor in Illinois.
Stratton said she's looking forward to working with the other black lieutenant governors. Some conversations are already under way. Stratton pointed out that Justin Fairfax, the lieutenant governor of Virginia who was elected last year, came to campaign for her. Ford noted that he, Barnes, and the next attorney general of Illinois, Kwame Raoul, are all alumni of the historically black fraternity Kappa Alpha Psi. Tish James in New York and Keith Ellison in Minnesota were also elected attorney general on Tuesday.
The new black members of the House are from all over the country, from Delgado in New York, to Lucy McBath in Georgia, to Colin Allred in Texas. Notably, they represent districts that are not predominantly black.
Democrats in Washington, D.C., tried to encourage this trend. Meredith Kelly, the Democratic Congressional Campaign Committee's communications director, told me the group spent $11.5 million supporting African American candidates over the course of the year. For the first time, almost all of them ran and won in districts that are not majority black.
Underwood said black candidates' experience running in districts that haven't had black representatives forced them to develop "our ability to reach out to different communities, and intentionally doing so."
"We're going to be able to work on all the black-caucus issues and priorities for African Americans to advance. We're going to be able to work on the farm bill; we're going to be able to work on gun reform," Underwood said. "It's an opportunity to work across the board, where we know we're going to be able to have impact."
As this new class of candidates begins preparing for higher office, it's also trying to keep attention on Mississippi, where Mike Espy advanced to a runoff in the Senate race, which will be held at the end of the month.
Though few are high on Espy's chances, they're hoping the race might help mobilize and energize African Americans in the state and beyond.
"For someone like me, who spent the last 12 years in trying to get more candidates of color to rise, Tuesday was validation," said Mike Blake, a New York assemblyman and the vice chair of the Democratic National Committee.
Blake, who got his start working on Barack Obama's 2008 campaign, is now running for New York City public advocate, a post left open by James's election as attorney general.
"This was the epitome of going from a moment to a movement," he said. "This was going from electing a candidate in Obama to a generation of candidates in one night."
Barnes graduated from college in 2008 and got his start as a field organizer for Obama that year in Louisiana. Afterward, he worked as a community organizer for the same group in Chicago that had once hired the former president. Two weeks ago, he said, he was so overwhelmed seeing Obama campaign for him that his eyes are closed in the selfie they took together backstage at his rally.
He said 2018 will be the beginning of more races and, he predicted, more wins.
"There's definitely further to go," Barnes said, "and I think the door just got kicked in open on Tuesday."
---
*An earlier version of this article incorrectly identified the first African-American elected statewide in Michigan. It was Richard Austin, who first won as secretary of state in 1970.