The Atlantic Politics & Policy Daily: Midterms Aftermath
Democrats take back the House, Republicans widen their Senate majority, and some major races still haven't been called.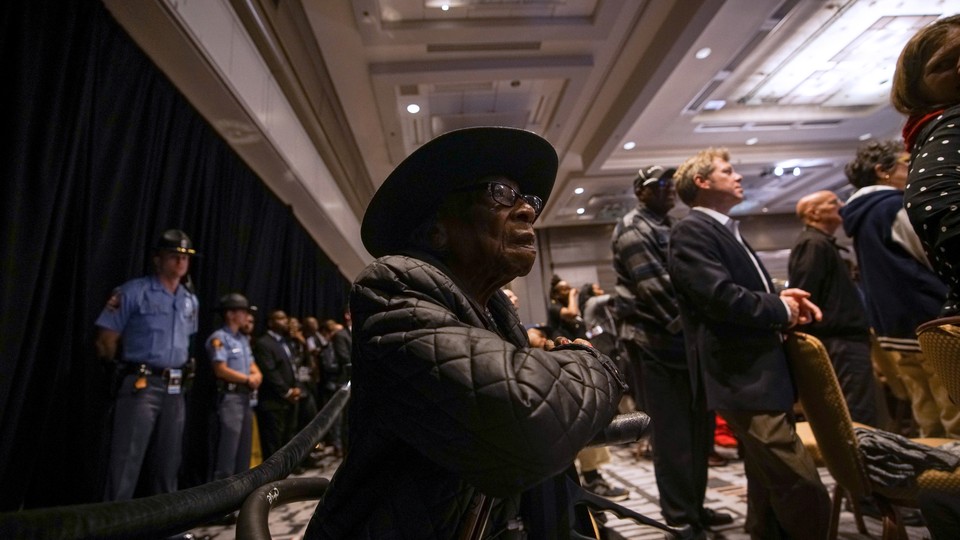 Democrats woke up to a lukewarm victory. Buoyed by the suburban vote, they retook the House and won victories in Rust-Belt states that helped send Donald Trump to the White House in 2016. They also saw important wins in Pennsylvania, Wisconsin, and Michigan, all states key to Trump's 2016 victory.
But Republicans won at least three close races in the Senate, setting up a majority that will allow them to have a major impact on the federal judiciary. Republican candidates also defeated several Democratic rising stars, including Florida gubernatorial hopeful Andrew Gillum and Texas's Beto O'Rourke.
Here's what else to keep in mind:
Too Close to Call: Votes are still being tallied in several states. In Montana, Democratic incumbent Senator Jon Tester's fate is undecided. In Arizona, Republican Martha McSally holds a narrow lead over Democrat Kyrsten Sinema. And in Georgia, Stacey Abrams could still force Brian Kemp into a runoff in December if no candidate gets more than 50 percent of the vote. The Mississippi Senate race is similarly headed into a runoff.
Notables: Early voting by young adults was up 188 percent compared to 2014. The "diploma divide" is widening: 61 percent of non-college-educated white voters cast their ballots for Republicans, compared to 45 percent of college-educated whites. An unprecedented number of women will enter Congress come January, over 80 of them Democrats. Republican Marsha Blackburn made history as Tennessee's first female Senator.
We're sending you this special edition of the Politics & Policy email newsletter for the midterms. Let us know what you think here. Like what you see? Forward this email to a friend, or let them know they can subscribe here.
---
The Blue Wave That Wasn't
Republicans expanded their slim Senate majority
"Democratic Senators Heidi Heitkamp of North Dakota, Claire McCaskill of Missouri, and Joe Donnelly of Indiana were defeated by conservative challengers who leaned heavily on President Donald Trump's enduring popularity in their deeply red states. And in Texas and Tennessee, neither the insurgent energy behind Beto O'Rourke nor the middle-of-the-road appeal of former Governor Phil Bredesen could overcome the Republican lean of the electorate." → Read on.
Democrats grab some power back in the House
"The outcome is in line with early predictions, though early returns Tuesday suggested that the scale of Democratic victories might be smaller than anticipated, and some pundits declared the hope of a blue wave dead." → Read on.
2018 was monumental for women, but it was just a start
"Insofar as 2018 was the Year of the Woman, it was not just about candidates for office: It was about the female volunteers, campaign staff, protesters, and voters who helped drive this year's election results." → Read on.
Democrats made important suburban gains
"The combined results reconfirmed the deep lines of division etched in Trump's narrow 2016 victory over Hillary Clinton. The evening amounted to a simultaneous repudiation and reaffirmation of Trump from two very different Americas, and underscored the fundamental demographic, cultural, and economic changes reshaping America and its politics." → Read on.
---
High Profile
Beto O'Rourke's national celebrity ended up being his undoing
"Ultimately, in a state where a Democrat has not won statewide office since 1994, O'Rourke failed to make the case that his appeal reached beyond the Acela corridor to the voters he would represent. 'He was a cause, not a candidate,' said one top Democratic strategist." → Read on.
The Georgia race, under the shadow of voter suppression
"Indeed, I can't quite bring myself to say that Abrams 'lost,' because there's an asterisk next to her Republican opponent's victory." → Read on.
Wisconsin's Scott Walker lost to public-schools chief Tony Evers. How education became one issue that helped decide the race
"People in Wisconsin clearly care about education if they would rather tax themselves than cut school budgets. And the support behind the teacher movements that have swept the country this year show that is the case elsewhere as well. " → Read on.
Meet Abby Finkenauer, the 29-year-old Iowan who unseated Tea Party Republican Representative Rod Blum
"She gets why so many people in her district voted for Trump: They were tired of politicians, and Trump was someone different. He'd promised to provide a voice for 'the forgotten men and women' of America….The problem is that Trump didn't mean any of it, she says. 'It was clearly talking points for him. For me, it's my life, and there's your difference.'" → Read on.
---
The Issues on the Table
Florida returned voting rights to more than 1 million people
"Florida approved a ballot question that restored voting rights to 1.4 million felons, most of whom are black men. If only a third of them exercise that right in 2020 and beyond, that is 420,000 new voters in a state where the governor's race was decided by 74,000 votes out of slightly less than 8 million cast, and where Trump won by 113,000." → Read on.
Washington (likely) rejects carbon tax
"Blue states will need to function as 'laboratories of democracy,' trying out creative new climate policies and finding their faults before their debut on the national stage. On Tuesday, Democrats didn't get that help."→ Read on.
The question of offshore drilling affected key House races along the Eastern seaboard
"Following these policy changes, offshore-drilling opposition has only grown in the Southeast, and it's front and center in some congressional campaigns this year. Candidates who'd previously expressed support for drilling now find themselves on the defensive—and have, in some cases, switched their positions."→ Read on.
---
On November 13 in D.C., join The Atlantic's politics staff writers McKay Coppins, Vann R. Newkirk II, and Elaina Plott, with editor-in-chief Jeffrey Goldberg, to take stock of the 2018 midterm results and analyze what they mean for the president, policy, and politics leading up to the 2020 campaign. Tickets are available now.
---