Why Americans Don't Vote
A dispatch from the lowest-turnout district in the United States illustrates why many people won't go to the polls on Tuesday.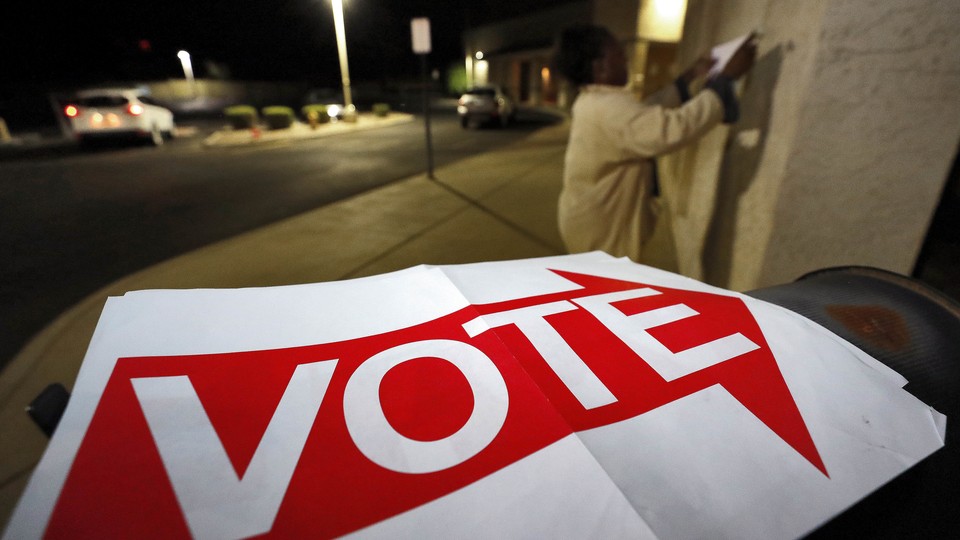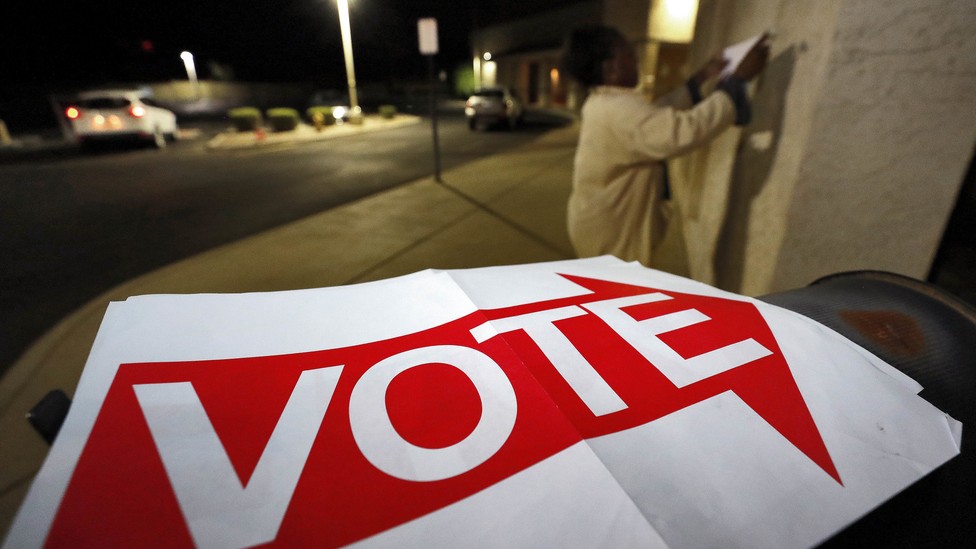 TUCSON, Ariz.—The great myth of America's participatory democracy is that people actually participate. In the 2016 election—the controversial, generation-defining 2016 election—61 percent of voting-age citizens cast a ballot, according to census data. And that was a presidential year. The last time America held midterm elections, 42 percent of voting-age citizens participated. This has been the trend for midterms for at least the past four decades: Turnout hovers at or below half of voting-age citizens.
In 2016, the lowest-turnout congressional district in the country was Arizona's Third, a massive stretch of land that includes chunks of five counties in the state's southwestern corner. Slightly more than 33 percent of voting-age citizens cast a ballot here that year—all the more shocking considering that the district includes parts of Phoenix and Tucson, the state's two most populous cities. The district is majority-minority, with more than two-thirds of the population identifying as Hispanic, black, or American Indian. By contrast, Arizona's Fifth, the state's highest-turnout district in 2016, had almost twice as much voter participation in 2016. The Fifth is like the Third's demographic inverse: According to state data, it is nearly three-quarters white. At their closest point, the two districts are less than 30 miles away from each other.
Many stories about voter turnout are framed in terms of lament or hope, either chiding nonvoters for their dereliction of duty or suggesting that this just might be the year when disengaged Americans finally turn out. On the margins, some people are prevented from voting: In the past, Arizona has mishandled or not counted thousands of ballots based on a failure to cross-check voters' citizenship status. But a deeper question lies in these turnout numbers, which are almost so constant across elections as to seem inevitable: Why is American politics so alienating that a huge portion of citizens prefers to forfeit their rights and sit elections out?
Academics, pollsters, and campaign operatives have been coming up with answers to this question for a long time. Specifically in southern Arizona, anemic party infrastructure, alienated Latino voters, and the district's solid-blue status seem to help keep turnout low. Frustration was a common theme among party stalwarts who know they have to change their ways; among activists who want people in power to care about their causes; and among regular people who wish American politics was a little less stupid.
The specific reasons people don't vote here may be different from those in states such as West Virginia, Texas, and Kentucky, which are consistently among the five states with the lowest turnout in elections. But one sentiment may be universal: the sense that something is wrong with a government by and for the people where the people can't be seen or heard.
The Democrats of Greater Tucson meet every Monday at Dragon's View restaurant. Members of the group openly admit that the Chinese buffet is mediocre, and the vibe roughly imitates a 1980s-era casino. But the back room can fit lots of people, a podium, and a projector, so two weeks before the election, here they were.
People had come to hear Sam Almy, who oversees voter files for the Arizona Democratic Party, give a presentation about turnout efforts around the state. He ran through voter statistics, including the demographics that closely shape Democratic campaign strategy.
The crowd was largely old and white, and they were anxious about the upcoming midterms. One person wanted to know when Democrats would start running ads that were more than attacks or "BS" testimonials. Another asked how the party was planning to turn out Latinos.
Almy clicked through his PowerPoint. "That's not a great slide for us," he said. The state's registered Democratic voters are overwhelmingly, disproportionately white, he said, "which is gross for the Democratic side."
A majority of voters in Arizona's Third Congressional District, which is commonly referred to as CD-3, look nothing like the people who showed up to talk politics at Dragon's View. Among the district's minority groups, 60 percent of the district's population is Hispanic, according to the state's independent redistricting commission. While only 3 percent of the population is American Indian, two tribes—the Pascua Yaqui and Tohono O'odham—are based here, and the Tohono O'odham reservation spans hundreds of miles in the district.
Arizona's congressional districts have been drawn and redrawn in recent decades, but in every election since 2012, when an independent commission reapportioned the state's voters, CD-3 has gone blue. This is one reason neither Democrats nor Republicans seem to invest much here: Like a growing number of districts in the United States, southern Arizona is not considered competitive. In 2016, Raul Grijalva, who has represented this area in the U.S. Congress for 15 years, ran uncontested.
"It's no coincidence that the lower-turnout [districts] are the districts that happen to be very diverse, economically challenged, and of color," Grijalva told me. Census Bureau data support his claim: Voting-age Americans making more than $150,000 were nearly twice as likely to have cast a ballot in 2016 as those making less than $10,000. Similarly, white, non-Hispanic Americans were more likely than any other racial group to have voted that year.
In part because low-income people of color have traditionally been associated with the Democratic Party, Grijalva said, little effort is made to reach those potential voters. "There's an assumption made that these voters will just come," Grijalva said. "It's like … a cattle call."
As the low turnout numbers in CD-3 suggest, many of these people don't show up on Election Day at all—which creates a chicken-and-egg problem. Candidates running in tight races with limited budgets want to know they're investing in people with a high likelihood of showing up to vote. But without any outreach, infrequent voters or nonvoters have little incentive to change their behavior.
At the restaurant, I met two of the county party chairs in CD-3, who were both cognizant of the dynamics in their district. "With all due respect to middle-aged old white ladies, such as myself, standing in front of the … public library registering voters, talking about Medicare and Social Security—that's not helping," said Mary Darling, who runs Santa Cruz County Democrats and leads the council of county chairs around the state. "How come we don't have campaign-lit material in Spanish? If you go to Pima Dems," the headquarters of the party in Tucson, "you will find very, very little in two languages."
The woman who runs Pima Dems, Jo Holt, pointed out that southern Arizona has more than just a turnout problem. Many people aren't registered to vote in the first place. Often, statistics about voter turnout obscure this problem by comparing only those who show up for a given election and those who registered. But in CD-3, which has the second-lowest voter-registration rate in the state, getting people signed up is the real challenge. Reaching these voters, Holt said, will be the party's major focus in the next few years.
As well intentioned as these party officials may be, the challenge of reaching voters in southern Arizona is real. It takes nearly five hours to drive from Canelo to Yuma, the two far ends of the district, and hundreds of miles of reservation and craggy rural land lie in between. People living in the exurbs of Phoenix have different concerns from families on the U.S.-Mexico border; Yuma's heavily agricultural economy contrasts with Tucson's focus on manufacturing and higher education.
There are bright spots. Groups such as Living United for Change in Arizona and Mi Familia Vota have established significant voter-outreach infrastructure in southern Tucson. Verlon Jose, the vice chairman of the Tohono O'odham Nation, said his community's turnout actually increased from 2012 to 2016: The tribal government has started providing rides to voting precincts and translations of candidate material for those who need it. According to Jose's numbers, the nation significantly outvoted the rest of CD-3 in 2016.
But in general, this district is stuck in a self-fulfilling cycle of low voter outreach and low voter participation. "I certainly did not benefit from any of the establishment support," said Andrés Cano, a Tucson-based Democratic candidate for Arizona's statehouse, over a beer downtown. "Latino candidates nationwide right now are not really being taken seriously … The party will not invest in us." The 26-year-old is a sixth-generation Arizonan. He appreciates that candidates might want to translate their campaign materials into Spanish, but reaching Latino voters—and all voters—is so much more than that, he said: Elected officials have to deliver on issues, such as health care and education and jobs, that actually matter to people here.
This year, the central campaigns committee of Arizona's Democratic Party helped open an office in the heavily poor, Latino, southern area of Tucson. Some precincts here had turnout as low as 10 percent in 2016—and that's only relative to the number of registered voters, not the number of eligible voters. The office created a buzz: It was a sign that statewide campaigns were taking turnout seriously, people thought. But basically everyone I talked to—from Grijalva to Darling to Cano—predicted that it will effectively shut down on November 7. "Trying to activate for three months every two years is not going to work," Grijalva said. "There has to be consistency to it, you know? … It's an investment the party needs to make."
Assessing a political party's structural failures is one thing. It's much harder to figure out why individuals themselves don't vote—whether it's apathy, frustration, lack of information, social isolation, logistical barriers, or something else entirely. Academics have posited all of these as possible reasons why people stay home from the polls, along with factors such as economic volatility, changes in voting rights, shifts in technology, and big events like going to war.
In conversations across the Third Congressional District, people shared reasons for not voting that seem much less abstract. A pair of elderly Jehovah's Witnesses outside of a library in Yuma said they refuse to vote for religious reasons; their faith teaches that they should not take sides on worldly political issues. A trio of young 20-something women at a bar in Avondale, west of Phoenix, said they don't pay enough attention to politics to get involved. They have opinions about issues like "illegals" and want "equality for everyone," they told me, sipping colorful cocktails, but generally avoid talking about them, because they make people angry.
One table over, a 23-year-old, Marissa Browning, told me she generally likes Donald Trump, but "I have enough problems. I don't need to worry about the rest of the world's problems." Instead of reading up on politics, she said, "I would rather be watching Friends."
The perspectives of self-described voters and nonvoters didn't necessarily vary that widely. Many people shared some of the same eye rolls and grievances over the current state of politics. People left, right, and center expressed frustration with the television ads and road signs that have taken over the state like kudzu in recent months; Phoenix was the No. 1 political-ad market in the country in September and early October, according to The Arizona Republic. Rabid partisanship was alienating: A truck driver from Tucson who cast an early ballot said he thinks the Democratic Party has moved way too far left; a fry cook from Yuma said the town's snowbirds, or temporary winter residents, have moved the community to the right.
Above all, there was disillusionment: with the candidates, with the money, with the process.
"They bash each other too much," said Victor Varela, a 47-year-old who hasn't voted in several years.
"All the lies that happen between politicians—I don't know who to believe," said his wife, the 45-year-old Maria Varela, who isn't registered.
"Why kick up dirt from somebody's past that could have been a one-time deal? … Nobody is perfect in this world," Victor said.
"We don't need the negativity in our lives, you know?" Maria said.
As people seem to say every year, the stakes of this election are high, especially in a purple state like Arizona. This year, the state's U.S. Senate race is among the closest in the country. The statehouse is solid red, but national groups are trying to flip it blue. Last spring, teachers across the state staged a mass walkout, in part responding to Governor Doug Ducey's policies—and he is up for reelection.
In the short term, each of these elections could be highly consequential and fundamentally shape the life of people in Arizona. But people like Maria and Victor Verela remain invisible to this system of government. More than 235 million eligible voters live in the United States, but only a portion of those people feel able or willing to give their say in how their communities are formed. As political junkies settle in to watch the returns, most Americans will be living in an alternate world: a normal day, like any other, when nothing really changes.