'If We Pass Medicare for All, I'm Going to Be Silent as a Lamb'
Alexandria Ocasio-Cortez arrives in Congress with a bigger megaphone than any other House freshman. How's she going to use it?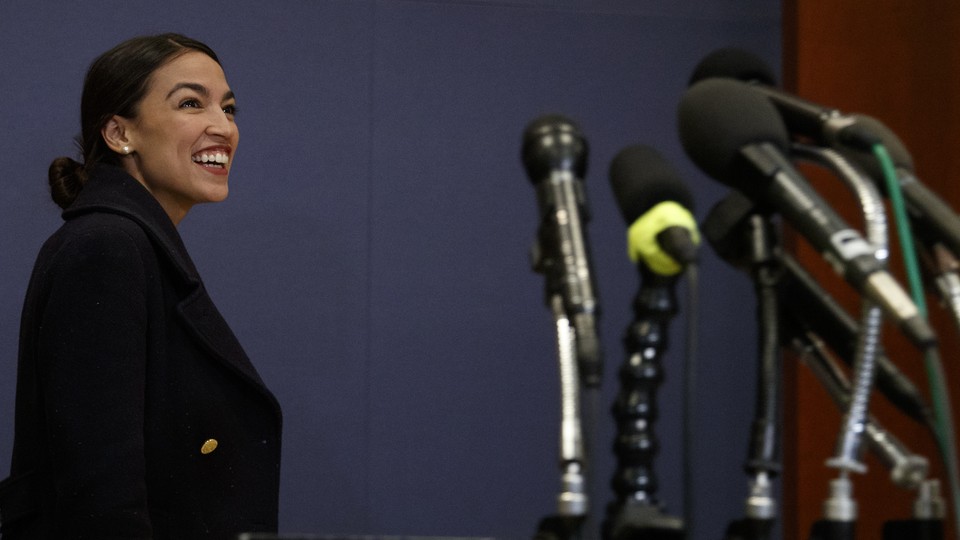 QUEENS, N.Y.—"Choosing not to speak," Alexandria Ocasio-Cortez was telling me one day last month, "is taken and read just as deliberately as choosing to speak."
Fresh off her upset primary victory over Representative Joe Crowley here, the nation's most famous congressional candidate was speaking pretty much everywhere this summer—stumping for fellow progressives all over the country, hitting the late-night talk shows, and jousting with her many conservative critics on Twitter.
Last week, Ocasio-Cortez made her Washington debut in similar fashion.
In town for the biannual weeklong orientation session for newly elected members of Congress, the 29-year-old progressive star from the Bronx narrated the experience in Instagram stories to her 642,000 followers, complained about being mistaken for a congressional spouse or intern on Twitter, and called out a conservative journalist who suggested she was dressed too fancily for "a girl who struggles."
More significantly, Ocasio-Cortez took the rather extraordinary step on Tuesday of participating in a protest outside the office of her own party's leader, Nancy Pelosi, where she joined activists in calling for Congress to enact a "Green New Deal." In public and private, Ocasio-Cortez is pressuring Pelosi to reinstate—and newly empower—a select committee on climate change that the former speaker created the last time Democrats held the House majority.
The move has rankled senior Democrats who believe the separate panel is unnecessary and would step on the authority of the Energy and Commerce Committee, which has legislative jurisdiction over climate policy. And it has raised the question of how Ocasio-Cortez intends to use her star power in the new House majority. Will she amplify the Democratic Party's message as it seeks to confront President Trump, while laying the policy groundwork for what it hopes will be another shot at controlling the White House and Congress after 2020? Or will Ocasio-Cortez direct the confrontation inward at the Democrats' aging leaders, leading a bloc of other young House progressives to push the leadership to be more aggressive—on policy and political strategy—than it plans to be?
Despite the waves she's made this week, the answers to those questions are not fully clear. For example, on the crucial decision facing House Democrats—whether to return Pelosi to the speakership—Ocasio-Cortez has shown a more pragmatic side. While she called for "new leadership" during the campaign, she has not joined the group of Democrats agitating to oust Pelosi, nor has she ruled out backing the 78-year-old Californian.
"Members who come in with big names tend to go in one of two directions," observed a longtime senior House Democratic aide who spoke anonymously to discuss Ocasio-Cortez. "They can try to trade on that name and make issues all about themselves. Or they can put their head down and work."
"Obviously," the aide continued, "it's far too soon to say which one she'll be." But the aide noted that, in private, Ocasio-Cortez had been respectful to members and constructive in internal party debates. Out of the three full meetings of the Democratic caucus that have taken place this week, Ocasio-Cortez has spoken up in just one of them, to advocate for the new climate committee. "She's not out there saying, 'Hey, look at me, look at me, look at me,'" the aide told me.
How Ocasio-Cortez adjusts to Congress—whether she becomes a headache for or an ally to her party's leadership, or somewhere in between—will take time to assess. But she has clearly chosen to speak, and for now, her Democratic colleagues are listening.
The moment when Ocasio-Cortez realized her life as she knew it had changed was not the one captured live on television on the night of June 26—the one that would be rebroadcast countless times in the days to come—when the young political activist screamed "Oh my God!" and then clapped a hand over her mouth after learning that she had defeated Crowley, one of the country's most powerful Democrats, in a congressional primary.
That moment of realization occurred a few hours later, after Ocasio-Cortez had partied with her supporters late into the night, returned home to her one-bedroom apartment in the Bronx for what amounted to a nap, and left again around dawn for a post-upset appearance on Morning Joe.
As she walked bleary-eyed out of her apartment—the one her parents bought for about $45,000 in the 1980s and where she told me she's lucky to now pay only about $800 a month to live—a garbage truck pulled up nearby. The driver poked his head out and gave her a high five.
"I was like, What is going on?!" Ocasio-Cortez remembers thinking to herself.
Barely an overnight shift after the polls had closed in New York City, this newly minted political celebrity had been recognized on the street for the first time. More than four months later, she estimated, she's stopped seven or eight out of every 10 times she goes out in public. Within three days of her primary win, her campaign had received more than 1,000 requests for media interviews. At the time of our interview last month, Ocasio-Cortez told me she still had 700 unread text messages. "It is months later," she said, "and it is still giving me so much anxiety."
What seems to be causing Ocasio-Cortez considerably less anxiety these days is her celebrity status among House Democratic freshmen. Her out-of-nowhere primary win electrified progressives who thrilled to her unwavering commitment to the biggest, boldest causes of the left and her ability to not only challenge but topple a member of the party establishment. If Senator Bernie Sanders had spoken to a generation of young liberals fed up with corporate-backed politicians and mushy, top-down policy proposals, Ocasio-Cortez was a member of that generation. Here was a working-class, Latina Millennial from the Bronx who was jolted by Donald Trump's election to give up her bartending job and run for Congress against a 20-year incumbent who'd rarely drifted far from the comfortable middle of the Democratic Party. And she won.
"She shot a bolt of electricity through New York State and through this country, and our whole horizon of possibility has opened up," gushed Zephyr Teachout, the progressive law professor, when Ocasio-Cortez endorsed her candidacy for New York attorney general in mid-July. About a month earlier, Teachout had become the first public figure in the state to endorse Ocasio-Cortez's long-shot bid. The two recalled that they'd stood outside a flower shop in Queens with one local reporter in attendance for the event. When Ocasio-Cortez returned the favor after her primary win, a crush of reporters and television cameras crowded around them in front of the Charging Bull statue near Wall Street in Lower Manhattan. Tourists on the top of a double-decker bus interrupted the press conference when they recognized Ocasio-Cortez and began cheering for her as the vehicle crawled through traffic. (Ocasio-Cortez's backing did not make the difference for Teachout, who lost the attorney general's race in a September primary.)
Yet as progressives became inspired by Ocasio-Cortez, conservatives became obsessed. Seizing on her support from the Democratic Socialists of America, they've picked apart her every utterance for signs of extremism and claimed in campaign literature, somewhat laughably, that she wants to turn the United States into Venezuela. Republicans have portrayed Ocasio-Cortez as the vanguard of a radical new left and seem to be auditioning her as a potential successor to Pelosi and Elizabeth Warren as outspoken liberal women the GOP can use as electoral foils across the country. They've harped on her clothing choices in search of evidence that her claim to membership in the working class is somehow fraudulent; she's pushed back every time.
When I met Ocasio-Cortez last month, we were sitting on metal folding chairs inside her small Queens campaign office, which occupied a second-floor storefront near a subway stop in the Elmhurst neighborhood. The only signage outside was a campaign banner taped over the more permanent sign for a law office that advertised free tax services in Spanish. Ocasio-Cortez wears glasses when she's not on TV, and it was easier to see the young Star Trek fan that her friend Jean Bertrand Uwilingiyimana described as introverted and "pretty nerdy" when he met her in a Boston University dorm as college freshmen in 2007.
The sparsely decorated office was a reminder that for all of Ocasio-Cortez's fame, her campaign was never far removed from the shoestring effort that she guided to victory over Crowley in June. She raised a total of less than $2 million in all—a fraction of the sums that Democratic Party stars like Conor Lamb in Pennsylvania, Antonio Delgado in upstate New York, or Amy McGrath in Kentucky raised for more competitive general-election races in less expensive media markets. Like many high-profile politicians nowadays, Ocasio-Cortez was the subject of violent threats after her primary win. But she told me the campaign did not have enough money to hire security for her, and she considered moving out of her apartment in the Bronx and into a place nearby. "I feel vulnerable for sure," Ocasio-Cortez said.
At appearances in the weeks before the November election, Ocasio-Cortez made a point to remind would-be voters that despite her victory over Crowley in June, she had not actually won the election yet. Because of New York's arcane election laws, Crowley could not easily give up his spot on the Working Families Party line of the general-election ballot, and although he was not actively running, there were some low-key efforts to drum up support on his behalf. "I am not yet the congresswoman," she told a crowd gathered at a Bronx forum on criminal-justice reform that she convened in early October. (The Working Families Party itself had supported Ocasio-Cortez and had asked Crowley to vacate the line. Ocasio-Cortez ended up receiving 78 percent of the vote last week.)
The wait to take office also meant that for more than a year, and until January 3, this former bartender has been and will be unemployed. Ocasio-Cortez had saved up money to cover most of her living costs during the campaign, and she accepted just under $5,000 in candidate salary, as allowed by federal-election rules. But that stipend ended on November 6 when she became a representative-elect, opening up a gap of more than two months before her $174,000 annual congressional salary kicks in. She told The New York Times that she could not yet afford to rent an apartment in Washington—a revelation that drew a whole new wave of attention to her.
When we discussed the situation in October, Ocasio-Cortez told me her campaign had been investigating options for how she could bridge the postelection period. "We're trying to figure out what's even legal," she said. "There are so many ways in which our electoral system is biased against working class people running. There are so many ways, but this is one of the most glaring ways."
Ocasio-Cortez's choices included moving in with her mother in Florida—but that would clearly be an odd look for a woman running for Congress in New York, not to mention the requirement that she be a resident of the state at the time of her election. One lawyer even told her it would be legal for her to have a donor prepay for a two-month stay at a resort. That option she quickly discarded, too. "I'm not going to Sandals for two months!" she nearly shouted at me, with a laugh.
The long interregnum between primary win and taking office may have left Ocasio-Cortez strapped for cash, but it gave her plenty of time to consider what kind of congresswoman she wanted to be. She also did not lack for advice. In the days after her June victory, she told me, calls flooded in from "pretty much everyone" in the Democratic Party, including many politicians who were close to Crowley, who had been plotting a bid for speaker at the time of his surprise defeat. Hillary Clinton called, as did Nancy Pelosi. Barack Obama didn't call, but his confidant Valerie Jarrett did. The cavalcade of likely 2020 Democratic presidential contenders—Sanders, Warren, Cory Booker, and Kamala Harris, among them—reached out, some by text. Clinton was "very nurturing," Ocasio-Cortez recalled. The fact that Ocasio-Cortez had worked for Sanders in the 2016 primary didn't come up, she said, but the woman who twice fell short of the presidency advised her to remember self-care, and "to savor the high times, because the hard times are just part of the road."
Ocasio-Cortez hasn't hit the hard times yet. But the past four months have brought a level of scrutiny comparable to the kind given to a top-tier presidential contender and virtually unheard of for a congressional candidate and representative-elect. Ocasio-Cortez's victory over Crowley in a low-turnout House primary was undeniably a shocker, but it wasn't without precedent: Four years ago, the conservative economics professor Dave Brat stunned House Majority Leader Eric Cantor, making the Virginia Republican the highest-ranking member of Congress ever to lose a primary. Brat got plenty of attention initially, but compared with Ocasio-Cortez he toiled in relative obscurity (and last week, Democrat Abigail Spanberger ousted him after just two terms in the House).
Ocasio-Cortez's much higher profile is partly of her own choosing. She didn't accept more than a fraction of the interview requests she got after her primary win, but for a time she became a fixture on cable news. She also made the rounds of late-night talk shows. Within weeks of her victory, Ocasio-Cortez was taking her Sanders-inspired platform of Medicare for all, a federal jobs guarantee, tuition-free public college, and the abolition of ICE on the road. She flew off to Kansas, Michigan, Massachusetts, and California to stump for fellow progressives in both close contests and long-shot primaries like her own. The heightened exposure came with a few stumbles. Ocasio-Cortez drew criticism for excluding the press from a pair of town halls she held in New York over the summer, and for referring to "the occupation of Palestine" in response to a question about her position on Israel. She told me she "learned the hard way" that there are a host of customs members of Congress are supposed to follow in the name of collegiality, like alerting a fellow member if you're going to hold an event in that person's district.
The popular narrative surrounding Ocasio-Cortez, blue-collar bartender turned congresswoman, tends to omit the many years she spent working in and around politics after she graduated in 2011 from Boston University with a degree in economics and international relations. Among other work, she had interned for the late Senator Edward Kennedy. Uwilingiyimana told me that while he had never heard her express a desire to run for office during their decade of friendship, he wasn't particularly surprised when she told him she was taking the plunge last year. "My reaction was, 'It's about time,'" he recalled.
The policy proposals at the center of Ocasio-Cortez's campaign stemmed from the frustration of progressives at the timidity of the Democratic Party toward the end of the Obama years, a belief that the president who ran on "hope and change" had trimmed his sails in the face of a recalcitrant Republican Congress. But on the stump, Ocasio-Cortez could sound quite similar to the one-time community organizer: They are both fond of quoting Martin Luther King Jr.; Obama liked to talk about the "moral arc of the universe," while Ocasio-Cortez prefers the somewhat more confrontational, "True peace is not about the absence of tension. It is about the presence of justice." And both preach the necessity of civic engagement as an antidote to cynicism. "Cynicism is a weapon that is given to us to use against ourselves," Ocasio-Cortez told the audience at the criminal-justice forum, by way of encouraging them to vote. "That cynicism is intentional. It is intended for you to feel that way, because as we count ourselves out," someone else will fill the void, she said.
Yet the big question as Ocasio-Cortez prepares to take office is whether the leaders charting the Democratic Party's message and course for the next two years—including Nancy Pelosi in the House and Chuck Schumer in the Senate—have anything to fear from her. She is already strategizing with Justice Democrats, the activist group that gave early backing to her campaign, to recruit candidates to take on more Democratic incumbents in 2020. In mid-July, she briefly floated the idea of creating a "sub-caucus" of progressives who could vote together as a bloc. That raised the specter that the Democratic Party could have its own version of the House Freedom Caucus—the conservative group that moderates in both parties blame for making Congress nearly ungovernable.
"Oh, that whole thing," she laughed when I brought it up during our interview. She described the kerfuffle that ensued as "one of those learning lessons" that have occurred in the months since her primary win. "That whole thing literally came from a podcast," Ocasio-Cortez explained. "So it's a casual conversational thing, and I was basically saying one option is that we actually have a real bloc vote. I don't think it's about counting any options out. Do I have a drafted plan to have some kind of Tea Party–esque movement? No."
But Ocasio-Cortez is entering Congress alongside a group of fellow progressive women—Ayanna Pressley of Massachusetts, Ilhan Omar of Minnesota, and Rashida Tlaib of Michigan—who have grown close over the past several months and share a goal of moving House Democrats to the left. "I don't know. Are friends a caucus?" Ocasio-Cortez asked rhetorically.
She's also adopted a more measured approach on the question of Pelosi's bid to become speaker for a second time. "I want to support leadership that is going to prioritize 'Medicare for all,' that has hard commitments on progressive issues. That's what I'm looking for," she told me. But she added: "I do think that the lack of generational diversity in Congress is a huge and existential problem."
The focus on policy commitments rather than leadership is consistent with Ocasio-Cortez's philosophy, Uwilingiyimana said. "She'll always be uncompromising on the vision," he said. "The tactics which get the party to that vision, she's pragmatic on."
For her part, Ocasio-Cortez put it a bit differently during our discussion about how she would reconcile her desire to build relationships in Congress with her instinct to speak out and use her powerful new voice. "I do want my priority, especially as a freshman, to be listening and learning, paying a lot of attention to dynamics, navigating, building relationships," she told me in October.
"But," she continued, "I don't have the luxury, nor does any member of Congress have the luxury, of waiting to govern. So even now, before the election, I'm asked to make decisions every single day. And choosing not to speak is taken and read just as deliberately as choosing to speak. It doesn't mean that there's some probationary period. I have to be making decisions from day one.
"But, I don't want to be obnoxious either," Ocasio-Cortez insisted. "Let's just get things done. I'll be really quiet if we get things done. If we pass Medicare for all, I'm going to be silent as a lamb."