Iowa Could Turn Blue Again—Just in Time for 2020
Frustration over Republican policies at both the state and national levels could sweep Democrats into office—and Fred Hubbell into the governor's mansion.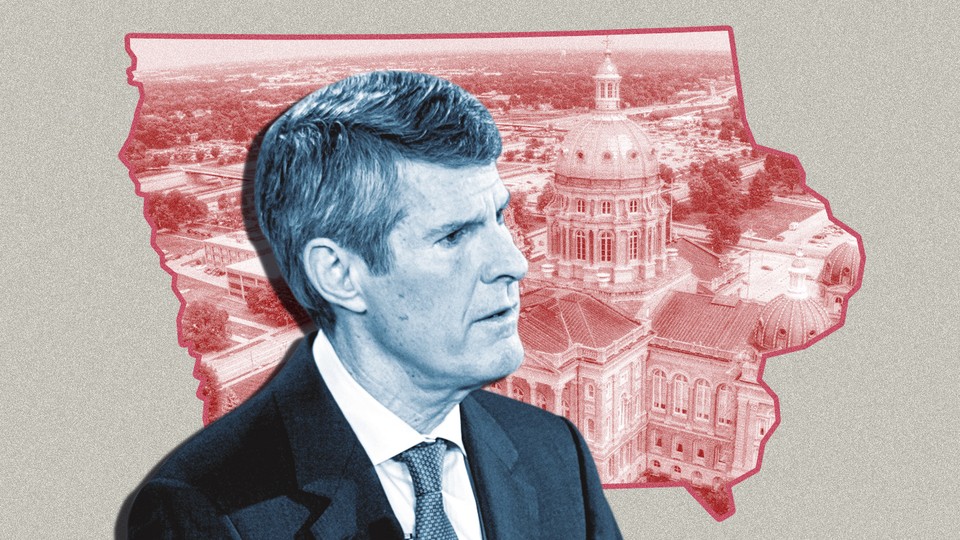 Shortly into his flight from Karachi to Peshawar, Pakistan, hijackers took over Fred Hubbell's plane.
It was March of 1981 and Fred and his wife, Charlotte, had just set off for a trip through North Africa and Southeast Asia. They were on the second leg of their journey when members of the terrorist organization Al-Zulfiqar rerouted their Boeing 720 and landed in Kabul, holding all 132 passengers hostage. The hijackers stalked the plane aisles, wielding pistols and hand grenades. They shot a man sitting near the Hubbells, a Pakistani diplomat, and left him to bleed out on the tarmac.
To pass the time, a 29-year-old Hubbell read a book about the partition of India—the only book he'd packed. He thumbed through an issue of Time magazine over and over again. He lingered on a single thought: Why me?
Hubbell was recounting the experience to me on a recent October morning while we bumped along on his campaign bus through southeast Iowa. The hijackers eventually released him in Damascus, Syria, after he'd spent 13 days on board the aircraft. But the event stayed with him through the decades. It helped him get his priorities straight, he said. It's why he got more involved in his Iowa community—volunteering and joining boards and donating money. And it's part of the reason that now, at age 67, he's running for governor against the Republican incumbent Kim Reynolds. "When your life is threatened every day, you see somebody shot and killed a few feet away from you," Hubbell explained, "you really start to think, What am I gonna do differently?"
It's a bit of a stretch—a local man gets kidnapped by terrorists and then, 40 years later, feels compelled by the experience to rescue his state from the clutches of the GOP. But this year, many Iowans don't seem to mind his idiosyncratic explanation for why he's running. They want change, and their support for Hubbell is part of a broader backlash against Republican leadership at both the state and national levels.
Hubbell's home state is traditionally a purple one, but it's recently taken a sharp rightward turn. After backing Democrats in six of seven previous presidential elections—including Barack Obama twice in 2008 and 2012—the state swung to Donald Trump by 10 points in 2016. A Republican has been in the governor's mansion since 2011, and the state legislature in recent years has passed some of the most conservative reforms Iowa has seen in decades, from defunding Planned Parenthood to privatizing Medicaid.
This year's gubernatorial election, then, will help gauge Iowans' support for Republican policies and leadership across the board—from the White House to Des Moines. It will also offer a useful temperature test in the state with the first-in-the-nation caucuses, through which a steady stream of potential 2020 candidates has already begun to flow.
An avenging wave of indignation could turn Iowa blue again—very blue—in 2018. And Fred Hubbell is riding it.
To win, Hubbell needs to wrangle a coalition of Democrats and independents, the state's elusive middle voters.
The proportion of Democrats and Republicans in Iowa is roughly the same, but nearly 40 percent of voters are unaffiliated with any political party. They're the people who, sick and tired of the status quo, pulled the lever for Trump in 2016 and have largely been credited for his huge win there. Now both candidates are vying for independents' allegiance: Reynolds is betting that they're happy with the state's growing economy and will cast their votes to maintain it, while Hubbell believes that they'll find the state's current political direction too extreme.
So far, Hubbell seems to have the edge. The two candidates have been neck and neck in recent polls, with Hubbell taking a slight lead over Reynolds in two recent surveys. In a September Iowa Poll conducted by the Des Moines Register, Hubbell had a lead of 6 percent among unaffiliated voters. On the campaign bus, I asked him why he thinks he's beating Reynolds among that subset: "I just think it's kind of natural for my campaign to appeal to independents," Hubbell told me. "Democrats like the social side, independents like the business side."
Most Iowans are familiar with the name Hubbell. Fred's great-great-grandfather, F. M. Hubbell, co-founded Equitable of Iowa, a life-insurance company, in Des Moines in 1867. Fred served as the chairman of the company's department-store chain, Younkers, for two years before becoming the president of Equitable in 1987, where he stayed for a decade. More recently, Hubbell served as acting director of Iowa's Department of Economic Development in 2009.
On his campaign bus, driving from Clinton to Davenport, Hubbell was soft-spoken and attentive to our interview. He didn't break eye contact, and he asked me a lot of questions. It was a dramatic shift from his public persona, especially during debates, where he often comes off as stiff, even awkward.
Reynolds, on the other hand—always sporting a brightly colored blazer and a sunny smile—exudes enthusiasm. And she has a compelling backstory: A former alcoholic and college dropout, the 59-year-old Reynolds entered politics later in life, serving as a little-known state senator before being yanked into the spotlight when Terry Branstad, the longest-serving governor in American history, chose her as his running mate. She became Iowa's first female governor in May 2017, after Branstad was named the ambassador to China.
Under both Branstad's and Reynolds's leadership, the Iowa GOP has had some of its most fruitful legislative sessions, passing a bill to roll back collective-bargaining rights for tens of thousands of government workers, expanding gun rights, defunding Planned Parenthood, and enacting the most restrictive abortion law in the country. In 2016, the administration privatized the state's Medicaid program, and in May, Reynolds approved the largest tax cut in Iowa's history.
For Democrats, these actions added insult to the injury of the 2016 election, and prompted an enormous backlash. This year, Democrats have more candidates running for the state legislature than at any point in the past three decades, and two of Iowa's three Republican representatives are being given a serious run for their money. Twenty-nine-year-old Abby Finkenauer is locked in a tight race with the Tea Party Republican Rod Blum in northeast Iowa, and Cindy Axne is challenging the Republican David Young for his seat in the southwest. Even Representative Steve King, who defeated his most recent Democratic opponent by more than 20 points, is being out-raised in a closer-than-expected race with challenger J. D. Scholten.
And the whole thing made calm, quiet Fred Hubbell angry enough, he says, to run for office for the first time. If Reynolds is governor for another four years, Hubbell told me on the bus, "we [won't] be able to really recognize Iowa."
The gubernatorial race has evolved to mirror the political debates at the national level: Reynolds, like Trump, has presented herself as the shepherd of Iowa's economic success, just as the president asserts that his leadership has led to a booming economy and a surging stock market. Hubbell, meanwhile, has zeroed in on health care in the same way that Democrats campaigning across the country are framing it as one of the GOP's greatest weaknesses.
Under Reynolds's leadership, Iowa has amassed a surplus of $127 million and boasts a historically low unemployment rate of 2.5 percent—data points the governor often mentions in her ads and stump speeches. She also highlights the fact that Iowa was this year ranked at the top of U.S. News & World Report's Best States list: "We've been recognized as the No. 1 state in the country," she said, grinning, during a recent debate, before asking all the Iowans watching at home to help "build on the success." (Reynolds's staff did not respond to multiple interview requests for this story.)
But Hubbell argues that voters don't care about a budget surplus. "That doesn't mean anything to an individual, family, or business out there," he told me on the bus. Instead, people are more concerned about paying their doctor bills and having access to medical treatment—issues for which he believes he has the solutions.
"It boils down to different priorities," Hubbell told a small crowd of supporters at a campaign stop in Muscatine, a small town on the western banks of the Mississippi River. The health-care situation in Iowa, he said, is a "complete disaster." As governor, he would redirect state funds to comprehensive mental-health services, a policy that's been a priority for Democrats after the Branstad-Reynolds administration eliminated funding for two of Iowa's four mental hospitals in 2015.
Hubbell has also pledged to begin the process of reversing Medicaid privatization. The Branstad-Reynolds administration transferred control of its $5 billion program—and the care of nearly 600,000 Iowans—to managed-care organizations two years ago. Since then, the new system has faced rising costs and numerous complaints from patients and providers who have been denied medical care or reimbursement.
Reynolds has acknowledged that the transition wasn't as smooth as it could have been, but she contends that her administration has brought in analysts and renegotiated contracts to address major problems. Iowans, though, still don't seem satisfied: Support for Medicaid privatization was at a mere 28 percent in September, according to that month's Iowa Poll, and almost half of likely voters who support Reynolds thought her handling of the issue was a problem.
Hubbell wants to return the program to state control. He warns that if things keep going the way they're going, "we're gonna be Kansas," a state that privatized its Medicaid system in 2012. It's since been chastised by the federal government for failing to meet health-care standards.
Hubbell's supporters see him as a soothing balm for a state that's been burned by Republican administrations' policies. Lynda Murray, a dietitian and Burlington city-council member, told me at a campaign stop that the Reynolds administration "has set us back 50 years.

"I see him as trying to reverse some of that stuff on day one," she added.
Republicans, however, are confident that Iowans will see the state's economic progress and trust in its current leadership. Iowa State Senator Tom Greene, who represents three counties in southeast Iowa, told me that people "generally vote with their pocketbooks." That means, he said, "if the economy is doing well, they're gonna say, 'Hey, let's keep riding this thing.'"
Greene said he believes that the Medicaid privatization should have been handled differently, but he's confident that the system's problems aren't a voting issue for most Iowans. And he could be right: "It's a work in progress," said Rich Gophner, an 87-year-old retired newspaper publisher in Burlington, when I asked him about Medicaid. "Democrats never have any patience," he said. Plus, "they're totally irresponsible when it comes to money."
In another eerie parallel to the controversies of national politics, Hubbell's success could be stymied by his choice not to release his full tax returns—and the sheer fact of his wealth. The Democrat released a three-page summary of his returns in August, but several forms pertaining to his income and the properties he owns have not been released. Reynolds, who divulged 10 years of her own tax documents, has repeatedly hammered Hubbell for withholding, and suggested that he might have something to hide. A majority of independents—and even his own supporters—say they're troubled by his unwillingness to release the tax information.
Hubbell, who has contributed more than $6 million to his own campaign, has also been framed as out of touch by Republicans. But he doesn't seem worried about any of it: "You know as well as I do that whatever information we put out, it's never gonna be enough," Hubbell told me. And when it comes to funds, he says, "I think Democrats realize they'd rather have my money there than a bunch of corporations' money."
Tuesday's election comes at a particularly tumultuous time in Iowa: The backlash against Republicans is coinciding with a nonstop parade of out-of-state visitors traveling to Iowa to make their presidential intentions known. More than a dozen potential 2020 candidates have visited the state this year, according to a list from the Register. They've ranged from big-name candidates such as former Vice President Joe Biden and California Senator Kamala Harris, to relative B-listers like Michael Avenatti. Their presence could be useful for Hubbell: "Those people are absolutely drumming up support" for Democrats, says David Oman, a former chief of staff to Branstad and the former co-chair of the Iowa GOP.
For Democrats in the state, the shock from Trump's election hasn't really worn off. And the shocks kept coming: Democrats saw their state transform, almost overnight, into a conservative utopia, where the policy matters that they cared about most—health care, labor rights, abortion access—suddenly seemed at risk.
There's clearly "a Trump reaction," Oman says. "He seems to be consolidating much of the Republican base, and further aggravating activist Democrats." This could have significant implications for the kinds of appeals that prospective presidential candidates will make to Iowans ahead of the 2020 primary season—and how they are ultimately received.
And Democrats are not the only ones fueling the GOP backlash. Farmers, for example, could face losses of up to $2.2 billion as a result of Trump's trade disputes with China and Canada. Some of them are staying loyal to Trump, and by association, Reynolds—but others aren't. Trump's approval rating is low in the state: Only 39 percent of adults say that they approve of the job he's doing as president, including 35 percent of independents and 4 percent of Democrats.
At an event at the Democratic Party headquarters in Burlington, I asked 36-year-old Ryan Rogers what he saw as the source of the energy bubbling up on the left. "It's national more than anything," he told me, after pointing out a Bernie Sanders pin stuck to the bill of his hat. "People are just sick and tired of the way things have been going … With any luck, we can just halt some of the damage that's been going on in Iowa, starting with Fred."
In other words, Democrats' fury over Iowa's Republican leadership has combined in more or less equal measure with the frustration they feel over national politics. And it's all congealed into something that just might translate to a win for Hubbell.
When 71-year-old Pam Abdo caught sight of Fred Hubbell doing a television interview in the sparse, shiny lobby of the Genesis Medical Center in Davenport, she shrieked with excitement and ran to shake his hand.
Abdo, an independent, told me she's supporting Hubbell because she believes that he can repair Iowa's health-care system. But the retired schoolteacher became animated when I asked her how she felt about the country's current leadership. "I'm ashamed of our president," Abdo said, shaking her head. "He doesn't bring people together; he separates people; he gets by with lying."
Despite having voted for members of both parties in the past, Abdo hopes Iowans turn out to vote for Democrats this year—"from the top to the bottom."
She spoke with Hubbell for a few minutes, before reaching into the pocket of her coat and offering him a fun-size Snickers candy bar.
"You should think about going to Washington," Abdo told Hubbell, making him chuckle. "Well," he replied, "we have to fix Iowa first."