Trump Is About to Get a Rude Awakening
The president is portraying the results as a win, but Democratic control of the House could make his life miserable and kill his legislative agenda.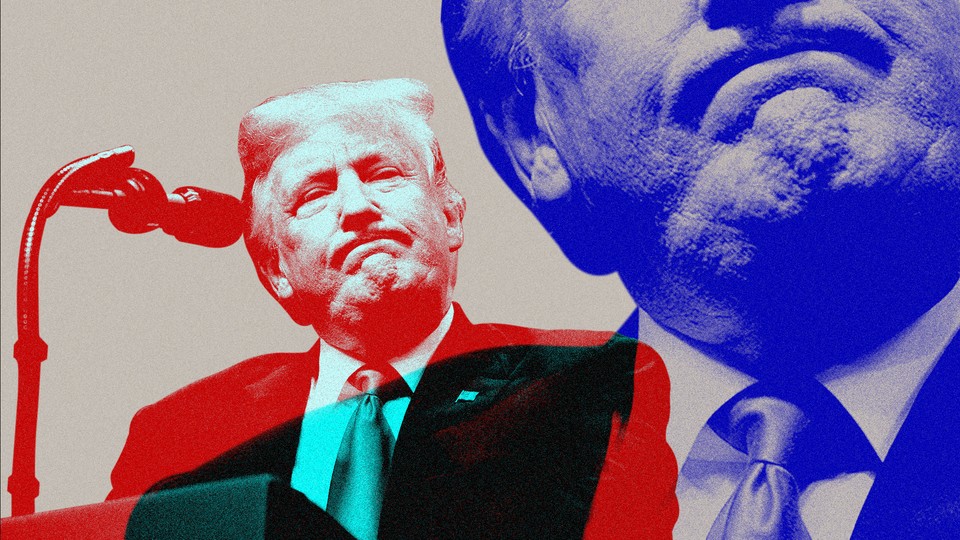 Updated on November 7 at 1:36 p.m.
In the lead-up to the midterm elections, President Donald Trump tried to have it both ways. "I'm not on the ballot, but in a certain way, I'm on the ballot," he told supporters, yet he also made clear that he wouldn't take the blame if Republicans did poorly.
And in the end, he sort of got it both ways. Democrats handily won the House of Representatives, picking up about 34 seats. But Republicans gained seats in the Senate and limited losses in governors' races. Anyone hoping that Tuesday's results would deliver a clean verdict on the Trump presidency, either up or down, was disappointed, even as voters told exit pollsters that Trump was the dominant factor in the election. Yet the outcomes still tell us something about the strengths and weaknesses of the president's campaign strategy—and, more important, about the slog that's ahead for the next two years in Washington, as Democrats harry Trump from their perch in the House. The result is arguably much worse for Trump personally than for the Republican Party as a whole.
The president struck a characteristically brash, belligerent pose over the results. In a press conference at the White House at midday Wednesday, called the election "close to a complete victory." He also said this was the largest Senate gains for the president's party since 1962.
But Trump betrayed a less positive feeling about the results, lashing out at the press and Democrats.
"We did this in spite of a very dramatic fundraising disadvantage, driven by Democrats, wealthy donors, special interests, and very hostile media coverage, to put it mildly," he said. "The media coverage set a new record and a new standard."
He also clashed with reporters several times during the press conference, with the most heated confrontation coming with CNN's Jim Acosta, a frequent sparring partner, who challenged Trump's labeling of a migrant caravan currently in Mexico as an "invasion." As the colloquy ended, Trump sniped, "CNN should be ashamed of themselves having you work for them. You are a rude, terrible person and should not be working for CNN."
Trump said he hoped that the "tone" in the country will get better, but he absolved himself of any responsibility for that. "I really believe it begins with the media," he said.
It was a drastic shift from the chastened reactions of Barack Obama, who labeled the Republican victory in the 2010 midterms a "shellacking," or George W. Bush, who called the Democratic wave in 2006 "a thumpin'."
Indeed, there are a few reasons for Trump to be smug as the smoke clears. To begin with, as Trump's defenders were quick to point out, the president's party almost always loses ground in the midterms. And while Democrats posted big gains in the House, Republicans added at least three seats in the Senate. They limited Democratic gains at the state level. In Florida races close to the president's heart, two of his close allies won both the Senate and gubernatorial seats over lightly favored Democrats. The gains in the Senate will make it easier for Trump to appoint judges, arguably the most successful area of his presidency. Meanwhile, as McKay Coppins writes, the midterms already demonstrated that Trump's hold over the GOP is solidified—another win.
On the other hand, overselling defeats as wins is Trump's signature move, honed in years in the real-estate business. As recently as August, the president promised a "red wave" in the midterms, but as the election approached, he gradually narrowed that down to a focus on the Senate. In the end, roughly 40 percent of the candidates Trump endorsed on Twitter ended up losing their races.
More important, the loss of the House will give Democrats a way to make Trump miserable more or less perpetually for the next two years. Trump has already chafed at working with the House when it was under GOP leadership, bullying and cajoling members—mostly to little effect—in his fight to repeal Obamacare. The president, still accustomed to the business world, was frustrated by the fractious and slow pace of Congress. Now, just as he seemed to be starting to get comfortable, the terrain has shifted.
With Republicans still in control of the Senate and the White House, Democrats will be unable to enact any of their ambitious policy ideas into law. Divided control means that practically every legislative idea on both sides is dead on arrival. If the past two years seemed like gridlock, the next two could make them look like an era of productivity.
Nonetheless, Trump said he was willing to work with Democrats.
"I expect that they will come up with some fantastic ideas that I can support on the environment, on so many different things, including prescription drug prices, which we have made a big dent in already, including some of the things we are working on for the vets," he said.
But Trump lashed out at the idea of Democrats investigating him—which bodes ill, since what Democrats really gained Tuesday is the power of oversight. Thanks to a rule the GOP passed in 2015, Democratic chairs of House committees will now be able to subpoena the administration with or without Republican consent. Democrats have expressed frustration with the Trump administration's stonewalling of requests for information over the past two years. Now they will be able to demand it.
For a White House that has seen effectively no oversight from the Republican Congress, this will be a rude shock. The Democratic Party's collective mouth has been watering for weeks, if not months, preparing lists of prospective investigations. Democrats will peer into departments, posing a threat to secretaries who are already facing ethical questions, including Interior's Ryan Zinke and Commerce's Wilbur Ross. They are likely to demand to see Trump's tax returns. They could even attempt to impeach the president.
The election will sweep many Trump antagonists into the leadership of key committees. Jerry Nadler, who has tangled with Trump for decades in New York, will likely take over Judiciary. Elijah Cummings is in line at Oversight. Trump's favorite rhetorical target, Maxine Waters, will probably lead Financial Services. And perhaps most consequentially, the chairmanship of the Intelligence committee will shift from the reliable Trump henchman Devin Nunes to Adam Schiff, another frequent target of the president's ire. It's a set of wily and experienced Democrats determined to puncture the administration's carapace.
The results of the election also offer some clues, though somewhat obscured ones, about the 2020 campaign. The practice of punditry searches for normative changes in the behavior of voters. Either 2016 was a huge realignment in the electorate, or it was a strange fluke, brought about by factors specific to the Clinton-Trump matchup. But Tuesday night's results do little to make a definitive case for either of those theories. It's no longer possible to say, as some analysts have, that Trump is simply impervious to political gravity. Yet the Republican wins make it hard to draw sweeping conclusions about how Trump affects his party's candidates.
Consider the Rust Belt, which was regarded as the Democratic Party's "blue wall" until Trump demolished it in 2016. Democrats picked up seats in Minnesota, Illinois, and especially Pennsylvania (aided by newly drawn maps). Democratic Senators Sherrod Brown of Ohio, Tammy Baldwin of Wisconsin, Bob Casey of Pennsylvania, and Debbie Stabenow of Michigan all won fairly easily. Yet in Ohio, voters opted to elect the Republican Mike DeWine, for whom Trump campaigned, as governor over the Democrat Richard Cordray. (Wisconsin Governor Scott Walker, a Trump rival in 2016, seems to have been less lucky.) Who owns the Midwest? Who knows?
More definitively, Democrats continued to make inroads into suburban districts. One of the key dynamics in special elections and in the 2017 Virginia election was that the party has begun to pick off traditionally Republican voters in suburbs, and that pattern held Tuesday. In Virginia, Texas, Pennsylvania, Florida, and Illinois, Democrats picked off suburban districts held by Republicans. This poses a major danger to Republican success going forward, and it sets up a 2020 election that pits blue and blue-leaning cities against red rural areas.
The midterms also provided a test for Trump's strategy of focusing largely on driving turnout from his base. Although he won the presidency in 2016 with a minority of the popular vote, he has made little effort to expand his base, save occasional pro forma overtures to black voters and other groups. To be able to win, I and others have argued, Trump should need to expand the range of voters who might go Republican, likely by dropping some of his most strident and fearmongering language. Yet in the midterms, Trump went all in on a dark, bleak message. The results were mixed. His late charge didn't put much of a dent in projections for Democratic gains in the House, but it may have helped save some Senate and governors' seats. Given that Democrats are projected to win the popular House vote by about 9 percent, it's hard to see that as a winning strategy, but it also didn't entirely backfire.
On the positive side for Trump, the Republicans who won on Tuesday are likely to be more loyal to him. Representatives Chris Collins and Duncan Hunter, both close Trump allies who are under criminal indictment, won reelection. The president may have helped to push two other close allies, Rick Scott and Ron DeSantis, to their wins in the Florida Senate and gubernatorial races, respectively. Compare that with Trump-skeptical members such as Senator Dean Heller, who lost Tuesday, and Representative Mark Sanford, who lost a primary this summer. Even Republicans who have doubts about Trump are likely to take the lesson that aligning with the president might save you, but attacking him will mean political doom. With many GOP moderates gone from the House, the Republican caucus will be smaller but more uniformly pro-Trump.
Tuesday's results aren't good for Trump, but it's hard to gauge just how bad they are for him, and what they portend for his reelection prospects. The 2020 presidential race began, in practice, around the same time that polls closed on Tuesday. In the lead-up to the election, Trump told supporters, "Everything we have achieved is at stake." Whether he is right will start to become clear soon.