Zuckerberg, Soros, and Steyer Spend Millions on Out-of-State Ballot Initiatives
The billionaires have funded initiatives on drug treatment, alternative energy, and in-home care for seniors, but some corporations and state activists wish they would keep their money and stay away.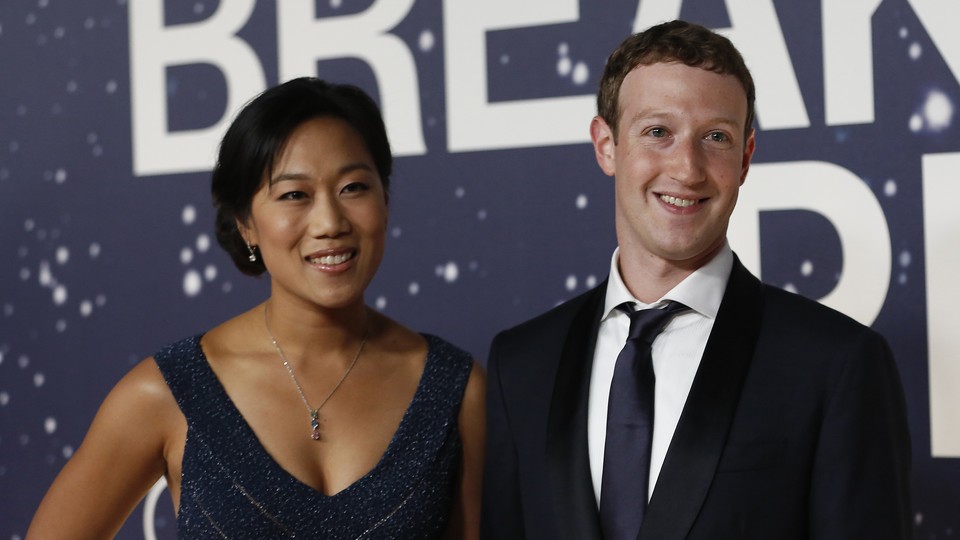 There would appear to be no shortage of issues competing for Mark Zuckerberg's attention. Security breaches. Russian disinformation campaigns. Politicians' demands for more regulation. But the 34-year-old Facebook founder and CEO is also interested in a more local version of politics: He and his wife, Priscilla Chan, have ponied up $1 million through their philanthropic Chan Zuckerberg Initiative to support a statewide ballot measure that would soften penalties for drug possession. The constitutional amendment would also put savings from prison budgets into treatment for drug users.
The measure wouldn't affect Zuckerberg's palace in Palo Alto, California, his 700-acre estate on the Hawaiian island of Kauai, or another home he owns in San Francisco's hip Dolores Heights. This effort, dubbed Issue 1, is on the ballot in Ohio.
Ana Zamora, the criminal-justice manager at the Chan Zuckerberg Initiative, said the charity is "pleased to support Ohioans in directing taxpayer dollars to rehabilitation, drug treatment, and education programs that are proven to improve public safety."
Not all Ohioans are happy about the California billionaires' involvement. Louis Tobin, the executive director of the Ohio Prosecuting Attorneys Association, opposes the measure, arguing that fewer people will enter treatment without the threat of jail time.
"We think setting criminal-justice policy by constitutional amendment is a terrible idea, and I think what makes it even worse is that it's not being proposed by Ohioans. It's being driven by money from out of state," Tobin said. "We're going to have to live with the unintended consequences of this."
Zuckerberg's investment in a ballot measure a long way from home is hardly unique. The liberal billionaire George Soros has given $5 million for issues on the ballot this fall around the country. The California environmentalist Tom Steyer has spent $10 million.
All told, this trio and 22 other American billionaires have invested more than $70.7 million for initiative campaigns this year in 19 states where they do not reside.
Meanwhile, as little as $7.2 million has gone from their wallets and those of other billionaires to campaigns in their home states, according to a Center for Public Integrity analysis of state records.
In total, the $78 million tally from all 34 billionaires—local givers and out-of-state donors alike—may be pocket change to them, but it is more than 10 percent of the $648 million disclosed so far this year for statewide ballot-measure campaigns, as tracked by the nonpartisan political encyclopedia Ballotpedia. And the total is likely an undercount of billionaires' influence on this year's ballot measures. It doesn't include gifts from billionaire-led corporations, or from nonprofits where the billionaires are among a multitude of backers, or from nonprofits whose donors' identities are unknown.
As with Tobin and the prosecutors association in Ohio, the handouts from the wealthy to campaigns across state lines rankle some local opponents, even though no one questions their legality. Just who should decide issues in their state, they ask—the people who live there, or some rich folks from out of state?
"We believe strongly that a California billionaire coming into Arizona and spending $10 to $20 million to cram this thing down our throats is problematic," said Matthew Benson, an opponent of a renewable-energy measure in Arizona backed by Steyer that would require utilities to get half their power from wind and solar sources by 2030.
Other local activists say it's fine to have billionaires funding ballot initiatives, which let voters decide issues directly. "There's nothing illegal about this," said the initiative expert and University of Florida professor Daniel Smith. "In some ways, it's less corrupt than if they were making contributions to lawmakers or giving favors to lawmakers."
Indeed, the Supreme Court ruled in 1981 that states cannot limit contributions to ballot measures partly because measures, unlike candidates, cannot be corrupted.
Billionaires and ballot measures are not a new combination. The oil-industry magnate John D. Rockefeller was behind a 1912 Colorado referendum campaign to eliminate an eight-hour maximum workday for miners. The California software developer Ron Unz funded a Colorado initiative in 2002 to ban bilingual education. Former New York City Mayor Mike Bloomberg has funded campaigns in California to hike cigarette and soda taxes.
"The fact is that you need a lot of money to even get one of these campaigns off the ground," said Josh Altic, the ballot-measures project director for Ballotpedia, adding that the average cost for a campaign to get on the ballot in 2016 was more than $1 million. "It's not very unusual to have really rich individuals or financially influential corporations giving a lot of money."
Two wealthy families who don't live in Florida gave millions to a ballot measure there this year. Five members of the billionaire Bonderman family—four children of the private-equity titan David Bonderman along with his wife, the psychologist Laurie Michaels—contributed $3.2 million to the campaign for a measure that would restore voting rights to felons in the Sunshine State.
In addition, the hedge-fund manager James Simons and his daughter Liz Simons gave a combined $1 million to the campaign.
The Bondermans appear to be spread out among several states, none of them Florida. James and Liz Simons live in New York and California, respectively.
Kirk Bailey, the political director of the American Civil Liberties Union of Florida, said donors are attracted to the initiative campaign because it's a long-term, citizen-led effort to support a decision that should be in the hands of voters, not politicians.
"We're one of only four states that permanently disenfranchises those who have felony convictions from voting," Bailey said. "And it's a really antiquated law."
At least $9 million of the Florida campaign's $16 million war chest came from major donors out of state. That includes the Simons, the Bondermans, and a few familiar faces from the Ohio measure: the Tides group and similar nonprofits.
None of the billionaires who gave in Florida and Ohio agreed to comment.
A lawyer affiliated with an informal campaign to defeat the issue, Richard Harrison, did not return multiple requests for comment. But he argued in an opinion piece in the Tampa Bay Times last year that the initiative would "operate without regard to the seriousness of the crime, the severity of harm to the victims, or any of the other factors that one might reasonably want to consider."
Most of the billionaires contributed in their own name, although several spent through nonprofits they founded. For example, Steyer's NextGen Climate Action, part of his NextGen America network, has spent roughly $10 million on two measures to boost renewable energy in Nevada and Arizona. NextGen has provided nearly all of the funding for the campaigns.
"This is all a vanity project for him," said Benson, the spokesman for Arizonans for Affordable Electricity, which opposes the measure in his state. "His primary objective is to set himself up to run for president."
Arizonans for Affordable Electricity is one of four groups opposing the measure, all of which are funded by Arizona utilities. Two of the utilities backing the other groups are subsidiaries of the Canadian company Fortis.
The NextGen America spokeswoman Aleigha Cavalier said the group was pushing the state measures because the Trump administration thwarted its work at the federal level to fight climate change. She said the group reached out to state partners early on, and together they came up with the idea for the initiatives.
"The notion that this is just because Tom Steyer is running for president is a little absurd, to be honest. We've been doing this stuff for years," she said. "The whole point of doing a ballot initiative is so that the people have a say, not the wealthy individuals."
Soros, who's garnered notoriety for his hefty donations to various liberal causes, gave more than $5 million to nine initiative campaigns in nine states this year through his politically active nonprofit, the Open Society Policy Center, according to Bill Vandenberg, who helps direct the Open Society Foundations' giving in the states.
"We've taken an interest in places around the country where the issues reflect our long-standing priorities," Vandenberg said. "We see our involvement as a great way to help ensure that all voices in a community are heard, not just those of the rich and powerful."
The Soros funding includes $400,000 to back a measure in Maine that would raise taxes to pay for in-home care for seniors.
"We fully expect that we're going to be outspent by out-of-state money," said Newell Augur, a lobbyist for the Home Care and Hospice Alliance of Maine and the chairman of the group fighting the measure.
Augur said he believes outsiders are pushing the initiative in Maine because the state requires relatively few signatures — roughly 61,000 — to put a measure on the ballot, allowing groups to easily test voters' appetite for a new policy. "We're a cheap date," he said.
A spokesman for the Maine People's Alliance, which gathered signatures for the initiative, said the wealthy corporations opposing it have vested interests in the status quo. "This is a grassroots, Maine-based initiative," said the spokesman Mike Tipping. "We're happy to get support from people and advocates across the country that support these issues."
The alliance received roughly half its funding for the measure campaign from out of state, but Tipping said the group has 32,000 local members and thousands of small-dollar donors.
The Texas billionaires John and Laura Arnold are backing four measures in Colorado, Michigan, and Utah with more than $1.1 million from their Action Now Initiative. The measures would allow independent commissions to draw political districts instead of the states' legislatures.
Action Now Initiative CEO Sam Mar said in a statement that the group is supporting grassroots initiatives. The measures have drawn little organized opposition, other than an unsuccessful effort in Michigan to persuade the courts to remove the initiative from the ballot.
(Laura and John Arnold are donors to the Center for Public Integrity. Open Society Foundations, which Soros funds, and the Ford Foundation were previously donors to the center. More details on our funders.)
And this year, the California billionaire Henry Nicholas is continuing his quest to have every state pass crime-victim-rights laws named after his murdered sister, Marsy. He's already spent $45.1 million of his own money and his foundation's to push the Marsy's Law measure in Florida, Georgia, Kentucky, Nevada, and Oklahoma. The proposal is also on the ballot in North Carolina, but the campaign there has not yet recorded any contributions.
His efforts in past years have already led to laws in five states. Nicholas and his foundation did not respond to a request for comment, but he is quoted on his foundation's website saying that Marsy's Law would "provide for a more compassionate justice system for crime victims." Among other things, it would allow crime victims to be heard in court, notify them of all judicial proceedings, protect them from defendants, and provide restitution.
The ACLU, which is opposing the measure in various states, has said that its provisions can undermine the presumption of innocence for defendants.
Not all billionaires gave to states far afield. Before his death on Monday, the Microsoft co-founder Paul Allen had pitched in to help the campaign for a gun-control measure in his home state of Washington that would limit certain gun purchases to buyers who are at least 21 years old and who undergo additional background checks, waiting periods, and safety training.
"Initiative 1639 is a reasonable and necessary measure that will improve the safety of our schools and our communities, which is why I have contributed $1.2 million to the campaign," Allen said in an email to the Center for Public Integrity earlier this month.
The National Rifle Association and other opponents did not respond to requests for comment, but NRA Washington State Director Keely Hopkins called the initiative an "attack on every law-abiding citizen's constitutional rights" in a press release.
Most of the billionaires gave to left-leaning causes, such as boosting renewable energy in Arizona or protecting salmon in Alaska. That's not surprising, said Ballotpedia's Altic, since the initiative process is most commonly used by the party out of power, and Republicans control both the legislature and governor's mansion in 26 states.
But at least two billionaires gave to conservative "no" campaigns this year.
The Trump donor and billionaire Los Angeles landlord Geoff Palmer gave $2 million to defeat California's Proposition 10, which would allow local governments to enact rent-control measures.
And the Republican megadonor Richard Uihlein, who lives in Illinois, gave $10,000 to oppose a Massachusetts law up for a vote that prohibits discrimination based on gender identity in public venues.
Neither conservative donor responded to requests for comment.
Another billionaire, the Boston-based investor Seth Klarman, gave $200,000 to the Massachusetts campaign to keep the anti-discrimination law.
"All human beings deserve the same basic protections," Klarman said in an email. "I have faith that a majority of people share my belief, and will vote Yes on 3 to protect the rights of transgender people."
In South Dakota, outsider money in ballot measures has so angered Speaker of the House Mark Mickelson that he penned his own initiative. The Republican is leading a campaign to ban out-of-state contributions to ballot-measure efforts in his state, where politicians are still debating a 2016 measure backed by a national group that sought to tighten lobbying and campaign-finance rules.The measure passed, but was overturned by the legislature the following year. Now the same national group is behind a similar ballot campaign to again tighten ethics rules and create a new government-accountability board — but this time in the form of a constitutional amendment, so that the legislature can't repeal it.
"I'm sick and tired of liberal political groups and out-of-state businesses treating South Dakota like it's a political playground," Mickelson said. "My goal is to send all those people that don't live here a message: Go somewhere else."
Critics have said his proposed ban on out-of-state funding is unconstitutional.
"If they want to file and fight it in court, we'd be happy to see them there," Mickelson said. "But hopefully they just determine they can go screw around in Idaho or some other state."
For Zuckerberg, part of the motivation for getting involved in Ohio's Issue 1 may be rooted in his 30-state tour last year, which included a sit-down with a group of recovering heroin addicts in Dayton. Later in the tour, Zuckerberg spoke emotionally about the experience.
"The biggest surprise by far has been the extent of the opioid issues," he said. "It is really saddening to see."
Supporters of Issue 1 said the measure has the backing of a coalition of local groups wanting to solve local problems, not just the support of Zuckerberg and Chan.
"This has been a three-year effort in Ohio started by faith leaders and community organizers and people who have just had enough of our incredibly high rates of incarceration and our incredibly high rates of addiction," said Amy Hanauer, the executive director of Policy Matters Ohio, a liberal think tank. "It's a homegrown effort."
But a close look reveals a somewhat more complicated history.
The measure got onto the ballot with the help of the national Alliance for Safety and Justice, a project of the liberal nonprofit Tides Center based in California that does not reveal its donors. The alliance had previously spearheaded the passage of California's Proposition 47, which shrank many criminal charges from felonies to misdemeanors. In 2015, it approached the Ohio Justice and Policy Center, which was already working on shrinking Ohio's prison population, according to the Ohio group's deputy director, Stephen JohnsonGrove.
And Soros' Open Society Foundation gave more than $6 million in 2016 and 2017 to seven of the 26 nonprofits that make up the Ohio Organizing Collaborative, which also worked to get the measure on the ballot.
The Ohio Organizing Collaborative members and partners have also taken in more than $10 million from the liberal, New York-based Ford Foundation since 2015.
Once the Ohio measure was ready for the ballot, another $1 million came from a charity endowed by the Facebook co-founder Dustin Moskovitz and his wife, Cari Tuna, who also live in California.
All told, according to the Center for Public Integrity's analysis of state records, Ohio donors have given just 6 percent of donations to the committee supporting the ballot measure.
This story is from the Center for Public Integrity, a nonprofit, nonpartisan investigative media organization in Washington, D.C. Read more of its investigations on the influence of money in politics or follow it on Twitter.