Two Women and the Protest Against Brett Kavanaugh
They were angry and afraid and joined a "filibuster" outside the Supreme Court Thursday night before the Senate's vote on Brett Kavanaugh.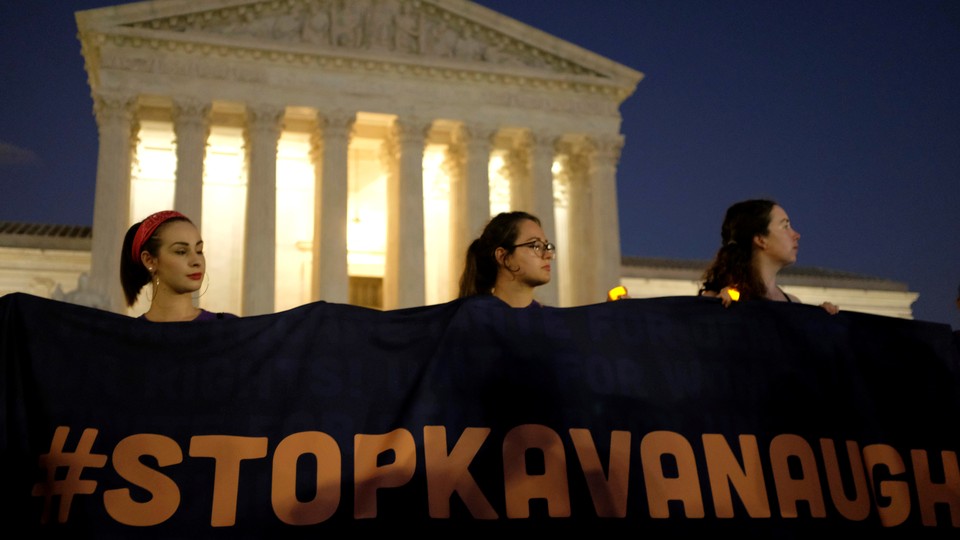 On the lawn between the Capitol and the Supreme Court, two women listened to the speeches coming from a makeshift stage outfitted with a "Stop Kavanaugh" poster.
On any other Thursday night, they would have been back home in Baltimore by now having dinner. But the Senate was scheduled to vote the next morning on Brett Kavanaugh's Supreme Court nomination, and hundreds of demonstrators had been arrested earlier in the day at the Hart Senate Office Building.
So here they were, after nightfall, two professional women in their mid-forties, protest signs at their feet to free their hands so they could applaud the speakers. President Trump's selection of Kavanaugh, the threat he posed to Roe v. Wade and the sexual assault allegations lodged against him just a week earlier by the "terrified" Christine Blasey Ford made them angry. They wanted to join a protest—any protest.
And on some level they, too, were afraid. One of the women asked that only her first name, Kara, be published. She works at a federal agency, which she also didn't want named, given all the recriminations these days inside the Trump administration.
With blue eyes and wavy blond hair cut at her chin, Kara looked like a J.Crew model, wearing a button-down striped top and bright pink skinny pants, her jean jacket draped over her shoulder.
Her partner, slightly shorter, a scientist at the University of Maryland at Baltimore, had her long brown hair pulled into a ponytail. She wore red glasses and a T-shirt with a Chinese character on it. She didn't even want her first name published.
They had envisioned joining a demonstration like the one they'd read about at Hart on Constitution Avenue NE earlier in the day. But once they met up downtown around 6:30 p.m., they followed people with placards to this spot between the Supreme Court and the Capitol, where 15 nonprofits had organized a "filibuster" at which protesters against Kavanaugh would camp out and speak for two days straight in hopes of somehow derailing the vote.
"It's a done deal," the scientist remembered telling Kara earlier in the day. "But I'll join you, I don't care."
The filibuster was being streamed live on the web. Multiple cameras and floodlights heightened the already dramatic backdrop of the lit-up Supreme Court against the dark sky. If any of the speakers onstage ran out of things to say, copies of Dr. Ford's opening statement had been printed in a binder ready to read.
Kara said she couldn't even watch Ford's testimony. She had found it too heart-wrenching. So she relied on her partner to keep her up to date via text. If Kavanaugh gets confirmed, she said, "I'm going to have to deal with it."
Women of all ages, and some men, had come down for the filibuster. A few women were from Ford's high school, Holton-Arms, and wore T-shirts that said don't mess. One woman said she just hopped off the metro at the Capitol after seeing Bernie Sanders go live on Facebook from the event. Still, Kara was disappointed that even more hadn't come.
"I hate to say it because the organizers are fantastic. They've done a great intersectionality, brought in a lot of voices. But this crowd is abysmal," Kara said bitterly. "This whole place should be full of people still chanting."
Her partner, having come straight from work, still had her backpack strapped on her shoulders. She wore a roll of lime green duct tape, which she had used to make their posters, looped around her wrist like a bracelet.
This being a filibuster, anyone could sign up and speak. But neither Kara nor her partner felt so moved. "I don't think I particularly have a compelling story to tell," the scientist said, a faint accent the only hint that she'd immigrated from Cuba 21 years ago.
"I think you do," Kara said, pausing to think about this moment in our politics. "We are different things within one household—being a federal worker, being gay, being an immigrant. The stuff that happens affects us in huge, huge ways."
For example: Under Obama, she was able to put her partner on her health insurance, and have worker's rights to go visit her dying mother, Kara said. And her partner was able to travel to Cuba without having to go through Canada.
"My cynicism about America was deeply entrenched until I met you," Kara told her. "You were like, 'Do you have any idea of the good stuff that you have? You can protest. You can vote. We got the same dude in there for like 60 years.' And I was like, you hear that growing up, but you also have the experience where you feel like it's rigged … somehow it always keeps coming out on the side of the powerful."
"There was a particular moment in the history of this country," her partner said, "when George W. Bush was in office, the first I experienced since I was an American citizen when people can go to vote one day in November and you can come back and have a totally different House and Senate. I remember that being, as proud as I was of the ability to vote, so powerful. I think I spent the whole day kind of mesmerized."
Kara had heard the story many times before but still loved it. And so they had come down to the Capitol to exercise those rights and listen to others tell their stories. When they headed for home at 9:30, they left their placards—protect the truth and kavanotfit—in case someone else wanted to use them.