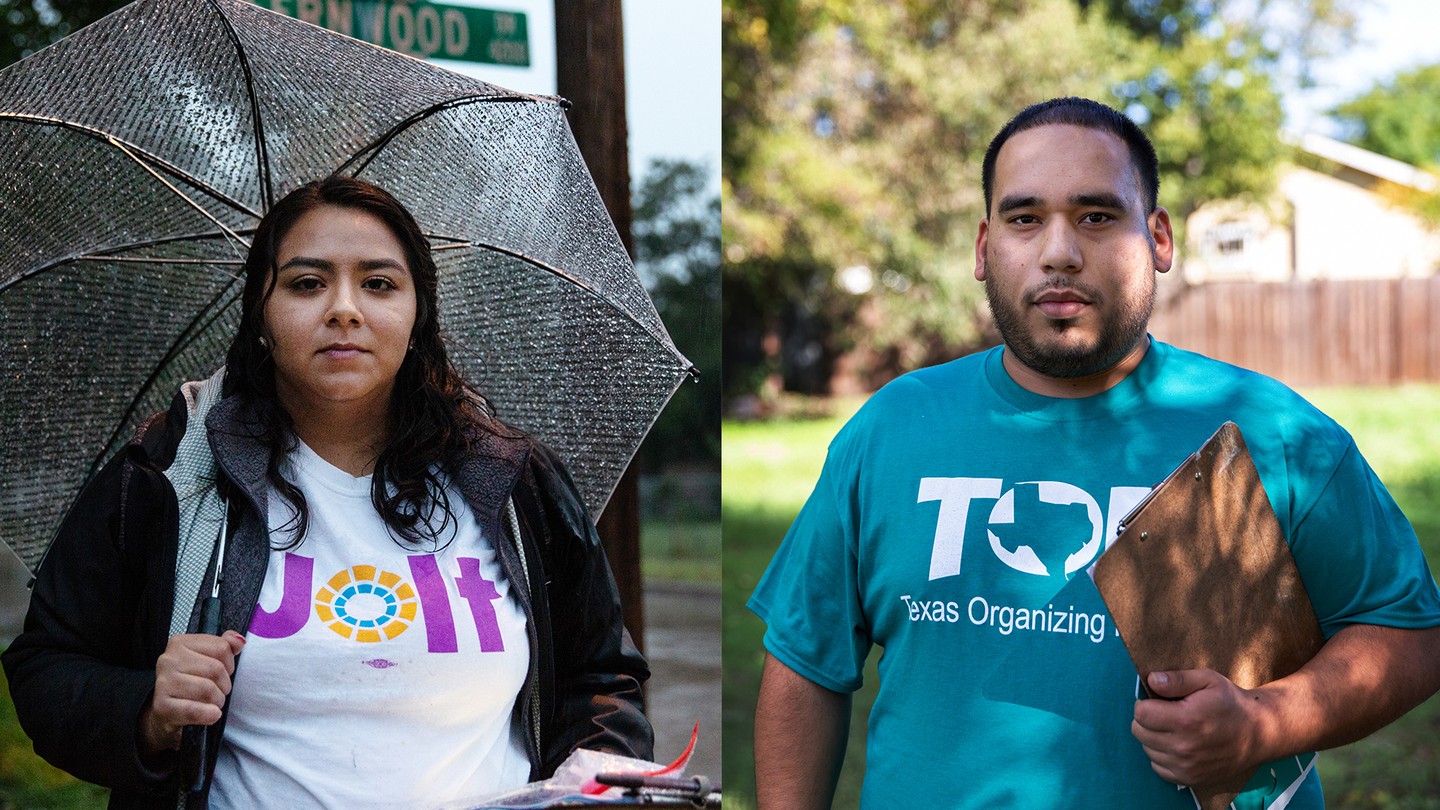 Progressives Rooting for a Latino Surge Might Be Disappointed
Organizers are working overtime to mobilize these voters in Texas, but experts say not to expect a huge turnout in November.
DALLAS—In the Los Altos neighborhood in the western part of this city, people recognize the name Beto O'Rourke. They just don't know exactly who he is.
"I've heard good things …" said 30-year-old Joaquin Ramirez, his voice trailing off, as he stood in his front yard. I listened while Ramirez talked with David Villalobos, a staffer for the Texas Organizing Project, or TOP, about the upcoming midterm elections. Ramirez, who works as a phlebotomist at a nearby hospital, said he doesn't "really engage with politics that much," but he cares about protecting the Affordable Care Act and tends to align with Democrats on policy issues. He couldn't remember whether he voted in 2016. He thinks he will probably vote this year.
"I appreciate you guys being out here," he told Villalobos, "being an eye-opener for people who are sheltered and not looking at stuff like that." Ramirez filled out a voter-pledge card with his name, phone number, and email address.
"That was a victory," Villalobos said after we got back into the car. "It's getting that conversation."
But how do you know he'll actually vote? I asked.
Villalobos shrugged. "We know it's gonna take a couple more nudges."
If O'Rourke is able to unseat Republican Senator Ted Cruz in November—and if Texas Democratic congressional candidates can win in their red districts—it will likely be because of mobilization efforts like this one. TOP and other progressive activist groups have spent the past few months—and, in some cases, years—running aggressive get-out-the-vote campaigns across the state specifically targeting Latino voters, who make up roughly 30 percent of the electorate.
There's good reason to believe that a blue wave might wash over Texas next month: President Donald Trump has a low approval rating in the state and, for the first time in 25 years, Democrats have recruited candidates to run in every single congressional district, from Texarkana to Eagle Pass. Progressives are hoping that their voter-mobilization efforts, combined with Latinos' disapproval of Trump's job performance, will trigger a large surge from those voters at the polls. And, finally, Texas—or at least parts of it—will turn blue.
But getting people—any people—to vote is hard. And recent polling shows that Latinos are less interested in the 2018 midterms than other voters.
For all the hype among progressives about voter-turnout programs, and for all the anger from Latinos over the president's policies, organizers on the ground could still run up against the same obstacles that have hindered Latino voting all along.
Talk to Texas Democrats, and they'll argue that they don't live in a red state—they live in a nonvoting state. Texas ranked third lowest in the country for voter turnout in 2016. Among the state's Latino voters, about half cast a ballot that year, compared with 63 percent of non-Hispanic voters.
Nonvoting is a widespread problem among Americans writ large, but there are some factors —both structural and cultural—that create barriers to voting for the Latino community specifically. First, election experts told me, it's important to note that recent immigrants and first-generation Latinos don't necessarily have the same voting tradition as other groups. One in six Texans is an immigrant, and 15 percent of Texas residents are U.S. citizens with at least one immigrant parent, according to the American Immigration Council. Most of these immigrants come from Latin America. For many Texas Latinos, "there's not this socialization of having grown up talking politics, where you grow up going to the polls with your parents on Election Day," said Victoria DeFrancesco Soto, a lecturer at the University of Texas's LBJ School of Public Affairs.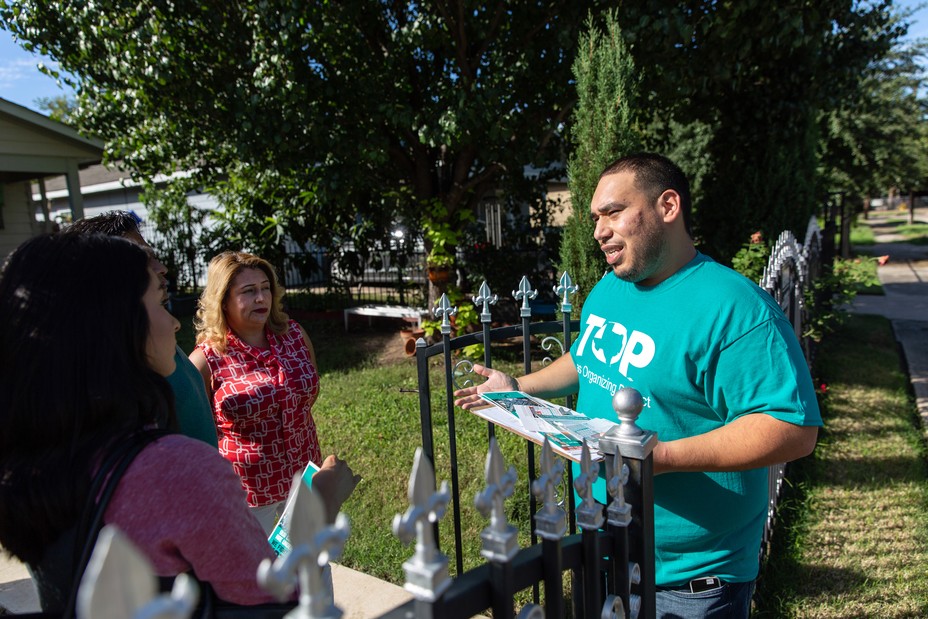 Young and low-income Americans are statistically less likely to vote than others, and Texas's Latino population trends disproportionately younger and poorer than other ethnic groups. Neither political party has historically made much investment in turning out these voters—not just in Texas, but nationwide. "Most Latinos are never contacted by a campaign, and that's the No. 1 way you get people out to vote," said Cristina Tzintzun, who in November 2016 founded Jolt, a voter-mobilization group that targets young Latinos in Texas. A poll released earlier this month by Latino Decisions found that 58 percent of Texas Latinos had not yet been contacted about voting in November.
In other words, there hasn't been much investment in developing a "culture of voting" among Latino voters, activists told me. African Americans "had a 60-year civil-rights movement that was deeply focused on achieving equality through the ballot box," said Texas Democratic Party Chairman Gilberto Hinojosa in an interview. "We didn't have that. We've never had that." (And, of course, there are still barriers in place that make it difficult for many black Americans to cast a ballot.)
Democrats also argue that strict voter-ID laws in the state have intimidated and discouraged potential new voters, and that they disproportionately affect black and Hispanic Americans. The state's history of gerrymandering doesn't help either, Democrats told me. A recent case brought to the Supreme Court alleged that Republicans redrew the state's congressional districts to intentionally dilute the voting power of Hispanic and black voters.
All these elements, taken together, contribute to a general sense among Latino voters in Texas that their votes don't matter, Soto says, noting that's especially true among Latino Democrats. "You feel [like] you just keep getting kicked in the gut," she says. "Voters think, Why do I want to put myself out there, take a day off work and vote, and be disappointed?"
TOP's canvassing headquarters, where Villalobos works, isn't much to look at. The office is housed in a bland, concrete building northwest of Dallas, across the street from the Dallas Fort Worth Gun Range and down the hall from a crime-investigation unit and a rehab clinic. When I pulled up outside on a recent afternoon in October, the parking lot was empty, and the windows were dark.
Inside, though, there was a buzz of activity. A dozen staffers in matching TOP T-shirts flitted between rooms, carefully avoiding a steady drip of water leaking from the ceiling. Halloween decorations had been haphazardly taped to the walls alongside posters bearing voter stats, important dates, and inspirational messages.
"We're the experts on mobilization," said Kimberly Olsen, the political field director, sitting in her small office, which doubles as a storeroom for T-shirts and canvassing supplies. TOP is a nonprofit focused on organizing African American and Latino communities in Dallas, Harris, and Bexar counties, a region spanning roughly 4,000 square miles and more than 9 million people. It runs door-knocking and phone-banking programs to help sporadic voters and nonvoters understand where and how to vote. In Olsen's words, it engages "black and brown people who are completely disenfranchised from the system." She was in charge of TOP's Houston operation back in 2016 when voter turnout in Harris County dramatically increased and Democrats won every seat. Dallas, she says, is the next big effort.
TOP officials assert that their efforts aren't partisan. "For us, it's not about turning Texas blue," said Michelle Tremillo, the group's co-founder and executive director, in a phone interview. "We're very focused on having a reflective democracy … making sure that our electorate is reflective of the majority of us who live here." The groups they're targeting, though—Latinos and African Americans—are more likely to lean Democratic, and all the state-level and congressional candidates TOP has endorsed in Texas are Democrats. They include Senate candidate O'Rourke, U.S. House candidate Colin Allred, and state House candidate Victoria Neave.
TOP identifies two tiers of voters for its mobilization campaign: "drop-off" voters, who vote in presidential elections but not in the midterms, and people who are registered but haven't voted in a recent election. All these voters care about things like health care and education, Olsen says, but they don't necessarily understand how voting can affect change in those areas. That's where TOP comes in: "We connect the dots for people," she says. TOP hires canvassers from local communities to go door-to-door for six hours every weekday—and twice as long on Saturdays and Sundays—to share information about voting locations and hand out flyers with the names of TOP-endorsed candidates.
From late August through November 6, TOP will reach out to 240,000 Latino Texans up to seven times. First, canvassers will knock on their front doors, ask which political issues affect them most, then ask them to make a commitment to voting. The canvassers will follow up with a postcard as a reminder of that commitment. They'll call; they'll text. They'll swing by up to three more times before Election Day to give reminders about early voting, which started Monday in Texas. They might even offer to drive people to the polls.
Latinos have long been pigeonholed by political observers as caring chiefly about immigration, but groups working to mobilize this community stressed repeatedly in interviews that that's not the case. The No. 1 issue depends on whom you ask. "No matter what time of year, it's jobs and it's education," Tremillo said. According to Tzintzun, Latinos care most about health care. Their impressions are reflected in polling: Pew surveys show that Latinos in the U.S. rank education, the economy, and health care as more important than immigration.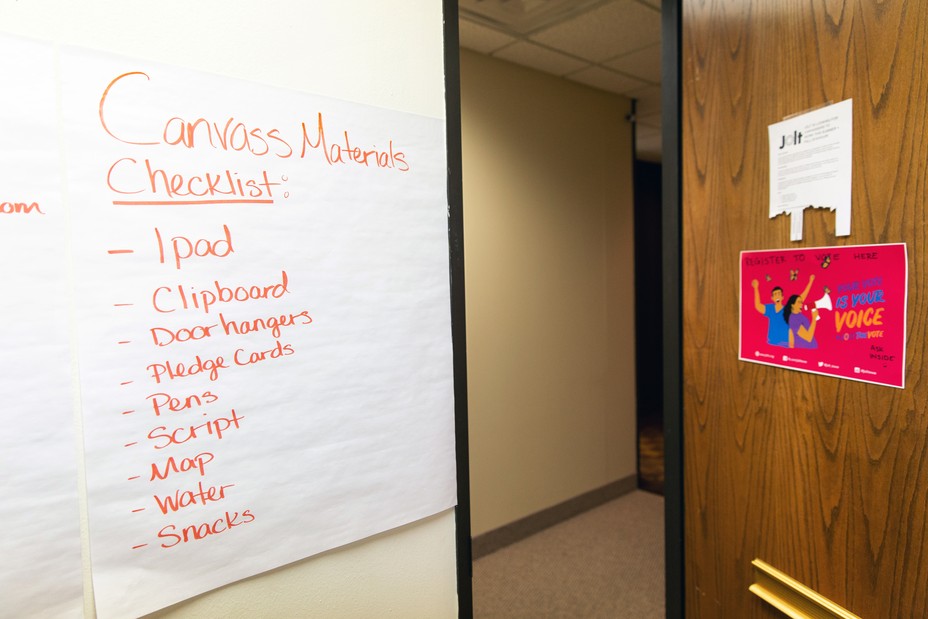 Yet immigration still seems to be the No. 1 issue that organizations like TOP and Jolt use to mobilize voters. "It's not just the kids being put in jails—it's people getting their birth certificates denied," said TOP communications director Mary Moreno, citing two recent news events: the separation of children from their families at the U.S.-Mexico border and an August Washington Post report about the U.S. government denying passports to some citizens. "It's part of a larger strategy, and it's against us. We don't just have to be recipients—we have a way to fight back."
Organizers appeal to Latino voters using state-level issues, too. When they're door knocking, Jolt canvassers are trained to start their conversations by bringing up state Senate Bill 4, a Republican-sponsored law passed in May 2017 that in part allows police officers to ask for the immigration status of anyone they arrest or detain, and that many worry will lead to racial profiling. "We want to ensure that everybody's voice is being heard, especially when it comes to fighting racist laws like S.B. 4," the Jolt script says. "Can I count on you to pledge to vote in November so we can fight against politicians that support that racist law?"
Aylin Anaya, a 22-year-old student at Texas Women's University in nearby Denton, has read the script many times. Anaya, whose parents immigrated from Mexico, spends three evenings a week door knocking for Jolt. Though she describes herself as pro-life, Anaya says she still identifies as a Democrat because she aligns with the party on "social-justice issues." We talked about her politics while she went door-to-door one afternoon in October, canvassing Latino voters in a neighborhood in Garland, just north of Dallas.
"You can't be pro-life if you still agree with racist laws or discriminatory laws, if you don't agree that black lives matter or that there should be no Muslim ban," Anaya told me. "Because everybody's made in the same image, in God's eyes."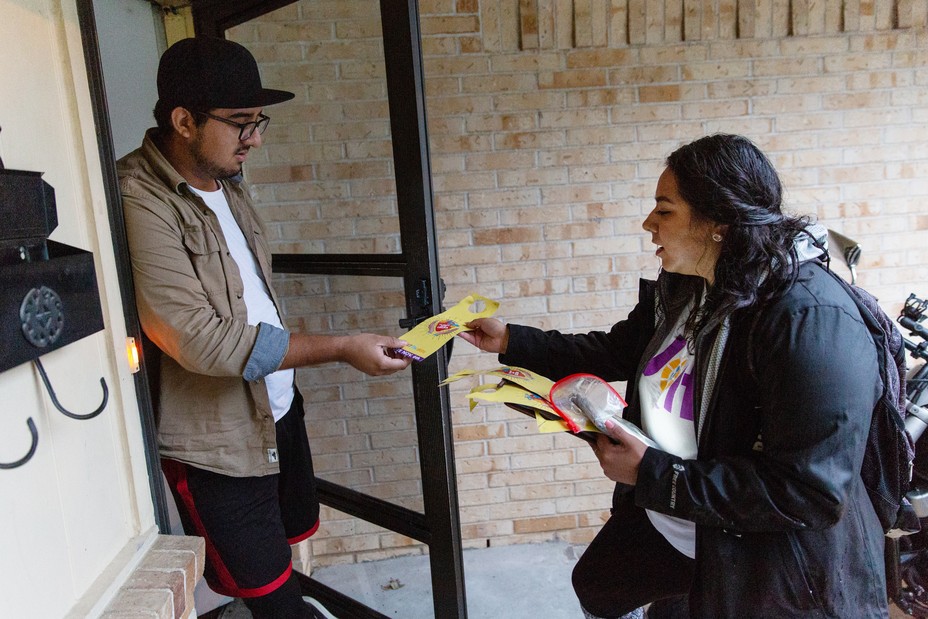 Framing the Republican position on immigration as racist or inhumane may motivate some voters to head to the polls in November, as organizers are hoping. But their Republican counterparts in Texas say that the characterization is wrong and that, contrary to popular narratives, plenty of Texas Latinos more closely align with the GOP. "Some Latinos get deceived by listening to propaganda," said Adryana Aldeen, the special adviser on Hispanic engagement for the Texas GOP. Republicans, she says, "are not racist … They have just expressed their dislike of giving blanket amnesty to immigrants who are in the country without documents." Republicans, Aldeen said, are for free trade, lower taxes, and upholding anti-abortion policies—all things many Latino voters support.
What's more, Republicans told me, the Texas GOP and the Trump administration aren't the same thing. "Latino voters … can distinguish between what a president is pushing and what a candidate for Senate is pushing," said Daniel Garza, the president of the LIBRE Initiative, a conservative nonprofit organization whose mission is to promote free-market principles within the Hispanic community. Democrats shouldn't expect Latinos to vote for them just because they might dislike Trump, Garza says. What the left doesn't realize "is there are millions of Latinos that disagree with their policies."
According to Pew, roughly one-third of registered Latino voters identify as politically conservative. They include people like Eva Gobfredson, a 52-year-old who, like Anaya, grew up Catholic. At the door to her small, tidy house in Los Altos, Villalobos began his spiel in the usual way—"Republicans are letting the Latino community down …"—but Gobfredson wasn't having it.
"You should know that I'm a Republican," she told him, standing on her porch wearing pink house slippers. "I'm a pro-lifer … If you can't protect life, then I can't vote for you." Gobfredson went on to explain that while her own parents first came to the United States illegally from Mexico, family separations wouldn't happen if people stopped trying to enter the country illegally. "You're being separated because you want to," she said.
Gobfredson said Villalobos can certainly count on her to vote in November—but not for any Democrats.
There are a handful of swing districts in Texas that Democrats hope to flip. In the Dallas area, Allred, a former NFL linebacker turned attorney, is taking on the Republican incumbent Pete Sessions in a district that's 27 percent Latino. Lizzie Pannill Fletcher is challenging Republican John Culberson in West Houston and Harris County, which is 30 percent Latino. And in Texas's 23rd Congressional District, moderate Republican Will Hurd and Democrat Gina Ortiz Jones are vying to represent a constituency that is 70 percent Latino. All these seats are considered swing districts because they went to Hillary Clinton in 2016—and to win, each candidate is relying on a voter coalition that includes Latinos.
For the first time in a while, progressive organizers say, they are excited about their chances. "I feel like we're going to see a lot of Latino votes out there," said Patricia Guerrero, TOP's 34-year-old phone-banking director. "The Trump agenda has broken our hearts, but has made us come together." David Sanchez, the civic-engagement director for Jolt, told me that when it comes to Latino turnout, he believes "2018 will look a little more like 2016" than the 2014 midterm election, when turnout was pretty dismal.
But Texas pollsters and election experts say Democrats shouldn't get their hopes up. "I wouldn't hold my breath for a Latino wave," Soto said. "I think there'll be a boost, but a smaller one." The concentrated push from voter-turnout groups won't necessarily be enough to overcome the myriad forces that have long kept turnout low.
"Something completely extraordinary and ahistorical could happen," said Josh Blank, the manager of polling and research at the Texas Politics Project at the University of Texas at Austin, "but it's not clear on the ground that we should expect that."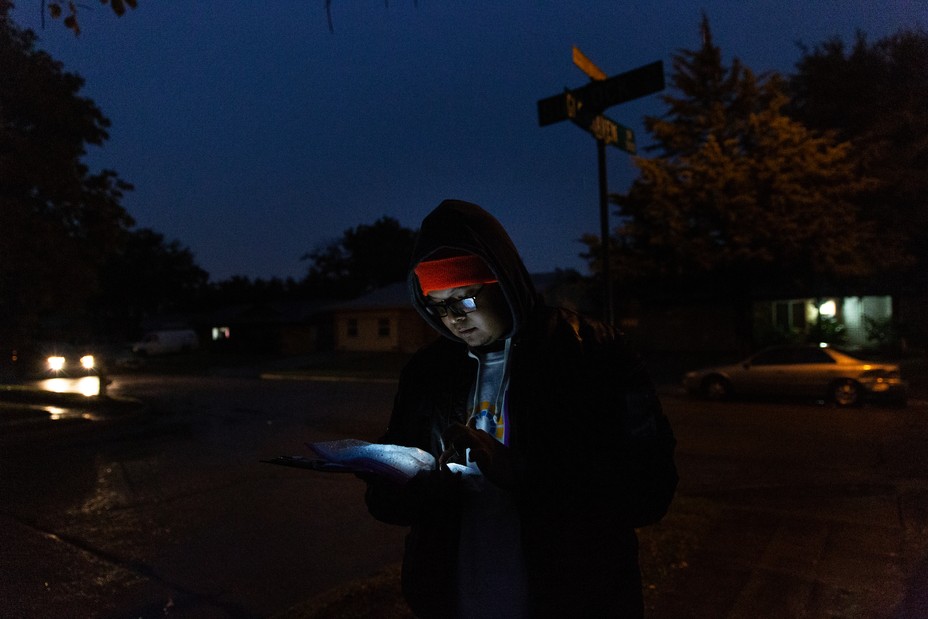 And even with the possibility of slightly higher turnout, Blank said, Latino voters still wouldn't outnumber the older, white portion of the electorate that votes most reliably—and most often for Republicans. "It would take multiple [Latino] surges for Texas to become really competitive [for Democrats]," Blank says.
That means multiple election cycles—and more years of organizing from groups like TOP.
At one of the last houses I visited with Villalobos in Los Altos, a stay-at-home mom named Marta answered the door. She declined to give her last name and opened the door only enough to reveal part of her face—and the body of a small child clinging to her leg. Marta said she normally doesn't vote, but in 2016 she and several other members of her family felt compelled to go to the polls to vote against Trump, because they didn't like his attitude toward immigration.
When he won, "it was disappointing," Marta said. "I don't know about voting anymore."
Villalobos told her that this election was a perfect opportunity to take action against Trump and "the Republican agenda." Would she pledge to vote? "I don't know," Marta said. "I'll try my best."
"See?" Villalobos said as we walked away from the house. "It's there, it's raw. We just gotta channel it."
Then, as if to reassure himself, he added, "We're coming back, too!"