Suburban-Rural Districts Are Turning on the GOP
Washington's Eighth Congressional District runs from Seattle's liberal suburbs all the way to conservative apple farms on the other side of the Cascades.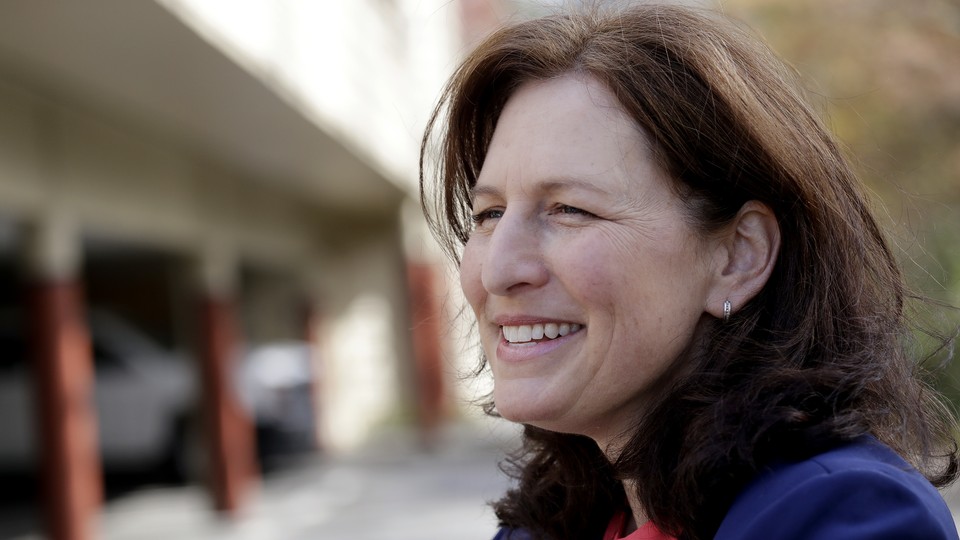 ISSAQUAH, Wash.—It was difficult to find a good word for Donald Trump from patrons walking outside the public library in this quiet suburb just southeast of Seattle on a crisp recent afternoon.
"I will choose a Republican, but I wouldn't choose Trump," said Robin Pineda, a medical auditor, as sunlight slanted through trees turning yellow, red, and orange. "The way he behaves, the way he portrays our country to the international community, the way they are laughing at him and us—it's embarrassing."
Trump fans were easier to find the next morning in Wenatchee, a town of about 35,000 on the other side of the Cascade Mountains that bills itself as the "apple capital of the world." "Just follow the stock market and unemployment rates—people are getting jobs," said Werner Segesser, a retired teacher and Air Force veteran, as he sat in the driveway of his daughter's home. "The tax cut went through; people have more money in their paychecks. What are they hollering about?"
Separated by about 130 miles, one very large mountain range, and a huge cultural chasm, Issaquah and Wenatchee are two poles of the same electoral battleground: Washington's Eighth Congressional District. There the race to succeed retiring Republican Congressman Dave Reichert encapsulates into one district both sides of the central geographic divide shaping the 2018 election.
On one side of that divide is growing Democratic strength in white-collar suburbs recoiling from Trump; on the other is continued Republican dominance in rural places and blue-collar communities that flocked to Trump in 2016 and haven't wavered much since. These divergent forces explain why Democratic opportunities are expanding in well-educated suburban districts around major metropolitan areas all over the country while the party is still facing an uphill climb in almost all the House seats outside metropolitan areas that it hoped to contest this year.
The Washington race between first-time Democratic candidate Kim Schrier, a pediatrician, and Republican Dino Rossi, a three-time GOP nominee for statewide office, is one of several contests that capture both of those dynamics inside the same district. Democrats this year are mounting serious challenges for Republican-held seats that sprawl from suburban into rural areas around Richmond, Virginia; Lexington, Kentucky; Charlotte and Raleigh, North Carolina; Cedar Rapids and Des Moines, Iowa; Topeka, Kansas; Columbus, Ohio; Springfield, Illinois; and parts of upstate New York, among other places.
Republicans have controlled each of these districts for years, typically posting comfortable margins in both their rural and suburban areas. But the results in them this fall will pressure-test the electoral trade that Trump is imposing on his party: growing strength in small-town and rural communities offset by growing skepticism and resistance in many white-collar suburbs, particularly among women. The intensely divisive confirmation battle over Supreme Court Justice Brett Kavanaugh appears poised to magnify the trends on both sides of that line.
Washington's Eighth Congressional District contains all of these competing forces. It runs from white-collar suburbs in the district's northwestern end (including Sammamish and Issaquah) to blue-collar communities (principally Auburn) in its southwestern portion. Extending to the east, it crosses the Cascades to mostly rural communities including Wenatchee and Ellensburg. It includes software engineers working at the nearby Microsoft campus in Bellevue, mechanics assembling Boeing airliners, and farmers growing apples and cherries.
Created after the 1980 census, the Eighth Congressional District has long displayed a split political personality. It has routinely preferred Democratic presidential candidates, though only by narrow margins: Clinton beat Trump there by three percentage points after Barack Obama won it by two points in 2012. But it has always elected relatively moderate Republicans to the House, with Reichert, a former King County sheriff known for catching the "Green River Killer," holding the seat since 2004.
Schrier, a pediatrician from Issaquah, was initially spurred to activism by Trump's victory and participated in the 2017 Women's March. But she says she decided to run for Congress after Reichert voted to repeal the Affordable Care Act just a few days after she joined a delegation of local doctors that urged him not to. Schrier says she had never spoken in public before she announced her candidacy. But with strong support from national women's organizations, Schrier, 49, narrowly topped Jason Rittereiser, a county prosecutor who was born east of the Cascades, for the Democratic nomination.
Her contrast could hardly be greater with Rossi, 58. Rossi was first elected to the Washington state senate, from a seat that overlaps with the Eighth Congressional District, in 1996; he was twice the GOP's nominee for governor. He lost to Democrat Christine Gregoire in 2004 (in a race ultimately decided by 133 votes) and to Democrat Patty Murray in a 2010 U.S. Senate race.
In his campaign, Rossi leans heavily on that long local history. He presents himself in this closely divided district as a bipartisan bridge builder while portraying Schrier as a rigid partisan. "I talk about things I've done," Rossi said in an interview at a small campaign office in Auburn. "Because it's not theory. I have an opponent who has never run for dog catcher before, who's marched in more protests in Seattle than parades in the district … We have enough people yelling at each other in politics already without adding another one."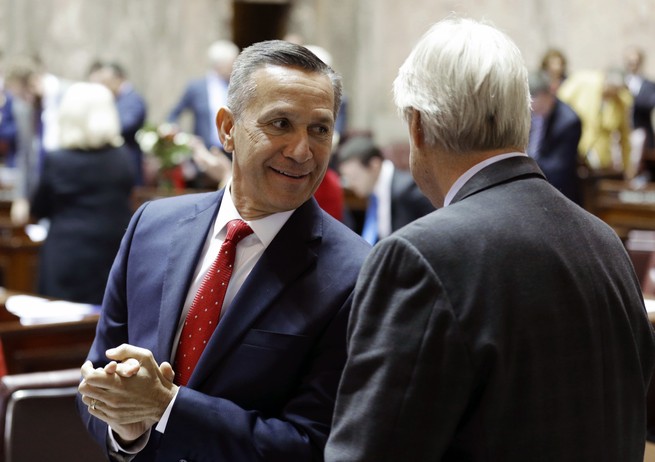 Schrier takes consistently liberal positions. But with her pediatrician's manner, she may not strike many voters as a firebrand. "Right now there's an awful lot of people with a ton of legislative experience who are not working well for the people of this district," she said in an interview when asked about Rossi's portrayal. "So I do think it's really important to have a fresh voice and new voices and good listeners and people who can work collaboratively."
Rossi and Schrier disagree on many issues. But the most striking contrast may be how they approach the national debate at all. It may be a measure of how each side views the district's shifting ideological current that Schrier expresses full-throated opposition to Trump on almost every front while Rossi resolutely avoids clear positions on a wide array of pertinent national issues.
The biggest exception is the GOP tax cut, which Rossi unreservedly embraces. He hits Schrier for saying she would repeal portions of it that benefit the affluent and for supporting a state ballot measure that would impose a tax on carbon emissions. "People are taxed out," he says.
But Rossi has repeatedly refused to answer how he might vote on a wide variety of issues beyond that. Although he ran in his 2010 Senate race as an implacable opponent of the ACA, he has refused to say in this campaign whether he would have voted for the House Republican bill to repeal it. In an interview, he expressed support for more competition in health-care markets, including allowing the interstate sale of insurance, but wouldn't say whether he supported the House GOP's vote to repeal the ACA's funding for expanding Medicaid, which Washington has used to widen coverage. "I'm not going to comment on bills I didn't read, or bills that I had nothing to do with, or an expansion I had nothing to do with either," he says firmly.
In a state facing growing concern about changes in the climate, Rossi won't say whether he supports Trump's move to repeal former President Obama's plan to reduce carbon emissions from power plants. (Like Trump, though, he blames the state's intensifying wildfire problem on forest management, not a changing climate.) On trade, he's criticized Trump in broad terms for precipitating confrontations with so many trading partners, but he praises him for challenging China's practices. Are tariffs the right way to do that? "There will be plenty of debates about the right way to go about it," he says.
What does Rossi think about Trump's performance overall? "I definitely agree with the tax cuts, and the economy is strong. He allowed our generals to really decimate ISIS—that's good … He just does things so differently," he says. Does differently mean better or worse? "Both at times," he continues. "Depends on how you look at it." Rossi was even more noncommittal when asked about Brett Kavanaugh, whose nomination was still pending as we spoke. "I'm not running for the U.S. Senate," he said emphatically. "If you want to talk about the Eighth [Congressional District], we can talk about the Eighth."
Schrier's response on Kavanaugh typifies the contrast in their approaches. "There are a lot of people who could be considered, so taking somebody with this kind of background and allowing [him to] be given the benefit of the doubt and get away with it, I think that sends a message to women everywhere that we are not going to believe you," she says. "And I am just disgusted by it." If the Senate confirms Kavanaugh, she told me a few days before it actually did so, a Democratic-majority House should reopen the investigation into his behavior. She defends the ACA with similar force, calls for expanding it by allowing Americans of all ages to buy into Medicare, and dismisses Rossi's promises of independence from Trump. "I think we can very reliably say that he will be a safe vote for the Republicans in Congress," she says.
Both sides are expecting a close race: a Siena College/New York Times poll gave Schrier a slim one-point advantage, well within the survey's margin of error. A survey by Stuart Elway, a local pollster, found Rossi surging to a lead at the height of the Kavanaugh controversy, but showed volatile results both before and after that. There are, in any event, unmistakable signs of surging Democratic energy in the district. Washington has an open primary in which candidates from both parties appear on the same ballot. In August, the Democratic contenders drew more votes than the Republicans in the Eighth Congressional District primary, and King County, the district's Democratic-leaning suburban anchor closest to Seattle, cast fully three-fifths of the total vote, more than in the past.
Rossi has outraised Schrier so far, but she is expected to shortly announce huge third-quarter fund-raising numbers. And like many Democrats, she's benefited from a surge of volunteers, especially women.
Not only was Schrier's Issaquah office crowded with supporters—including some who had traveled down from Seattle—making phone calls one recent afternoon, but more than two dozen volunteers turned out early on a Saturday morning to knock on doors in traditionally conservative Wenatchee. Two of the canvassers, David Elwood and Chris S. (who preferred not to give his last name), found plenty of encouragement as they walked through a neighborhood that not long ago was an apple orchard. "She's a Democrat, and she's anti-Trump," Michael Hobus told Chris when he answered his door. "Anybody who's on the Democratic side gets my vote."
Still, Rossi is energetic, well-known, and personable. With its blue-collar concentration in Auburn, the district also doesn't tilt as clearly away from Trump as many suburban areas that include more college graduates: In the Siena/NYT poll, only slightly more respondents disapproved than approved of Trump's performance. Wendy Lindsey, a volunteer coordinator for Rossi, says her phone calling and door knocking in the district's rural eastern areas have convinced her that "the Christian conservatives are going to show up in this election." And even some Democrats worry that Schrier is too easily typecast as a Seattle liberal to compete effectively beyond the district's most affluent and well-educated communities closest to the city.
The biggest challenge for Rossi is that those white-collar, Democratic-leaning portions of the district may turn out at higher rates than the blue-collar and rural parts: That pattern of "differential turnout" has keyed Democratic victories since 2016 in races from the Virginia governor's race to Conor Lamb's closely watched special election win this spring in a Pennsylvania U.S. House district that resembles Washington 8 in its suburban/rural mix.
Rossi is better positioned than most Republicans to withstand such a surge because he has roots in the white-collar portion of the district from the time he represented it in the state senate. But the intensity of the anti-Trump current in those communities could wash away even those roots. In all parts of this district, says Schrier, Trump "is the elephant in the room."