Trump's Unusual Strategy on Kavanaugh Worked
Though he's typically spoiling for a fight, President Trump pulled his punches early in the fight over the Supreme Court nomination.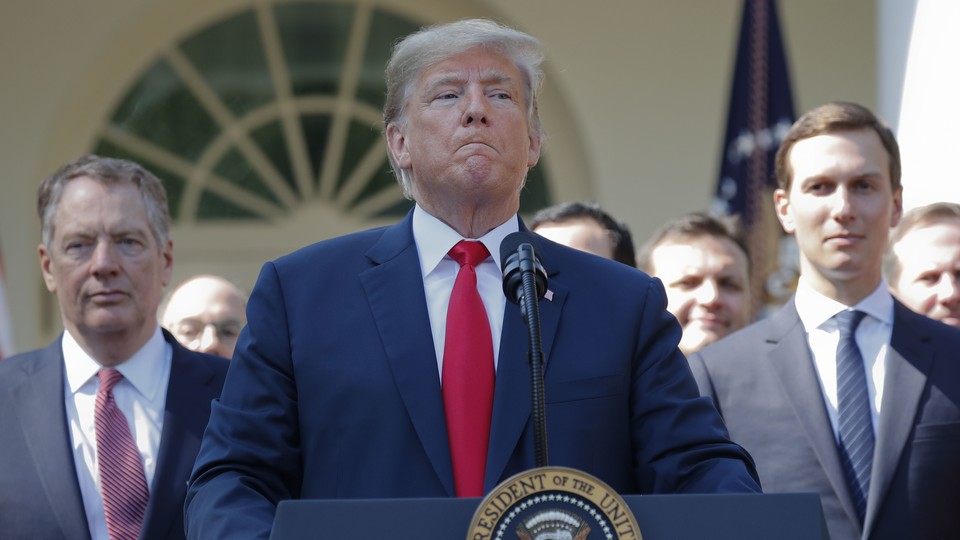 The White House's expected victory in getting Brett Kavanaugh confirmed to the Supreme Court is in part a product of an unusual approach by President Trump: restraint.
While the president has a tendency to lash out when he doesn't get what he wants immediately, he approached allegations of sexual misconduct against his nominee with unusual calmness. Rather than going on the offensive, the White House allowed the allegations to play out within tightly circumscribed grounds. For example, the president publicly greenlit an FBI probe but secretly set limits that made sure it would be fast and shallow. Only as Kavanaugh's confirmation seemed imminent did Trump resort to his typical offensive speech. By avoiding inserting himself in an incendiary way at first, the president likely helped get the outcome he wanted.
Trump is usually eager to get into any fight, and the Kavanaugh nomination was already an ugly one. Yet in the early days after Christine Blasey Ford made public her allegation that Kavanaugh attempted to rape her in 1982, the president didn't say much. "Aides quietly stunned by Trump's respectful handling of Kavanaugh accuser," CNN reported. The president said he wanted to "see a complete process," and other administration officials said Ford deserved a chance to be heard.
Trump only slowly built up a critique of Ford's allegation, and initially avoided personal attacks. On September 21, five days after she was first named in The Washington Post, Trump questioned why Ford would not have filed a police report at the time of the incident. (There are many reasons that victims of sexual assaults don't immediately or ever make reports, as many people pointed out after his statement.)
During a press conference on September 26, Trump called the allegations against Kavanaugh a "big fat con," but he focused his ire on Democrats, who he said were only interested in derailing the nomination, while confusingly expressing openness to hearing Ford's testimony. "I'm gonna see what happens tomorrow. I'm gonna be watching ... I'm gonna see what's said," he said.
Two days later, after the testimony, Kavanaugh's nomination seemed to be moving forward—until Senator Jeff Flake, an Arizona Republican and a frequent critic of Trump, cut a deal with Democrats in which he pledged not to vote for Kavanaugh on the Senate floor until the FBI had investigated the allegations.
The White House was once again surprisingly tempered in its public reaction. Trump didn't bristle and didn't take issue with Flake's idea. "I'm going to let the Senate handle that," Trump said during a brief appearance with the president of Chile. "They'll make their decisions. They've been doing a good job and very professional."
Flake's maneuver drew conservative ire at the time, but it turned out to be a stratagem. Reopening the FBI investigation gave wavering senators a chill-out period and a way to create distance from the decision: If the FBI didn't turn up anything incriminating, they could defend a vote for Kavanaugh, citing a body more impartial than the Senate Judiciary Committee.
If the FBI didn't turn up anything incriminating. One way to make sure the report would come up clean was to ensure that its scope was limited—and despite Trump's comments about deferring to the Senate on an open-ended investigation, it was the White House that circumscribed the probe. Even as the president was professing equanimity publicly, the administration was guaranteeing that the probe would be of limited breadth and depth. The FBI was instructed not to examine whether Kavanaugh was truthful about his alcohol consumption in his testimony to the Senate Judiciary Committee (Democrats say he was not), nor to pursue new allegations.
Faced with anger over these limitations, the White House once again made nice publicly. Taking questions from reporters on Monday, Trump said, "I want them to do a very comprehensive investigation," and said that contra the existing instructions, agents should speak to Julie Swetnick, a third woman who alleged sexual misconduct, and to Kavanaugh himself. The White House said that afternoon that the probe would expand.
On Tuesday night, the more typical Trump finally emerged, mocking Ford during a rally. (On Wednesday, Press Secretary Sarah Sanders implausibly insisted that Trump was not mocking her.) But by then, the matter was effectively sealed. The White House received the FBI report Wednesday afternoon and sent it to Senate Judiciary Committee Chairman Chuck Grassley early Thursday morning.
With the report completed, it became clear how limited the FBI's scope had been. Agents did not interview Kavanaugh or Swetnick, despite Trump's comments on Monday, nor did they interview Ford. (The stated rationale was that both Kavanaugh and Ford had testified under oath in public.) They did interview Deborah Ramirez, who says Kavanaugh exposed himself to her, but they did not speak to a range of potential witnesses who tried to get in touch. The specific contents of the report are confidential and being kept under lock and key.
This represents an unusually wily approach from the administration—though not one that is any more transparent or honest than the typical standard for this White House. Trump's comments in recent days and the strict limits on the FBI report all suggest the president never seriously considered the allegations against Kavanaugh, and never intended for there to be a comprehensive investigation. Yet by taking a conciliatory tone publicly, Trump was able to soothe tempers, or at least avoid further inflaming them.
It's not clear who the author of this strategy was, but the administration's effort to get federal judges confirmed at all levels has been one of the few true successes of an administration plagued by failures. The man leading that effort is White House Counsel Don McGahn, who is slated to leave the administration this fall. Maintaining the judicial success once McGahn leaves will be a challenge for Trump.
On Kavanaugh, in any case, the White House tried an unusual approach and got a result that's been unusual for his forays onto Capitol Hill, too: success.