Trump's 'Big Dent' in the Opioid Crisis
The president signed what he called a "landmark" bill to fight opioid addiction, but drug-policy experts and Democrats say it's at best a step in the right direction.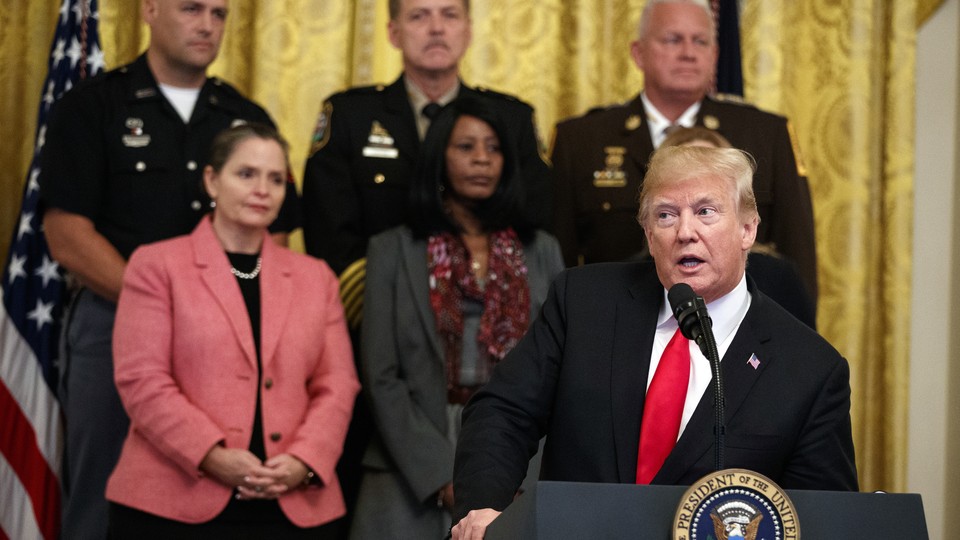 Amid the Russia probe and the campaign rallies and the high-profile trade wars, the business of government grinds on. President Donald Trump made that clear at the White House on Wednesday after condemning the person who had mailed explosives to his Democratic opponents and then heading out to the latest Make America Great Again moment in Wisconsin. The occasion at hand: Trump signed what he called "landmark" legislation to fight the opioid crisis in America, which a year ago he declared a national public-health emergency.
"Together," the president told grieving mothers and fathers, cabinet members, lawmakers, and representatives of local law enforcement, "we will end the scourge of drug addiction in America. We're going to end it or at least make an extremely big dent in this terrible, terrible problem."
Almost no one who's studied the legislation and understands the magnitude of an epidemic in which an estimated 72,000 people died from drug overdoses in 2017 thinks it will do any such thing. The bill's provisions to expand addiction treatment, speed up research on alternative drugs, and provide Medicaid funding to treatment centers with more than 16 inpatient beds will certainly help, as will $6 billion in funding to fight opioids, "the most money ever received in history," Trump said. But many public-health experts, and some of Trump's Democratic opponents in Congress, say something closer to $100 billion is needed over 10 years to end or "make an extremely big dent" in opioid addiction. Senator Elizabeth Warren cites "broken promises" by an administration that still does not have a confirmed director of its Office of National Drug Control Policy (ONDCP) after nearly two years in office.
Formed in 1988 through the Anti-Drug Abuse Act, the ONDCP is supposed to coordinate drug-control policy and funding between 16 federal departments and agencies. The director of the office is intended to be the U.S. president's "principal advisor" on drug-control issues. The Senate has to confirm whomever the president appoints.
Trump's first nominee, Tom Marino, withdrew shortly after The Washington Post reported that he had supported legislation that weakened the Drug Enforcement Administration's ability to clamp down on companies engaging in fishy drug shipments.
Trump's second nominee, James Carroll, the former White House deputy chief of staff, has had his hearing before the Senate Judiciary Committee and is awaiting confirmation. Carroll was first appointed the office's deputy director and then acting director, but he had to give up his title as acting head when Trump formally nominated him to lead the office. He remains the ONDCP's most senior official.
"I think that not having a director makes somewhat of a difference in terms of who will meet with you, when they'll meet with you, if they'll listen to you when they meet with you, those types of things," says Regina LaBelle, the former chief of staff at ONDCP during the Obama administration and an independent consultant for nonprofits on the opioid epidemic.
The office has yet to release the annual National Drug Control Strategy, which spells out how the administration will tackle drugs and how it will develop a drug-control budget. Three months after taking office, Trump chose an unorthodox approach to drug policy, establishing the President's Commission on Combating Drug Addiction and the Opioid Crisis, appointing Governor Chris Christie, a Trump political ally, as chair. The commission, staffed and funded by ONDCP, released a report that recommended nearly 60 ways to address the crisis. The recommendations cover prevention, treatment, recovery, and more.
"When Deputy Director Carroll came over to ONDCP, he started a process of reviewing and formulating the National Drug Control Strategy," said Charmaine Yoest, the associate director of ONDCP's external-affairs office, "and so we do have a draft that is under review that is moving forward very quickly." She noted that the strategy will build on Christie's report.
"I think most of us would say that they did a good job," Keith Humphreys, a Stanford University professor who studies interventions for substance abuse, says of the Christie commission's report. "They listened carefully. There were pretty smart, certainly knowledgeable people on that committee, and they produced a really good report."
But he thinks the commission's work might not have been necessary, given the landmark report on addiction that the U.S. Surgeon General put out almost a month after the 2016 election. "Most of what's in the commission report is in that report," he says. "I think the fact that that was ignored was just a big mistake."
Gary Mendell of Shatterproof, a nonprofit that seeks to help families affected by the crisis, echoed Humphrey's praise of the commission's work. "I truly think they did a wonderful job. I thought the recommendations were spot-on and very strong and very comprehensive." But Mendell said on PBS that the responses to the crisis need to do more in critical areas: stopping physicians from overprescribing opioids, and making sure those in treatment have access to medication-assisted protocols.
Governor Christie, in any event, wasn't the only big name Trump had working on the issue: By the end of 2017, Trump had named his close adviser Kellyanne Conway, a pollster by training, to lead an "opioids cabinet."
"It was formed to serve as an interagency coordinating structure on drug demand and drug-supply reduction efforts," Conway said in an email. "The Office of National Drug Control Policy has a prominent seat at that table."
Early on, Politico reported that Conway's cabinet hadn't included ONDCP officials, such as the then–acting director Rich Baum. Still, Yoest says that Conway and Carroll, the ONDCP's deputy director, have been working together and that "having Kellyanne's strong voice and strong relationship in the West Wing involved and working very closely with her, we see that as completely a plus."
While Carroll has not yet been confirmed as ONDCP director, he co-hosted a roundtable discussion in August with grant recipients after President Trump announced awards to 731 local drug-prevention coalitions. In September, Carroll announced a two-year grant for the National Association of Drug Court Professionals and named 10 new areas as High Intensity Drug Trafficking Areas, enabling them to receive federal resources to coordinate and develop drug-control efforts.
"What's confusing from an outsider's perspective, including mine, is, what's the guiding strategy here," says Mike Botticelli, the former director of the ONDCP under the Obama administration, "and who ultimately is in charge of executing that strategy?"
The new legislation reauthorizes the ONDCP, which hasn't been reauthorized in over a decade. "The thinking is that reauthorization will help stabilize it by sending a clear message to the administration that this is an important agency to Congress and they will continue to fund it," says LaBelle, the former ONDCP staff director under Obama. But what exactly this reauthorization means will depend on whether the office is adequately funded, which is particularly important given Trump's proposed budget slashing.
But that might be the point. Humphreys says Trump's approach to the ONDCP falls in line with how his office works: "There is a distrust of expertise in the administration," he says. "It's not as if the White House has made good use of the various agencies around the government in general, and that ONDCP is an exception."
While addressing the opioid crisis has been a bipartisan goal, it remains to be seen what impact the opioid legislation will actually have going forward. If the Democrats win control of the House in the midterm elections, they may be able to significantly increase funding for programs. During the Obama administration, the ONDCP began to "steer the direction of drug policy away from a punitive approach toward a more public-health approach," says LaBelle. The office moved to repeal, for example, the decades-old ban on federal funding for syringe-service programs in order to help curb blood-borne and infectious diseases such as HIV/AIDS. Botticelli attributes the office's accomplishments to the Affordable Care Act, which, along with Medicaid expansion, increased the number of people with insurance that covered substance-use-disorder treatment. In the end, the fate of Obamacare could affect the opioid crisis just as much as Trump's new opioid act itself.