'This President's Modus Operandi Is to Divide Us'
Commentators from the left and the right say the president needs to be more careful and less caustic in what he says.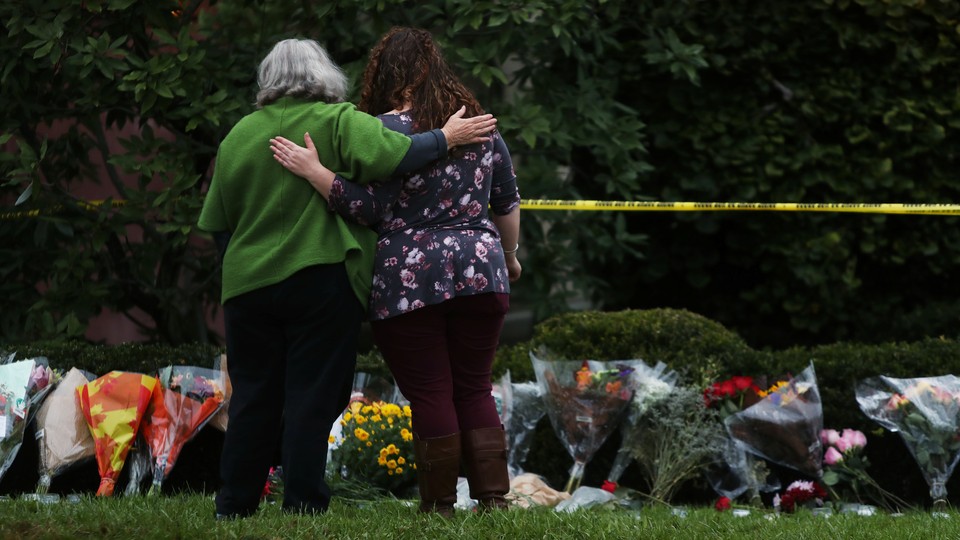 Last week in America: 11 people at worship were killed by an anti-Semitic gunman at a synagogue in Pittsburgh. Two African Americans were shot dead at a Kentucky supermarket, allegedly by a man driven by racial hatred who'd tried to bust into a black church minutes earlier. And more than a dozen pipe bombs were mailed to critics of Donald Trump by an avid, unstable supporter.
Hate was transmuted into violence. What role did our divisive and angry politics play?
Politicians and commentators are calling for toned-down discourse, apportioning responsibility for the toxic tone to the president and protesters and social-media platforms and, of course, their political opponents. The most criticism went to the man with the biggest microphone, Donald Trump.
"This president's modus operandi is to divide us," Representative Adam Schiff, a California Democrat and leading critic of the administration, said Sunday on CNN's State of the Union. "It's not enough that on the day of a tragedy he says the right words if every other day of the year he's saying things to bring us into conflict with one another."
CNN's Jake Tapper said the White House didn't provide a guest, so he brought on Anthony Scaramucci, the famously short-lived communications director. Scaramucci blamed both sides but criticized his former boss: "When you're controlling the bully pulpit and there's this level of bellicosity to the rhetoric … I think a lot of these tactics helped him win the presidency, but he's now the leader of the free world."
Scaramucci's advice for the president—though, as he freely admitted, "nobody's asking me inside the White House"—was to focus on the strong economy. He predicted that a positive approach like Ronald Reagan's would help Trump break a 50 percent approval rating for the first time.
A Republican senator agreed that while the president's words are not responsible for the actions of a "deranged" gunman, Trump has not modeled civility. "I think the president needs to be more clear in his rhetoric and doesn't need to be as caustic in his rhetoric," James Lankford of Oklahoma said on CBS's Face the Nation, while pointing out that the alleged Pittsburgh gunman also criticized the president as a globalist. The senator then drew a comparison between Trump's heated rhetoric and people, presumably on the left, shouting down opponents on college campuses and around the Brett Kavanaugh hearings.
Senator Chris Coons came on the program after Lankford, with whom he leads a weekly bipartisan Senate prayer group that he cited as one way to cool political tempers. The Delaware Democrat lamented that Trump and leaders in both parties "energize folks based on division rather than based on unity." He specifically called out Democratic Representative Maxine Waters of California, whom Trump frequently belittles at his campaign rallies, for her infamous exhortation to confront administration officials in public places. Coons said leaders need to denounce supporters who commit violence, even if the leaders didn't cause it, citing Bernie Sanders's quick renunciation of the former campaign volunteer who attacked a GOP baseball practice.
Though no one had accused the president of harboring anti-Semitic views himself, a surrogate on CNN's panel leaped to his defense. David Urban, a former Trump-campaign strategist, pointed to the president's support for the state of Israel, while others on the panel tried to separate Israel policy from relations with American Jews.
"You don't think it matters that he has grandchildren who are Jewish? Or that his Cabinet is half Jewish?" Urban asked. Tapper pointed out that Urban was incorrect in his hyperbolic claim about the Cabinet, which seemed to echo the conspiracy language espoused by the Pittsburgh shooter and centuries of anti-Semitic rhetoric. Urban doubled down: "You have [Steven] Mnuchin, you had [Michael] Cohen, you've got other folks there, you have mezuzahs in the White House. You could call him a lot of things, but anti-Semite isn't one."
Jonathan Weisman, a deputy Washington editor for The New York Times who wrote a book about American Jews in the Trump era, countered that the president appeals to anti-Semitism even if he doesn't embrace it. He pointed to the Trump campaign's final television commercial of the 2016 campaign, which had the candidate read a script about "global special interests" and "a global power structure that's responsible for the economic decisions," and displayed the faces of three prominent American Jews: the billionaire philanthropist George Soros, then–Federal Reserve Chair Janet Yellen, and then–Goldman Sachs CEO Lloyd Blankfein. Last week Soros was among those allegedly targeted by Cesar Sayoc, the Trump supporter and pipe-bomb maker.
"That's not a dog whistle," Weisman said. "That's a vuvuzela."
The CEO of the Anti-Defamation League, the century-old organization that fights anti-Semitism and other bigotry, avoided singling out the president as he addressed elected leaders of both parties. "This isn't an issue of left-right; it's about right and wrong," Jonathan Greenblatt said on NBC's Meet the Press. Citing politicians who have brought white-supremacist language into the mainstream, he called on leaders to "ratchet back the rhetoric right now. If the white supremacists are celebrating what you're doing, that should be a problem for all of us."
Meanwhile, Karl Williams, the chief medical examiner for Allegheny County, Pennsylvania, released the names of the 11 killed inside the Tree of Life synagogue by the alleged gunman, Robert D. Bowers, a 46-year-old Pittsburgh resident who spouted anti-Semitic hate on social media and said he wanted to kill Jews shortly before entering the synagogue on Saturday morning. The victims were:
Joyce Fienberg, 75, of Pittsburgh; Richard Gottfried, 65, of Ross Township, Pennsylvania; Rose Mallinger, 97, of Pittsburgh; Jerry Rabinowitz, 66, of Edgewood Borough, Pennsylvania; Cecil and David Rosenthal, 59 and 54, of Pittsburgh; Bernice and Sylvan Simon, 84 and 86, of Wilkinsburg, Pennsylvania; Daniel Stein, 71, of Pittsburgh; Melvin Wax, 88, of Pittsburgh; and Irving Younger, 69, of Pittsburgh.