Trump's Closing Argument for the Midterms Is Dark and Angry
With just two weeks to go, the president is resorting to the mixture of immigration fearmongering and dishonesty that got him elected.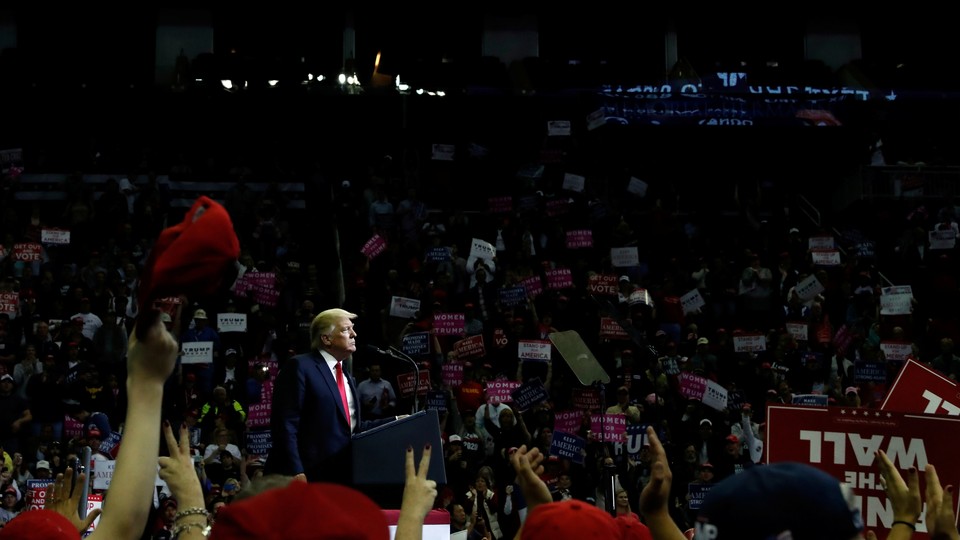 There was a moment, some 45 minutes into President Trump's rally in Houston on Monday night, when it seemed like he wasn't really going anywhere. The president was running through some of his standard talking points, but as with many of his more recent speeches, there wasn't a spark.
And then suddenly there was. Trump launched into the darkest, angriest section of his speech, a furious tirade at Democrats, laced with falsehoods. He ran through several areas—health care, entitlements, supposed voter fraud—but the climax was immigration.
"The crisis on our border right now as we speak is the sole result of Democrat laws and activist Democrat judges that prevent us from returning illegal aliens from Central America and all over the world—it's called catch and release," Trump said. "They're killing and hurting innocent Americans. Democrat immigration policies allow poisonous drugs and MS-13 to pour into our country, and Democrat sanctuary cities release dangerous criminals from jail and into your neighborhoods."
The passage was full of lies and half-truths—remember when Trump boasted in April that he'd ended catch and release?—and even by the standards of the moment, it shocked to hear Trump accuse Democrats of killing Americans. But immigration was the emotional center of the rally. Throughout his roughly 80 minutes of remarks, Trump kept returning to the theme, warning ominously of a criminal threat from unauthorized immigrants supposedly in league with the Democratic Party.
With the election just 14 days away, Trump is campaigning hard. He has four rallies scheduled this week alone—his other stops are central Wisconsin, Charlotte, and southern Illinois. His closing argument is a familiar one. Following the blueprint that brought him to victory in 2016, he's relying on the power of immigration fears, enhanced by blatantly false rhetoric.
For example, Trump claimed he had begun constructing his border wall; he has not. He claimed Democrats are for open borders; for the most part, they are not, nor is Democratic Senate candidate Beto O'Rourke, against whom Trump was campaigning. He claimed Democrats were to blame for asylum seekers traveling to the United States; the migrants are fleeing violence and poverty in their home countries. Trump also claimed—without evidence—that Democrats started the "caravan" of refugees currently wending its way northward through Mexico.
If that were true, and there's no evidence for it, it would be a colossal blunder. The specter of a column of Hispanics marching northward in the closing weeks of the election has provided Trump just the talking point he wants to whip up his supporters, and on Monday night he showed how he intends to use it.
Trump covered lots of other ground in the speech, of course. There was a strange, and coolly received, riff about Hurricane Harvey. (The president continues to believe, for some reason, that people went out in pleasure craft to enjoy the storm; he also complained that the storm was expensive, and "I'm paying for it.") There was also an apparently bogus promise to cut taxes 10 percent in the coming week.
But that's a reminder that almost a year ago, when Trump rammed a tax cut through Congress, it was supposed to be the heart of the GOP's pitch to voters in 2018. Instead, it's been a total flop, which is why Trump was out beating the immigration drum once more.
It remains to be seen how effective this closing argument will be. Immigration remains a potent motivator for Trump's supporters, but the sort of rhetoric he uses also risks firing up Democratic voters, too. (Polls show strong enthusiasm among voters in both parties.) Some Republican officeholders have tried to keep their distance from Trump. The same dilemma almost always faces members of the president's party in a midterm election. That party typically loses seats, and down-ballot candidates are forced to choose between trying to separate themselves from the White House and hugging the president close and hoping to drive up base turnout. That dilemma is especially acute with Trump, who is both historically unpopular with the electorate overall and extremely popular with Republican voters.
Trump's reelection campaign, which produces these rallies, said there had been 100,000 requests for tickets, but Houston Police Chief Art Acevedo said on Twitter that there were 18,000 to 19,000 attendees inside and 3,000 or so outside. Reporters inside the Toyota Center noted empty seats. Nonetheless, Trump boasted that the rally had broken a record. (Though Texas is a strong red state overall, Houston, like most other big cities, went for Hillary Clinton.)
In the lead-up to the rally, the press scrutinized the president's strange relationship with Ted Cruz, the Republican senator from Texas, who is facing a stiff challenge from O'Rourke. Cruz is favored to win, but the fact that Trump traveled to Houston indicates the closeness of the race. Cruz was one of Trump's rivals for the GOP presidential nomination in 2016, and while the men initially kept a strange truce, they eventually began a bitter war of words, with Trump insulting Cruz's wife and alleging that his father was involved in the JFK assassination, and with Cruz calling Trump a "pathological liar." They've since patched things up.
"We had our little difficulties," Trump said, smirking, Monday night. "The beginning, it was a lovefest." He went on to praise Cruz as a steadfast ally, which he has been. Trump has become more practiced at campaigning for other people, but his instinct is still to talk about himself. Even though Cruz was the ostensible reason for the rally, he gradually receded from view as Trump spoke, the president's personality eclipsing him just as it did two years ago.
As the midterm approaches, Trump is trying to strike a balance, campaigning for Republicans while also saying he will not be to blame if the party loses seats in the midterms. Monday's rally showed why that will be hard to execute. Trump's tendency to make everything about himself—and about immigration, his pet issue—means the election results will be interpreted as a referendum on him. No matter what he says publicly, the president understands this, which is why he was so willing to resort to the dark and dishonest language he did Monday.
"All the Democrats care about is regaining power, no matter how they have to go about doing it," Trump said. He must find it easy to relate.