Trump's Plea for Unity Didn't Last Long
At the start of a campaign rally in Wisconsin, the president said he wanted Americans "to come together in peace and harmony." Minutes later, he was attacking immigrants and Democrats.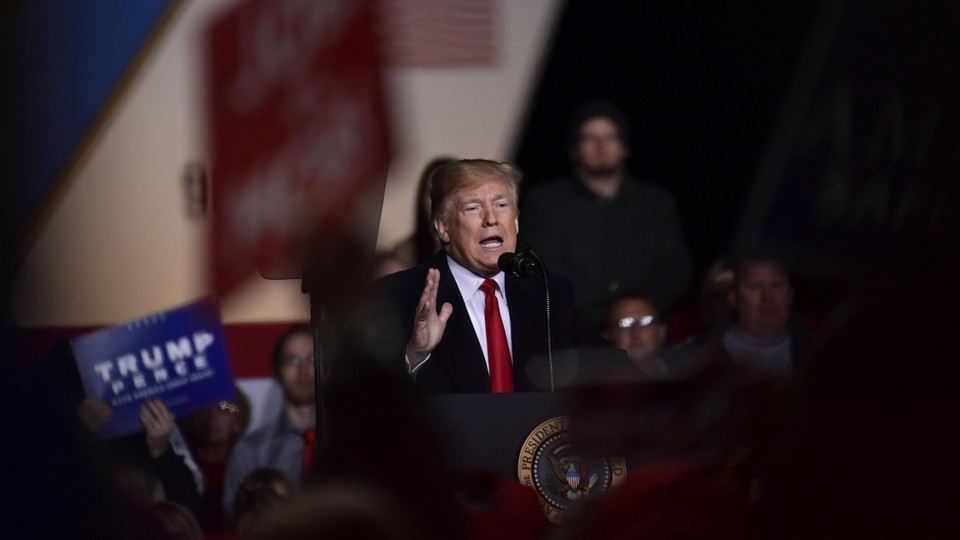 The political calculus of holding a Trump campaign rally in Wisconsin was never that clear to begin with. The president won the state by less than a point in 2016. Would a visit 13 days before the midterms enrage and motivate Democrats more than it energized his base? Who really knew for sure.
Governor Scott Walker, down by 10 points in one recent poll and up by one in another, had a lot riding on the answer. And as luck would have it, the timing couldn't have been worse for a hyped-up Make America Great Again event, coming at the end of a day when a bevy of Trump's political opponents—those he typically goes after at his rallies—were reported to have received pipe bombs in the mail.
So, America, meet your restrained, unifying commander in chief, if only briefly: "I want to begin tonight by addressing the suspicious devices and packages that were mailed to current and former high-ranking government officials," Trump began, speaking from a podium inside a hangar, with a glistening Air Force One on the tarmac outside. "Any acts or threats of political violence are an attack on our democracy itself."
He didn't stop there, using the moment to extol the virtues of harmony, civility, and common purpose in America. His restraint at first seemed a nod to the uncertainty of how best to play Wisconsin. And this was a side of Trump rarely seen, especially at one of his rallies, which often become defined by discord, derision, and attack. "We want all sides to come together in peace and harmony," the kinder, gentler Trump said. "We can do it. It will happen. More broadly, there is much we can do to bring our nation together. Those engaged in the political arena must stop treating political opponents as being morally defective."
He went on, warning of "moral condemnation" and "destructive routine" and mob intimidation and destruction of public property. "The media also has a responsibility to set a civil tone and to stop the endless hostility and constant negative and oftentimes false attacks and stories," he said. "They have to do it. They have to do it. They have got to stop. Bring people together."
His opening was so out of character that he commented on it himself. "By the way, do you see how nice I am being tonight?" he said. "Have you ever seen this? We are all behaving very well. Hopefully, we can keep it that way, right?"
He was six and a half minutes in. It was just three minutes later, after he first mentioned immigration—the evening's recurring theme—that comity vanished as he warned ominously of the immigrant caravan in Latin America slowly heading toward the U.S. border. "Wait until you see what happens over the next couple of weeks. You are going to see a very secure border," the president said, leveling a threat. "You just watch. Very secure. The military is ready. They are all set."
The crowd began chanting, "USA! USA! USA!" And then the attacks resumed, unsupported by fact. "The Democrats believe in 'catch and release,'" he said. "They strongly support sanctuary cities that refuse to cooperate with federal law enforcement, and release known gang members, predators, criminal aliens into our communities … The Democrats even oppose legislation to increase the penalty for criminals and drug dealers who repeatedly break into our country and hurt and seriously injure, and even worse, our people."
If Trump's purpose for coming to Wisconsin was helping to elect Walker and Leah Vukmir, the clear underdog against Democratic Senator Tammy Baldwin, he was at his most effective as the rally progressed and he explained how Wisconsin dairy farmers, incensed by Canadian tariffs, had led him to the eventual renegotiation of the North American Free Trade Agreement. "Now, as you know, the Canadian market, which was not open, is now open," he said. "Go do well."
Walker, wearing a Green Bay Packers jacket, was his own best spokesman. He joined Trump at the podium about halfway through the event and hit all the right notes for the crowd, beginning with "eight straight months of record-low unemployment."
He thanked Trump for helping bring Foxconn, an Apple component maker, and 15,000 manufacturing jobs to the state. He thanked the president for "making dairy great again in America, and it starts in Wisconsin." And he said the average family of four in Wisconsin received $2,508 from the Republican tax cut. "That is real money," he said. "That is not crumbs."
Trump and Walker also framed themselves as champions of health care. Who could have imagined after Trump and the Republican Congress passed their massive tax-cut package last year that it would be eclipsed as a selling point in the midterms by Obamacare, or at least its provision that prohibits insurance companies from denying health insurance to those with preexisting conditions?
Wisconsin is one of 20 states in federal court suing to overturn what's left of the Affordable Care Act, including its provision on preexisting conditions. The Trump administration has filed a brief in support of the lawsuit. And just this week, the administration issued a new policy making it easier for states to circumvent coverage requirements, including those for preexisting conditions.
None of this stopped Trump, Walker, or Vukmir from claiming, in Walker's words, that "we will always cover people … with preexisting conditions."
"Republicans," Trump said, "will always protect … Americans with preexisting conditions."
"I will fall in front of a truck," Vukmir said, "before I let people go without coverage for preexisting conditions!"
By an hour into the rally, after Walker and Vukmir had long left the stage and Trump talked on, he seemed to have completely forgotten his opening plea to "bring our nation together" and discard "the language of moral condemnation." In a second, more caustic and angry return to immigration, Trump said Americans were at war with migrants and had to liberate towns of their presence. "We are getting them out of this country by the thousands, if you can believe it," he said. "They occupy your country, and then you get them out, and they call it liberation. ICE goes in … in a relatively nice way, I want to say that, relatively nice, they get them out … And these towns are being liberated, and the people are clapping."
As the rally concluded, Trump returned to immigration one more time, approaching his 75th minute onstage, to say that Republicans "will keep the criminals, drug dealers, and terrorists out of our country." How motivational it all was to the base, to undecided voters, and to Democrats in Wisconsin—and beyond—will perhaps be more clearly understood in less than two weeks. As the president, in his meeker opening moments, said, "We must accept the verdicts of elections and remember that America's greatest achievements have always been those endeavors we embarked on together."