After Pittsburgh, All Eyes Are on Trump Once More
The nation turns to a president who has often struggled with empathy and inclusion to provide consolation and unity.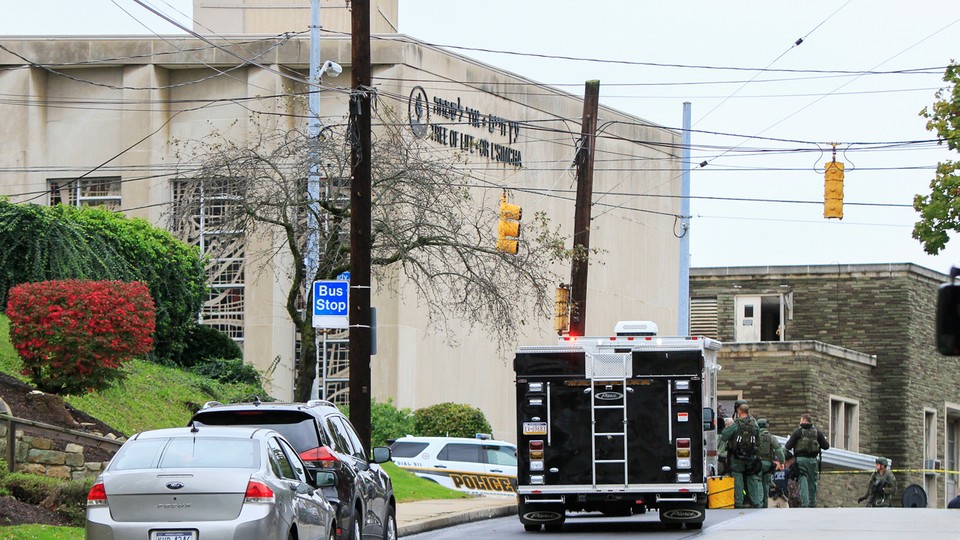 In moments like this, the aftermath of yet another mass shooting—this one targeted at a synagogue in Pittsburgh—Americans tend to turn to the president for consolation and inspiration. On Saturday, as they turn to Donald Trump, it's unclear what they might receive from a president whose decisions in moments of crisis, especially this week, often seem off-key.
Authorities identified the alleged gunman as Robert D. Bowers, a 46-year-old Pittsburgh resident, and said he entered the Tree of Life synagogue in the city's Squirrel Hill neighborhood and opened fire during Shabbat services shortly before 10 a.m. Police told local media he shouted, "All Jews must die." He was not known to law enforcement prior to the shootings.
Wendell Hissrich, Pittsburgh's public-safety director, confirmed Saturday afternoon that 11 people were killed. Six were injured, including four police officers, all in stable condition. Two of the four officers were first on the scene. Officers first engaged with Bowers as he was leaving the synagogue; he then went back inside to evade police. He was soon shot by police multiple times, taken into custody, and ultimately hospitalized; he remains in fair condition.
"This is the most horrific crime scene I've seen in 22 years with the Federal Bureau of Investigation," Bob Jones, the special agent in charge of the FBI's Pittsburgh office, told reporters at an afternoon news conference. "Members of the Tree of Life synagogue, conducting a peaceful service in their place of worship, were brutally murdered by a gunman targeting them simply because of their faith. The suspect's full motive is unknown. But we believe he was acting alone."
President Trump first commented on Twitter Saturday morning, saying, "People in Squirrel Hill area should remain sheltered. Looks like multiple fatalities. Beware of active shooter. God Bless All!" An hour and a half later, he added, "Events in Pittsburgh are far more devastating than originally thought."
A few hours later, as he traveled to the Midwest Saturday afternoon, he said he was thinking about canceling his planned campaign rally in Murphysboro, Illinois, in the wake of the shootings. But he decided to go ahead, he told a boisterous crowd upon his arrival. He didn't want to give in and change his schedule because of someone who is "sick and evil."
"We must stand with our Jewish brothers and sisters to defeat anti-Semitism and vanquish the forces of hate," he said. "That's what it is. Through the centuries, the Jews have endured terrible persecution. You know that. We have all read it. We have studied it."
For the alleged gunman and others who attack worshipers, Trump said, "we have to bring back the death penalty. They have to pay the ultimate price. They have to pay the ultimate price. They can't do this. They can't do this to our country. We must draw a line in the sand and say very strongly, 'Never again.'"
His audience roared its approval. "Tonight everyone in this arena and every citizen across the land sends our prayers to the victims and their families," Trump said. "We all do. We also send our gratitude to the law-enforcement officers who were incredible and risked their lives and sustained very, very serious injuries during this horrible attack. We salute the heroes of American law enforcement. We always do."
National traumas often bring out the finest and most indelible moments for individual commanders in chief: Ronald Reagan's speech after the Challenger explosion; George W. Bush's famous "I can hear you!" ad lib at Ground Zero; Barack Obama's comments after the shootings at Sandy Hook and the Emanuel AME Church in Charleston, which earned him the "consoler in chief" sobriquet.
Trump, however, has struggled in such moments. Though he typically thrives on attention, he seems uncomfortable when he can't control the news, as in this case. Beyond that, he is not adept at expressing empathy and consolation. After Hurricane Harvey hit, he seemed more interested in the size of the storm than the travails of its victims. His response to Hurricane Maria in Puerto Rico was even more widely panned. During a short visit, Trump indulged in self-congratulation and was then photographed tossing desperately needed supplies to the displaced as though shooting a basketball.
But there's no need to look that far back to see Trump striking an off-key note during a crisis. The spate of bombs sent to critics of the president this week demonstrates the problem well. Faced with assassination attempts aimed at a former president and others, Trump on Wednesday initially called for unity, but by a rally Wednesday night was back to aggressively bashing opponents. On Thursday, he blamed the press for the attacks. On Friday, he suggested that the bombs were a "false flag" designed to hurt his Republican Party in the impending midterm elections.
There are legitimate questions about Trump's role in fomenting hate and division throughout the country, though it is difficult to draw straight lines to particular acts of violence. Unlike the suspect in the bombings, who demonstrated a great affinity for the president, the Pittsburgh suspect published social-media posts that indicate not only a hatred of Jews but also a fierce dislike for Trump.
Even setting those questions aside, the work of consolation and unity doesn't come naturally to Trump. His determination to project strength makes it hard for him to express softer emotions effectively. He has not contacted the targets of the mail bombs, saying on Friday, "I think we'll probably pass" on reaching out to them.
He repeated this pattern in his initial comments Saturday morning on the synagogue, offering the tepid remark that the massacre was "a shame." And rather than express condolences for the victims, he jumped to the idea that places of worship ought to have armed guards. In fact, some synagogues have hired armed guards. A Charlottesville, Virginia, temple hired security last year in preparation for a white-supremacist march. After violence broke out, Trump said that there were "very fine people on both sides."
Trump also suggested that such violence is inevitable.
"The world is a violent world," he said. "And you think when you're over it, it just sort of goes away, but then it comes back in the form of a madman, a whacko. I think one thing we should do is we should stiffen up our laws in terms of the death penalty."
Other members of the Trump administration were quicker to offer more conventional responses. Trump's daughter Ivanka, a convert to Orthodox Judaism, condemned anti-Semitic bigotry:
America is stronger than the acts of a depraved bigot and anti-semite.

All good Americans stand with the Jewish people to oppose acts of terror & share the horror, disgust & outrage over the massacre in Pittsburgh.
We must unite against hatred & evil.

God bless those affected

— Ivanka Trump (@IvankaTrump) October 27, 2018
Vice President Mike Pence, on a campaign swing in Nevada, said, "There is no place in America for violence or anti-Semitism, and this evil must end." He also quoted from the 34th Psalm.
Trump will have more opportunities to respond. But with high-stakes midterm elections approaching, there's a danger of more inappropriate comments that come from the volatile mixture of the president's roles as leader of the nation and of his party, a tension in which Trump often seems to favor the latter role. This was evident at his rally in Illinois Saturday night. After denouncing the shootings at the synagogue a little more than 12 hours earlier, the line between his mournful comments and his highly partisan campaign rally all but disappeared as he explained why the show had to go on.
He recalled how his friend Dick Grasso had been determined to open the New York Stock Exchange the day after the terrorist attacks on September 11, 2001. It seemed odd to bring up the stock market on a day of tragedy, especially when it turned out the story wasn't true—the New York Stock Exchange didn't reopen after the terrorist attacks until September 17. "We can't make these sick, demented, evil people important," Trump said. "When we start changing around our lives and changing around our schedules, and telling thousands and thousands ..."
His story trailed off and he suddenly segued to the crowd before him. "Look at this group of people and outside," he said. "And I hate to say it, but outside you have a group that's almost as big or just as big trying to get in. So you got the better location. But they have a better movie screen. Okay? And they're great. I see them right there. A lot of people. Great people.
"But we can't allow people like this to become important," the president continued, suddenly pivoting back to the gunman at the Pittsburgh synagogue. "And when we change all of our lives in order to accommodate them, it is not acceptable … Remember the New York Stock Exchange. Remember the teams—the Yankees' George Steinbrenner said, 'We have to play, even if nobody comes, nobody shows up, we have to play.' I remember that George was a tough man. He was a friend of mine … I didn't want to have any excuse. I could have had a little bit of an excuse. There was no excuses. We have our lives. We have our schedules. And nobody's going to change it. Okay? We're here,  so let's have a good time."
There may have been something to Trump's logic. The president of the United States and the people he represents cannot allow a deranged, anti-Semitic gunman to hijack their lives and make them forget about what unites the country. But for more than a few of those gathered outside the Tree of Life synagogue in Pittsburgh for a candlelight vigil at almost the same time, the president's freewheeling, take-no-prisoners, "lock her up" event must have struck a deeply discordant note.