The 'Queen of Green's' Coming Bout With Trump
Now that she can see the Hollywood sign from her front lawn, Mary D. Nichols isn't about to let President Trump roll back California's strict auto-emissions standards.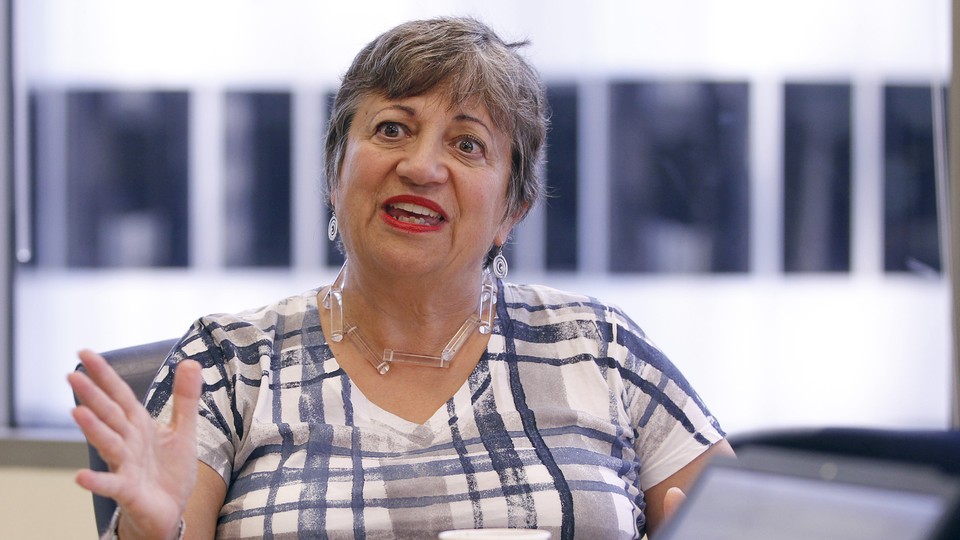 LOS ANGELES—In 1972, as a young lawyer fresh out of Yale, she filed the first test case under the federal Clean Air Act, suing the Environmental Protection Agency to compel California to impose air-quality standards under the law. More than two decades later, as a senior official at the EPA, she drafted the first national standards regulating fine-particle air pollution.
And now, in her second tour as the powerful chair of the California Air Resources Board, Mary D. Nichols is the tip of the spear in her state's effort to block the Trump administration's proposals to freeze federal fuel-economy and auto-emissions standards through 2026, and to rescind California's long-standing ability to set its own, tougher rules—rules also followed by 12 other states that together account for a third of the American market for new automobiles.
Nichols may not be a household name, but no single individual has been more responsible for the success of the Golden State's half-century, bipartisan effort to clean up its own skies. Then-Governor Jerry Brown first appointed Nichols to the Air Resources Board in 1975, elevating her to the chairmanship four years later. In 2007, the Republican Arnold Schwarzenegger named her again to the same post. In between, she opened the Los Angeles office of the Natural Resources Defense Council and served as state-resources secretary under Governor Gray Davis. In 2013, Time magazine named her one of its 100 most influential people in the world, and to her admirers and adversaries alike she is acknowledged as "The Queen of Green."
The proof is in the unobstructed daily view of the Hollywood sign from Nichols's own front lawn in the Windsor Square neighborhood here; a few decades ago, she wouldn't have been able to see it most of the time. Southern California hasn't had a stage-one ozone alert in 15 years, and just this summer it announced that in 2016, its greenhouse-gas pollution fell below 1990 levels for the first time since peaking in 2004—the equivalent of taking 12 million cars off the road and saving 6 billion gallons of gas a year. (That met the state's legislatively mandated target of reducing the annual greenhouse totals below 431 metric tons four years ahead of schedule.)
"She's been at this her entire adult life," says the former EPA administrator Carol Browner, who hired Nichols to come to Washington in 1993 and worked with her again during the Obama administration to develop the standards that Donald Trump is now trying to roll back. "She has shaped the quality of the air we breathe in this country probably more than anybody. She's just stayed with it. Now she's got this huge challenge."
The 73-year-old Nichols is an unusual combination of ferocious advocate and unfailingly collegial negotiator, not above bringing a Tupperware container of chocolate-chip cookies to lighten the mood at a tense meeting. A compact figure with a short fringe of salt-and-pepper hair, she bears a passing resemblance to the Food Network chef Lidia Bastianich. She's a serious student of the law and science, but her eyes crinkle easily into a smile.
She also has a vivid and eclectic personal story: the daughter of the onetime democratic-socialist mayor of Ithaca, New York, who performed a gay marriage decades before it was legal anywhere; the widow of a major corporate lawyer who represented ExxonMobil in its long settlement fight over the Exxon Valdez oil spill off Alaska; the former senior lay leader of her local Episcopal parish (where Nat King Cole once sang with the choir), and a devoted music fan who never misses the annual New Orleans Jazz Fest.
When the Trump administration first signaled its intention to reject the Obama-era standards and revoke California's waiver, Nichols's boss, Jerry Brown, accused the president of "running a one-man demolition derby on science, the Clean Air Act, and a lot of things we are trying to do." But Nichols herself is much more diplomatic.
"What I'm seeing is a desire on the part of the White House to put this to bed," she told me when I caught up with her late last month at the Los Angeles Department of Water and Power's Cleantech Incubator offices, where she often works when not in Sacramento. She had just returned from her first Washington negotiating session with officials from the White House, the EPA, and the Department of Transportation. "The administration seems to want to find a way to accommodate our need and desire to set our own standards. If they want to give relief to the industry, they're going to have to find a way that both we and the industry think is realistic. The idea is that we all have to work together."
In fact, the Trump administration's proposals, formally unveiled last month, are just the latest shot in the administration's multifront policy war with California, not the final word. That is partly because of internecine battles within the administration itself; senior officials at the Department of Transportation are leading the charge for the new standards, while top EPA officials have cautioned that the proposals are sloppily drafted and unlikely to withstand judicial scrutiny. And it is partly because the auto industry, while seeking some relaxation of the Obama standards, does not relish a protracted, multiyear court fight in which California and like-minded states would leave the rules—and manufacturers' plans to meet them—in limbo and split the nation's car market in two.
The current battle dates to 2009, when the Obama administration sought to blend a range of emissions and fuel-economy standards set by disparate federal agencies into a unified national policy. Detroit's automakers, some of them fresh from government bailouts, had limited leverage. The process culminated three years later, when Washington settled on raising fuel-economy standards to an average of 54.5 miles a gallon by 2025, nearly double the 2012 average. The industry agreed, but the final compromise mandated a midterm review for the years 2022–25. Just before Trump took office, the Obama administration reaffirmed the original rules as feasible, and kept them in place.
California had tied its own rules to the new national ones, but now the Trump administration has proposed freezing the federal standards for six years, starting in 2020, at just 37 miles a gallon. When the mere prospect of that first emerged last spring, the state's attorney general, Xavier Becerra, joined with 16 other states and the District of Columbia to file a preemptive lawsuit to decouple California from the lower standards and block the change.
"She would have a different negotiating style than what the president describes in The Art of the Deal,'' says former Congressman Dave McCurdy, who worked closely with Nichols to devise the Obama standards a decade ago as the president of the Alliance of Automobile Manufacturers. "She's certainly not going to negotiate against herself or her interests. You have to come in with a solid position and be able to defend it and offer a a way forward." But, he adds, "I think you'd have to be pretty cold to get angry or dislike her as a person."
If Nichols sounds comparatively sanguine about the eventual outcome, it may be because she has plenty of practical experience in the give-and-take of politics. She managed the unsuccessful 1986 gubernatorial campaign of Los Angeles Mayor Tom Bradley. She bought a blonde wig to play Meg Whitman, Brown's 2010 GOP gubernatorial opponent, in debate prep. And she tangled successfully with the second Bush administration to preserve California's waiver to set its own standards under the Clean Air Act. Just last year, Nichols worked with the California state legislature to pass an extension until 2030 of the state's cap-and-trade program, in which it sets steadily decreasing limits on greenhouse-gas emissions, then sells permits to corporations to allow them to continue polluting beyond the accepted limits. Some environmental groups criticized the plan as too friendly to industry.
Nichols acknowledges that some environmentalists have always been skeptical of the market-based approach of cap-and-trade. Given the opposition of some on the left, in order to muster the two-thirds legislative majority to pass what amounted to a new tax on greenhouse-gas emissions, the Brown administration had to court votes "from legislators whose districts are either heavily impacted by the oil and gas industry, or who oppose the entire climate program." She believes the end result meets the state's goals.
For her part, Catherine Reheis-Boyd, the president of the Western States Petroleum Association, which represents the oil and gas industry in California, Washington, Oregon, Arizona, and Nevada, says the agreement is a testament to Nichols's negotiating skills. "We supported an extension of a cap-and-trade program with the most aggressive targets in the world," she says. "And the reason for that is that we were really able to sit down with them and understand cost containment. Even on the most difficult of issues, you're still able to have the right conversation about what each of you thinks is important. She's willing to listen to a good argument, in the context of being who she is. She is unyielding in her passion and vision, but her approach is very respectful."
Los Angeles has grappled with air quality since at least 1542, when the Portuguese explorer Juan Rodríguez Cabrillo sailed into San Pedro Bay and, noticing the smudge from Chumash Indian fires trapped by the ring of surrounding hills, dubbed it la Baya de los Fumos, or the "Bay of the Smokes." But the advent of modern smog is generally dated to July 18, 1943, when an outbreak of blinding, acrid fog blanketed the city, so severe that some residents at first mistook it for a wartime Japanese gas attack. A Southern California Gas Company plant that produced a compound used in synthetic rubber was fingered as the initial culprit and promptly shut down, but the outbreaks continued.
Not until the early 1950s did Arie J. Haagen-Smit, a Dutch biochemist at the California Institute of Technology, prove that the scourge was the result of invisible automobile exhaust reacting with sunlight. By the 1960s, some parts of Los Angeles were living with up to 200 dangerous smog days a year, barely able to see the mountains that ring L.A.'s coastal plain. Nichols herself first saw the city in a "Day-Glo orange" haze on a cross-country trip with a friend in 1969. "It was pretty horrific," she says.
But two years earlier, Governor Ronald Reagan had signed the law mandating the creation of the Air Resources Board, charged with improving and maintaining the state's air quality. Because the agency predates the 1970 federal Clean Air Act, its pioneering status—since confirmed by judicial decisions and various amendments to the federal law—has allowed California to set its own, more stringent air-quality standards. Other states may choose to follow California's standards, but none can set its own. The current board has 16 members, most appointed by the governor, and representing local air-quality districts and various fields of technical expertise, including automotive engineering, agriculture, medicine, and law. It regulates everything from lawn mowers and air fresheners to hair and insect sprays, and its roughly $1 billion budget is financed through user fees—vehicle smog-certification fees and polluter permits—and not subject to the state's general fund.
Nichols and Brown make it clear that the state has no intention of surrendering its long-standing prerogatives without deploying every legal tool at its disposal. But she doesn't buy the notion that President Trump is effectively making war on California, whose 4-million-vote margin for Hillary Clinton over Trump more than accounted for her national popular-vote victory. "No, I don't buy that," she says. "If they wanted to punish us, they could have slow-walked these disaster declarations" for the state's recent devastating wildfires. Moreover, Nichols insists that the auto industry doesn't really want a repeal of the California waiver.
"This is also part of their global strategy," she says. "They really don't want to spend the next couple of years in limbo while it's hashed out." Nichols would not provide details of the opening round of her negotiations with the administration and industry, but she suggests there are ample avenues for flexibility, "giving relief to the industry without sacrificing a move toward more electrification." For example, she says, one idea might be relaxing standards for traditional sedans, which fewer and fewer consumers are buying, while tightening them for the SUVs and light trucks that increasingly dominate the market. "There's a path there, maybe, that allows shifting the burden."
Nichols has spent her whole life blazing paths. She was born in Minneapolis but grew up in Ithaca, New York, where he father was a professor of electrical engineering at Cornell University. She earned her bachelor's degree with a major in Russian literature and a minor in drama in 1966, and went to work as one of the first female reporters hired by The Wall Street Journal. In the 1970s, her father served three terms as mayor of Ithaca, running as a democratic socialist. When I asked her if he was a devotee of Norman Thomas, the six-time candidate of the Socialist Party of America, she replied in a cheerful deadpan: "Oh, no! That would have been a dirty word in our house. We were Communists."
While still in college, Nichols spent a summer in West Tennessee, volunteering to help register black voters. "I saw the role that the lawyers were playing in the civil-rights struggle—and also that they were less likely to get their heads beaten in." She eventually enrolled at Yale Law School, becoming one of 18 women out of 160 members in the class of 1971. It was there that she met her husband, John Daum, who graduated two years ahead of her and who had helped found what became the Natural Resources Defense Council.
But Daum, who died in 2016, was eventually recruited by the old-line Los Angeles law firm O'Melveny & Myers, where he wound up representing petroleum-industry clients. She followed him to California and, as she says, "I became the environmental lawyer in the family." Her first job was at the nonprofit Center for Law in the Public Interest, and she had to secure foundation grants to pay her own salary. Because other lawyers had already called dibs on fields like coastal protection and nuclear power, she took on air pollution, filed the first test case against the EPA under the Clean Air Act, and the rest is history.
Nichols is nothing if not practical. "I do believe that to be sustainable in this field," she says, "you have to come up with ideas that people are willing to live with." She herself drives an electric blue Toyota Mirai, a hydrogen-fuel-cell vehicle, and is in the midst of a green-spirited remodeling project, renovating her longtime home to install an elevator and create an upstairs apartment for herself, so her son, Nicholas Daum, a lawyer in private practice here, and his family can move into the big house below. (Nichols's daughter, Margaret Daum, also a lawyer, is the minority staff director for the Senate Homeland Security Committee in Washington, D.C.)
"The fact that she has occupied so many different positions and perspectives over the years has just given her a really incredible ability of knowing what's coming next," says Cara Horowitz, an environmental-law professor at UCLA. "The thing that strikes me when I talk with her is she's not backward-looking at all. She looks deep into the chess game and moves ahead, and she's just wickedly smart."
Nichols is a realist about the future, but not a pessimist. "From what we know about science and the way the atmosphere works," she acknowledges, "we have no chance of meeting the needed health standards without completely changing the transportation system." For more than two decades, Los Angeles has been engaged in a determined, if not always successful, effort to build a more workable network of subways and light-rail lines, and some urban planners have pressed for building higher-density housing close to those modes of transportation—which, as it happens, are often also near clogged freeways, which raises environmental concerns about pollution.
"Well, you've got to do a few things at the same time," Nichols says simply. "If the freeway is no longer the major generator of pollution, living near it is not the worst thing."
Nichols says that Brown's recent three-day global summit on climate change, held earlier this month in San Francisco, is proof that "the energy to fight global warming bubbles up from the state and local level," and that the broad participation of businesses from many sectors showed that the companies leading in job creation and investment are not backing away from the Paris climate accords, whatever the Trump administration does. She says her optimism is rooted in her decades of litigating under the Clean Air Act, "in which the ability of technology to meet aggressive regulatory requirements at lower than predicted cost has been demonstrated many times over."
And she doesn't believe it's too late to make meaningful changes that might yet save the fate of the Earth. "I don't believe it's too late," she insists. "L.A. is a bellwether of what's happening around the globe. Beijing is sending officials here to study what we are doing. We just have to find ways of making urban living less dirty."