Trump Chose to Be Silent on Kavanaugh
The president's evident restraint at a rally in Minnesota seemed the surest indication of just how close the vote to confirm Brett Kavanaugh could be.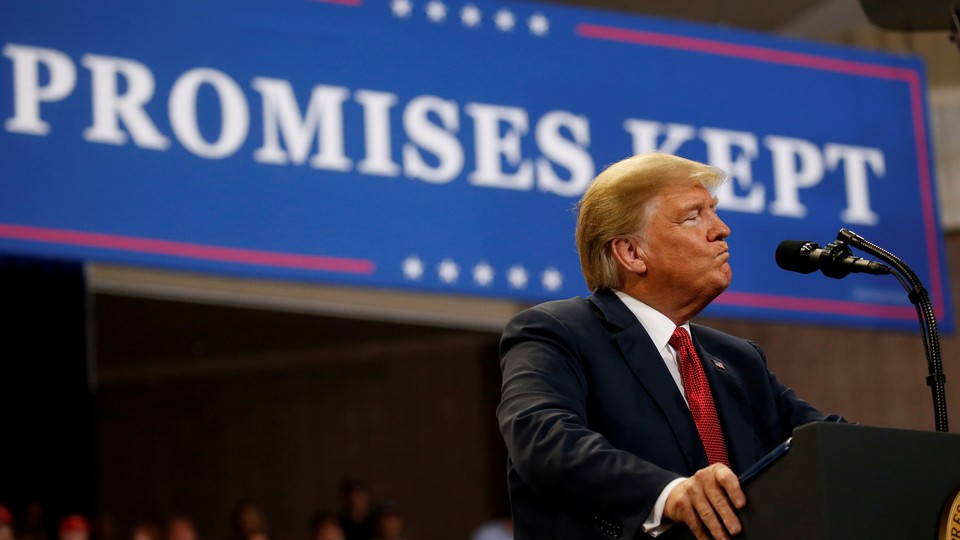 Forty minutes into Thursday night's "Make America Great Again" rally in Minnesota, after all the claims of historic greatness, the ritual chanting ("Drain the swamp"), the harping about "fake news," and the gratuitous insults hurled at Congresswoman Maxine Waters, it was pretty clear President Trump simply wasn't going there.
He wended his oratorical way several times to the "radical Democrats" and his embattled Supreme Court nominee. "You see what is going on in Congress right now with one of the most respected people—potentially, hopefully Supreme Court Justice Brett Kavanaugh," he said at one point early on in the rally. But he quickly moved on to how the Democrats want to cripple law enforcement and get rid of ICE, as though he'd been beseeched by his aides (and no doubt Mitch McConnell) not to mention Kavanaugh's name at all and it just slipped out.
He made no reference to sexual-assault allegations, or blackout drinking, or judicial temperament, and he did not mention the name of Christine Blasey Ford, the woman who has alleged that Kavanaugh sexually assaulted her when they were in high school 36 years ago. Trump had mocked her two days earlier at a similar campaign-style rally in Mississippi and had been rebuked in no uncertain terms by the same moderate Republican senators he now needs to finally get Kavanaugh confirmed.
Senator Jeff Flake of Arizona called Trump's belittling comments "appalling." Senator Susan Collins of Maine said they were "wrong," and Senator Lisa Murkowski of Alaska added that they were "inappropriate."
Trump's evident restraint in Minnesota seemed the surest indication of just how close the vote would be, with Flake, Collins, Murkowski, and Democratic Senator Joe Manchin of West Virginia having yet to disclose how they would vote. Another Trump attack on Ford, the 51-year-old research psychologist whose testimony had transfixed the nation just one week before, could have been more than harmful to Kavanaugh's chances.
So Trump steered well clear of the drama on Capitol Hill, preferring instead to focus on his own accomplishments on the economy and North Korea."Because of me, those missiles aren't going over Japan anymore," he said. "There are no more missiles. There is no more testing. No more nuclear."
Then it was on to renegotiating NAFTA and insisting that Canada deal with something that had angered the NFL for many years. "I will not get into what it was, a very bad problem," Trump said, explaining how he demanded it be fixed, and now "the NFL is so happy—it has all worked out." Most of the savings will probably go to the players, who still "hate me," he said, then finally finished: "Okay, enough of that."
Trump ended with an exhortation to vote on November 6 and show the country that Minnesota really is a red state he could and probably would have won if he'd just been able to make one last appearance the night before the 2016 election.
He ended his night in Churchillian fashion. "For the sake of our freedom, and for the sake of our children, we are going to work, we are going to fight, and we are going to win, win, win," he said. "We will not bend. We will not break. We will never give in. We will never give up. We will never back down. We will never surrender. We will always fight on to victory."
Still, after an hour and eight minutes of meandering rhetoric in a packed Mayo Civic Center in Rochester, with an overflow room and thousands more outside, unable to get in, Trump's performance on the eve of the Senate's vote on Brett Kavanaugh seemed most interesting for what he never said.