Trump Makes a Return to Improv
His recent appearances at press conferences have been a reminder of the frequent, freewheeling jousts with the media the president enjoyed during the 2016 election.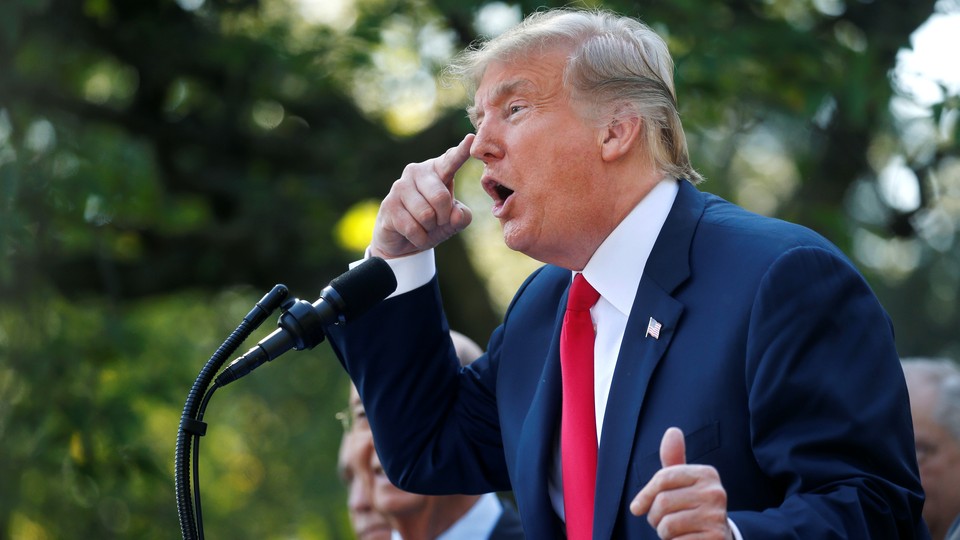 Go ahead and call it a comeback. Donald Trump has been here for years, sure, but at two press conferences over the past week, the nation has gotten a glimpse of an older edition of Trump—the freewheeling, improvisatory man who ran for president in 2016, rather than the comparatively cloistered, sclerotic one who has lived in the Oval Office.
First came the president's bizarre press conference last week in New York, his first in some 19 months. Trump was back at it again Monday, during remarks at the White House to celebrate the renegotiation of the North American Free Trade Agreement. In both cases, the president bantered eagerly with reporters, often berating or disrespecting them, but demonstrating his clear love of the act of jousting with them. Both cases also created a forum for reporters to ask Trump a number of questions on a range of topics, producing unexpected and newsmaking answers.
On Monday, for example, Trump accused one female reporter of "not thinking. You never do," and had the microphone taken away from another. He contradicted the official administration line on an FBI investigation into sexual-misconduct allegations against Judge Brett Kavanaugh, but he also affirmed the nakedly partisan nature of the Supreme Court confirmation process. He darkly accused Democratic senators of misconduct, refusing to name names or offer specifics, and then made a pair of self-deprecating jokes about his own abstention from alcohol. It was a lot to take in.
It used to be like this every week. Starting in June 2015, Trump was an unusually accessible presidential candidate, giving many interviews and frequent—and often bonkers—press conferences. But from late summer 2016, shortly after the Republican National Convention and coinciding with the ascension of Steve Bannon and Kellyanne Conway on his campaign, Trump pulled back drastically. He still speaks to a few reporters regularly, and he occasionally will give bursts of several sit-down interviews at a time, but he cut way down on press conferences. He gave one between his election and the inauguration, but then gave no full-length, solo press conference from February 2017 to September 26. (He has continued to give the standard "two and two" press conferences when hosting foreign leaders, and he'll occasionally take a few questions from reporters.)
It's easy to see the dangers of press conferences for Trump. He might end up getting questions on any number of topics, including things he hasn't prepared much for. And because he loves to improvise, the president can easily veer away from official talking points and create a mess.
On Monday, Trump seemed to try his damnedest to stay on message, though his efforts to do so only helped precipitate the slide into disorder. The president spoke about the NAFTA replacement deal, called United States-Mexico-Canada Agreement, and then turned the microphone over to Trade Representative Robert Lighthizer. As the back-and-forth began, he tried to dodge questions about Kavanaugh, refusing to take them. But he couldn't resist making a snide comment at ABC's Cecilia Vega, who tried to pull the president into talking about the nomination, saying, "I know you're not thinking. You never do."
With that, any sense of decorum was out the window. Other reporters also tried to ask about Kavanaugh and Trump kept shutting them down, including having a microphone taken from CNN's Kaitlan Collins. But he agreed to take some questions on the nominee once he'd already discussed trade.
Once the president opened the floor to Supreme Court questions, it was easy to see why he'd been reluctant. The official White House line is that the investigation into the nominee is limited in time and scope; the FBI reportedly doesn't plan to interview Kavanaugh again, and it won't speak to Julie Swetnick, the third woman to make an accusation against Kavanaugh. But Trump said that "it wouldn't bother me at all" if the FBI talked to Swetnick, and added that he thought agents should speak to Kavanaugh again, too.
On the one hand, Trump said, "I want them to do a very comprehensive investigation," but on the other, he defined that as "whatever that means according to the senators and the Republicans and the Republican majority," effectively conceding that the renewed probe was little more than a political fig leaf. Trump also expressed deep sympathy for Kavanaugh and his family, while going out of his way to mention Christine Blasey Ford, who testified on Thursday. Trump repeatedly called her "the doctor," before settling on "Dr. Ford."
Trump also accused Senator Dianne Feinstein, a California Democrat, of leaking Ford's accusations. (She has denied this.) But far stranger was his threatening innuendo about members of the Senate.
"I watched those senators on the Democrat side and I thought it was a disgrace, and partially because I know them. I know them too well. They are not angels," he said. A few minutes later, he added: "I happen to know some United States senators, one who is on the other side, who is pretty aggressive. I have seen that person in very bad situations, okay? I have seen that person in very, very bad situations, somewhat compromising, and you know, I think it is very unfair to bring up things like this."
Trump refused to say who or what he was referring to, and no one else seemed to know either.
It was vintage Trump: The president made an accusation without any facts to back it up, refused to produce the facts, and then said that even mentioning the accusation was "very unfair" in the same breath that he mentioned it.
As peevish and patronizing as Trump can be in these settings, he sometimes cracks jokes that lighten the mood. This isn't the same as when Trump makes an outrageous comment and then claims he was "sarcastic" or speaking in humor. These are clearly intended as jokes. Discussing whether Kavanaugh had been a heavy drinker, Trump noted that he himself is a teetotaler.
"I can honestly say I have never had a beer in my life. Okay. It's one of my only good traits, I do not drink," Trump said. "Can you imagine if I had, what a mess I would be?"
Give the man points for self-awareness: He was already all over the place and he was stone-cold sober on a Monday morning.
Who knows whether these two press conferences will prove to be a blip or part of a concerted return to the more accessible Trump of 2015. But there are several reasons the president might be interested in trying it out.
First, the White House communications strategy isn't working. The president's approval ratings remain rotten, and he has repeatedly complained that he's not getting as much credit as he believes he deserves for his accomplishments. Second, the president is getting back into campaign mode as the midterms approach, and that means he wants to be able to speak to the press more. Third, and relatedly, although Trump has been hosting more frequent rallies around the country, the magic is gone. He can still draw a big crowd, but the novelty has worn off, and the TV channels no longer air his meandering rally speeches from start to finish. He may need new ways to get attention, and press conferences fit the bill.
Watching Trump both on Thursday and again on Monday felt like a flashback to the wild, weird days of early 2016, and it showed both his weaknesses as a leader and his strengths as a campaigner. Because his presidency has so often seemed like a joyless slog, both performances were a reminder of what Trump was like before he was president. During the two recent appearances, the president once again seemed to be enjoying himself. Returning to the old format, Trump has been funny, condescending, demagogic, and full of untruth—and once again, it's been nearly impossible to look away.