The Coming Clashes Between Democrats and Republicans
It's not hard to envision the tension ahead: The Democrats are becoming more diverse at the same time that greater numbers of GOP candidates are embracing President Trump's nationalism.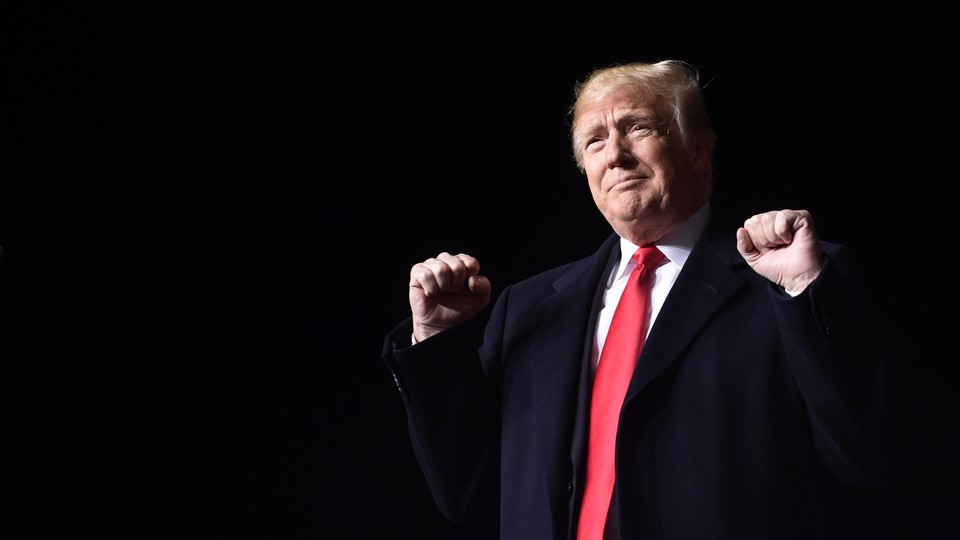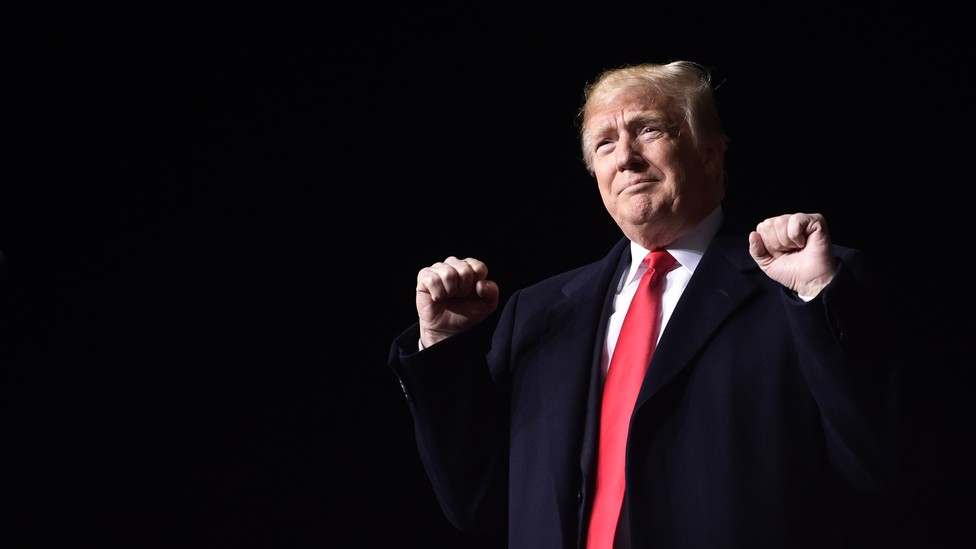 Win or lose, the Democratic Party has crossed a threshold in the 2018 election, pointing it toward even more explosive conflict with a Republican Party that Donald Trump is recasting around white racial anxiety.
For the first time, white men do not constitute a majority of Democratic candidates in races for the House, Senate, or state legislatures this year, according to new research by the Reflective Democracy Campaign, which studies demographic change in elections. Instead, most Democratic candidates are white women or men and women of color. "That feels to me like a real milestone," says Brenda Choresi Carter, the group's director.
Democrats are undergoing this metamorphosis precisely as more GOP candidates are embracing Trump's racially infused nationalism, which focuses on maximizing support among the portions of the white electorate most uneasy about demographic and cultural shifts—particularly non-college-educated, evangelical, older, and nonurban whites. It's not hard to envision even greater tension ahead as a Democratic "coalition of transformation" that embodies the nation's growing diversity collides with a Trump-stamped Republican "coalition of restoration" that promises to "take back the country" from the forces of social, demographic, and economic change.
"There are two electorates: One is comfortable with the changes and diversity, and they are part of that change and diversity; and there is an electorate that is shrinking and is uncomfortable with that change because they see that change as a threat," says Cornell Belcher, a Democratic pollster who closely studies black voting patterns. "And they are doing battle for the future of this country."
Evidence from the Trump era suggests that these inverse dynamics—the increasing diversity of the Democratic-candidate roster and the growing appeal of racial nationalism inside the GOP coalition—may feed on each other.
From one side, Trump's overt appeals to white racial anxieties about immigrants, Muslims, and black football players, as well as his derogatory comments about women, inspired unprecedented numbers of minority and white female candidates to seek office as Democrats. "We all know that there is the Trump effect going on among women and people of color, and the sense that there is something very significant at stake, perhaps in a clearer way than ever before, that needs to be fought for," Carter says.
But from the other direction, the diverse slate of Democratic candidates provides a powerful symbol of social change that may make more white voters receptive to the message of racial solidarity from Trump and other Republicans. In this way, the same underlying force—a political debate that's more and more centered on questions of national identity and cultural affinity, rather than on economic interests—is pushing Democrats toward embracing a changing America and pushing Republicans toward resisting it.
Whatever the results next month, this election will likely be remembered as a crossing-the-Rubicon moment when the diversity of the Democratic candidates for the first time approximated the diversity of the party's electoral coalition. (A comprehensive post-2016-election study by the Pew Research Center concluded that minorities accounted for 40 percent of Hillary Clinton's votes that year, compared with just 12 percent of Trump's.)
According to the Reflective Democracy Campaign's calculations, white men make up only 42 percent of the Democratic candidates for the House, the first time they have fallen below half. As recently as 2014, white men still represented 55 percent of Democratic House candidates. Now, though, white women (at 30 percent), nonwhite men (at 17 percent), and nonwhite women (at 11 percent) combine for the majority.
White men have also fallen below the majority among Democratic candidates for the Senate (46 percent) and state legislatures (just 41 percent). In both of those categories, white women rank next, followed by men of color and nonwhite women.
This shift is evident in a wide array of high-profile races. Democrats have nominated Latino candidates for governor in Texas, Arizona, and New Mexico (though only Michelle Lujan Grisham in the last state is given a strong chance). And they've nominated black candidates for governor in Florida (where Andrew Gillum leads in most polls), Georgia (where Stacey Abrams is locked in a razor-tight race), and Maryland (where Ben Jealous trails the popular Republican incumbent, Larry Hogan.)
The two Democratic Senate challengers with the best chance of ousting a Republican incumbent are white women: Jacky Rosen in Nevada and Kyrsten Sinema in Arizona (with Rosen given better odds today). New Democratic House members will likely include the first Muslim American women (from districts in Michigan and Minnesota), the first Latinas from Texas, and the first Native American woman.
Alexandria Ocasio-Cortez, a Latina, will arrive in Congress as a progressive hero after her primary victory over Joe Crowley, a white Democrat representing a very diverse district in New York City. "There was a way Cortez can speak to the untapped desire for representation in a deeper sense of that word among communities in her district that have felt like they haven't been heard," Carter says. My colleague Elaine Godfrey found a similar desire for representation among the supporters of Ayanna Pressley, the Massachusetts House candidate who was the source of another progressive upset this year.
These changes haven't always been welcomed by Democratic leaders, but they have been facilitated by the democratization of modern political communication and fund-raising. With Ocasio-Cortez as the most dramatic example, the internet and social media have allowed many of these candidates to build a fund-raising base and make themselves known (through viral videos and other means), even with little institutional support. Belcher, like many nonwhite Democrats, says the increasing diversity of the party's candidates is being driven by "the grassroots in spite of the establishment."
Although the GOP has elected some high-profile candidates of color (such as Senators Marco Rubio, Ted Cruz, and Tim Scott), it has been much less touched by these changes. The Reflective Democracy Campaign's figures show that white men still account for 77 percent of GOP House candidates (down just slightly from 82 percent in 2012) and 76 percent of state-legislature candidates (essentially unchanged from 77 percent in 2012). White men represented four-fifths of Republican Senate candidates in 2012 and represent about two-thirds now. The gap between the share of white men among Democratic and Republican candidates for both the House and state legislatures is considerably wider today than six years ago.
The gap between the parties' responses to a changing America is clearly widening on the campaign trail, too. Trump is closing the 2018 midterms with superheated warnings about crime, an alleged Democratic "mob," and immigrants; without evidence, he's insisted that a Central American caravan of immigrants includes MS-13 gang members and Middle Eastern terrorists. Far more Republicans than in 2016 are echoing his anti-immigrant themes in their own advertising. And from New York, Ohio, and Kansas to Texas, Arizona, and California, Republicans running against Democratic candidates of color have appealed directly to racial anxieties.
In their recent book Identity Crisis, the political scientists John Sides, Michael Tesler, and Lynn Vavreck reported that multiple postelection surveys found that "whites' attitudes about race, ethnicity and religion came to play a larger role in 2016 than in other recent elections." The reason was not that more whites expressed bigoted views than in the recent past, but rather that Trump's emphasis on themes of racial identity—and the sharp contrast provided by Clinton—made those distinctions relevant to more voters' decisions.
In an interview, Vavreck, a political scientist at UCLA, said the combination of Trumplike appeals from the GOP and the diversity of Democratic candidates could lock in that heightened correlation between voting choices and attitudes about racial and cultural change. "Now we have a diverse set of candidates and the identity-inflected rhetoric still coming out of the White House and from some other [Republican] candidates," Vavreck said. "That is not unlike what happened in 2016, with Trump and Hillary Clinton, the first woman. You might think that's about the equilibrium we may now expect to be repeated in terms of how important these attitudes are."
The Florida and Georgia governor's races offer perhaps the most tumultuous preview of the conflicts that may lie ahead. Each race features a liberal black Democrat competing against a white Republican running as a virtual Trump clone. Each Democrat is hoping to win largely by motivating more minority and young voters to the polls; each Republican is looking to consolidate whites, especially the blue-collar, evangelical, rural, and older whites central to the Trump coalition. College-educated whites loom as a key swing constituency in both campaigns (as they do in the suburban seats that will likely determine control of the House).
In most polls in Florida, Gillum leads Representative Ron DeSantis, who began his campaign by warning Florida voters not to "monkey this up" by electing Gillum. (DeSantis denied he was sending a racial signal.) DeSantis throughout the race has focused his messaging on portraying the Tallahassee mayor as soft on crime, while embracing a Trumplike hard line on immigration himself.
In Georgia, Abrams appears to be just a step behind the state's secretary of state, Brian Kemp, who has also blasted Trumplike warnings about undocumented immigrants. Even more strikingly, Kemp has overseen a series of decisions as secretary of state that could lock out tens of thousands of voters, many of them minorities, from the polls.
Belcher sees the struggle over voting rights in Georgia as an especially apocalyptic harbinger of the coming conflicts between the Democratic and Republican parties. Even as minorities advance toward becoming a majority of the overall population, he notes, Republican efforts to restrict access to the ballot are growing more intense, not only in Georgia but in many other states. Eventually, he says, that could lead to a crisis of legitimacy for the nation's electoral system, as more Americans feel that the rules are rigged to prevent the new majority from achieving power. "The dynamic of these things coming together is potentially crippling to our democracy," Belcher says ominously, "because power concedes nothing."