The Overlooked House Battleground With Big Implications for the GOP
In neighboring contests in Kansas, one Republican candidate is touting his work with President Obama. In the other, the GOP hopeful is clinging to President Trump.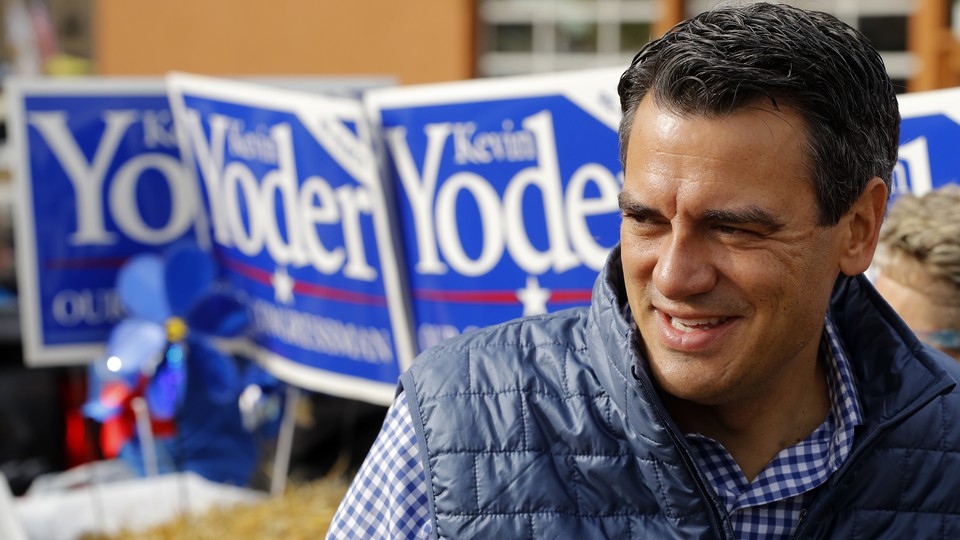 Updated on October 12 at 12:03 p.m. ET
KANSAS CITY, Kans.— The clearest sign that Republican Representative Kevin Yoder is confronting his electoral demise came in his opening remarks at a recent luncheon of this city's chamber of commerce. Like many other lawmakers, he boasted of his ability to work with the president. But the president Yoder mentioned first was not the leader of his party, Donald Trump, who two years ago carried the state of Kansas by 20 points; it was the Democrat Trump replaced.
"I worked with President Obama on a number of different initiatives," Yoder said, before adding that he was also "willing to work with this current administration" on issues like reducing taxes and regulations to boost economic growth.
Yoder is no Tea Party firebrand. But for most of the eight years he's served in Congress, he has been a reliable vote for a GOP majority that has excoriated Barack Obama and embraced Trump. He voted repeatedly to repeal the Affordable Care Act and stood proudly with Republicans and the president to enact a $1.5 trillion tax cut at the end of last year. Now, as he faces his toughest election yet, Yoder is suddenly positioning himself squarely in the middle, with one foot on either side of the political divide. He's vowed to protect people with preexisting conditions and to fight the separation of immigrant families at the southern border. He assails his Democratic opponent, Sharice Davids, as a dangerous "radical" in one breath while boasting that he joined with Democrats in a vote to protect Special Counsel Robert Mueller in the next.
"My opponent says she wants to reach across the aisle. You can't get there from where she is," Yoder said at the luncheon.
Kansas is often, and quite understandably, overlooked as a battleground. The state hasn't voted Democratic for president or elected a Democrat to the Senate since the New Deal, and Republicans have easily held their four House seats for the past eight years. But Republicans find themselves on their heels here this year; Democrats have a decent shot to win both the governorship and two seats in Congress.
The campaigns in the neighboring Second and Third Congressional districts, in the eastern half of the state, illustrate how complicated a factor Trump is in this year's battle for the House. Among Yoder's constituents in the northeast corner of the state, the president is clearly a drag—a polarizing figure to be distanced from rather than embraced. Yet in the adjacent area to the south and west, the Republican and Democratic candidates alike are keeping attacks on the president to a minimum. Steve Watkins, a first-time GOP hopeful, welcomed Trump to a rally last weekend, while Democrat Paul Davis is stressing his common cause with the president's supporters in a district Trump won handily in 2016.
Yoder's district, though, could have broader implications for the Republican Party. Encompassing Kansas City and its suburbs, the Third Congressional District backed Mitt Romney in 2012 but swung to Hillary Clinton in 2016. Its large population of college-educated moderates represents precisely the demographic that Trump has alienated in suburban districts across the country. They're similar to voters in swing districts outside Chicago, Philadelphia, and Los Angeles, and if they take their anger at Trump out on the Republican incumbents who have voted with him in the past two years, they'll hand Democrats the House majority.
Yoder is facing Davids, a first-time candidate who worked in the Obama White House and would be the first lesbian member of Congress from Kansas. She won a contested primary this summer and has outraised him by a substantial margin over the past three months. Yoder is now the most endangered red-state House Republican in the country: Election forecasters such as The Cook Political Report say the race has shifted toward the Democrat, a recent New York Times/Siena College poll found Yoder eight points down, and the National Republican Congressional Committee has pulled back on advertising in the home stretch of the campaign—a sign the party has all but given up on his seat.
The two candidates are also campaigning as if the incumbent is the underdog. It was Yoder who challenged Davids to a series of five debates after she won the primary, and weeks went by before the Democrat agreed to participate in a single one, in late October. She has kept a lower profile in the district as well, local reporters told me, and her campaign did not respond to repeated requests for an interview or for a schedule of public events during a week-long stretch last month.
The forum at the Chamber of Commerce was envisioned as a debate between Yoder and Davids, but only the congressman agreed to attend. Republicans in the district surmised that Davids was playing it safe with her lead, not wanting to risk a stumble against a seasoned opponent. Not surprisingly, Yoder has tried to take advantage, characterizing Davids ideologically as "the most liberal, radical nominee for Congress in the history of the district" and as a stranger to the community who has spent most of her adult life elsewhere. "If you don't know the community because you've never really lived here, you've never voted here, you don't know the people you're trying to represent, and the views that you espouse in the primary are so far out of the mainstream," he argued in an interview, "then you may not want to show up and be challenged on those ideas."
But while Yoder has settled on a message to use against his opponent, he's found it more difficult to define himself in a year when his party affiliation could be a liability. At one point during the Chamber of Commerce event, the moderator—a news anchor from the local Fox affiliate—asked the congressman, "Who is Kevin Yoder, politically?" Yoder began with a meandering series of paeans to Kansas, his upbringing, and his pride in the state's education system. But his reply drifted back to the shadow in the race, a president he was reluctant to name. "I'm someone who believes very strongly in our conservative principles," Yoder said. "But I'm willing to break from our party. I'm willing to oppose our president."
When I asked him afterward to grade the president's performance so far, Yoder gave him a carefully considered B. But he was unwilling to endorse Trump's reelection in 2020, telling me the race is too far off. "What we've got to get through is 2018," Yoder said. "The president's got a lot to prove. I've got a lot to prove."
Unlike Yoder, Watkins doesn't have to tiptoe around Trump in his race for Kansas's Second Congressional District. Though it includes the capital city of Topeka and the college town of Lawrence, the district is more rural, more white, and more Republican. Trump won it by 18 points in 2016, and its House seat opened up when the five-term incumbent, Representative Lynn Jenkins, announced early last year that she would not run again. During a recent phone-banking session I observed, young GOP volunteers stressed Watkins's support for the president's agenda, particularly building the southern border wall.
Watkins's chief vulnerability is his unfamiliarity in the district. A West Point grad and an Army veteran, he spent much of the past decade overseas and won a competitive primary in no small part because of the financial support of his father, who pumped $100,000 into a super PAC that ran ads backing his candidacy.
Still, the race likely wouldn't be competitive if not for the strength of the Democratic candidate, Davis, a former state legislator who carried the district in 2014, when he nearly toppled the former Kansas Governor Sam Brownback's reelection bid. Needing to pick up votes from independents and moderate Republicans to win, Davis is running as a centrist; on the day he launched his candidacy last year, he preemptively declared that he would not vote for Nancy Pelosi as House speaker. "First of all, I don't define myself as a Democrat," he told me when I asked where he stood in the party's philosophical debate over progressive proposals like Medicare for All. Davis noted proudly that the party label appears nowhere on his yard signs—although that omission is likely necessary in a district where Republicans far outnumber Democrats.
When I interviewed the two rivals at separate coffee shops in the district recently, they each adopted a similar tone toward Trump. "I'm in lockstep with what's best for Kansans. As for President Trump, I call balls and strikes," Watkins told me. "There are things that I love. There are things that I don't." He praised the president's handling of the economy and foreign policy, but gently criticized him on the issue of trade—Kansas has been hit hard by China's retaliatory tariffs on soybeans—and called himself a free trader.
Davis criticized Trump on tariffs more forcefully, and he called out Watkins for his "tepid" opposition to the policy. "He says he's for free trade, but he has been unwilling to really stand up and say, 'President Trump is wrong about this,'" Davis said. "And if I'm elected to Congress, I'm going to give him an earful about it. This is not a time when you can just be a loyal party soldier when Kansas farmers are really feeling a great deal of pain from this."
At the same time, Davis said he wanted to work with the president on infrastructure and policies to reduce the cost of prescription drugs, and he sought to appeal to Trump supporters in their distaste for Washington politics and the power of special-interest groups. "I want to drain the swamp, too," he told me. "So we have a lot in common."
Watkins, however, was willing to go only so far in critiquing the president, for reasons that would become clear when Trump scheduled a rally in his district the following week. He declined to respond to Davis's jab, and while Yoder skipped the event, Watkins stood proudly alongside the president—along with conservative gubernatorial nominee Kris Kobach—in front of 11,000 people at the Kansas Expocenter in Topeka. Watkins happened to be wearing a dark suit and a bright-red tie that looked identical to the president's own familiar combo. He called Trump "a truly great" leader and praised his "America First" foreign policy and his commitment to secure the southern border. "He is a fighter, and we are so honored to have him here in Kansas," Watkins said.
Both Davis, the Democrat, and Yoder, the Republican, need crossover voters to win their respective races in adjacent districts. For Davis, that means winning Trump supporters. For Yoder, it means he's got to appeal to those who went with Clinton two years ago, just as he did successfully in 2016. "It's still a Republican district," he reminded me. "There were many Republican voters who voted for Hillary Clinton and voted for me. And we're campaigning to those voters as well."
But the political calculations for those voters are different this year, and that may explain why Republican incumbents who won easily in districts Clinton carried, like Yoder and Representative Erik Paulsen in Minnesota, are struggling. Moderate voters who expected Clinton to win may have supported their Republican congressmen to serve as a check on her presidency. Now polls show a majority of self-described moderate or independent voters are looking to rein in Trump, and even in Kansas, these voters could make a difference in two close contests.
Tom Sloan is a long-serving Republican member of the Kansas state legislature who made Davis the first Democrat he'd ever endorsed. The two worked together for years in the state House of Representatives, and Sloan's decision was made easier by the fact that he is not running for reelection. But he said the president—and the composition of Congress—was a factor. "Steve Watkins is going to be a supporter of the president," Sloan told me, "and I think there needs to be a check on that."
In Yoder's district, the antipathy toward Trump among some moderate Republicans is virtually indistinguishable from the vitriol leveled at the president by liberals elsewhere in the country. "I've heard from many Republicans that live in our district that support me and say, 'Oh my God, why is a Nazi our president?'" said Republican state Representative Stephanie Clayton. "I'm like, 'Okay, let's walk that back a little bit.'"
The disenchantment with Trump seems to be extending to the Republican congressman whose name will appear on the ballot next month. It likely will benefit not only Davids, but Democrats across the country whose drive for the House majority runs through districts like Yoder's.