Trump: 'I Have a Very Open Mind' on Kavanaugh Investigation
President Trump's support for a "very comprehensive" FBI investigation and his commentary on Brett Kavanaugh's "difficulty" with alcohol could undercut his nominee and the GOP's push to confirm him.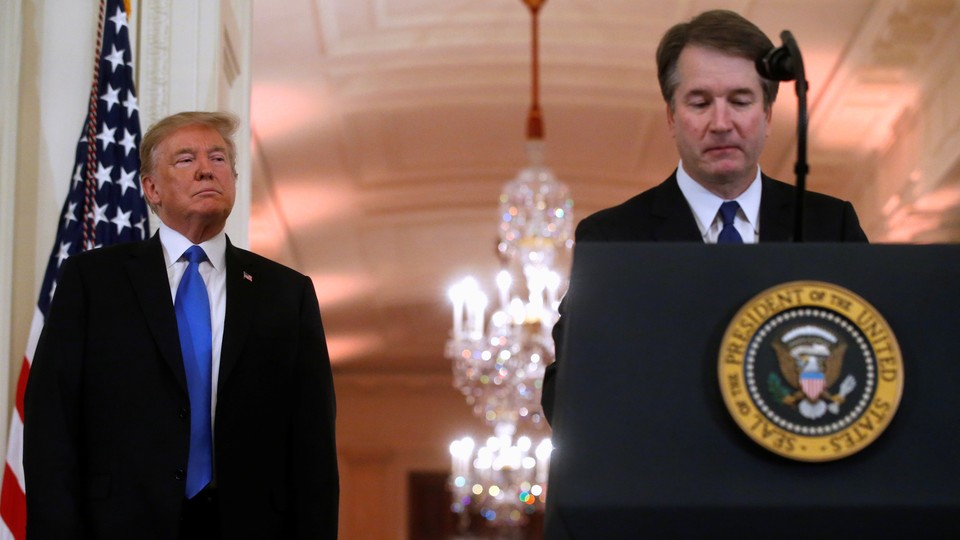 Does President Donald Trump believe Brett Kavanaugh?
For most of the 20 minutes the president spent discussing his nominee for the Supreme Court with reporters on Monday afternoon, it seemed clear that he did—that Trump accepted Kavanaugh's repeated and angry denials that he sexually assaulted Christine Blasey Ford when they were teenagers in 1982. The FBI is now investigating Ford's claims along with those of a second accuser, Deborah Ramirez, who has said Kavanaugh drunkenly exposed himself to her while at a party at Yale. The week-long probe, demanded by Republican Senator Jeff Flake of Arizona along with Democrats, is holding up a confirmation that appeared a sure thing only a few weeks ago.
"I am with him all the way," the president assured the press in the Rose Garden. He lavished praise on Kavanaugh's sterling academic and professional resumé, bemoaned how he and his family were being treated "viciously and violently" by Democrats in the Senate, and pointed out the many questions Ford could not precisely answer about the time and place of the alleged attack.
And yet, Trump also let slip a few doubts.
"I am waiting just like you," he said, referring to the reopened FBI background check when a reporter asked if he had a "Plan B" in case Kavanaugh's nomination failed. "If they find something, I will take it into consideration. Absolutely. I have a very open mind.
"The person that takes that position is going to be there for a long time," the president continued, and then repeated: "I have a very open mind."
Trump also waded into the debate over Kavanaugh's drinking as a teenager and whether he mischaracterized or outright lied about how much he drank and how he acted when drunk. "I was surprised about how vocal he was about the fact that he liked beer, and he's had a little bit of difficulty," the president said. "I mean, he talked about things that happened when he drank. This is not a man that said alcohol was—that he was perfect with respect to alcohol."
Trump's musing about Kavanaugh's beer habit was notable for two reasons. First, he gave his nominee too much credit about how forthright he was during his testimony to the Senate Judiciary Committee last week. The president said Kavanaugh acknowledged that he "had difficulty as a young man" with alcohol. In fact, that's not what Kavanaugh said; the federal appellate judge specifically denied allegations from multiple people that he drank to the point of incoherence or that he ever "blacked out" from too much alcohol. "I drank beer with my friends. Almost everyone did. Sometimes I had too many beers. Sometimes others did," Kavanaugh told senators. "I liked beer. I still like beer. But I did not drink beer to the point of blacking out and I never sexually assaulted anyone."
Kavanaugh's supporters have scoffed at the focus on his teenage drinking and whether he lied about how much he did. But the distinction is important, both as a matter of assessing his truthfulness under oath and because if he did drink to the point of incoherence, it's possible he would not remember the incident Ford has described.
Trump, however, analyzed the issue through a different prism altogether—as a contrast between Kavanaugh's "difficulty" with beer as a youth and his own self-discipline in abstaining from alcohol. "Look, I am not a drinker. I can honestly say I have never had a beer in my life," boasted the teetotaler in chief. "It's one of my only good traits, I do not drink," Trump then joked in a rare moment of self-deprecation, drawing laughter from reporters and his aides alike. "Can you imagine if I had, what a mess I would be? I would be the world's worst."
He went on to mention his own experiences in high school, saying that while he did not partake himself, he watched plenty of his classmates drink to excess. "They would drink beer and go crazy," Trump said.
It was a telling moment from a man who has spoken often of his older brother, Freddy, who died as an alcoholic at the age of 43. "He had a very, very tough life," the president said of his brother during a speech last year. "But I learned because of Fred." But Trump also reportedly looked down on his brother before he died. "Donald put Freddy down quite a bit," a former girlfriend of Freddy's told The New York Times in 2016.
Trump didn't mention his brother on Monday, and he didn't suggest that Kavanaugh's high-school drinking made him question his suitability for the Supreme Court. But his pointed comments about the effects of alcohol undercut his nominee nonetheless, placing the president in the category of people who see Kavanaugh's teenage partying habits not as the nominee presented them—as evidence that he was a normal, fun-loving if imperfect kid—but as something more problematic.
The president also handed Democrats another potential weapon in the Kavanaugh fight by saying he supported a "comprehensive" investigation into the allegations against him and giving the FBI permission to interview any witnesses it wanted to as part of the probe. "I think the FBI should interview anybody they want within reason, but you have to say within reason," Trump said.
In doing so, he appeared to be backing off limits that the White House, in consultation with Senate Republican leaders, reportedly placed on the inquiry after they agreed to pause Kavanaugh's confirmation on Friday. Senate Majority Leader Mitch McConnell had been planning a initial procedural vote on Saturday before Flake surprised his colleagues by announcing that he would not vote for the judge on the floor unless the FBI conducted a new investigation "limited in time and scope."
Over the weekend, Democrats accused the White House of rigging the probe by restricting to four people the potential witnesses the FBI could interview, raising the likelihood that investigators would quickly run into a dead end by only talking to those, such as Kavanaugh's friend Mark Judge and Ford's friend Leland Keyser, who have already said they don't personally recall the incident in question. Trump on Monday said the FBI should be able to interview at least two of Kavanaugh's accusers—Ford and Ramirez—but he questioned the credibility of a third, Julie Swetnick, who is represented by the Trump antagonist Michael Avenatti and who sat for an interview with NBC News. "If there is any credibility, interview the third one," the president said. The Times reported that the White House on Monday formally gave the FBI permission to interview anyone it deems necessary, as long as the work is done by Friday.
McConnell has publicly insisted Kavanaugh's confirmation remains on track, and on Monday, he delivered another speech on the Senate floor defending the nominee and assailing Democrats for "moving the goalposts." He predicted that no matter how extensive the FBI investigation is, they will demand more inquiries beyond this week in an attempt to delay his confirmation beyond the November elections. "We will be voting this week," the majority leader promised.
As Trump observed on Monday, the people that must be satisfied by the FBI's investigation are not in the White House but in the Senate; specifically, they are Flake and the other key Republicans, Senators Susan Collins of Maine and Lisa Murkowski of Alaska, whose votes will likely determine whether Kavanaugh wins a lifetime appointment to the Supreme Court. Republican leaders may have hoped that a limited new FBI inquiry would give them the cover they needed to vote yes, but Trump's comments on Monday—and the sprinkling of doubt he conveyed about Kavanaugh—gave them the cover to demand more.