The Epicenter of Republican Vulnerability in the House
The GOP's chances are dim in the districts Hillary Clinton won in 2016—and it's all Donald Trump's fault.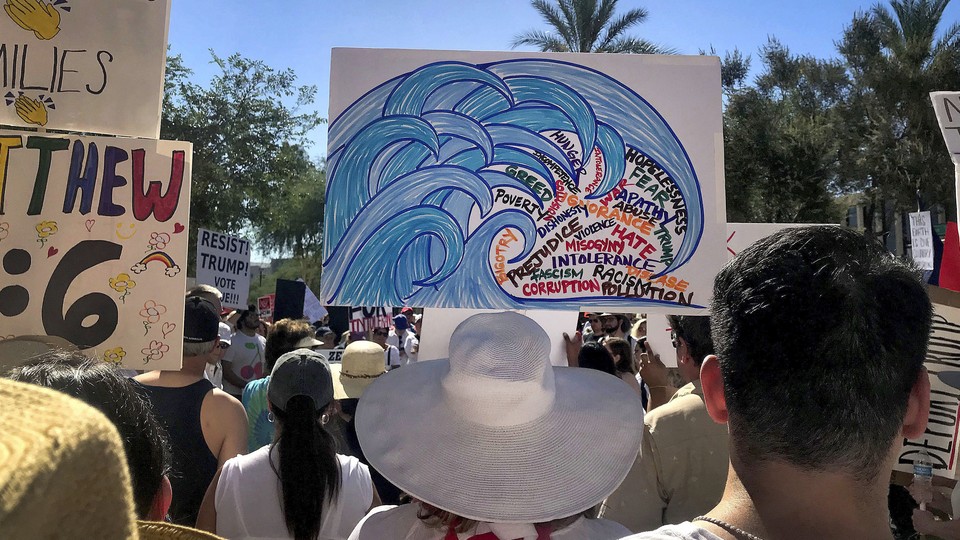 Democrats' promising prospects in the 25 Republican-held House districts that voted for Hillary Clinton in 2016 underscore the price of the electoral trade that Donald Trump's tempestuous presidency is imposing on the Republican Party.
Less than one month before Election Day, Democrats are strongly positioned to win at least 15, and perhaps more than 20, of these Clinton-Republican seats. That alone would carry them close to the 23 they need to regain the House majority—even before contesting the other competitive, GOP-held seats in districts Trump won.
The GOP's ominous chances in the Clinton-Republican districts flow directly from Trump's weak position in them. Rather than expanding his support in those places, Trump is facing growing doubts, according to recent polling, especially among college-educated white voters. Like a receding tide, this further erosion for Trump has left most of the Republicans in these seats standing naked on the beach. "I think his political strategy was particularly injurious to the Republicans running in the more blue and purple places," says the Democratic pollster Geoff Garin. "It's totally a consequence of playing to the base, which in a lot of these districts, by definition, is playing to the short side of the field."
As Garin's observation suggests, the danger to Republicans in the Clinton-won seats is a feature, not a bug, of Trump's electoral approach. In terms of both policy and rhetoric, Trump has focused his presidency almost entirely on the priorities and peeves of his base. Trump demonstrated that instinct again this week by wrapping himself around the newly confirmed Supreme Court Justice Brett Kavanaugh and escalating his attacks on the women who accused the judge of sexual assault—even though national polls just before and after the Senate vote showed that most Americans believed the women and opposed Kavanaugh's ascension.
Trump's base-first approach to the presidency has produced some tangible political benefits for Republicans. It has strengthened them in most House districts outside of the major metropolitan areas. That's also true in heavily rural and predominantly white heartland states, such as North Dakota, Montana, and Missouri, where Democrats are defending Senate seats next month. And, particularly in the aftermath of the Kavanaugh confrontation, his approach has given Republicans hope that they can minimize the usual falloff in midterm turnout for the party that holds the White House.
But the downside of this strategy—the trade-off Trump is imposing—is measured in the danger gathering for House Republicans in swing districts, primarily in white-collar suburbs, where the party can't win just by increasing GOP turnout and instead must appeal to a broader range of voters. That risk extends beyond just the Clinton-Republican districts: Democrats are seriously contesting more than two dozen House seats that narrowly voted for Trump in 2016, though the increased GOP energy evident after Kavanaugh could push some of those seats out of reach. The epicenter, then, of the GOP's House vulnerability remains the 25 Republican-held districts that rejected Trump for Clinton from the outset.
Today, political analysts of both parties describe only three of the Republicans in these seats as clear favorites: Representatives David Valadao in California's Central Valley, Will Hurd in West Texas, and John Katko in upstate New York, none of whom represent suburban white-collar districts. Two other incumbents in urban areas hold more modest advantages: Carlos Curbelo in Miami and Brian Fitzpatrick outside Philadelphia.
But public and private polling suggest that nine of these seats—all of them centered in the suburbs—are already virtually lost causes for the GOP. That list starts with the incumbents Mike Coffman, near Denver; Erik Paulsen, near Minneapolis; Kevin Yoder, near Kansas City; and Barbara Comstock, in Northern Virginia (though some Republicans insist, against the public-polling evidence, that her campaign still has a pulse). Republicans have also largely written off open seats in Clinton-won districts near San Diego, Tucson, and Philadelphia, and in Pennsylvania's Lehigh Valley.
Democrats are slightly favored in five other Clinton-Republican districts, including the incumbents Jeff Denham in the Central Valley, Steve Knight and Mimi Walters near Los Angeles, and Leonard Lance in New Jersey. The Democratic candidate is also favored in one open seat in the Miami area. (All but Denham's district are urban-suburban seats.)
The remaining six races, all suburban-centered, look like pure toss-ups, with competitive challenges against the incumbents Peter Roskam outside Chicago; John Culberson and Pete Sessions in Houston and Dallas, respectively; and Dana Rohrabacher in Orange County. Also toss-ups are open seats in Orange County and Seattle.
Eight open seats exist in total across the Clinton-Republican districts, and history offers them a daunting prospect: As David Wasserman of "The Cook Political Report" has calculated, since 1992, candidates from the party holding the White House have lost all open House seats in districts that backed the other party's presidential candidate two years before.
The common thread connecting these Republican risks isn't hard to find. A new Washington Post/Schar School poll across 21 of the 25 Clinton-won districts found that Trump's approval rating in them stood at just 38 percent. Trump's position in these swing districts was especially bleak among college-educated white voters, according to previously unpublished results provided to me by the Post's polling director, Scott Clement. Not only did a staggering 70 percent of college-educated white women in these districts disapprove of Trump's performance, but so did 58 percent of college-educated white men, usually a reliable Republican constituency. Two-thirds of those well-educated white women said they intended to vote Democratic for Congress, as did a majority of the men. Those attitudes threaten widespread losses for the Clinton-district Republicans.
That prospect reinforces the likelihood that the 2018 midterms will be the bookend to the GOP sweep that started eight years ago, during former President Barack Obama's first midterm. In that election, according to calculations by the Brookings Institution's Molly Reynolds, Republicans ousted 36 of the 48 House Democrats in districts that voted for John McCain over Obama in 2008. Most of those Democrats represented small-town and rural seats that have only tilted further toward the GOP in the years since.
This year, Democrats have a strong chance to beat a comparable share of Republicans in Clinton-won districts—almost all of them representing white-collar suburban seats. In that way, 2018 could complete the geographic realignment that began in 2010, cementing Democratic control inside the major metropolitan areas and reaffirming Republican dominance beyond them. Trump will cheer the latter—but the coming losses in Clinton districts will mark the mounting cost to his party from the former.