Donald Trump's Absentee Presidency
The New York billionaire seems unable to comfort the nation in times of tragedy or celebrate its moments of triumph.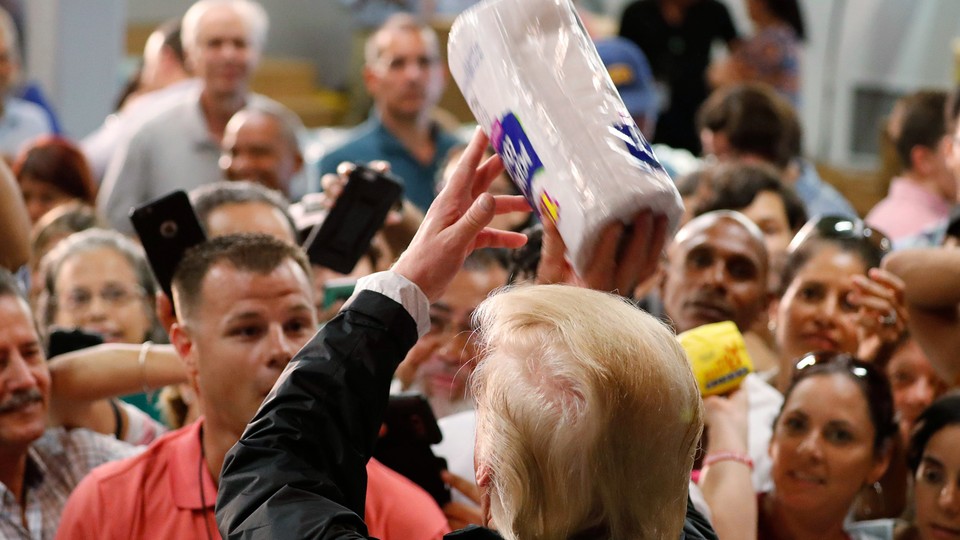 It is a poignant paradox of Donald Trump's ubiquitous presidency—all tweets, all the time—that a leader who prides himself as omnipresent in digital public discourse is so often absent from national life in the 100 human ways in which the country has come to expect its presidents to perform.
Latest case in point: After Hurricane Michael devastated parts of the Florida Panhandle, Trump played host at the White House to Kanye West, who—in a 10-minute monologue in the Oval Office—dropped the F bomb and praised Trump's "Make American Great Again" cap as a hypermasculine talisman that made him feel "like a guy that could play catch with his son."
But think about it: Have we ever seen Trump play catch with his own 12-year-old son, Barron? Without question, the president dotes on his children, especially his daughter Ivanka. But he's an absentee father to the nation, or at least to a majority of the nation. There have been no warm and fuzzy photos of Trump shopping for books or gifts, as Barack Obama and Bill Clinton did with their daughters. No images of him poring over a photo album, as Abraham Lincoln famously did with his son Tad, or tending to his stamp collection, as Franklin D. Roosevelt did. No visible evidence of the easy relaxation with friends and family that has become a standard part of presidential iconography.
And the absence is broader. Trump can't readily cheer the nation in moments of triumph (championship sports teams boycott his White House). He doesn't tenderly comfort the nation in times of tragedy (he tosses paper towels to hurricane victims, and does a double fist pump on the anniversary of 9/11). He doesn't read books, talk movies, or go to the theater, and is unwelcome at even the Kennedy Center Honors, over which presidents have presided for nearly 40 years. This reality is striking, and sad: When it comes to those personal rituals of the modern presidency that Americans have long since taken for granted, Donald J. Trump is the man who isn't there.
He plays no games of touch football on the lawn at Mar-a-Lago, à la the Kennedys in Palm Beach or Hyannis Port. No family rounds of speed golf or horseshoes, and no mountain biking, as with the Bushes at Kennebunkport or Crawford. No horseback riding or brush clearing, as with Ronald and Nancy Reagan in the mountains above Santa Barbara. No snorkeling, as with Obama and his girls at Oahu's Hanauma Bay. He doesn't toast his own English muffins like Gerald Ford. No romping with Buddy the dog or Socks the cat, those pet denizens of the Clinton years. Even that loneliest of loners Richard Nixon enjoyed bowling in the White House alley, and liked to hit the beach in wing tips, sometimes with his wife, Pat, by his side.
No, Trump does none of this. Perhaps the most striking image of him with his family came last winter, when he charged up the steps of Air Force One in a rainstorm in West Palm Beach, an umbrella shielding his own head, with Barron and his wife, Melania, scrambling wet and unprotected behind him to get in the door of the plane. In Israel, in Italy, in Florida, and on the White House lawn itself, Melania has repeatedly appeared to pull her own hand away when the president reached out to hold it.
Trump doesn't eat out in any restaurants except his own. Not for him a plebeian trip to Ray's Hell Burger, the Arlington institution where Obama took Russian President Dmitry Medvedev in 2010 for a burger with cheddar, hot peppers, and sautéed onions and mushrooms. Nor a visit to Filomena, the homey Italian kitchen in Georgetown where Bill Clinton memorably chowed down with Chancellor Helmut Kohl of Germany. No date nights with Melania at the Bombay Club or the Blue Duck Tavern.
Trump doesn't offer ready consolation in moments of national tragedy. After Hurricane Maria decimated Puerto Rico, the president tossed paper towels to a crowd and later bragged about his administration's "incredible unsung success" at relief efforts that were widely criticized as inadequate. Marking the 17th anniversary of the September 11 attacks in Pennsylvania last month, he tweeted about the prowess of his lawyer Rudy Giuliani on the day of the attacks, and allowed himself a double fist pump at the Johnstown airport, a gesture that seemed out of keeping with the solemn mood of the occasion.
Trump is just as challenged in celebrating happy occasions. A White House meeting with the 2018 Super Bowl champion Philadelphia Eagles had to be called off when it became clear that only about 10 team members planned to show up. Last year, Trump withdrew an invitation to the NBA's Golden State Warriors after their star point guard, Stephen Curry, expressed reluctance to go. "Going to the White House is considered a great honor for a championship team," Trump tweeted. "Stephen Curry is hesitating, therefore invitation is withdrawn!"
The minuet over last year's Kennedy Center Honors was equally awkward. After several honorees, including Norman Lear, announced that they would decline to attend the traditional White House reception before the awards show, the Kennedy Center and the White House announced that Trump would withdraw from participation altogether. "We are grateful for this gesture," the center's leadership said.
Easygoing humor has long been a staple of presidential public relations. "It's true that hard work never killed anybody," Reagan famously told the Gridiron Club, "but I figure why take the chance." But Trump's "jokes" are not only often cruel; they tend to fall flat. At his vaunted summit with the pudgy North Korean leader, Kim Jong Un, Trump urged photographers to capture them "so we look nice and handsome and thin." (Kim was not amused.) At a meeting with law-enforcement officials last year, Trump urged them not to be too careful when arresting suspects and bundling them into squad cars by shielding their heads. "You can take the hand away, okay," he said. ("I believe he was making a joke at the time," his press secretary, Sarah Huckabee Sanders, later explained when asked if the president was really advocating police brutality.)
Isolation is an occupational hazard of the presidency. Obama tried to break through the bubble by reading 10 letters a day from ordinary Americans. Reagan once telephoned the Jerry Lewis Labor Day telethon to make a contribution to muscular-dystrophy research, and had trouble convincing the operators that it was really the president on the line. Clinton liked to call the White House "the crown jewel of the federal penitentiary system," and Harry Truman once confided to his diary, "This great white jail is a hell of a place in which to be alone." Trump is alone all right, but his solitude is different. It is altogether of his own making, and he seems to like that just fine. No wonder so many of the rest of those Americans beyond his base feel left out in the cold.