President Trump Just Called Jim Mattis 'Sort of a Democrat'
Trump's description in a testy 60 Minutes interview doesn't bode well for the defense secretary's longevity in the Trump Cabinet after the midterms.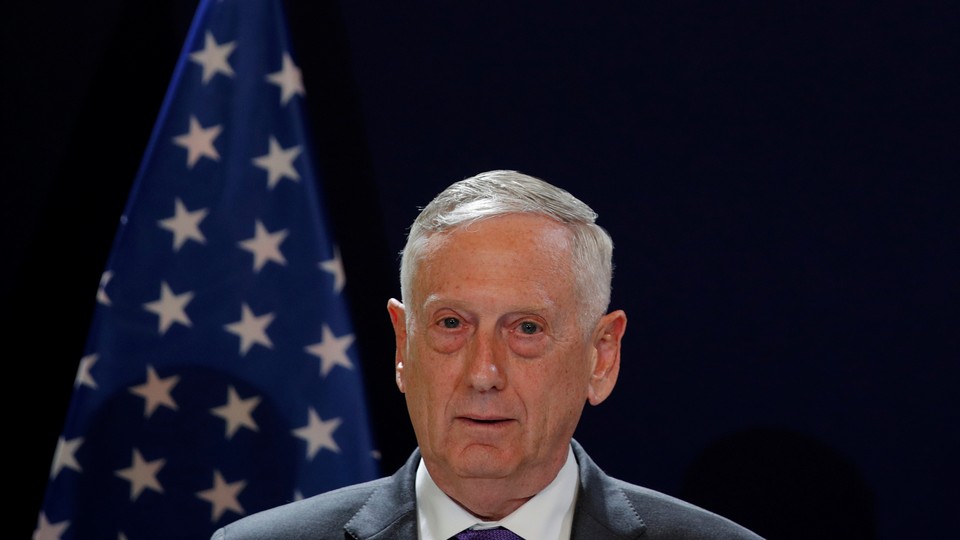 Nikki Haley came to the Oval Office last week to announce that she's leaving her post as U.N. ambassador by year's end. White House counsel Don McGahn is on his way out. Everyone's guessing how long the beleaguered Jeff Sessions will last after the midterms, with speculation rampant about who would replace him as attorney general. Some theorized that Haley resigned so that she could fill South Carolina's Senate seat once Lindsey Graham replaced Sessions, leading Graham to proclaim "zero interest" in a Cabinet position.
Now there's another top job in question: that of Defense Secretary Jim Mattis. In a contentious 60 Minutes interview that aired Sunday night, President Donald Trump seemed to put Mattis on notice, calling him "sort of a Democrat." In Trump-world, that is not a compliment, to put it mildly.
When Lesley Stahl asked about turnover at the top of his administration, Trump responded, "I think I have a great Cabinet. There're some people that I'm not happy with." Stahl asked the obvious follow-up question; he demurred. Stahl asked whether Mattis would be leaving.
"Well, I don't know," Trump said, shrugging. "He hasn't told me that. I have a very good relationship with him, I had lunch with him two days ago. It could be that he is. I think he's sort of a Democrat, if you want to know the truth. But General Mattis is a good guy. We get along very well. He may leave. I mean, at some point, everybody leaves. Everybody. People leave. That's Washington." Hardly a ringing endorsement.
When discussing Trump's willingness to disrupt the post–World War II alliance of Western nations, Stahl asked, "Is it true General Mattis said to you, 'The reason for NATO and the reason for all these alliances is to prevent World War III?'"
"No, it's not true," Trump said emphatically.
"What's not true?" Stahl interjected.
"Frankly, I like General Mattis," Trump said, looking indignant. "I think I know more about it than he does. And I know more about it from the standpoint of fairness, that I can tell you."
When reporters asked the Pentagon about the president's remarks, a spokesman, Army Col. Rob Manning, said in a brief statement that "Secretary Mattis is laser-focused on doing his job—ensuring the U.S. military remains the most lethal force on the planet."
Mattis joined Trump's Cabinet after four decades in the Marines and brought a reputation as a "warrior monk" who aggressively led Marine forces fighting their way to Baghdad at the start of the 2003 Iraq War, read history, and cared about the rank and file. Though he needed a congressional waiver to serve in a civilian position so soon after leaving the military, he won a nearly unanimous confirmation with 98 senators' support. For far longer than many other top aides who started on Inauguration Day—think of Priebus, Tillerson, McMaster, Spicer, et al.—Mattis has seemed to stay on the mercurial president's good side even as he pushed back on policy.
That held true even when Trump critics portrayed Mattis as one of the adults in the room restraining the president's worse impulses. Senator Bob Corker, the outgoing Tennessee Republican who chairs the Senate Foreign Relations Committee, memorably said that Mattis was one of "those people that help separate our country from chaos." Trump's respect for his defense secretary seemed to persist even as Mattis slow-pedaled administration policies from a ban on transgender troops to a "Space Force" to the now-canceled military parade in Washington.
Then came Bob Woodward's book.
The veteran Washington Post journalist wrote that the defense secretary grew agitated while explaining to Trump why the United States kept tens of thousands of troops in South Korea. Mattis reportedly put the rationale in simple terms—"prevent World War III"—and later complained that the president had the comprehension of a "fifth- or sixth-grader." (This may have been the "World War III" comment that Stahl referenced but applied to the NATO alliance.)
And, Woodward wrote, Trump called Mattis in the spring of 2017 after Syrian President Bashar al-Assad used chemical weapons on civilians and said the U.S. should assassinate Assad. "Let's fucking kill him! Let's go in. Let's kill the fucking lot of them," Trump said, according to Woodward.
Woodward wrote that Mattis told Trump he'd get on it, but hung up the phone and said to an aide: "We're not going to do any of that. We're going to be much more measured."
The president has now reportedly started to call him "Moderate Dog" rather than "Mad Dog," the nickname that Trump initially loved but Mattis always hated. (A rare profile ahead of his 2013 retirement was titled, "Just don't call him Mad Dog.") Whether the incidents described in Woodward's book were fact or fiction, the president's comments suggest Mattis may be writing his final chapters as defense secretary.