These Two Could Soon Be the First Muslim Women to Serve in Congress
A Palestinian American from Michigan and a Somali American from Minnesota are poised to become the first Muslim women members of the U.S. House.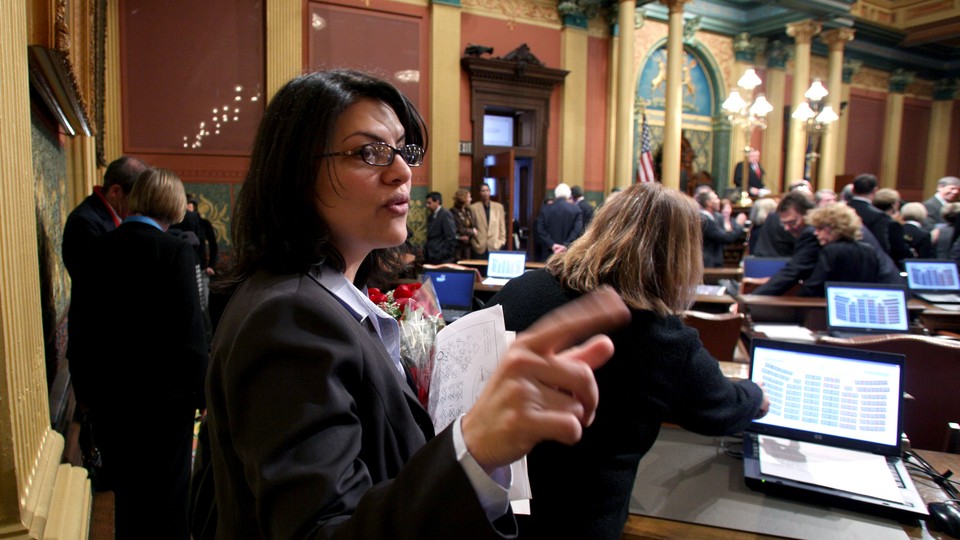 Rashida Tlaib will become the first Muslim American and Palestinian woman elected to the House of Representatives in November—but she'd rather talk about the heavy-duty trucks that roll through her neighborhood in Detroit. Industrial pollution permeates the air and poses serious health risks to her constituents.
"My activism was birthed in many ways because of my Palestinian heritage," says Tlaib, 42, a Michigan state representative. "But air quality and environmental justice—that's something I'm so passionate about. Growing up in that neighborhood, I thought smelling like rotten eggs was normal."
Tlaib, who won her Democratic primary by exactly one percentage point, won't face a challenger in the general election. She will most likely share the distinction of being the first Muslim woman in Congress with Ilhan Omar, a Minnesota Democrat running for the seat vacated by Keith Ellison—the first Muslim man elected to Congress, in 2006. Omar faces a Republican in the November election, but the district has gone blue since the 1960s, making her the clear favorite.
Omar, 36, made headlines in 2016 as the first Somali American elected to a state legislature. While her campaign this year for Congress didn't shy away from her identity, it was grounded in a platform of progressive policies and her résumé of civic engagement and political involvement at the local and state levels.
"We were both very much rooted in our neighborhoods," Tlaib says of herself and Omar. "We didn't come from thin air. We're centered and focused on a number of issues that we've been working on as moms, as women of color—and some that are related to being Muslim in America."
Neither candidate ran in a district that has a sizable Muslim voting bloc—Omar's district is primarily white, while Tlaib's is predominantly African American—though that's an assumption both have encountered. (Dearborn, a heavily Arab suburb, is just outside Tlaib's district, and many Somali communities are near Omar's.)
"Political pundits would like to have a conversation about how people like me are elected by people who look like me," Omar says. "But the reality is that we were elected because we were the best candidate in that race. We are proud of our identities—and we are proud of the fact that we are issue-oriented, and we care about making positive changes and pushing aggressively for progressive agendas that lead to prosperity for all of us."
Tlaib and Omar were among other Muslim women who ran for Congress this year in an election that has already broken national records for the number of female candidates filing.
Coming from different ethnic, racial, and socio-economic backgrounds, the candidates defied the stereotypes of a monolithic Muslim American community that often prevail in media narratives. "It's such a great reflection of reality," Dalia Mogahed, the executive director of the Institute for Social Policy and Understanding, said of the diversity among them.
According to a survey taken by the organization, more than two-thirds of the Muslim American community are dissatisfied with the direction of the country's politics. For Muslim women and black Muslims, numbers were even higher. "It's really inspiring to see how that energy has been channeled into greater civic engagement," Mogahed says.
The fact that many of the Muslim women who ran in the midterm primaries leaned further left than their challengers might also reflect the fact that the Muslim community leans Democratic to begin with, Mogahed says. The community also skews younger and is predominantly composed of people of color. "The idea of social justice is deeply ingrained in how many Muslims interpret their faith, and these candidates amplify that value in so many ways," she says.
While the Trump administration's politics led some of the candidates to run for office, they are also tired of Democratic leadership that has taken Muslim voters for granted. That's one of the reasons Tahirah Amatul-Wadud, a family-law attorney from Massachusetts, decided to challenge the 15-term Democratic incumbent Richard Neal, a ranking member of the House Ways and Means Committee.
"Our district has the second-highest rate of poverty out of all nine in Massachusetts, and ours is last in median income," Amatul-Wadud says. "So I was thinking, We've had this gentleman in Ways and Means for so many years—how is our district failing?" Her platform included support for "Medicare for all," as well as advocating for high-speed-internet access across the rural district, where thousands of constituents don't have access to the same quality of service that city dwellers do.
In the final weeks of Amatul-Wadud's campaign, which was fairly late in the primary cycle, it started to draw comparisons to that of Alexandria Ocasio-Cortez, who defeated one of the most powerful Democrats in Congress, Joe Crowley, in a New York primary. While Ocasio-Cortez's momentum helped Amatul-Wadud attract donors during the last stretch of her primary, it wasn't enough to propel her to victory.
In her loss, Amatul-Wadud still sees a win in the energy she was able to tap into in communities that previously felt their voices weren't being heard. She points out that she raised about 3 percent of Neal's $2.4 million campaign budget, yet walked away with nearly a third of the vote in the primary.
"I was running for a seat in a majority-white district, and I am African American and visibly Muslim—and I'm a woman," Amatul-Wadud says. "I'm 44, but I remember being a little girl and having a hard time finding a black Barbie doll. When you think of how representation matters, I think of loving Barbies but not finding one like me. I hope that my visibility across the nation can be that for a little girl who's not looking for a Barbie doll, but a role model."
For Sameena Mustafa, a South Asian–American Muslim who challenged the incumbent Democrat Mike Quigley in Illinois for his House seat in a March primary, it was hard to rally around the cry of "replacing bad Democrats" so early in the election cycle, she says. "No one would really cover why I was challenging Mike Quigley," Mustafa says. "This is a guy that doesn't support Medicare for all in a district that Bernie Sanders won."
Those details weren't highlighted the same way that her identity was, she realized. "It was much easier for reporters to say, 'She's a Muslim running,' or a woman running," Mustafa says. White men running for office are never asked about the relevance of their identities in representing diverse districts, she points out. Yet it's an issue that women of color across the nation have faced, and that Tlaib and Omar might continue to face once they're sworn in to Congress.
During her time in the Michigan House of Representatives, Tlaib was part of a local movement to rid Detroit of petcoke, a harmful particulate byproduct of petroleum refining that was dumped unceremoniously in the city. Her involvement built her reputation with constituents as an ally and an advocate, which helped her connect with voters as she campaigned in the district.
Months before taking office, she's already thinking about how to get better water filters to schools in her area, and ending predatory and unaffordable car-insurance rates that impact low-income residents in Detroit. "My parents didn't have college degrees; they didn't come from wealthy backgrounds," Tlaib tells me. "We struggled as much as anybody else. The majority of American families are struggling every day."

Tlaib's father worked at the nearby Ford manufacturing plant, supporting her and her 13 siblings. When she started school, she didn't speak English—but she made her way through the public-school system and college, and later worked full-time while attending law school. Tlaib decided against joining the corporate world after law school, instead joining a community nonprofit that assists Arab immigrants in the Detroit area. The connections she made there helped launch her into politics, where she worked on expanding social services and serving constituents.
As Tlaib weaves through traffic one day, cars honking at her from a street corner in Detroit, she tells me about her plans to introduce the Justice for All Civil Rights Act as her first legislative move, bringing her trademark energy and enthusiasm on social issues to Washington.
"This came out of door-to-doors and community conversations," she says. The legislation, Tlaib says, reintroduces the spirit and letter of '60s-era civil-rights laws, which focused on the impacts of discriminatory laws as opposed to the intentionality of them. The proposal ranges from criminal justice to health care to education to utilities regulations. "When you push back on a community and bully them," she says, "silence is not an option for this generation."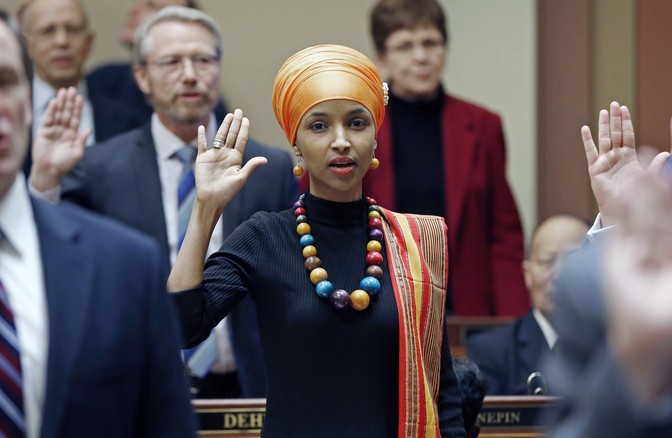 For Omar, campaigning on a platform that included opposing the Trump administration's travel ban, which targeted predominantly Muslim countries, was as personal as it was political. If Omar were to seek refugee status in the U.S. today, she wouldn't be able to: Somalia is one of the countries that faces immigration and asylum restrictions. Even her policy platform of abolishing Immigration and Customs Enforcement was informed by her past experiences, coming to the United States at the age of 12 from a country in the midst of a civil war. "I was the only person who could really make the connection to what it means to cross a border far away from the U.S.," she tells me.
Although it's now a rallying cry for many progressive candidates who see the agency as unreformable and dangerous in light of the family-separation crisis it created at the U.S.-Mexico border, Omar personally experienced the reality of immigrating to the U.S. through various national-security agencies. It's a process that can take years, often delayed by redundant security checks despite the immediate dangers most refugees face in their home country.
"When I was out talking to people about abolishing ICE, we've seen how brutal that institution has been, and how it's impacted us," she says. "My immigrant identity, my refugee identity, my Muslim identity, my black identity are directly related to the conversations we're having about what's at stake for all of us."
Quiet and soft spoken, Omar has had a knack for making her constituents feel heard, even as she was promoting her policies on the campaign trail. Her speeches embrace the same hope and optimism that her voters—and other citizens across the country—projected onto her candidacy. On the night of her victory, she gave a gleeful interview to a Somali-American YouTube channel in her native tongue. (Among all her firsts, she will also be the first U.S. Congress member born on the African continent.) "We believe that together we can organize around the politics of hope and make sure that not only do we have the America we believed in, but the America we deserve," she told the exuberant crowd that night. "This victory isn't just mine; it belongs to all of you."
In the ascendance of Tlaib and Omar to the national political stage, Mogahed, the Institute for Social Policy and Understanding director, sees a lesson. "One thing that bigotry really aims to do is to distract you to do nothing but defend yourself and prove your humanity," she says, paraphrasing Toni Morrison. "The second thing bigotry tries to do is make you feel outnumbered and isolated. And now we've seen clearly that this is not the case."