The Justice Department's Investigation of Clergy Sexual Abuse Will Test the Catholic Hierarchy
A new inquiry significantly escalates the involvement of secular authorities.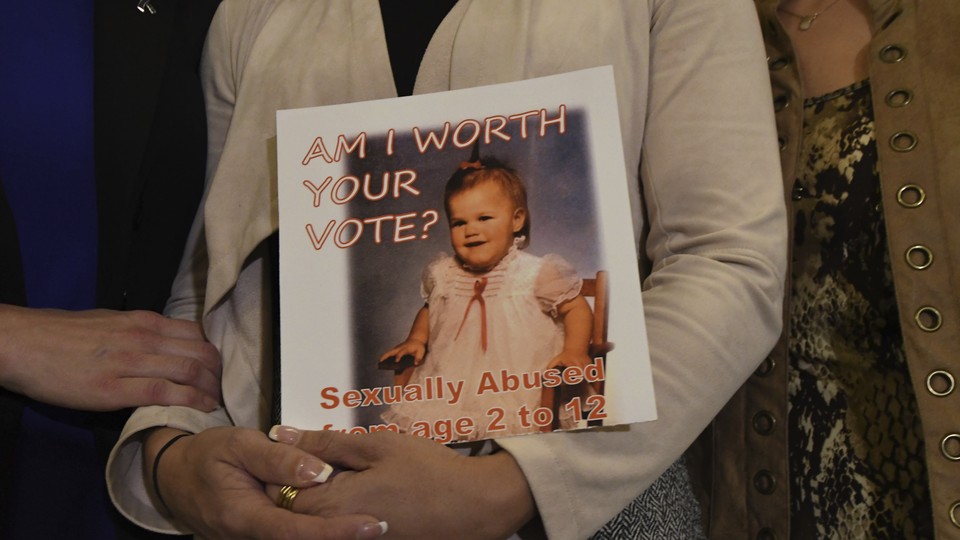 The U.S. Department of Justice has opened an investigation into the Catholic Church's handling of sexual-abuse allegations in Pennsylvania, according to the Associated Press. At least six of the state's dioceses have confirmed to various news outlets that they received subpoenas from federal investigators, which likely means they'll have to produce documents detailing any alleged cases of sexual misconduct, along with efforts to cover up past clergy crimes.
The investigation comes in the wake of a devastating grand-jury report released this summer, which revealed the collected scope and horror of decades of abuse in Pennsylvania. It significantly escalates the involvement of secular authorities in the clergy sexual-abuse scandal. State law enforcement around the country has investigated and prosecuted a number of priests accused of sex crimes, including in Pennsylvania. But so far the federal government has generally not been involved in handling these kinds of allegations. This next stage will test the Catholic bishops' stated resolve to give secular authorities full control and transparency in abuse investigations, as the moral and legal stakes of the crisis continue to grow.
[Read: Catholics are desperate for tangible reforms on clergy sex abuse.]
The scope of the DOJ's inquiry in Pennsylvania is not yet clear. The dioceses of Erie and Allentown confirmed to The Atlantic that they have been served subpoenas. CNN reported that the Archdiocese of Philadelphia also acknowledged it is part of the investigation, The New York Times reported that Scranton and Pittsburgh are involved, and the AP reported that the Diocese of Harrisburg confirmed as well.
From what is known so far, a few aspects of the inquiry could potentially be significant. Federal investigators are apparently interested in documents that may have been concealed in so-called secret archives or confidential files, which would likely detail how dioceses handled legal cases involving clergy. This could be important, said Massimo Faggioli, a historian at Villanova University, because it could test whether Church leaders faithfully retained documents on past wrongdoings—or got rid of potential evidence.
According to canon law, or the ecclesiastical guidelines that govern the Church, "All documents that are in the secret archives that pertain to the investigations and trials of members of the clergy that were accused of sexual crimes … must be destroyed every 10 years," Faggioli said. "This may have an impact on what the feds will find or not find."
While Faggioli said he thinks most dioceses have not followed this law—"because I think they forgot"—the fact that this hasn't been removed from canon law is an example of how difficult it has been for the Catholic Church to fully reform its policies related to sexual abuse, he said. The Catholic Church in the United States put in place new policies in the early 2000s in the wake of the scandal in Boston.
Over the past decade and a half, though, the culture of the Church has shifted significantly: Whereas bishops once resisted the involvement of law enforcement in these cases, the standard line today is that they will willingly work with investigators.
That has been true so far in Pennsylvania. In a statement, a representative of the Diocese of Allentown said it would cooperate fully with federal prosecutors' requests, and the diocese "sees itself as a partner with law enforcement in its goal to eliminate the abuse of minors wherever it may occur in society."
Yet the state's Catholic leaders are still pushing back on reforms that survivors want. Just this week, the Pennsylvania legislature stalled out on a bill that would have temporarily shifted the statute of limitations on certain crimes related to child sexual abuse, allowing many adults who had been abused by priests as children to bring new charges. Republican legislators, along with leaders from the Catholic Church, opposed the measure.
The latest round of the clergy sexual-abuse crisis is ultimately a test of how far the bishops are willing to go to reclaim their moral authority in the face of massive outrage over these crimes. Clergy misconduct has long been known, and reforms have ostensibly been in place for many years. But the bishops' commitment to transparency—and their openness to being investigated by potentially aggressive prosecutors—is being pushed in a new way. Along with this federal investigation, a number of state prosecutors are opening new inquiries into Church abuses, which will potentially produce more reports like the one in Pennsylvania.
It is possible that these inquiries will uncover new facts about abuse. But they will also reveal whether the bishops are truly ready to cede their full power to secular authorities who are eager to see justice served.
---
Olivia Paschal contributed reporting.