The Atlantic Politics & Policy Daily: The Vote Will Go On
The Senate Judiciary Committee is expected to vote to advance Brett Kavanaugh's nomination Friday, with the final Senate floor vote to be held on Saturday.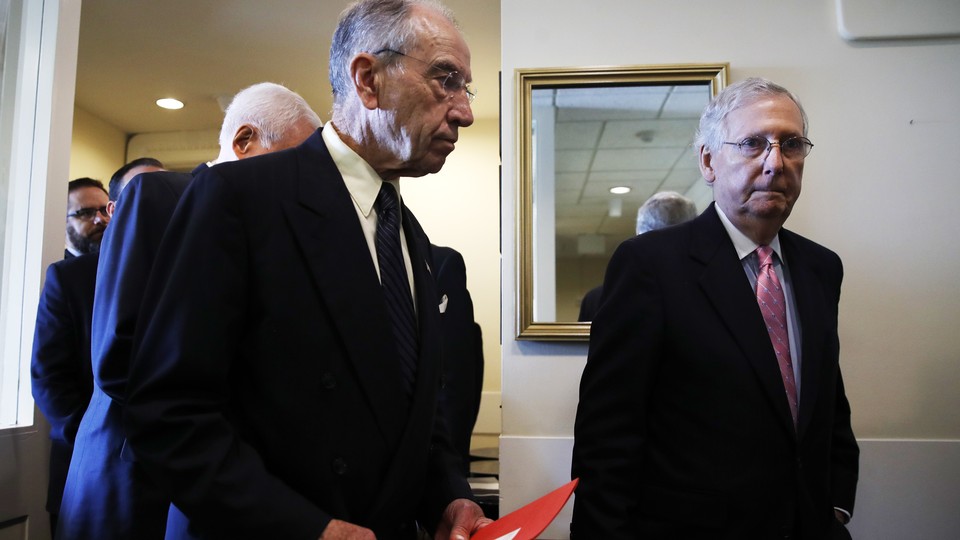 Written by Elaine Godfrey (@elainejgodfrey)
---
Today in 5 Lines
---
Today on The Atlantic
---
Snapshot
---
What We're Reading
Thank You, Mr. President: Trump has stood by his Supreme Court nominee Brett Kavanaugh since the beginning, and that's something to be proud of, writes Bret Stephens. (The New York Times)
Survey Says: A new poll found that Millennials are divided on race and gender issues. One stark finding? About a third of men in that age group say they'd prefer white candidates, if everything else was equal. (Matt Berman, BuzzFeed News)
Republicans Are Amped: The GOP has struggled to match the Democrats' enthusiasm levels in the past two years. Now, there are concrete signs that the Kavanaugh confirmation drama has helped them close the gap. (Katie Glueck and Adam Wollner, McClatchy)
'They're Not Going to Believe Him': Will the domestic-abuse allegation against Keith Ellison prevent him from becoming Minnesota attorney general? Daniel Marans investigates. (HuffPost)
---
Visualized
Going Underground: Latina women across the country have opened their homes and offered shelter to abused immigrant women. (Lizzie Presser, The California Sunday Magazine)
---
Due to a technical error, Wednesday's newsletter wasn't sent. Here's a link to it on our site.