It All Came Down to Susan Collins
In a pivotal floor speech, the Maine Republican said she did not find the sexual-assault claim leveled against Brett Kavanaugh credible.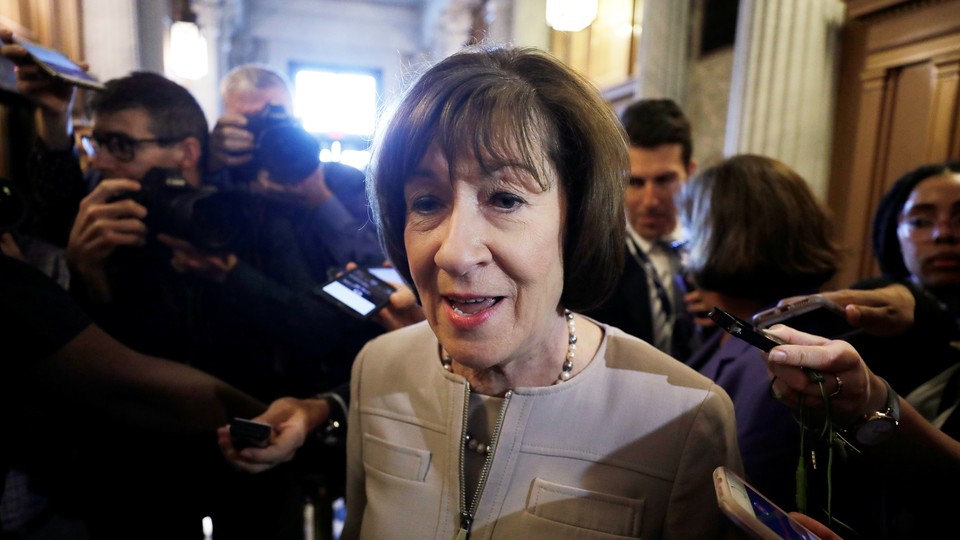 In a much-anticipated speech from the Senate floor, Senator Susan Collins of Maine announced Friday her intention to vote to confirm Brett Kavanaugh to the Supreme Court of the United States.
Moments after Collins yielded the floor, Democratic Senator Joe Manchin pushed out a statement confirming that he too would support Kavanaugh's nomination. "I have found Judge Kavanaugh to be a qualified jurist who will follow the Constitution and determine cases based on the legal findings before him," Manchin said.
The week thus culminated in a huge victory for Senate Majority Leader Mitch McConnell. Collins in particular was crucial in determining Kavanaugh's fate. After fellow Republican holdout Lisa Murkowski stunned many in her party by voting "no" in Friday morning's procedural vote, aides anxiously awaited Collins's call. Unlike Murkowski, Collins voted to end debate on Kavanaugh's nomination and advance it to the floor.
As I reported last week, Manchin has always been a lean-yes on Kavanaugh. Collins's decision allowed him the cover to support Kavanaugh without being the decisive vote—helping him save face with both his party and much of his base in West Virginia.
Barring a stunning new development, Kavanaugh will be the newest United States Supreme Court justice.
"Mr. President, I will vote to confirm Judge Kavanaugh," Collins said at the end of her lengthy floor speech. In it, she described why she felt Kavanaugh's judicial record was well within the legal mainstream, and why a sexual assault allegation leveled against Kavanaugh by Christine Blasey Ford, in the final analysis, was not credible and disqualifying.