Susan Collins Gambles With the Future of Roe v. Wade
The senator said she will vote to confirm the judge in part because she thinks abortion rights in America are safe.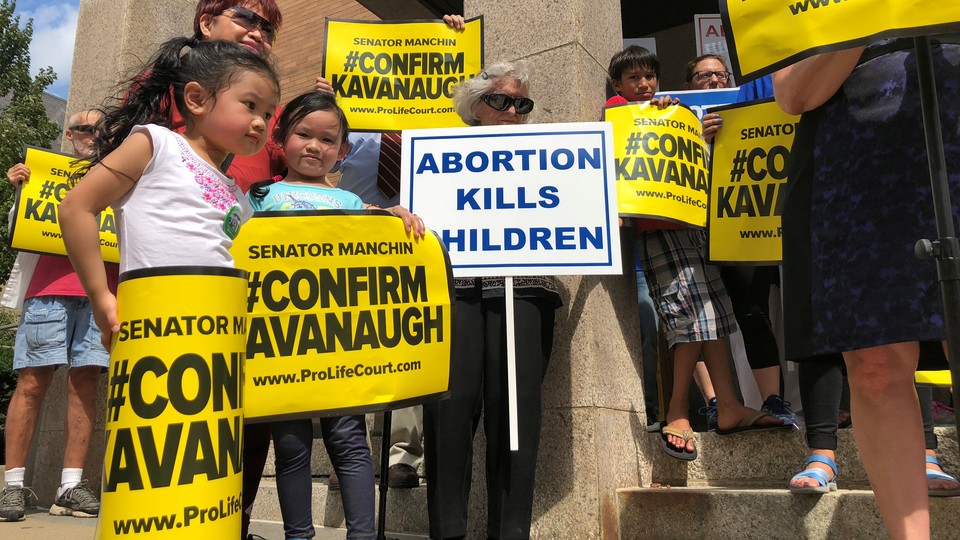 In a long speech on the Senate floor Friday afternoon, Senator Susan Collins said she believes that Brett Kavanaugh would not vote to overturn Roe v. Wade and subsequent cases that have reaffirmed it if such an opportunity were to come before him on the Supreme Court. The Maine Republican has been closely watched as a potential swing voter, largely because she supports abortion rights: In July, she told CNN that she would not support a nominee who "demonstrated hostility" toward Roe v. Wade, the decision that established the constitutional right to abortion.
When she spoke privately with Kavanaugh, she said in her floor speech, he assured her that "decisions become part of our legal framework with the passage of time, and that honoring precedent is essential to maintaining public confidence." The senator may truly believe that a Justice Kavanaugh would not vote to abridge abortion rights, or she may be covering her bases with her largely pro-choice constituency in Maine. But her bet on Kavanaugh will almost surely be tested in short order as advocacy groups continue to push abortion-related cases toward the high court.
Collins's defense of Kavanaugh rested on the conviction that he is a moderate. Supporters of abortion rights have argued that Donald Trump nominated Kavanaugh explicitly so that he will overturn Roe; the president has repeatedly said as much. But Collins argued that Republican presidents have been promising to obliterate Roe for decades, and so far, abortion rights remain intact. She pointed to Sandra Day O'Connor, David Souter, and Anthony Kennedy: All three were nominated by Republican presidents, and all three voted to uphold the right to abortion in the pivotal 1992 case Planned Parenthood v. Casey. In fact, they were the opinion's co-authors.
The concern about Kavanaugh and abortion is rooted in the opposite argument, however: Opponents say he will push the Court to the right if he takes up the key swing-voter seat once occupied by Kennedy. As recently as 2015, Kennedy voted with the liberal wing of the Court in Whole Woman's Health v. Hellerstedt, which rendered unconstitutional a Texas law that placed significant restrictions on abortion providers. If Kavanaugh is confirmed—which looks likely—it's possible that the Court will shift to accommodate the new ideological balance. After all, in recent terms, Chief Justice John Roberts has been nearly as much of a swing voter as Kennedy.
Still, Collins was clearly wary of confirming a justice who would upend years of the Court's thinking on abortion. The senator appears to have spent considerable time talking with Kavanaugh about the importance of precedent. On this count, she believes Kavanaugh went over and above previous nominees: He is the first, she claimed, "to express the view that precedent is not merely a practice and tradition, but rooted in Article III of our Constitution itself."
In most cases, the Court must maintain fidelity to its past decisions to create "stability, predictability, reliance, and fairness," Kavanaugh apparently told her. "When I asked him, would it be sufficient to overturn a long-established precedent if five current justices believed that it was wrongly decided?" Collins went on, "he emphatically said no." She seemed to find this persuasive, either to assuage her own ideological concerns or those of her voters.
Like her Republican colleagues, Collins made reference to "an unprecedented amount of dark money" spent in opposition to Kavanaugh's nomination, supposedly by liberal organizations. But she also alluded to the conservative groups that have spent incredible amounts of money in support of Kavanaugh—groups that are closely aligned with the pro-life movement. "I asked the judge point blank whether he had made any commitments or pledges to anyone at the White House, to [the] Federalist Society, or any outside groups," she said. "He assured me he had not."
While Collins may be convinced that advocacy groups have not swayed Kavanaugh, those groups have long been interested in swaying her. The senator was the target of millions of dollars worth of advertising campaigns in local Maine media. As soon as she announced her support for Kavanaugh, pro-abortion-rights and anti-abortion groups vowed to make this decision a part of her political life for years to come. "We will never forget it," said Ilyse Hogue, the president of NARAL Pro-Choice America, in an emailed statement, "not today and not in 2020 when Maine voters will elect someone who will actually fight for Maine women and families." On the other side, the Judicial Crisis Network—the main organization that has lobbied to get Kavanaugh confirmed—announced the launch of a "thank-you campaign," calling Collins "reasoned, thoughtful, [and] courageous."
These groups will also now be focused on what comes next for abortion at the Supreme Court. Organizations like Americans United for Life have developed an elaborate long game to undercut abortion rights at the federal level; potential test cases and legislative challenges are constantly winding their way through the lower courts. While there may not be a challenge case this term, it won't be long until Collins finds out whether her bet on Kavanaugh turns out in her favor.