Mueller Wants the FBI to Look at a Scheme to Discredit Him
The special counsel says a woman was offered money to fabricate sexual-harassment claims.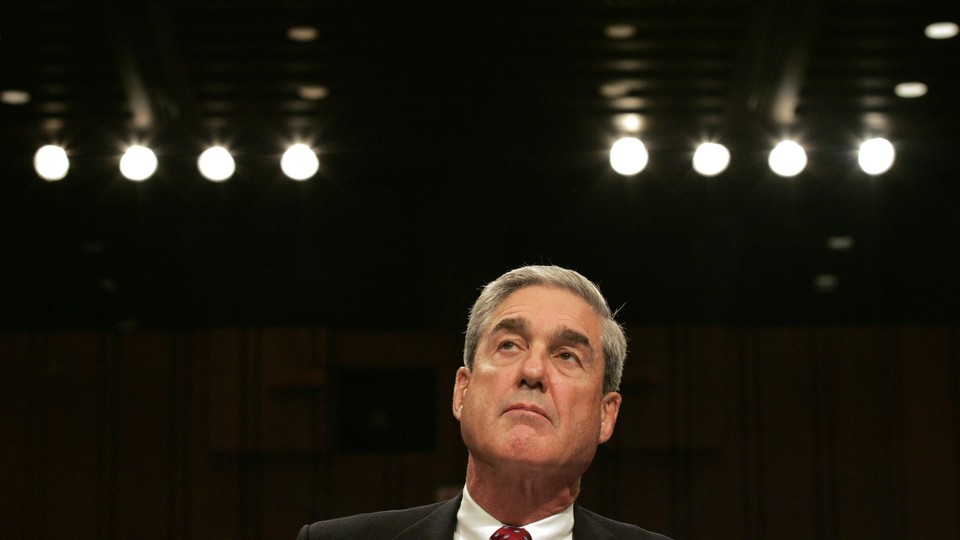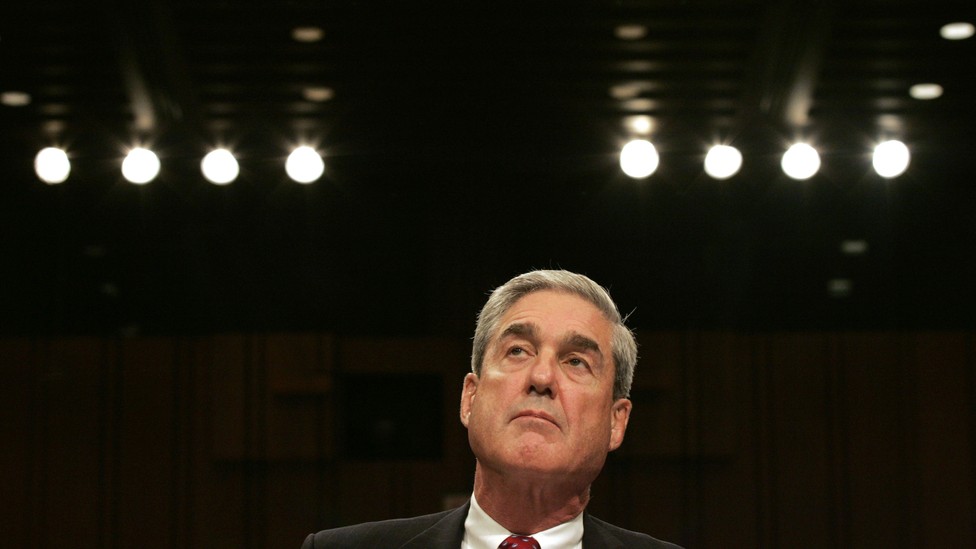 Updated at 5:15 p.m. ET on October 30, 2018.
A company that appears to be run by a pro-Trump conspiracy theorist offered to pay women to make false claims against Special Counsel Robert Mueller in the days leading up to the midterm elections—and the special counsel's office has asked the FBI to weigh in. "When we learned last week of allegations that women were offered money to make false claims about the Special Counsel, we immediately referred the matter to the FBI for investigation," the Mueller spokesman Peter Carr told me in an email on Tuesday.
The special-counsel office's attention to this scheme and its decision to release a rare statement about it indicates the seriousness with which the team is taking the purported plot to discredit Mueller in the middle of an ongoing investigation. Carr confirmed that the allegations were brought to the office's attention by several journalists, who were contacted by a woman who identified herself as Lorraine Parsons. Another woman, Jennifer Taub, contacted Mueller's office earlier this month with similar information.
The woman identifying herself as Parsons told journalists in an email, a copy of which I obtained, that she had been offered roughly $20,000 by a man claiming to work for a firm called Surefire Intelligence—which had been hired by a GOP activist named Jack Burkman—"to make accusations of sexual misconduct and workplace harassment against Robert Mueller."
Parsons wrote in her letter that she had worked for Mueller as a paralegal at the Pillsbury, Madison, and Sutro law firm in 1974, but that she "didn't see" him much. "When I did see him, he was always very polite to me, and was never inappropriate," she said. The law firm told me late on Tuesday afternoon, however, that it has "no record of this individual working for our firm."
Parsons explained that she was contacted by a man "with a British accent" who wanted to ask her "a couple questions about Robert Mueller, whom I worked with when I was a paralegal for Pillsbury, Madison, and Sutro in 1974. I asked him who he was working for, and he told me his boss was some sort of politics guy in Washington named Jack Burkman. I reluctantly told [him] that I had only worked with Mr. Mueller for a short period of time, before leaving that firm to have my first son."
She continued: "In more of an effort to get him to go away than anything else, I asked him what in the hell he wanted me to do. He said that we could not talk about it on the phone, and he asked me to download an app on my phone called Signal, which he said was more secure. Reluctantly, I downloaded the app and he called me on that app a few minutes later. He said (and I will never forget exactly what it was) 'I want you to make accusations of sexual misconduct and workplace harassment against Robert Mueller, and I want you to sign a sworn affidavit to that effect.'" The man "offered to pay off all of my credit card debt, plus bring me a check for $20,000 if I would do" it, she wrote. "He knew exactly how much credit card debt I had, right down to the dollar, which sort of freaked me out."
Surefire Intelligence was incorporated in Delaware less than three weeks ago, according to online records, and describes itself as "a private intel agency that designs and executes bespoke solutions for businesses and individuals who face complex business and litigation challenges." Surefire's domain records list an email for another pro-Trump conspiracy theorist, Jacob Wohl, who began hyping a "scandalous" Mueller story on Tuesday morning. Wohl told The Daily Beast that Burkman had hired Surefire to assist with his investigation into Mueller's past, but denied knowing anything about the firm's involvement in an alleged plot to fabricate allegations against Mueller when asked why his email address appeared in the domain records. He did not respond when asked by NBC why a telephone number listed on Surefire's website referred callers to another number that's listed in public records as belonging to Wohl's mother.
Parsons was not willing to speak to the reporters by phone, according to Scott Stedman, one of the reporters who received the letter. So portions of her story have gone uncorroborated, and her identity has not been independently confirmed.
But she's not the only woman who's come forward: Jennifer Taub, a  professor at Vermont Law School, received an email from a man using a Surefire Intelligence email address around the same time, on October 22. "It's my understanding that you may have had some past encounters with Robert Mueller," he told Taub, according to the email she forwarded to me on Tuesday afternoon. "I would like to discuss those encounters with you." (Taub told me she has never had any encounters with Mueller, though she does appear on CNN at times as an expert commentator on the Mueller probe.)
"I believe a basic telephone call, for which I would compensate you at whatever rate you see fit (inside reason), would be a good place to start," the man continued. "My organization is conducting an examination of Robert Mueller's past. Tell me a decent method to contact you by telephone (or Signal, which would be ideal) and a beginning rate to talk with you about all encounters you've had with Special Counsel Mueller. We would likewise pay you for any references that you may have. Lastly, I would appreciate your discretion here, as this is a very sensitive matter." Taub told me she forwarded the email to the special counsel's office, noting that she did not plan to respond.
Around the time that Taub and Parsons say they began receiving these communications from Surefire, Burkman released a video on his Facebook page claiming, without evidence, that Mueller "has a whole lifetime history of harassing women." On Tuesday, the day the special counsel's office revealed that it had referred Parsons's claims to the FBI, Burkman tweeted a similar allegation.
In an emailed statement, Burkman denied knowing Parsons and called the FBI referral "a joke, mueller wants to deflect attention from his sex assault troubles by attacking me." He added in a separate email that "on Thursday 1200 NOON ROSSYLN HOLIDAY INN  we will present a very credible witness who will allege that Mr. Mueller committed against her a sexual assault." Mueller's spokesman reiterated that the claims are false.
Burkman, a conservative radio host, is known for spreading conspiracy theories. He launched his own private investigation into the murder of the Democratic National Committee staffer Seth Rich, dangled uncorroborated claims of sexual harassment against a sitting member of Congress, and earlier this year offered $25,000 to FBI whistle-blowers for any information exposing wrongdoing during the 2016 election. He also promoted legislation that he authored—despite not being a member of Congress—that would ban gays from playing in the NFL. And he's hosted two fund-raisers for Rick Gates—the former Trump-campaign official who was indicted by Mueller late last year.