Kavanaugh on the Brink
A supplemental FBI report on President Trump's Supreme Court nominee has arrived on Capitol Hill. It could be clear by the end of the day, if not sooner, whether he'll be confirmed.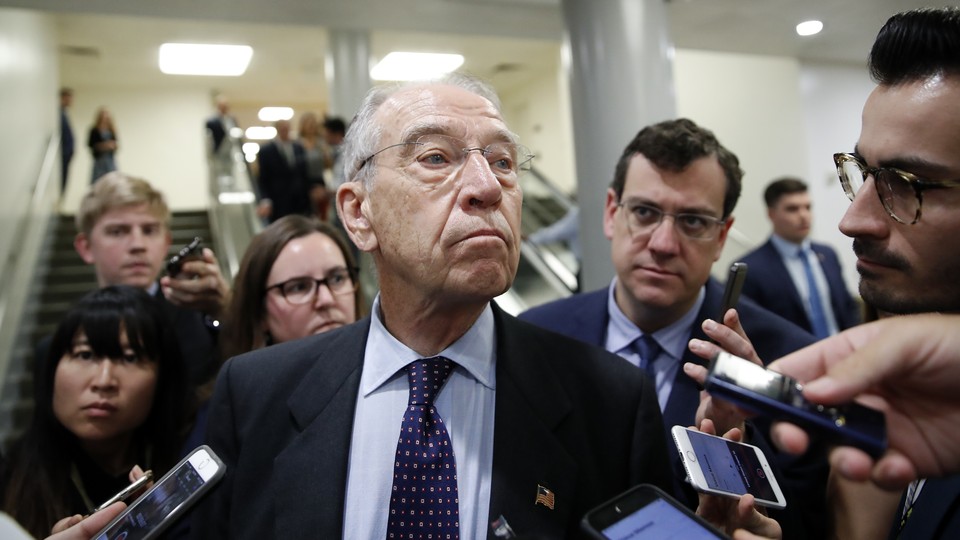 Brett Kavanaugh's nomination to the Supreme Court moved toward a dramatic culmination Wednesday night and Thursday morning, as senators received a supplemental FBI report on President Donald Trump's nominee and Senate Majority Leader Mitch McConnell scheduled a key vote for Friday morning.
The White House says the report found no wrongdoing on Kavanaugh's part, according to The Wall Street Journal. McConnell's move seems to signal confidence that he has enough votes to confirm Kavanaugh, though senators have not yet finished reviewing the FBI materials and several key senators still haven't announced their vote. On Wednesday evening, Ben Sasse, a Nebraska Republican who had been expected to back Kavanaugh, voiced doubts on the Senate floor but stopped short of saying he would vote against him.
Senator Chuck Grassley, the chairman of the Senate Judiciary Committee, tweeted around 4 a.m. ET that he had received the FBI's supplemental report. He will review the report, followed by Ranking Member Dianne Feinstein, and then senators will alternate by party. In order to prevent leaks, access to the report will be confined to a single room that members will visit to read it.
Even without the FBI's findings in hand, McConnell announced Wednesday night that the Senate's first full vote on the nomination would come Friday morning. Assuming all goes according to schedule and McConnell gets the numbers he needs, that could set up a final confirmation vote this weekend.
But the whip count remains as unclear as the contents of the report. On Friday, the Judiciary Committee voted along party lines to move Kavanaugh's nomination forward on the condition that the FBI would pursue additional information related to allegations of sexual misconduct against Kavanaugh. That was the result of a deal struck between Senators Jeff Flake, an Arizona Republican, and Chris Coons, a Delaware Democrat.
But while the report may provide a political fig leaf for senators, the probe has not been comprehensive. It became clear by Monday that the White House had placed tight parameters on the FBI, and after President Trump said he would be fine with a broader report, the administration said the bounds would expand.
Even so, the report is likely to be extremely narrow. Agents reportedly spoke with three friends of Kavanaugh who were allegedly at the 1982 gathering where Christine Blasey Ford says Kavanaugh attempted to rape her. That includes Mark Judge, who Ford says was present for the attack. The FBI also spoke with Deborah Ramirez, who says Kavanaugh exposed himself to her during their freshman year at Yale.
But the FBI did not speak with either Kavanaugh or Ford. Agents also did not speak with Julie Swetnick, who alleged that Kavanaugh and Judge were at a party where she was gang raped. Ramirez's lawyer said the FBI had apparently not spoken with additional witnesses they had provided. Other potential witnesses said in recent days that they had contacted the FBI but had not heard back.
Grassley defended the decision to not reinterview Kavanaugh and Ford by saying that both testified under oath before the Judiciary Committee last week. Feinstein, however, argued that "last week's hearing is no substitute for FBI interviews, especially when you consider the tenor of Judge Kavanaugh's testimony." Ford's lawyers also criticized the probe in a statement. "An FBI supplemental background investigation that did not include an interview of Dr. Christine Blasey Ford—nor the witnesses who corroborate her testimony—cannot be called an investigation," they said.
The FBI report will not be made public. Both Grassley and Feinstein support that decision, which follows precedent, but given the public scrutiny and anger among Democratic members, there will be demands that the country be able to know more about its contents. The limitations on the FBI set by the White House, as well as the secrecy around the FBI's findings, mean the report is at risk of being seen more as a political document than as a serious investigation of the allegations against Kavanaugh.
Meanwhile, a few other new pieces of information have emerged independent of the FBI that cast doubt on Kavanaugh's testimony last week, in which he downplayed heavy drinking. A Yale classmate said in a statement: "On many occasions I heard Brett slur his words and saw him staggering from alcohol consumption, not all of which was beer. When Brett got drunk, he was often belligerent and aggressive." The New York Times also obtained a police report from a 1985 bar fight in which Kavanaugh was involved.
In a letter on Thursday, Judiciary Committee Democrats wrote that contrary to statements by Republicans on the committee, previous background checks on Kavanaugh had turned up information related to alcohol abuse or sexual misconduct—though they said confidentiality rules prevented them from saying more.
All of this means that the political ground seems not to have shifted far from where things stood on Friday. Most Republicans continue to support Kavanaugh, and most Democrats oppose him. Because the FBI probe has reportedly found no evidence of misconduct by Kavanaugh, that may give fence-sitters who lean toward voting yes cover to do so. The flaws in the process mean that fence-sitters who lean toward voting no could have cover as well.
But the pivotal senators have still not declared their intentions. Flake initially said he would vote to confirm Kavanaugh but then backed the probe, saying he wanted more information. Flake has been vague about what could change his mind, though he said proof that Kavanaugh lied would cause him to vote no. On Tuesday at The Atlantic Festival, Flake criticized Kavanaugh's partisan tone before the Senate, saying, "We can't have that on the Court," but then insisted to my colleague Elaina Plott that "I wasn't referring to" Kavanaugh.
Senator Joe Manchin, a conservative West Virginia Democrat who faces a tough reelection in November, is reportedly leaning toward voting in favor of Kavanaugh, but Politico says he doesn't want to be the deciding vote. Other key Democrats to watch, both of whom face tough races, are Joe Donnelly of Indiana, who announced prior to the reopening of the probe that he would vote no, and Heidi Heitkamp of North Dakota.
Senators Susan Collins and Lisa Murkowski, Republicans from Maine and Alaska, respectively, are perhaps the most eagerly watched votes. Both are moderate women, both are expected to vote the same way, and both have been outspoken about the need to seriously consider allegations against Kavanaugh and have a genuine investigative process. The question is whether the FBI report's shortcomings will be too glaring for them to accept, or whether they will go along with their party.
But a new possible swing vote emerged on Thursday, when Sasse, a frequent critic of the president's, expressed deep concerns about the Kavanaugh process in a speech on the Senate floor.
"We all know that the president cannot lead us through this time. We know he is dispositionally unable to restrain his impulse to divide us," Sasse argued. He also said, "I urged the president to nominate a different individual. I urged the president to nominate a woman."
Sasse made no indication that he will vote against Kavanaugh, though.
It could be clear by the end of the day, if not sooner, whether Kavanaugh will be confirmed. As senators take their turn reviewing the evidence, reporters will be staking out the room, asking about their views. It has often appeared in the past two weeks that senators were hoping that some external force—a definitive FBI answer, a Kavanaugh withdrawal, a recantation from an accuser—might resolve the current standoff. No such force has emerged, and the time is nearly here for senators to make their final decision.