Schwarzenegger Is Back in a Wonky Campaign Fight Against Gerrymandering
The governator is hitting the trail next Saturday in Michigan and Colorado—his first campaigning since leaving office after 2010.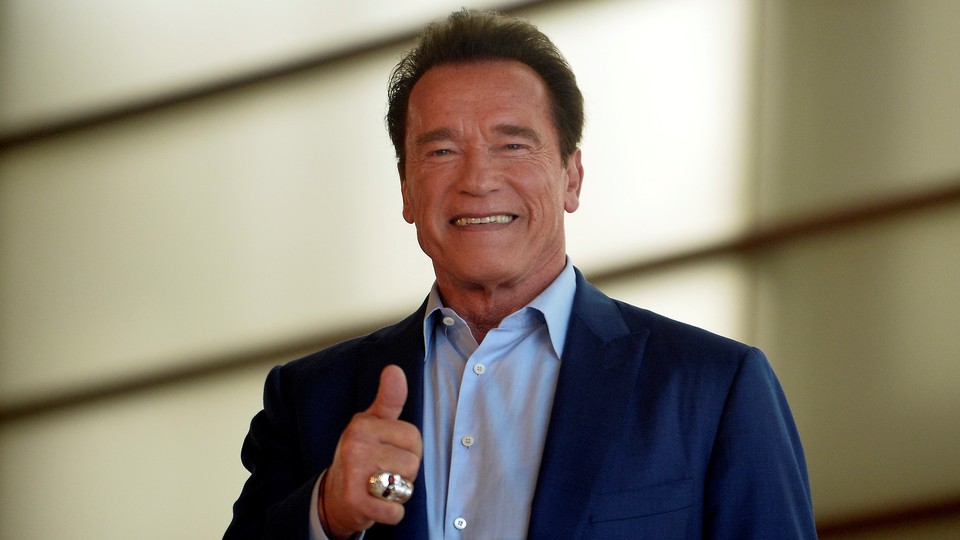 When he said he'd be back, no one expected that Arnold Schwarzenegger meant at a tailgate rally at Michigan State ahead of the University of Michigan football game—but that's where he will make his return to the campaign trail next Saturday in East Lansing.
Schwarzenegger will land in the middle of the night, on a break from shooting the new Terminator movie in Budapest, to rally in support of Michigan Proposal 2, which would create an independent redistricting commission. He'll then fly to Colorado for a rally supporting the redistricting initiative there, as part of his continuing mission to end partisan gerrymandering, which could lead to a massive change in the makeup of the House and state legislatures everywhere.
Currently, in most states, deals are struck between politicians that determine the shape of the districts, with increasingly sophisticated technology enabling the party in control to arrange conditions that slice and dice voters in its favor. Schwarzenegger has been railing about this since the ballot initiative he pushed through as governor of California in 2008.
"People see that things are not going right. Sometimes they express themselves by voting for outsiders," Schwarzenegger said in a FaceTime conversation from Kiev on Saturday, driving from a late lunch with the mayor and Ukrainian prime minister to a speech he was giving to a business group. "When they see that doesn't work, they look for the next thing. 'What else can we fix?'"
Schwarzenegger appeared at a rally for Ohio Governor John Kasich's 2016 presidential-primary bid and backed the Ohio redistricting initiative that passed in March, but otherwise has stayed away from the stump since leaving office in 2010. He won't be doing any other campaigning this year, nor will he be using the fall as a chance to take more swings at President Donald Trump, whose differences with him are well-known, and well tweeted about.
Schwarzenegger has been throwing his star power behind redistricting reform for years. "We all know this is not the sexiest subject in town," he said. He appeared at a rally on the Supreme Court steps a year ago after sitting in on the arguments for a case that could have led to the justices striking down redistricting reform (in June, they announced they would not). He's also been outspoken on fighting climate change and switching to green energy, helping convene world leaders for a climate conference after Trump announced that he wanted to withdraw from the Paris accords.
"Everything you do is always a campaign," he explained. "It's always about showing your passion and fighting for it. The worst thing you can do is sit on your couch."
Schwarzenegger is also supporting the ballot initiatives in Utah and Missouri up this year, though he won't be traveling to those states. He hopes the redistricting movement will spread.
"It's like when you start a train, the most power you need is to start it. Then the momentum goes. Same as with this. It's like a train—a massive, moving thing," Schwarzenegger said.
Katie Fahey, whose Facebook post two years ago started the Voters Not Politicians group that's behind the ballot initiative, said she thinks it'll help to have the support of someone who's both a Republican and the former leader of a state where an independent commission actually passed and has been able to work.
Plus, she said, there's no doubt that this will help cut through in an election year in Michigan that already has several other ballot initiatives; races for governor, Senate, and attorney general; as well as a fight for control of the state legislature. They need that to get people to care about a wonky issue, she said.
"There's so much in politics that's only about division and cynicism, and I think doing something fun is a way to engage in a different way," Fahey said. "Who doesn't want to tailgate with the governator?""
Schwarzenegger is a Republican, and the biggest opponents he had when pushing redistricting through California were Democrats. This year, most of the energy on redistricting reform has come from Democrats, including the group led by former Attorney General Eric Holder, with the backing of Barack Obama. The National Democratic Redistricting Committee, for example, is backing all four state initiatives, and Holder has already campaigned in Colorado and has a trip to Michigan planned in the next few weeks.
Schwarzenegger said he understands why Democrats have rallied to the cause.
"The way that it's being done, it favors more the Republicans. But if it would favor more the Democrats, it would be the Republicans doing this," he said.
Holder is glad for the help.
"At a time when too many Republicans want to keep in place a broken system because they are benefiting electorally, it's admirable that Governor Schwarzenegger is supporting reform efforts in Colorado and Michigan that will create a fair map-drawing process and give power back to the people. He is a powerful advocate with a great story to tell about the California Citizens Redistricting Commission," Holder said.
When asked about Republican officials in Georgia, North Dakota, and other states who, separate from gerrymandering, have been purging voter rolls and allegedly throwing up other roadblocks to voting, Schwarzenegger stuck on message, saying, "I've not been home. So I don't know the details."
He's been on the Terminator set since August.
Soon he'll be joined there by the winner of a raffle hosted by Crowdpac, which raised $50,000 for redistricting-reform efforts off of a chance to hang out with him between shoots.
Before the tailgate rally on Saturday, Schwarzenegger will do a fund-raiser over breakfast at a local hotel, posing for photos with anyone who contributes $500 or more. He'll also do a fund-raiser in Colorado later on Saturday. Then he'll fly back briefly to Los Angeles for a live podcast taping with David Axelrod's The Axe Files before heading back to Budapest to finish the new movie. The details and plot haven't been announced, but the film has him sporting a beard, even though his character is an android.
Along the way, Schwarzenegger has been following the news about the new international climate report last week that projected a global crisis hitting sooner than anyone expected, with potentially devastating consequences by 2040.
Schwarzenegger said it shouldn't take anything new to get people alarmed about what's happening. They should be there already.
"It's nothing different than what we knew 10 years ago. You can write all the reports you want, but now it's time that we do something about it," he said. "That's the key thing: that we inspire every country to get involved, that we inspire every person to get involved, make it the people's movement … It's just push, push, push. We have no other choice. Surrender is the worst thing."