The Synagogue Killings Mark a Surge of Anti-Semitism
In 2016, more than half of religious hate crimes in America targeted Jews, and in 2017, authorities have reported a surge of anti-Semitic incidents.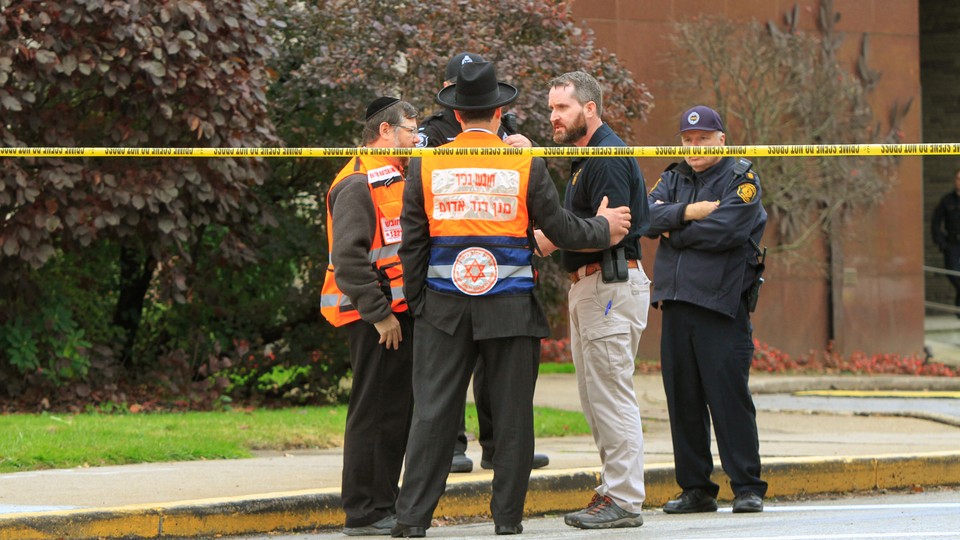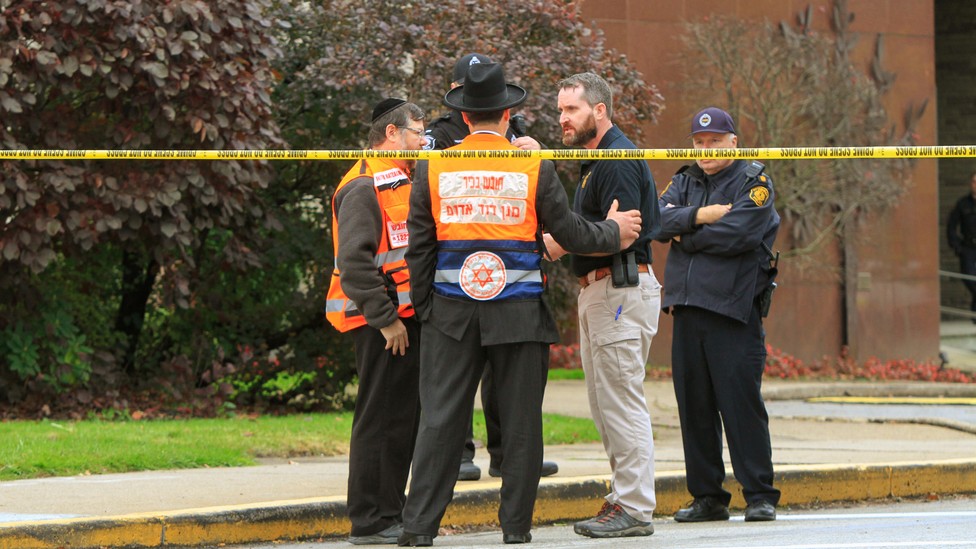 Jewish people bear the brunt of religious bias in America, even though just 2 percent of U.S. residents are Jewish.
The synagogue in the Squirrel Hill section of Pittsburgh where 11 people were killed and six, including four police officers, were wounded on Saturday typically has police guarding its worship services on the holiest Jewish holidays—but not for a normal Saturday-morning service. Donald Trump, on arriving in Indianapolis Saturday afternoon, confirmed that the shootings had taken place at "a baby-naming ceremony at a sacred house of worship." Police sources told the local CBS station that the gunman walked in and yelled, "All Jews must die."
"On a day like today, the door is open," the congregation's immediate past president, Michael Eisenberg, told CNN. "It's a religious service. You could walk in and out. Only on the high holidays is there a police presence at the entrance."
Jonathan A. Greenblatt, the chief executive officer of the Anti-Defamation League, denounced the attack. "This is likely the deadliest attack on the Jewish community in the history of the United States," he said in a statement. "We are actively engaged with law enforcement to support their investigation and call on authorities to investigate this as a hate crime. It is simply unconscionable for Jews to be targeted during worship on a Sabbath morning and unthinkable to happen in this day and age."
FBI hate-crime statistics for 2016, the most recent year available, show that more than half of reported antireligious hate crimes in the United States were motivated by anti-Semitism. That's been consistent in recent years, while bias against Muslims, who make up about 1 percent of Americans, was responsible for about a fifth of hate crimes.
And anti-Jewish crime may be rising. The Anti-Defamation League, a century-old advocacy group for Jews and other people targeted by discrimination, found that 2017 saw a nearly 60 percent surge in reported anti-Semitic incidents—which came on top of a 35 percent increase the year before. In part, the group notes, the rise could be driven by more people reporting to the ADL. But the higher numbers reversed a long-term downward trend. And a wave of bomb threats that terrorized schools and community centers was blamed, at least in part, on an Israeli American teen convicted in June.
Chants of "Jews will not replace us" punctuated the infamous "Unite the Right" rally in Charlottesville last year, which also saw seven Jewish cemeteries desecrated. The physical assaults the ADL recorded included those of an elderly man at a Jewish retirement home, a 12-year-old boy on his way home from Friday prayers, a woman in a taxi, a person on a subway train, and a man who was attacked and maced while waiting at a red light.
Public anti-Semitism has shown a sustained increase among alt-right white nationalists since President Trump's 2016 election and has continued through this midterm election campaign, according to an ADL report published this month. Jewish Americans with a public presence, ranging from public officials to journalists to professors, say that such harassment has moved from rare to commonplace over the past three years. Twitter was uniformly cited as the worst platform, with one interviewee calling it "ideally designed for organized or non-organized harassment."
The suspect in Saturday's attack reportedly used the social network Gab, which has a reputation as a platform for people banned by Twitter. Minutes before entering the synagogue, the suspect allegedly posted, "I'm going in." NBC News reported that the gunman made a specific threat against Jews in the hours leading up to the attack.
This prejudice and harassment have long roots in American history. The United States Holocaust Memorial Museum describes World War I as a turning point that helped usher anti-Semitism from the far-right fringes of society into the mainstream. The ADL was founded in 1913 and early on pushed to revise a U.S. Army training manual that claimed Jews were "more apt to malinger than the native born." After the war and the Russian Revolution that brought communism to power, many Americans blamed Jews for Bolshevism, just as some Germans, including Adolf Hitler, tried to blame domestic Jews for their nation's loss in the First World War. Red scares linked Judaism and communism. In the United States, Jews were among the groups discriminated against in aspects of public life, such as hotel accommodations.
In the 1920s, the powerful industrialist Henry Ford published anti-Jewish propaganda after buying his hometown newspaper, The Dearborn Independent; he blamed Jewish bankers for fomenting World War I for their profit and had the writings distributed nationwide to Ford Motor dealerships. His prominence—he was widely viewed as a possible candidate for U.S. president—helped legitimize bigotry against Jews.
The interwar years saw the pinnacle of American anti-Semitism, such as the eugenics movement whose American roots would produce its terrible fruit in Hitler's Nazi regime. The 4 million members of the popular Ku Klux Klan targeted Jews, in addition to attacking African Americans. The aviator Charles Lindbergh, one of the most popular Americans at the time, led the "America First" push to keep the United States out of World War II. He publicly blamed American Jews for dragging the country toward another global war.
After the horrors of Nazi Germany's effort to exterminate Jews became widely known in the United States after World War II, anti-Semitism became less acceptable in American society. But it never disappeared entirely. In fact, anti-Semitism appears to be intensifying, a trend that began long before the attack in Pittsburgh.