How Will Pittsburgh's Jews Translate Tragedy Into Action?
The Jewish community disagreed about what to do when President Donald Trump came to town—and how to take action after tragedy.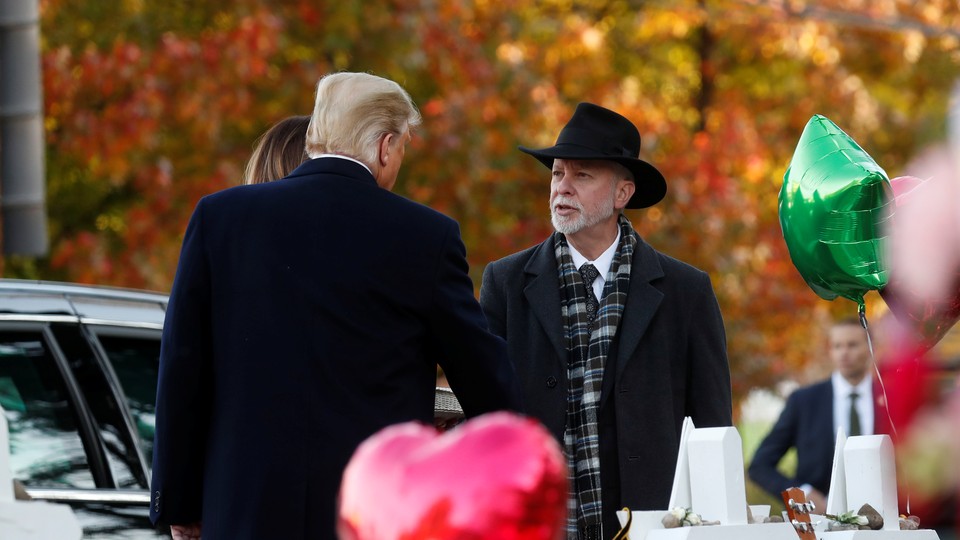 PITTSBURGH—On Tuesday afternoon, two groups staged marches against President Donald Trump, moving toward each other from opposite sides of Forbes Avenue. If Not Now opposes the Israeli occupation of the West Bank, and Bend the Arc "[fights] for justice for all" through a Jewish, progressive frame. Eventually they merged, and together made their way toward the Tree of Life synagogue, singing Jewish songs and solemnly carrying signs condemning hate.
These marches were an expression of the anger in the Pittsburgh Jewish community. Anger about the attack on their fellow Jews. Anger about bigotry and anti-Semitism in the United States. Anger about America's toxic, xenophobic political environment—which, they argued, is facilitated by Trump. But they also hinted at some of the political fracture lines within the Jewish community.
In broad strokes, a majority of Jews in Pittsburgh—and in America, for that matter—probably agree with some version of these arguments about Trump. A recent poll found that three-quarters of American Jews disapprove of the president and his policies, especially on immigration and his handling of anti-Semitism.
But in the face of an extraordinary, horrific event like this shooting, it's not clear how tragedy should be translated into the realm of politics. The Jews of Pittsburgh have been united after this attack. But certain groups also disagree about what this moment means for American Jews, and how they should take action.
After Trump had gone and dusk had fallen in Squirrel Hill, people started heading home. But as they dispersed from the little hill next to the intersection of the two main streets here, where the main protest had been staged, sirens, shouting, and singing began.
One of the leaders of Bend the Arc in Pittsburgh, 38-year-old Joshua Friedman, started walking quickly down the hill. "I think If Not Now is trying to have a civil disobedience," he said. "They're sitting in the middle of the street. Wait, what the fuck is the point of a civil disobedience right now? The fucking president is long gone."
Friedman was tired; it was the end of an emotionally exhausting day. But he was frustrated, he said. "They're not contributing anything to the discourse. The opportunity for civil disobedience would have been to block the motorcade hours ago." Now, he said, "they're kind of shitting on our program."
In many ways, these two progressive groups share the same goals. "We're all hugely aligned on the need to link anti-Semitism and white nationalism," said Max Berger, one of If Not Now's founders who was at the protest, and "to go on the offensive against Trump and the Republicans." The groups have different flavors, though: If Not Now is smaller and to the political left of Bend the Arc, and more explicitly focused on Israel.
[Read: The Jews of Pittsburgh bury their dead]
Hundreds of people came out for the marches. Over the past three days, more than 82,000 people have signed an online letter from Bend the Arc arguing that Trump has "emboldened a growing white nationalist movement" and that Saturday's massacre was "the direct culmination of [Trump's] influence." The murderer at the Tree of Life synagogue cited the work of HIAS, a Jewish group that supports and resettles refugees, as a reason for his attack. The letter asked Trump to "cease your assault on immigrants and refugees," and to "stop targeting and endangering all minorities."
The city's Sunday vigil for the shooting victims was not overtly political, but thinly veiled comments about the country's political environment got huge standing ovations.
That was the reaction to this line, from Pittsburgh Mayor Bill Peduto: "We will be a city of compassion, welcoming to all people, no matter what your religion, or where your family came from on this Earth, or your status." And this line, from Rabbi Jeffrey Myers, whose congregation, Tree of Life, was one of the three congregations in the synagogue that were attacked: "Words of hate are unwelcome in Pittsburgh," he said. "I want to address for a moment some of our political leaders who are here. Ladies and gentlemen, it has to start with you, as our leaders."
In the aftermath of the shooting, however, Pittsburgh's leaders have disagreed over how pointed their calls for change should be. Peduto asked Trump to wait to visit until the families of the victims were finished mourning. Myers, on the other hand, welcomed him. "I'm a citizen," he told CNN. "He's my president. He is certainly welcome."
[Read: A broken Jewish community]
The groups that decided to protest took this one step further: As Trump's motorcade approached Tree of Life on Tuesday, where the president and his family paid tribute to the victims, they stood nearby and turned their backs, shouting, "Vote! Vote! Vote!"
"There's a leadership gap in the Jewish community, where the institutions that are supposed to be representing us are both-sides-ing this moment," said Berger, of If Not Now. "I find that to be unbelievably offensive."
On the most basic level, the protests in Pittsburgh were an argument that the synagogue shooting should not be dismissed as the work of an isolated, deranged person, but rather seen as part of a larger climate of hatred and xenophobia. It's possible to read the protests as a grieving place for people who don't fit in typical institutional Jewish spaces, including those who objected to the presence of Naftali Bennett, Israel's pro-settlement, right-wing diaspora minister, at Sunday's vigil.
But the protests were also Jews arguing with themselves over what their community should do at such a horrific, extraordinary moment. "This is about Jews figuring out what it means to be Americans," Berger said. For two generations, he argued, Jews have been able to feel comfortable and assimilated in this country. Now, he said, many people are questioning that comfort: "What if our persecution is now in the place we thought we were safe in?"
[Read: Pittsburgh honors two brothers, 'gentle giants' of their community]
Some Jews in Pittsburgh may support Trump. Still others, like Myers, may think that, whatever their personal feelings, it's right to welcome the president when he comes to town after a national tragedy.
But there were disagreements even among those who didn't want Trump to come. Bend the Arc focused its protest on defending immigrants and minorities and denouncing white nationalism and anti-Semitism. If Not Now shared those goals, but added to them: Diana Clarke, one of the group's organizers in Pittsburgh, told me that the goal of the "civil disobedience" that followed the main protest "was to have a public space for mourning for folk murdered on Saturday that did not celebrate the police." As the Bend the Arc marchers passed by Pittsburgh Fire Bureau Station 18, they whooped and clapped in appreciation for the police officers and first responders who had supported them after the shooting. Clarke, however, has "been disturbed by media coverage … of cops who were injured rather than Jews who were killed."
The Jews in Pittsburgh are angry and mourning, and many of them seem to agree that there is a connection between America's political environment and what happened to their community. To a large extent, they are unified. But as the days after the shooting turn into weeks, and the weeks turn into months, old dividing lines—over Israel, over political language, over working within a system or protesting from the outside—may reemerge, even here.
Then again, perhaps it's fitting that Pittsburgh's Jews are turning this horrible moment into a chance to fight for what they believe—even if they occasionally fight with one another. It is, in its own way, a defiant return to normalcy. "Isn't that what we do?" Friedman said. "We argue."