Paul Ryan's Legacy Defines the Race He's Leaving Behind
The fight for the retiring speaker's House seat in Wisconsin is a study in contrasts, both ideological and personal, between Republican Bryan Steil and Democrat Randy Bryce.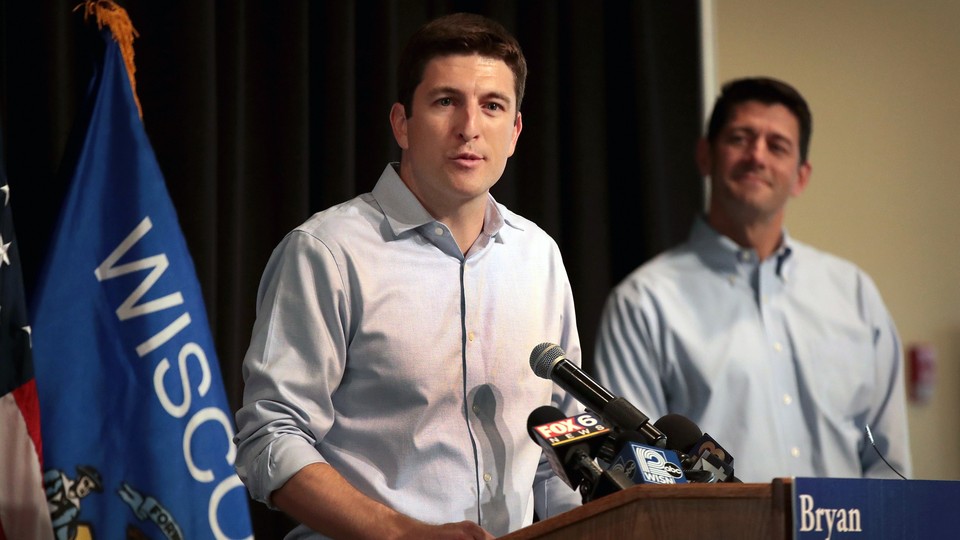 JANESVILLE, Wis.—Barry Badertscher hoped Paul Ryan would be president someday.
He's voted for Janesville's most famous native son every two years, and like so many in this small, Democratic city in southeast Wisconsin, Badertscher, 53, knows the Ryans socially. He owns a commercial real-estate business, and his name is emblazoned on the firm's signs scattered throughout town. Badertscher watched proudly as Ryan became the quintessential local-boy-makes-good over the past 20 years: winning a seat in Congress at the age of 28, then becoming the policy point man of the GOP's "Young Guns" triumvirate a decade later, the vice-presidential nominee in 2012, and finally speaker of the House.
"I was thinking of where the presidential library would be. I would have bought the land," Badertscher told me, no more than half-joking, as we sat in his office on a recent weekday morning.
But after two decades in the House, Ryan is returning home to Janesville as a 48-year-old congressional retiree, his political career cut short and the light of his once-bright star darkened by the shadow of Donald Trump. Also because of Trump, Badertscher, who was named after Barry Goldwater, is no longer a Republican. "We haven't stood up to bad behavior," he said, referring to his former party. "I always thought we were kind of the gentlemen. I had higher expectations of us."
Badertscher remains a big Ryan fan—"We're all proud of him," he told me—but his disappointment in the GOP's enabling of Trump's excesses extends at least partly to the speaker. "I wish he would have been stronger," he said. Badertscher said he understood the difficulty of Ryan's position leading a caucus whose rank-and-file constituency had fallen solidly in line behind Trump. "I know he's caught," he told me. "I get it, but I still wish he would have been tougher."
Ryan's imminent departure from the House has opened up his congressional seat and created a newly competitive race in a district that leans less Republican than Ryan's easy victories over the years would suggest. Wisconsin's First Congressional District borders Illinois to the south and stretches from Janesville at its western edge to the shores of Lake Michigan and the cities of Racine and Kenosha to the east. Voters there backed Trump over Hillary Clinton by 11 points in 2016, but as recently as 2008, Barack Obama carried the district. Rock County, which includes the Janesville part of the district, backed Obama twice, even when Ryan was on the Republican ticket in 2012 as Mitt Romney's running mate.
In Ryan's absence, voters in the district have as sharply defined a choice in the race for Congress as anywhere in the country—between two men who are opposites in ideology, class, geography, and even facial grooming. The Republicans have nominated Bryan Steil, a 37-year-old Ryan acolyte who, like the retiring incumbent, is a clean-shaven conservative Janesville native who once served as a GOP staffer (Steil for Ryan) on Capitol Hill. He's facing Randy "Iron Stache" Bryce, a mustachioed 53-year-old Democrat running on a Bernie Sanders–style platform of Medicare for All, tuition-free public college, and a $15 hourly minimum wage. Steil followed his father into the law—the elder Steil has a practice in downtown Janesville—and serves as general counsel for a local manufacturing firm while also sitting on the University of Wisconsin's Board of Regents. Bryce is a longtime union ironworker from the other end of the district, in Racine. And while Steil has lived in the district most of his life and has ties to Ryan, Bryce got a head start in the race and became the far more recognizable candidate.
Bryce declared his bid after the House passed its repeal of the Affordable Care Act last year. His two-minute launch video, featuring his mother's struggle with multiple sclerosis, went viral, leading to a flood of donations from Democrats around the country looking to oust Ryan on their way to a House majority. An Army veteran and cancer survivor, Bryce seemed the very embodiment of the blue-collar white guy who had deserted the Democratic Party and who could win back the voters who helped Trump defeat Clinton in Wisconsin, Michigan, and Pennsylvania in 2016.
Then, in April, Ryan stunned Washington by announcing that he would forgo a reelection bid and retire not only as speaker, but as a member of Congress entirely. Suddenly, Democrats found themselves with an open seat in Wisconsin and a well-known candidate who had already raised upwards of $5 million. There was no heir apparent on the Republican side, and a campaign that began as a long-shot bid to knock a king off his throne was now a very winnable race.
If Bryce's dramatic introduction to the race last year catapulted him as a national Democratic sensation, the past few months have been decidedly less kind. While Bryce was largely unknown outside Wisconsin, he was not a first-time candidate or a political newcomer; he had been an activist against conservative Governor Scott Walker's moves to curtail collective bargaining by public-sector unions in 2011, and he had since lost three runs for public office—twice for the state legislature and once in a bid for a seat on the Racine County Board of Education. Reporters dug up records showing that he had been arrested nine times, including once for driving under the influence, in 1998, and three more times for driving with a suspended license; that he had declared bankruptcy in 1999; and that he had been delinquent on child-support payments for a son featured in his ads. A poll conducted in mid-September by The New York Times and Siena College found Steil leading Bryce by 6 points, 50 percent to 44 percent.
The Ryan-aligned Congressional Leadership Fund ran wild with the disclosures, spending millions on ads highlighting the nine arrests and featuring Bryce's mug shots and images of him being led away from a political protest in handcuffs. But the ad that hurt Bryce the most—both personally and politically—was a spot in September featuring his own brother, James, a longtime police officer, criticizing him and declaring his support for the Republican Steil.
When I visited the First Congressional District late last month, Bryce was appearing with the entire statewide Democratic ticket at the party headquarters in Racine, his home base. There, before a crowd packed with volunteers, he tried to reclaim the underdog character that defined his campaign at the beginning. "Paul Ryan has held this seat for the last 20 years, but as we know, it's not his seat," Bryce said, criticizing the speaker for spending millions through his super PAC to elect a "handpicked" successor. "This is the people's seat, and the people are going to take it back in November."
He defended policies such as Medicare for All and a $15 minimum wage that Steil and other Republicans have decried as fanciful and too far left in a Republican district. "It's very obvious Republicans are running from people while Democrats are running for people," Bryce told the crowd. "The policies and platforms that we're running on aren't that crazy. I've been referred to as 'Radical Randy.' If you ask younger people, radical's not a bad thing."
When Bryce met for a few minutes with reporters after the event, however, they mostly wanted to ask about his brother and his arrest record. The Bryces' mother had, a few days earlier, written an open letter asking for the ad to be taken off the air. "I just think it's a really sad thing to do," Randy Bryce told the reporters. He said the whole family had gathered in July to celebrate their mother's birthday, all staying together in a condo. He knew his brother was a Republican, but he said he had no idea the ad was coming. "Just the fact that my son has to see these ads, my mom has to see these ads … it really crushed her," Bryce told me in an interview after the event.
As for Bryce's past, some of the revelations seem to be more damaging than others. Like other Democrats running this year, he has been candid about his struggles with debt, which was brought on by medical bills, and he has cast the experience as something that connects him to the working-class voters he seeks to represent. But he has not tried to explain away the arrest for driving under the influence. "It was a stupid thing that I did," Bryce said to the reporters. "I'm not trying to point fingers. I'm not trying to lessen it. It's a choice I made. It was a bad choice. I've learned from it. I've moved on."
To overcome the First Congressional District's Republican lean and his considerable personal baggage, Bryce may need to rely on a Democratic surge throughout Wisconsin aimed at defeating Walker's bid for a third term. Recent polls in the race between the Republican governor and the Democrat Tony Evers range from a one-point Walker advantage to a 10-point Evers lead. Bryce will also be depending on voters like Sarah Harris, who in 2016 was one of 31,072 voters in Wisconsin who cast their ballot for Jill Stein instead of Clinton or Trump. The gap between Clinton and Trump was fewer than 23,000 votes; some 190,000 Wisconsinites went for minor-party contenders. "I don't like being told by others that it's my fault Trump won," said Harris, a 33-year-old hotel clerk  I met in Racine. She plans to vote for Bryce, citing health care as a top issue; she told me she has a preexisting condition and would be affected by the repeal of Obamacare.
"He's more relatable," Harris said, before bringing up, unprompted, the issues in his past that have become fodder for GOP ads. "I like the fact that he's been down."
To voters like Harris, Bryce is appealing because, flaws and all, he represents everything that Ryan is not. "It's always been an uphill climb to convince him his constituents are not the one-percenters," said Mike Krautkramer, a 59-year-old retired teacher who was volunteering at the Democratic Party headquarters in Racine. He was referencing Ryan's well-known advocacy for tax cuts that, analyses have shown, disproportionately benefit wealthier Americans. Bryce, he said, is "an exciting candidate because he represents so many different facets of what working people are going for. He's the salt of the earth, literally."
The comparisons between Bryan Steil and Paul Ryan are easy to draw. In addition to their shared Janesville connection, the two project political personas that are earnest and ideas-focused, studious yet down-to-earth. The Associated Press even noticed a passing physical resemblance. But while Steil has eagerly accepted Ryan's endorsement and support, he's not exactly leaning into the comparison. "I think of myself as a Bryan Steil Republican," he dodged when I asked where he fits into a party that counts both Ryan and Trump as leaders.
Yet even when he deflects a question, Steil can't help but sound a little bit like the speaker, who has spent the better part of two years trying, with occasional success, to avoid being drawn into fights with the president. Over the course of a 30-minute interview, Steil repeatedly resisted efforts to draw out policy differences between himself and Ryan or himself and Trump. He also resisted saying whether he would serve as more of a check on the president than the man he wants to succeed. Instead, he kept turning the conversation back to a contrast he welcomed much more—the one between him and Bryce. "The choice that we're looking at is a true Bernie Sanders progressive-left vision, which is my opponent, versus a pro-growth alternative," he told me. "That's what I'm focused on."
Steil seems to be leaving attacks on Bryce's personal history to outside groups such as the Congressional Leadership Fund. "I think what disqualifies him are his far-left policy positions," he said. "I've been very clear and focused on the policy side. To me, that's the focus of the campaign, not his other personal problems."
Steil is more explicitly embracing Ryan as a model when he talks about his relationship with the First Congressional District, where the speaker's visibility and easygoing demeanor won him votes over the years from plenty of people—especially in Democratic Janesville—who disagreed with his conservative politics. "I think uniquely so, in comparison to other congressional districts, people will say that they know Paul Ryan, so what's fun for me is going out and meeting folks every day," Steil told me. Ryan's main congressional office occupies a huge storefront in the center of town, and shopkeepers throughout the commercial district talked about Ryan and his wife, Janna, as frequent and friendly visitors. The owner of a local cheese shop said the speaker would annually buy dozens of pounds for his congressional office.
For years, voters in Janesville reelected Ryan because they liked him personally or, in some cases, because there wasn't much competition. Now, with him off the ballot, they have a choice for the first time in a while. Illustrating the difference, two women I spoke to, who were having lunch by the river in Janesville, said they had voted regularly for Ryan, but were likely to support the Democrat this year. Both declined to give their names because they were friends with Ryan's family, and both said they were concerned with Bryce, citing in particular the report about his delinquency on child-support payments. But they disliked Trump more—one called him "a racist, ignorant jerk."
"There's never really been a choice," she said, adding that she'd probably vote for Bryce "just to have someone in there who's not a Republican."
This is Bryce's path to victory: peeling away former Ryan voters who are less ideological while hoping for strong Democratic turnout among progressive and younger voters who may have sat out previous elections but are energized to oust Walker and elect a check on Trump. But the challenge is tougher in Janesville than in other parts of the district; Bryce is less familiar there, and Steil is drawing from the same familiarity that helped Ryan over the years. When we met for breakfast at a local diner, Steil noted that the restaurant was sandwiched between the neighborhood where he grew up and the neighborhood where he now lives. "I've been more or less here my entire life. This has been home," he told me. He recalled how when he was in high school, he'd get up early and stop for $1 cinnamon rolls the diner offered on Mondays.
Steil's similarity to Ryan may hurt him with some voters, especially this year, but probably keeps him the favorite in the race overall. "I do think he's going to benefit from being cast in the mold of a Paul Ryan Republican," said Dan Cunningham, a vice president of Forward Janesville, which he described as the city's version of a chamber of commerce. "People are comfortable with that." Cunningham, 44, is one of them—a registered Democrat who voted for Ryan and, despite his displeasure with Trump, plans to vote for Steil, too.
Barry Badertscher is in the same place. The former Republican didn't vote for Trump and told me he's "torn because I think there needs to be some sort of balance" in Washington. But Bryce, he said, "has got a lot of baggage," and Badertscher knows Steil. And that, more than his disillusionment with the GOP or his desire for a stronger check on the president, is what will determine his vote for Ryan's successor this November. "It will be for Bryan," Badertscher told me.