Are All the Adults Leaving the Room?
The resignation of UN Ambassador Nikki Haley could signal the decline of the advisers who have constrained President Donald Trump's more outré tendencies.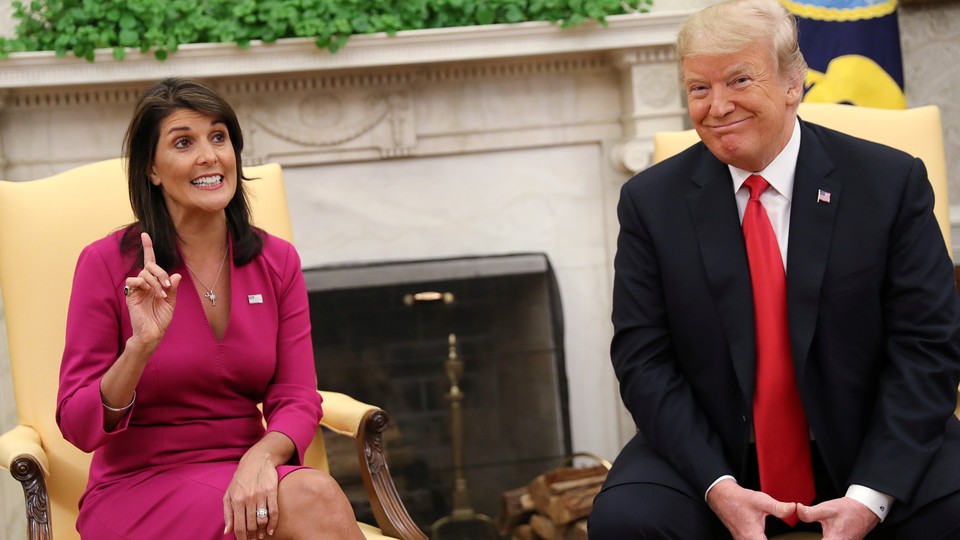 For nearly two years, it's been part of the Washington wise man or wise woman's catechism: Thank God for the adults in the room at the White House. You know the ones: Defense Secretary James Mattis. Director of National Intelligence Dan Coats. And until Tuesday, United Nations Ambassador Nikki Haley.
On Tuesday morning, Haley sat next to President Donald Trump in the Oval Office and announced that she'll be leaving the administration at the end of the year. While the pace of departures from the Trump team has slowed in recent months—it could hardly keep up with the frenetic revolving door of 2017—Haley's exit is a big one, and it might not be a one-off.
Haley and Trump were all smiles Tuesday, with the ambassador adopting the language of the most sycophantic Trump disciples.
"First of all, I want to thank the president for just, you know, allowing us to come out and talk to you this way. It has been an honor of a lifetime," Haley said, before offering praise to the first lady, Ivanka Trump, and Jared Kushner. ("Jared is such a hidden genius that no one understands," she gushed.)
"Look at what has happened in two years with the United States on foreign policy. Now the United States is respected," she said, two weeks after diplomats openly laughed at Trump at the United Nations General Assembly. "Countries may not like what we do, but they respect what we do. They know that if we say we're going to do something, we follow it through. And the president proved that."
Reacting to rumors that she might run against Trump in the 2020 Republican primary, Haley said she was not interested in the office and promised to campaign for the president's reelection.
Trump was effusive, too. "Nikki Haley, ambassador to the United Nations, has been very special to me," he said. "She's done an incredible job. She's a fantastic person, very importantly, but she also is somebody that gets it."
However, beneath the Haley-fellow-well-met routine, there's been tension between the ambassador and the White House. Haley was an unknown quantity on foreign policy before her appointment, but she quickly won over much of the establishment with her Reaganite approach. Against Trump's isolationist and retrenching influences, she has been hawkish and emphasized the importance of international alliances. Haley has been the administration's most prominent critic of Russia, even as Trump tends to coddle Vladimir Putin.
Occasionally, these different alignments have created strain. The most prominent flare-up came in an April clash between Haley and the presidential economic adviser Larry Kudlow over trade policy. After Kudlow suggested she might have been mixed up, she fired back, "With all due respect, I don't get confused."
For the most part, however, Haley has been more effective than many of the other so-called "adults" at maintaining a working relationship with Trump despite their differences. (Of course, it helped that Haley agrees with Trump on many issues. As my colleague Uri Friedman notes, she favored ripping up the Iran nuclear deal, pushed hard for sanctions on North Korea, and was a strong backer of Israel's government.) Former Secretary of State Rex Tillerson, who seemed to align with Haley, was frozen out for months before his March 2018 firing. Chief of Staff John Kelly is said to frequently clash with the president, whom he allegedly deemed an "idiot." Mattis has avoided problems by simply staying very quiet, though he is also said to be frozen out.
The broader question is whether the "adults" have actually been very successful. Aides may have prevented the president from taking a number of rash, irrational actions, as Bob Woodward's latest book, Fear, claims in vivid detail. The administration has proved more hawkish than originally advertised, a possible sign of Trump's more conventional advisers working overtime. The president has not pulled out of NATO, nor has he withdrawn American soldiers from Syria or Afghanistan. He has bombed Syria in response to chemical-weapons strikes. But Trump has still steadily and inexorably worked at goals like protectionist trade policy. Relations with allies remain tenuous.
Now, whether or not the "adults" had much effect while in the room, another wave of them seem to be headed for the exits. After Haley, it's easy to imagine Mattis and Kelly leaving after the midterm elections. If Democrats take the House, much less the Senate, the administration could become an even less fun place to work, and the president might turn to foreign affairs to get things done—a common pivot for presidents who find Congress unobliging.
"We hate to lose you," Trump told Haley. "Hopefully you'll be coming back at some point, but maybe in a different capacity. You can have your pick."
That seems unlikely. And as if in augur of what might happen with people like Haley out of his orbit, Trump became more and more meandering with his comments as the brief press availability ran on. Later this week, he's scheduled to meet with Kanye West. The adults have surely left the building.