'This Is the Red Cross. Do You Have Food?'
Two weeks after Hurricane Florence, a small North Carolina town is bouncing back from the storm's devastation. But for some of its poorest residents, it could take years to recover.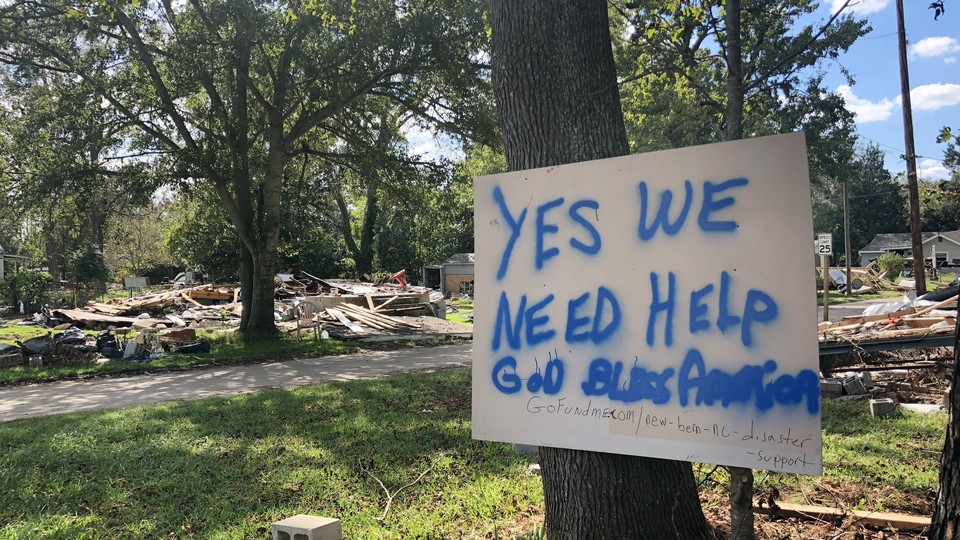 NEW BERN, N.C.—Just two weeks after Hurricane Florence inundated this historic town with floodwaters and raging winds, many of its downtown streets have been swept clean of debris and brought back to life.
Businesses have reopened, shop fronts are sparkling, and young couples are out for lunch after church on Sunday, peeking in shop windows and making plans for the week ahead. The annual MumFest celebration, with vendors and street performers and concerts, is less than two weeks away. After a few weeks of discussions over whether to cancel the festival, it was announced last Wednesday that the show will go on.
"By the time that MumFest rolls around," Lynne Harakal, the executive director of New Bern's downtown-development corporation and the festival's primary organizer, told me, "we will be four weeks post–Hurricane Florence, and there's been a real desire in the community for things to return back to normal."
But in neighborhood after neighborhood just blocks from the downtown business district where MumFest will be held, nothing is normal—and may not be for months, even years. In public housing such as Trent Court, in historically black neighborhoods such as Sunnyside and Duffy Field, and across the city's historic districts, where pricey colonial-era homes line the riverbanks, the viscera of house after house after house is still spilled out onto the curb: insulation, carpet, furniture, appliances, clothing, dishes, pictures, memories left on the side of the street, waiting to be picked up and disposed of.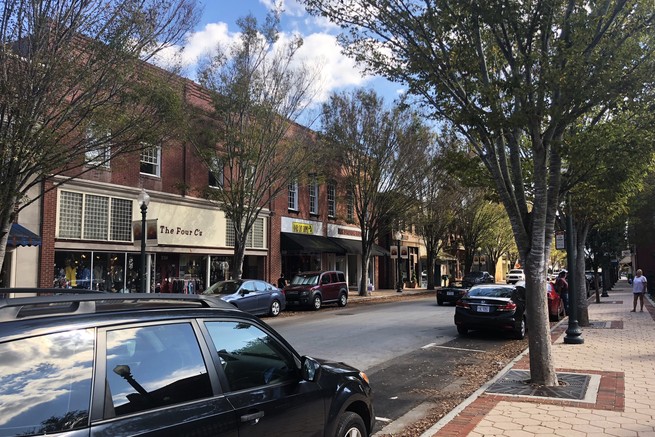 Florence was an equal-opportunity destroyer, dumping more than 50 inches of rain on rich and poor neighborhoods alike in New Bern, 90 miles up the coast from Wilmington, where Florence made landfall. "The storm did not discriminate. It hit everybody. The low income, the middle income—it's like, bam," said Naderia Tucker, who lives in Trent Court, an apartment complex owned by the city's housing authority that was badly flooded. "It's really something to see the devastation in this town."
But the extent of the damage, and the ability to recover, hasn't been equally distributed in a town with visible wealth stratification. Twenty percent of New Bern's citizens, half of them black, live in poverty. Many have lost everything, and have almost no ability to pay for their own recovery—whether it's rebuilding lost homes or replacing ruined possessions.
Fortunately, New Bern has seen an influx of temporary help. Volunteers with food, water, and immediate emergency-and-disaster-cleanup response services flocked to the city in the days following the hurricane, and many are still there. What's less clear is what will happen here in the long term.
In at least one of the apartment complexes run by the local housing authority, black mold is rampant. Many, if not most, people living near the banks of the two rivers that border the city, the Trent and the Neuse, have lost nearly all of their possessions, from big things such as furniture and appliances to smaller, more meaningful ones such as family scrapbooks. For low-income families without anywhere else to go, the instability of temporary or permanent homelessness seems inescapable. And now, weeks after the hurricane hit, they still don't know what's coming next.
Dawn Baldwin Gibson is a pastor and the director of Genesis 457, a community-development corporation that works with low-income people in New Bern and several surrounding counties. "It's a blight on humanity that we put the premium on one section of all of New Bern. And it looks like there's not been a storm," she told me, her voice shaking. "It doesn't even look like it's been impacted or affected. And you literally walk around the corner [to Trent Court] and you see what could be seen in a third-world country. And it just does not make sense."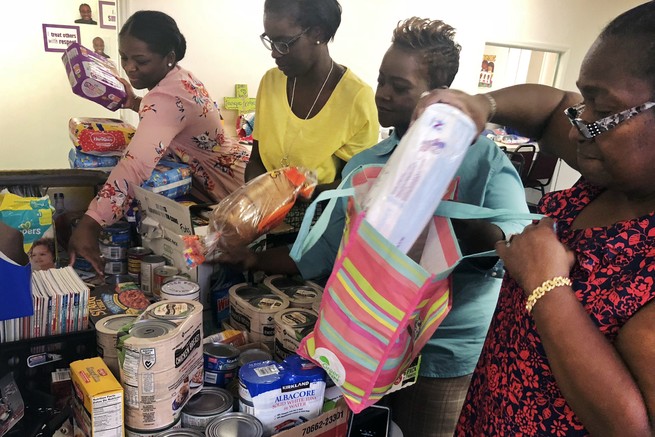 I drove through New Bern last weekend with Sharon Bryant, who works as the African American outreach coordinator at a local museum. Her family has lived in New Bern for more than 10 generations, since before the Civil War.
As we drove street by street and neighborhood by neighborhood, Bryant pointed out the devastated homes of friends and co-workers. "She lost everything, probably everything that she ever owned," Bryant says, pointing to a woman dragging debris to the curbside. "Same over here—they lost everything they ever owned." The sun was shining, drying out the remains of lives now upended. Many people's possessions are unsalvageable because they stood in humidity and floodwater for days after the storm.
In Sunnyside, where Bryant's parents DeBrou and Ann Cantlow have lived for over 40 years, a Red Cross van drives through, horn blaring. "This is the Red Cross. Do you have food? Do you have water?" a man yells through a megaphone out the window. We walk into the Cantlows' home, where five feet of floodwater trapped the elderly couple in their attic for 12 hours. The water was so powerful that it upended their refrigerator, which now sits, along with all of the Cantlows' other possessions, on the curb, waiting for debris cleanup to whisk it away. The Cantlows are living with their daughter until they can put their house back together again; Bryant has no estimate on how long it'll take. The neighborhood still feels like a disaster zone.
Colleen Roberts, New Bern's public-information officer, estimated to me that the city's cleanup and short-term restoration efforts are only about 15 percent done. It'll take at least two more months before it's all picked up, she said. And then the rebuilding begins.
From the city's point of view, it made sense to clean up downtown first, because it was one of the most impacted areas. Roberts told me they're dispatching cleanup crews across the city, but said they focused many of their resources on the downtown business streets during the first week. "Downtown is pretty much done," Roberts said. "We knew that downtown and the historic districts and Woodrow were going to have to be the focus of our cleanup, because they were the hardest hit anyway." Soon after the storm, volunteers and business owners cleaned out most downtown businesses, and the city disposed of most of their debris within the first few days of its own cleanup efforts.
Harakal, who is coordinating MumFest, said the rest of the city isn't being shortchanged to make sure the festival takes place as scheduled. "The city is not diverting its resources," she told me. "I would just stress that a really important part of this decision making was, what are all the needs when you're going through a time like this?" She said volunteers have stepped up to make sure MumFest goes on as planned, too, by hanging 220 banners downtown that would usually be hung by city employees.
The city estimates that nearly $75 million worth of residential property was damaged because of the storm. How people will pay for the damage to their property varies. Some homeowners had flood insurance. Others, Bryant said, were told years ago that they didn't need it, because they're not technically in a floodplain. As of last Friday, the Federal Emergency Management Agency and the Small Business Administration (SBA) set up shop in town, where they're operating out of an old Rite Aid store. Homeowners can come report damage to their property and, after a FEMA inspection, may be eligible for some form of aid or an SBA loan, even if they're not a small business. But that process has to be initiated by the homeowner. For renters, the path forward is less clear.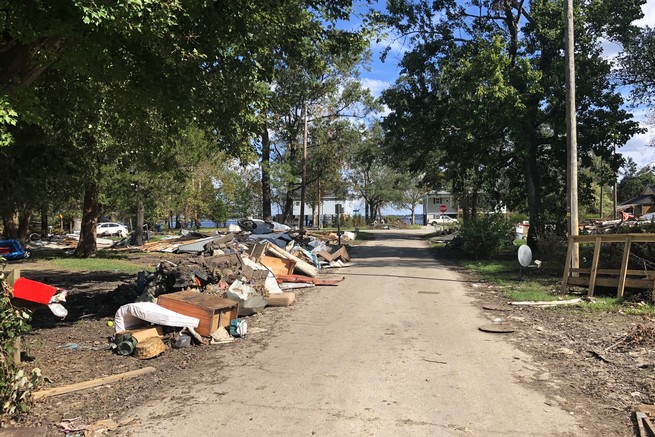 As of Sunday, families with damaged homes and unlivable apartments hadn't heard anything from FEMA about temporary housing. Many are living in mold-infested apartments and homes because they don't have anywhere else to go. Gibson, the pastor and director of Genesis 457, has heard from volunteers that some people are living in their car until it's safe to move back into their home.
Omisade Burney-Scott, a native New Bernian who now lives in Durham, North Carolina, is part of a coalition of nonprofits coordinating local relief efforts. She told me that her 71-year-old sister, Mary Dove, who lives on a fixed income, didn't evacuate from New Bern, because her car is an "around-town car" that won't make it far on the highway. Dove, her 27-year-old granddaughter, and her 6-year-old great-grandson were evacuated by boat the day after the storm hit, with floodwaters rising up Dove's front steps and six inches of standing water in her house.
Like Bryant, Burney-Scott's family has been in New Bern for hundreds of years, dating back to before the Civil War. New Bern's black residents were enslaved on plantations and in the governor's mansion when New Bern was the colonial capital of North Carolina, and during the Civil War, one of the first settlements of freed black people, James City, was just outside of New Bern's city limits.
The legacies of slavery and Jim Crow are still apparent in modern New Bern, where tourism revolves around the city's historic districts and its long colonial history. The historic district is still pulling itself together—the same debris piles that line the streets in other neighborhoods are here, too. Police barricades, meant to prevent looting, were pulled out of other neighborhoods after the hurricane, but were present on many of the historic district's streets through last weekend, though they're now gone.
Burney-Scott told me that it was immediately obvious to her, when she arrived in New Bern a few days after the storm, which neighborhoods were getting immediate relief and which weren't. "When we got there, it was clear to us that the folks who live in historically black neighborhoods like Duffy Field and Sunnyside and Trent Court have been left to their own devices, that many of the people were not able to evacuate because they're poor," she said. "They don't have transportation, they don't have the resources to go someplace else and post up in a hotel."
On one street in the Woodrow neighborhood, just off the banks of the Neuse River, several trailer houses on one side of the road were entirely demolished. They're unsalvageable, knocked off their foundation, and possessions that residents had bagged in plastic bags to protect from floodwaters are strewn, soggy and moldy, around the intersection.
Just across the street, closer to the riverbank, more expensive homes sit raised on stilts above the water. These houses are largely undamaged and sparkling clean, in contrast to the utter devastation just yards away, because they were raised so high that the floodwaters couldn't get in. "Ain't that something," Bryant said as we drove by.

Trailer houses were particularly vulnerable to the floodwaters. In a laundromat near Trent Court, I met Deborah Barfield, who lives in nearby Jones County. She returned from the motel to which she and her two grandkids had evacuated to find her trailer home in a sinkhole, caved in and essentially broken in half. She lost nearly all of her possessions, clothing, and appliances.
In Trent Court, just a couple of blocks from the downtown business and historic districts, many families couldn't afford to evacuate, because they had used their on-hand cash to pay September's rent less than two weeks before the mandatory-evacuation orders came through. People camped out on the second floor of their apartment as floodwaters rose beneath them, in some cases creeping up the stairs.
Tucker, who lives in Trent Court, was able to take her 5-year-old daughter and evacuate to Raleigh, about 115 miles northwest of New Bern, where some of her family lives. But many of her neighbors weren't so lucky, especially those whose entire extended family lives in and around New Bern. Tucker recalls watching on TV as her neighbors were evacuated by emergency-rescue teams and the National Guard.
"Where do you even start? Where do you go for refuge?" Tucker asked. "One family that has connections to Trent Court, the grandmother lives in Trent Court. Her daughter got flooded. And then the granddaughter got flooded; she lives over by Washington Avenue. So that's like three generations—it's like, who can you run to?"
The Housing Authority's offices are located right off the banks of one of the two rivers that bookend New Bern. For the first few days after the storm, people living in Trent Court and New Bern Towers, the two properties operated by the authority, didn't know where to go for assistance, Tucker said. That's because the Housing Authority itself was flooded with 56 inches of water, its director, Martin Blaney, told me—its building, he said, might be "beyond salvation." For now it's relocated its offices to New Bern Towers, an eight-story building that houses mostly elderly residents.
The Housing Authority passed out bleach and antibacterial solutions to temporarily address black mold in many of the apartments—the same mold that has caused many other residents of the town, including Bryant's parents, to live with family and friends until it can be extracted. But bleach doesn't kill the mold entirely. Blaney said the Housing Authority has posted notices that it's not safe to live in many of the units until the mold has been completely mitigated. But, he told me, the first professional estimate the agency got to clean out the mold was "unreasonable. We just couldn't afford it." It has since gotten better, more affordable estimates. He hopes to have the units cleaned out as soon as possible. And, he said, residents won't be charged rent until their apartment is livable again.
"We will not charge those folks until we can make them whole," he said. "Regardless of how long it takes us to get appliances, hot-water heaters, HVAC units back in those properties. For some, it may take two weeks; for others, it may take a month. I don't know. It would not be acceptable to our corporate integrity to charge rent for properties that are not suitable for habitation."
MumFest is approaching quickly, but many neighborhoods are still struggling and, especially for public-housing residents, money is tight. "Are they going to allow food stamps?" Tucker wondered aloud to me. Currently there's no plan to do so, but Harakal says the festival is taking the financial impact of the storm into consideration.
The festival is free to attend, though the opening concert and many of the attractions do cost money. While there is no plan to offer festival-wide discounts, Harakal said, the organizers have asked vendors to consider lowering their usual prices for MumFest. And, she said, the festival is providing free booth space to local businesses that have been impacted by the flood. All net proceeds from the festival's opening concert will go to recovery efforts. In a regular year, attendance at MumFest is about 100,000 people, both tourists and residents, though Harakal isn't sure whether that number will surge or drop off this year following the hurricane.
Gibson, the pastor and nonprofit director, wonders why the festival is still going on when so many people remain displaced, are living out of their car, and have lost everything. For her, the festival seems to cater to a very specific demographic of New Bern: middle- and high-income people, business owners, those with the resources to bring a semblance of normalcy to their life just weeks after Hurricane Florence. But they're not the only people who live in this town. "You've got so many people in this city … that are in utter desperation to rebuild and figure out where their life is going," she said. "It's nothing to celebrate at this point."