The Trump Era Is Destroying Black Civics, but Delivering Black Votes
A new survey from The Atlantic and the Public Religion Research Institute finds that the past two years have eroded African American participation in politics and activism, even in a watershed election year for minorities.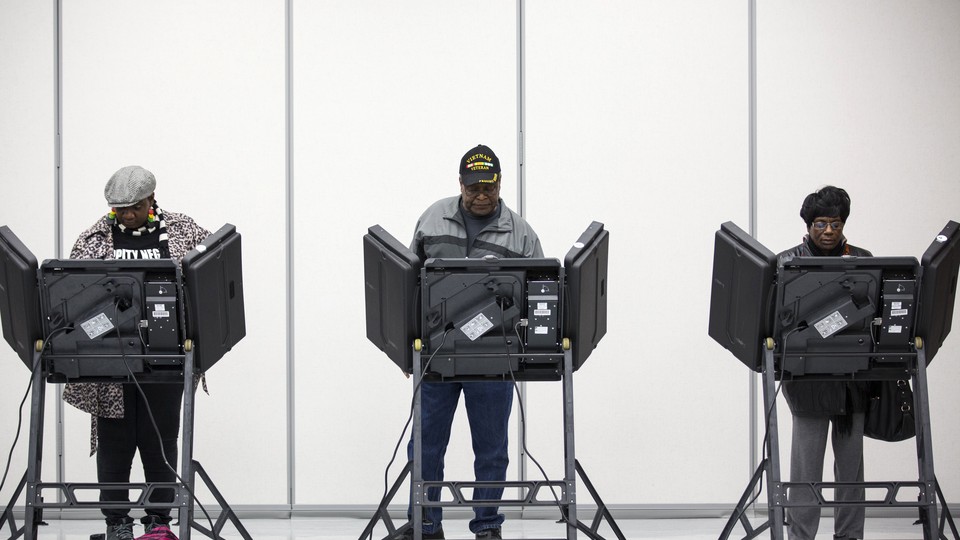 The 2018 elections will mark one of the most consequential civic moments for black voters and candidates in modern times. No black governors currently hold office, but this fall could bring as many as three into power, and also promises a slate of black candidates rivaling that of any election year since Reconstruction. Black voters showed up in 2008 and 2012 in historic levels during Barack Obama's two elections, but 2018 and 2020 will be new tests for black turnout—and for how far an anti–Donald Trump movement can go.
But with so much history potentially on the horizon, there are storm clouds, as well. The American public's faith in civic and democratic institutions has plummeted in recent years, and many theorists have named isolation, the collapse of communities, and the degradation of civics as key factors in Trump's rise. While minority and women candidates are having a banner year, restrictions to the ballot in black and Latino communities have intensified. And, as a new poll conducted in August and September by the Public Religion Research Institute (PRRI) and The Atlantic finds, black political and civic participation has been especially damaged in the past two years. As the 2018 elections loom, that damage will be a critical factor in determining just how far black votes will carry.
In the October 2018 issue of The Atlantic, the senior editor Yoni Appelbaum argues, "The American system of government functions properly only when embedded in a culture deeply committed to democracy; that culture sustains the Constitution, not the other way around." Trump's presidency has sparked increased interest in the health of American democratic institutions and the ways in which culture has sustained—or degraded—those institutions, with a number of related theories advanced involving the disintegration of community cohesion, an "epidemic of despair" among white communities, and the solidification of what appears to many to be an era of political hyperpolarization. Many of these investigations either attempt to tackle the American polity as a whole or to grapple exclusively with the segment of the country that chose to vote for Trump, leaving gaps in understanding about how Trump's candidacy and then presidency have themselves changed culture, and changed American democracy.
But the new poll from PRRI and The Atlantic, conducted with more than 1,800 Americans and focused on their past and current experiences with civics, suggests that the effects have been powerful and highly distortive in black communities especially. "African Americans are less likely to say over the last two years they've become more civically engaged," says Robert P. Jones, the CEO of PRRI. "They're less likely to say they've considered running for office, and less likely than whites to say they're likely to consider a career in government." Thirty-seven percent of black people and 34 percent of Hispanic people report that over the past two years they've become less active in civics or politics, as opposed to 28 percent of whites. Fifty-seven percent of black respondents said that over the past two years they've been less likely to run for office.
The PRRI poll also contains important data for contextualizing and understanding that result. Across several measures, black respondents report a higher historic level of engagement, but one that has dropped off in the past year. Thirty percent of all black respondents said they'd been to a political rally ever in their life, against only 19 percent of white and 18 percent of Hispanic respondents. But there's no significant difference between the groups in attendance over the past year, indicating that a disproportionate amount of black experience with public rallies came about before the current environment of mass demonstrations against Trump.
"In the data, we see a sense of something like despair or cynicism or something over the last 12 months that has certainly dampened the kinds of engagement that they would have historically reported," Jones told me.
Similar numbers hold for other kinds of involvement in local activism and engagement outside of the ballot box. Black respondents were more likely than white and Hispanic respondents to have ever volunteered for groups or causes or to have donated to them, but no more so over the past year. The same pattern holds for their likelihood of having encouraged others to be more involved in politics on social media, of posting about important political issues on social media, and of engaging in boycotts. Overall, black respondents reported that they'd actually been more involved in local activism and organizing than white respondents—just not in the past year.
Those results appear to stem from generational differences, as well. Sixteen percent of black respondents indicated that they'd been brought to rallies or demonstrations by their parents as children, a significantly higher number than for white or Hispanic respondents. Sixty percent of black respondents talked about political or social issues at home growing up, compared with 52 percent of white respondents and 40 percent of Hispanic respondents.
The results highlight a number of dynamics between black social and political organizations. First, black people at baseline do appear to me more plugged-in to activist networks than respondents of other races. They are more likely to encounter appeals from local leaders—such as teachers or preachers—and national celebrities to get involved and vote than white respondents, and they are more likely to be involved in religious organizing groups and believe that religious organizing is an effective problem-solving device. Much of this deep connection with local civic institutions and activism among black communities seems related to the civil-rights movement and the necessity of movements throughout history in black politics, as well as to the transformational moment of activism that came about with Obama's candidacy.
Overall, as the poll suggests, those historical, necessity-driven levels of activism and engagement are in some amount of danger in the Trump era. But that danger comes at a time when black people are perhaps more politically unified and motivated than they have been in years. In this poll, black respondents favored Democratic candidates at 83 percent, versus 7 percent for Republicans. Among all the racial groups surveyed, black respondents were the only group where three different issues—gun policy, racial inequality, and health care—reached a more than 60 percent consensus. While voters of all races were about equally likely to report that they would vote in the 2018 election, black voters were significantly more likely than others to report that their friends intended to vote, indicating a greater community interest in the midterm elections.
"I think that's a good measure of energy, and an indication that people are actually talking about the midterm elections," Jones said.
What to make of the fact that black voters are seeing high rates of civic disengagement, diminishing levels of office seeking, and increased barriers to voting, but are also reporting more robust community interest in the election? According to Jessica Byrd, the founder of Three Point Strategies, an organization that specializes in developing and supporting black women political candidates, those facts might not be in conflict. "Multiple things can be true at the same time, which is really how I engage with electoral politics," Byrd told me by phone. "I believe that we are in the heart of a black political renaissance. I don't say that to be cute or kitschy. I really think that—in great part, by young, black activists over the last five or six years—we are in the place of this incredible emergence."
"On the flip side of that," Byrd continued, "the parallel truth to the fact that we're in this beautiful political renaissance is that the structural barriers have never been higher."
It's unclear how durable the trends in civic engagement and barriers to the ballot are, and how they might respond to the candidates themselves, or to the advent of massive organizing campaigns in black communities, like the effort in Alabama in support of Senator Doug Jones last year. But what the results suggest is that there is now both a challenge and an opportunity for black candidates and other candidates who wish to court black votes by rebuilding faith, confidence, and civic engagement in black communities. They also suggest that the Trump era's longest-lasting effects might not even be specific policies, but the erosion of one of the country's strongest activism and empowerment structures. For black voters, as always, democracy is fragile and constantly in peril.
This project is supported by grants from the Joyce, Kresge, and McKnight Foundations.