Lindsey Graham 'Didn't Particularly Like' Trump's Mockery of Christine Blasey Ford
In a combative interview Wednesday, the South Carolina senator strongly defended Brett Kavanaugh, and argued that his fiery rhetoric is sincere.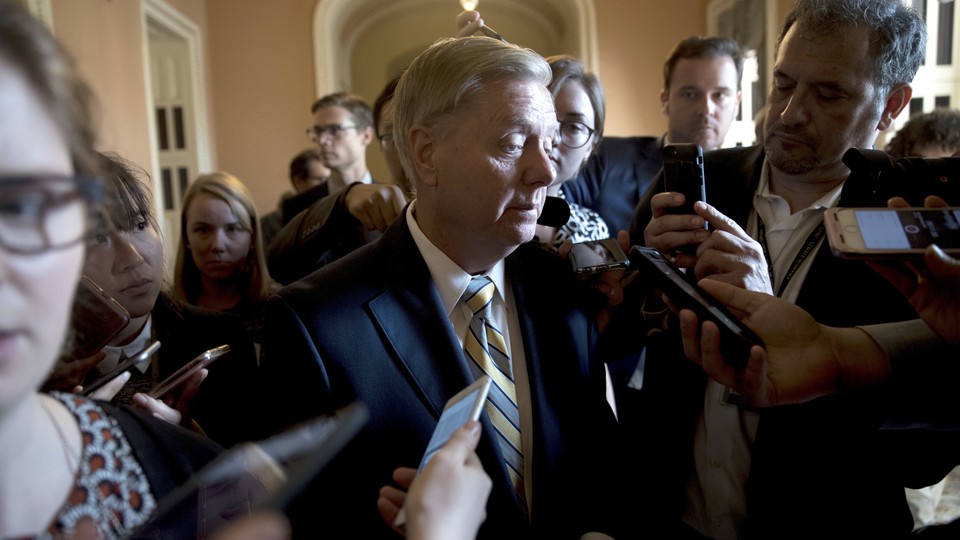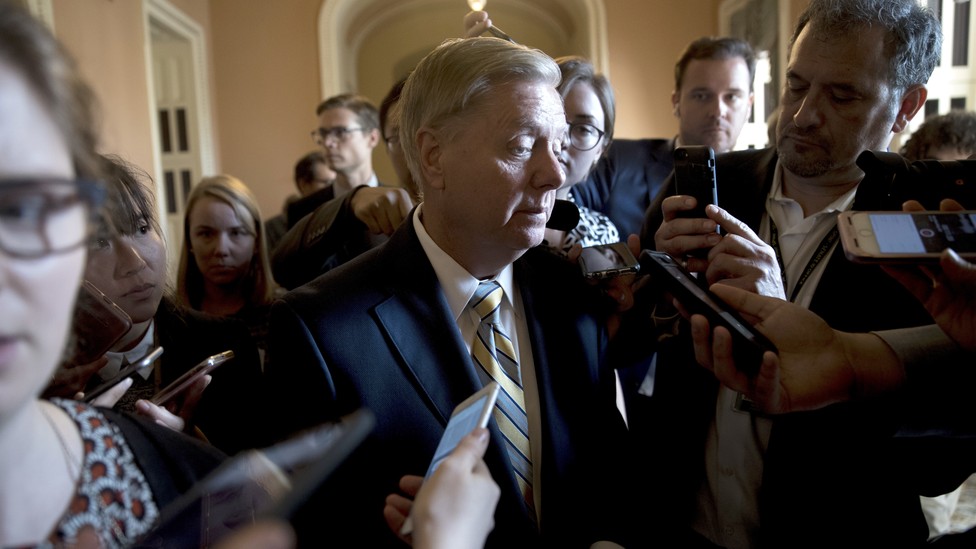 Updated on October 3 at 12:58 p.m. ET
Senator Lindsey Graham has emerged as the most vocal champion of Brett Kavanaugh's Supreme Court nomination. But on Wednesday, he suggested that President Donald Trump's recent attacks on Christine Blasey Ford, the judge's accuser, aren't useful—though they could, he noted, "be worse."
"President Trump went through a factual rendition that I didn't particularly like," Graham said. "I would tell him, 'Knock it off. You're not helping.'"
In a combative interview at The Atlantic Festival in Washington, D.C., Graham remembered his late friend John McCain, defended Trump's leadership, and explained his approach to Kavanaugh's confirmation process. The interviewer, Jeffrey Goldberg, The Atlantic's editor in chief, asked Graham how, given his reverence for McCain and Trump's harsh attacks against the late senator, he had managed to forge such a close relationship with the president.
"Listen, trust me, I've told the president every way I know [that] I think that's cheap, that hurts you, it doesn't hurt John," Graham said. But, he suggested, McCain was always willing to move on, and so is he. He argued that working with Trump is a prudent political choice, too.
"When it's over, it was over for John. Vietnam, Obama, Bush. I've got zero doubt about what I should do. I represent the people of South Carolina. I love John McCain, but my day job is to represent the people of South Carolina," Graham said. "They expect me to work with President Trump."
Graham's case for working with the president actually cuts two ways: Not only is it what his constituents want him to do, but he thinks it's the best way to influence the president's choices.
"You can disagree with him, but he's gotta believe that you want him to be successful in order to listen to you," he said. For example, Graham has succeeded in pushing Trump in a more hawkish direction on many foreign-policy issues, though he said he still worries Trump is too soft on Kim Jong Un.
"I'm worried that North Korea is separating us from South Korea," he said. "I worry that we're getting played here."
The imperative of soothing Trump often places Graham in difficult corners, though. When Goldberg asked Graham about the president's personal attacks on Ford at a rally Tuesday night, Graham responded: "It can be worse. You can actually kill somebody's cat and puncture their tires to get them to shut up"—references to intimidation that women who accused former President Bill Clinton of sexual misconduct in the 1990s said they suffered.
As Goldberg noted, that's pure whataboutism, not a defense of Trump's comments. But Graham nevertheless joined the ranks of other Republicans, such as Senators Susan Collins of Maine and Jeff Flake of Arizona, who've come out against Trump's attack.
Graham peevishly rejected any suggestion that he was performing for Trump's benefit last week when he defended the judge, rather than feeling righteous anger.
"He's not Bill Cosby. He's not Harvey Weinstein. This is about power usually; it's not about sex. If you're a serial rapist in high school, you usually don't get over it," Graham said. "It doesn't add up to me."
Many Republicans have taken the position that they believe Ford was assaulted, but they don't believe Kavanaugh was the perpetrator. Graham declined to explain how he squared those two ideas, and instead pointed to the principle of innocent until proven guilty.
He also rejected the idea that Kavanaugh's blistering attack on Democrats and the Senate confirmation process should preclude him from serving on the Court.
"Now, let's disqualify him now because the way he behaved in the hearing. I would never do that, because you're rewarding people who are using the most despicable tactics I have ever seen in politics," Graham said. "I have never seen the Republican Party so unified as I do right now. Republicans across the board—country club, Tea Party—believe this was way over the top."
Graham did have one olive branch for Democrats. Acknowledging that the GOP had blocked former President Barack Obama's nomination of Merrick Garland to the Supreme Court, Graham said that if he becomes chairman of the Judiciary Committee, he will keep that precedent.
"If an opening comes in the last year of President Trump's term and the primary process is started, we'll wait for the next election," Graham said. But that contingent promise probably won't go very far in rebuilding bipartisan comity in the Senate.