'You'll Never Convince Me That He Didn't Do This'
Senator Lindsey Graham says he believes Saudi Crown Prince Mohammed bin Salman was behind the killing of dissident journalist Jamal Khashoggi.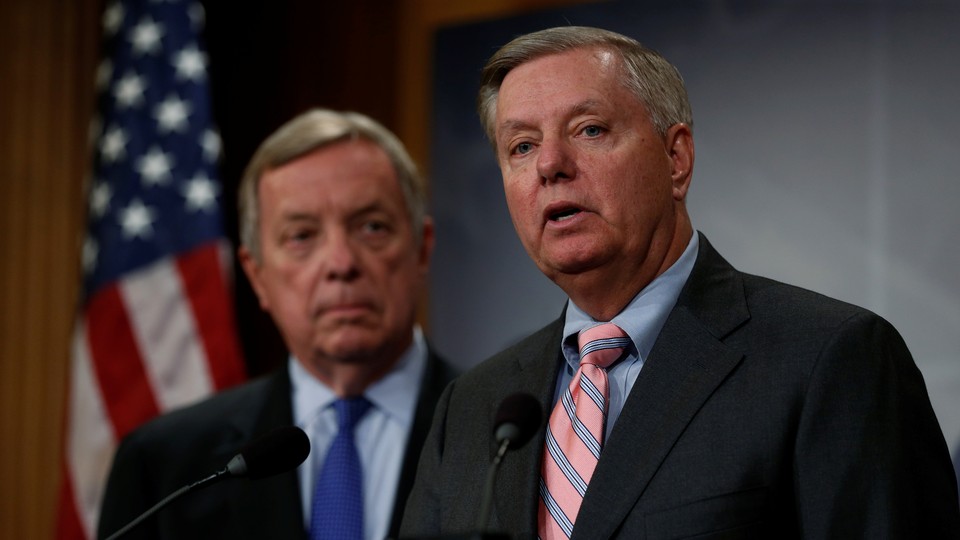 Television plays an outsize role in President Trump's decision making. Cable pundits drive his tweets and policy directives on Fox News, where Sean Hannity reigns supreme as something close to an official adviser and Maria Bartiromo isn't far behind in the president's pantheon of Fox favorites. In a tweet last month, Trump called her work "MANDATORY watching."
So, less than two days after Saudi Arabia changed its story yet again and claimed its agents had killed dissident journalist Jamal Khashoggi after all in a fistfight gone awry in the Saudi consulate in Istanbul, Senator Lindsey Graham sat down with Bartiromo on Sunday morning, playing directly to the network's No. 1 fan. The South Carolina Republican has gone from calling Trump "the world's biggest jackass" and "unfit to be president" during the 2016 campaign to becoming one of his staunchest defenders and a golfing buddy—as John McCormack wrote in The Weekly Standard, the Never Trumper has evolved into a neo-Trumper. Now Graham wants to convince the president that Saudi Crown Prince Mohammed bin Salman should be punished for Khashoggi's death.
"You'll never convince me that he didn't do this," Graham told Bartiromo on Sunday Morning Futures.
Even after the Saudi quasi-confession, Trump defended the crown prince, known as MbS. On Friday, Trump said he found the Saudi fistfight claim credible. By Saturday night, he sounded a bit more skeptical in a Washington Post interview: "Obviously there's been deception, and there's been lies," he said, noting that the Saudis' "stories are all over the place." The monarchy has pinned blame on underlings of MbS, whom Trump has called "a strong person—he has very good control."
Graham thinks MbS shouldn't have control any longer. Three days before the Saudis acknowledged the journalist's death, the senator said the crown prince "has got to go." On Fox & Friends, the chatty morning show the president is prone to join by telephone, Graham had argued the royal must be culpable because "nothing happens in Saudi Arabia without MbS knowing it."
Graham said Sunday morning he could accept the multibillion-dollar arms sales the president has prioritized, but only if the country's leadership changes. "My beef is not with Saudi Arabia the country," Graham said. "My beef is with this young leader who's taken the law into his own hands."
But how to persuade the president to punish the leader who has won fans in the Trump administration, including son-in-law Jared Kushner? Graham praised the president's strength in fighting China on trade and bringing North Korea's dictator to the negotiating table. He endorsed Trump's announcement that he wants to withdraw from a decades-old arms treaty with Russia, calling it another example of strength in foreign relations. "I hope he'll come down hard on Saudi Arabia," Graham said. "… We need a strong leader in this world. We had eight years of weak with Obama. I'm tired of weak. I like strong."
Then, addressing Trump directly and nodding vigorously, Graham said, "Keep being strong, Mr. President. You will win all these fights if you stay strong."
By casting the crown prince's punishment as yet another way for Trump to show his toughness, Graham seemed to be stroking the president's ego to convince him. He had lots of bipartisan support on the Sunday shows.
On CNN's State of the Union, Republican Senator Ben Sasse of Nebraska used a catchphrase that referenced allegations that the 15-member Saudi assassination team that traveled to Istanbul included an autopsy specialist equipped with a dismemberment tool: "You don't bring a bone saw to a fistfight."
The Senate's No. 2 Democrat, Dick Durbin of Illinois, said on NBC's Meet the Press that he believes the crown prince must have ordered Khashoggi's killing, given that "five of his personal bodyguards are among those currently accused."
Senator Thom Tillis, a North Carolina Republican, followed Durbin on the show and said he also suspects MbS was involved: "You do not do something of this magnitude without having clearance from the top." Tillis said that if the crown prince remains in power, "I think it will be very problematic for our relationship going forward."
Republican Senator Rand Paul of Kentucky seconded Graham's call for leadership change, saying on Fox News Sunday that the crown prince "is gonna have to be replaced." Paul—who sits on the Senate Foreign Relations Committee, which oversees foreign arms sales—said the kingdom has "over the decades been the largest state sponsor of radical Islam and violent jihad."
The chair of the Foreign Relations Committee, Senator Bob Corker of Tennessee, also made clear that he thinks the crown prince ordered the operation. A Trump critic who is not running for reelection, Corker joined Paul, Graham, and others in citing a litany of other aggressive acts by MbS, from detaining the Lebanese prime minister to conducting a brutal war in Yemen.
Two influential members of the House joined the chorus. "It's hard for me to imagine that these orders would have been carried out without the knowledge of the crown prince," Representative Adam Schiff, the California Democrat who will lead the intelligence committee if the Democrats take the House in next month's elections, said on ABC's This Week. "I think this ought to be a relationship-altering event for the U.S. and Saudi Arabia, that we ought to suspend military sales, we ought to suspend certain security assistance, and we ought to impose sanctions on any of those that were directly involved in this murder."
Representative Peter King, a New York Republican on the intelligence committee, emphasized Saudi Arabia's importance in containing Iran and gathering intelligence, but he agreed that "what happened here was savagery, and we can't go along with their cover story."