The Battle for the Soul of the Republican Party Is Still Raging in Kansas
GOP moderates in the state have recoiled at the party's polarizing gubernatorial nominee, Kris Kobach, a staunch Trump ally.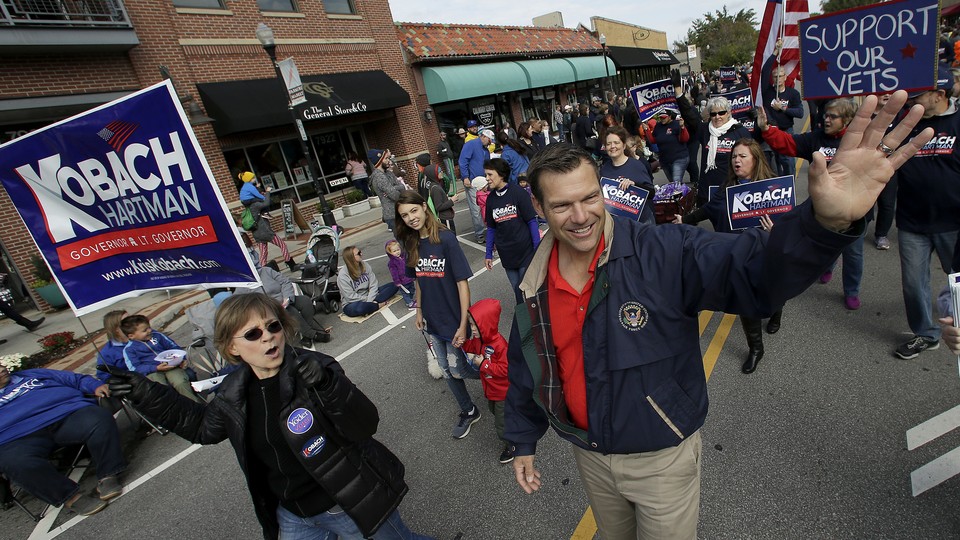 OVERLAND PARK, Kan.—Barbara Bollier was far from home, and even farther from her party, when she learned of her political defenestration this summer: The conservatives who control the government in Kansas had stripped her of a plum committee post in the state Senate.
Bollier's crime, such as it was, was not a tawdry scandal. She was not accused of corruption or any other official malfeasance. Nor was she cited for child abuse or charged with election fraud, as were two Republican legislative candidates who will appear on the ballot this fall. Bollier, a 60-year-old retired physician and eight-year veteran of the legislature, was merely guilty of disloyalty. The lifelong moderate Republican had, a day earlier, dared to endorse the Democratic candidate for governor, Laura Kelly, over either of the two Republicans who at the time were running in the Kansas primary, Governor Jeff Colyer and Kris Kobach, the arch-conservative secretary of state. Losing the committee post was punishment, and a warning shot to other GOP legislators thinking about defecting in a gubernatorial race that will shape Kansas's fiscal future.
"I'm an embarrassment to the party," Bollier noted sarcastically as we chatted over beers in her suburban Kansas City district recently. Not the alleged abuser. "Not the man who has committed perjury in running. But the person who decided that Laura Kelly would be a good governor."
Colyer, the former lieutenant governor, had taken over the top job just six months earlier and was yoked to the unpopular record of the man he replaced, Sam Brownback, the conservative ex-senator who had presided over a self-described "experiment" in supply-side tax cuts that gutted the state's budget. Colyer was locked in a tight primary battle with Kobach, the ambitious crusader against alleged voter fraud and illegal immigration who was pitching himself to the Republican base as the best friend Donald Trump ever had. With an assist from the president, Kobach ultimately edged out Colyer by just 343 votes.
But despite Kansas's bright red hue—Trump won it by 20 points in 2016—Kobach's election in November is far from assured. The 52-year-old conservative is as polarizing in Kansas as Trump is across the country. "His name has been a curse word forever," said Allison Harrison, 57, a nurse from the Wichita suburb of Haysville who approached me as I was conducting an interview in a local Starbucks.
That goes for many Republicans, too. Kobach has criticized Brownback's approach while vowing a return to tax cuts, and his aggressive, uncompromising brand of politics—along with his obsession with voter fraud and hard-line immigration policies—has turned off party traditionalists who prefer pragmatism over partisanship. Dozens of prominent Republicans have backed Kelly's bid, including former Governor Bill Graves and former three-term U.S. Senator Nancy Kassebaum.
Most of Kelly's GOP endorsers, however, are no longer in elected office and are, in Kobach's view, party elders who have long since lost their relevance. When Kassebaum endorsed Kelly last month, Kobach's spokeswoman referred to her as "a tired has-been."
In an interview a few days later, Kobach was only slightly more diplomatic about the Republicans opposing him. "They don't speak for Republicans in Kansas," he told me, before deploying a conservative attack line so ubiquitous that it's become more recognizable by its acronym. "They are," Kobach said of his critics, "Republicans in name only."
Whether Kobach's read of the modern Kansas GOP is correct will be tested in the next few weeks. Nationally, it now seems clear that Trump has prevailed in a three-year battle for the soul of the Republican Party. He retains solid approval ratings from the party rank and file, and the vast majority of Republicans in Congress believe they have more to fear from opposing the president than from supporting him.
Yet that same fight is still raging in Kansas.
"We have, essentially, three parties in Kansas," Bollier told me: conservative Republicans, moderate Republicans, and Democrats. The divide within the GOP factions deepened during the Brownback years, when in 2011 and 2013 the governor successfully lobbied the legislature to slash taxes on individuals and small businesses; he called it "a march to zero," aimed at eliminating the state income tax entirely. Brownback confidently proclaimed the effort a "real live experiment" in conservative economic policy, hoping it would serve as a model for the nation. Backing from the Wichita-based Koch empire helped conservatives win legislative seats in 2012 and pass the second round of tax cuts the next year.
But the economic growth Brownback promised never materialized. Instead, the loss of tax revenue blew a hole in the state budget, forcing dramatic cutbacks in education, health care, and infrastructure spending.
"We knew before it was implemented exactly what it would do to our state, and indeed it did: We went off a cliff," Kelly, a veteran member of the state Senate, told me.
Brownback survived a closer than expected reelection campaign in 2014, but the toll the tax cuts had taken on the budget only became more clear in his second term, to the tune of a $600 million deficit. By 2016, moderate Republicans and Democrats retook seats in the legislature, and GOP majorities overrode Brownback's veto to raise taxes back up again last year. By that point, he'd lost nearly all public support. Moderate Republicans, independents, and Democrats blamed him for the budget mess, while conservatives faulted him for not doing more to cut spending. One poll, from 2015, pegged his approval rating at 18 percent, which made him a less popular figure in Kansas than Barack Obama. When Trump nominated Brownback last year to serve as a cultural U.N. ambassador to the Vatican, the orchestrated exit was seen as a gift to both the governor and his constituents.
Lingering anger over Brownback's tenure, the Democrats' improved fortunes nationwide, and Kobach's conservatism have buoyed Kelly into a virtual tie in most recent polls. Cuts in state spending, particularly in education, have given Democrats a shot to recapture governorships across the region, in Oklahoma to the south and Illinois, Wisconsin, Michigan, and Ohio in the Midwest. Two of Kansas's four congressional seats are also at risk for Republicans. In the Third District, which is in and around Kansas City, polls have shown the first-time Democratic candidate Sharice Davids leading Representative Kevin Yoder, prompting the National Republican Congressional Committee to pull back on advertising on his behalf. While Yoder easily won his previous elections to the House, the area is filled with moderate Republicans who oppose Trump, and Hillary Clinton narrowly carried the district in 2016. Democrats are also gunning for the Second District, which surrounds Topeka, where Paul Davis, the party's 2014 gubernatorial nominee, is in a close fight with the newcomer Steve Watkins. Trump swept the district in 2016, but Davis carried it over Brownback four years ago.
The race with the most at stake for Kansas voters, though, is for the governorship. Kelly, 68, is campaigning on expanding Medicaid under the Affordable Care Act and reinvesting in public schools. Kobach opposes expansion and has vowed to reduce the state workforce and to send his lieutenant governor, the businessman Wink Hartman, into agencies looking for programs to cut.
Kelly cuts a similar figure to the last Democratic governor in Kansas, Kathleen Sebelius, who left the job in the middle of her second term to become former President Barack Obama's secretary of health and human services. Just two years apart in age, Kelly and Sebelius were next-door neighbors for a time in Topeka. Kobach has argued that Kelly is more liberal than Sebelius, who was well liked in Kansas before Republicans made her a political piñata as the face of Obamacare during her time in Washington.
In an interview at her sparsely furnished campaign headquarters, Kelly described herself as "a no-nonsense, pragmatic problem solver," pointedly omitting the ideological labels Kobach has tried to attach to her. "Kansans are a lot like me," she said. "They're sort of common-sense, they're very pragmatic, and they're extraordinarily moderate; and I would even suggest conservative in the sense that they like to pay their bills. They want to be able to have enough to take care of their families, but they don't demand all the frills."
If the election were a two-person race, Kelly would likely have the advantage. Despite Kansas's long history of sending Republican legislators to Washington, its voters have, for the past few decades, alternated parties in the governorship every eight years. "There is a real cycle that we are trying to break, and it's powerful," Kobach told me.
The wrinkle this year is the presence of an independent candidate, the businessman Greg Orman, who once ran for Senate as an independent and is spending more than $1 million of his own money to mount a gubernatorial bid. Though he's running against both parties, he's far closer on the issues to Kelly, and Kobach's critics fear he'll be a spoiler. Polls show him lagging far behind both Kelly and Kobach but capturing enough of the vote—around 10 percent to 12 percent—to tip the race.
"If he wasn't in the race, I would say, hands down, she would win," Bollier said.
If the conventional wisdom was that Orman's independent run would help Kobach, the news hadn't made it down to Haysville, a suburb south of Wichita where Republicans were holding a unity rally on the final day of summer. The primary with Colyer had indeed been divisive, but it was an ominous sign that Kobach was still trying to consolidate the party behind him barely six weeks before the November election.
More worrisome still was the lackluster turnout: several dozen people scattered across the grassy slope of a small park, easily outnumbered by the campaign signs and pamphlets organizers had brought in anticipation of a bigger crowd. (A staffer with the Sedgwick County GOP told me they were hoping for 100 people and counted attendance just short of that.) By contrast, a rally that Senator Bernie Sanders of Vermont and the Democratic congressional candidate Alexandria Ocasio-Cortez held this summer in Wichita packed a theater that holds more than 4,000.
Nor were those in attendance in Haysville universally backing Kobach. By chance, the first two people I interviewed were enthusiastic Trump fans whose support for the president did not extend to his close ally in Kansas: They were voting for Orman, in part due to his support for medical marijuana and in part due to their distaste for Kobach and the two-party system. Michael Webb, 39, described himself as "pro-gun" and supportive of closed borders. He said Trump was "doing exactly what I voted for him to do."
As for Kobach, Webb said: "He's just a not-very-intelligent man. I'm not impressed with him." And while Webb said he wants strong security at the U.S.-Mexico border, Kobach's plans to aggressively target the state's population of undocumented immigrants turned him off. "We need those guys," Webb told me. "I don't want to work in the slaughterhouse; do you?"
His wife, who did not want to give her name, said she isn't voting for Kobach either. As the rally got under way, it became clear that they were not the only voters Republican county leaders had reason to worry about. "As I went about walking my district the last three weeks, starting this part of the campaign, consistently I hear Republicans say they're going to vote for Orman," the conservative state Representative Dan Hawkins told the crowd as Kobach waited to speak nearby. "I say, you can't vote for Orman."
"We had a really tough primary," Hawkins said. "We all chose sides in the primary. But now it's time to come together and be one."
When it was Kobach's turn, he picked up the same theme. "If Republicans are united, we win every time in Kansas. Every time," he said, summoning the optimism to predict that "the big blue wave is going to hit some big red rocks in the state of Kansas."
Kobach lumped Kelly and Orman together as "my two Democrat opponents" and warned that both would hike taxes. "You have the official Democrat, Laura Kelly, and you have the de facto Democrat, Greg Orman," he said. "We have a radical, socialist vision for Kansas, and we have a conservative vision."

It took about 10 minutes for Kobach to tackle one of his signature issues: immigration. He called Kansas the only "sanctuary state" in the region and argued that the government could free up more money for citizens by blocking in-state college-tuition discounts and welfare benefits for "illegal aliens."
"I've got an idea," Kobach said. "If you want to create a job for a U.S. citizen tomorrow, deport an illegal alien today. These are common-sense ideas, but to the left today they are just anathema. They are furious that we are saying these things."
Kobach, 52, is built like a linebacker and speaks with the ease and confidence of a politician who's been debating since his days at Harvard University. The day after the rally, we met for an interview in his high-ceiling office near the Kansas state capitol in Topeka. Behind his desk were photos of his five daughters and a large picture of him standing alongside Trump at the White House. Framed on the wall near the door was the official, signed order in which Trump appointed him to lead the Presidential Advisory Commission on Election Integrity—the panel convened after Trump claimed without evidence that millions of illegal ballots had cost him the popular vote in 2016. The commission was not Kobach's finest hour: After states refused to turn over voting data and the work became mired in lawsuits, Trump unceremoniously dissolved the panel in January.
Asked if he believes, as Trump does, that the number of illegal votes exceeded the nearly 3-million-vote ballot margin between Clinton and Trump, Kobach replied: "I don't know. It's possible that it did."
Kobach leaned hard on his support for Trump to win the primary, and unlike other Republicans who have created some distance from the president in general-election races, there remains no daylight between the two. Kobach's shortest response in the hour-long interview came when I asked him if there's anything on which he disagrees with Trump. "Nope," he quickly replied. "That was easy," his spokeswoman chimed in with a laugh. The president's trade war has prompted complaints from both Republicans and Democrats in Kansas over the retaliatory tariffs the Chinese slapped on soybeans, but Kobach hasn't budged. "We just have to stand with the president. That will keep his bargaining position strong," he told me.
Kobach's team cheered when the president's campaign announced he would hold a rally in Kansas on Saturday, and for good reason. Trump filled 11,000 seats at the Kansas Expocentre in Topeka, and Kobach needs all the Republican votes the president can drive to the polls. There weren't a lot of people at Kobach's Haysville rally, but several of his supporters cited the president as a factor in their vote. "He's a strong backer of President Trump, and that's a big one," said Terry Brown, a 61-year-old machinist.
The big bet Kobach is making is that a divided Republican Party will come home for him next month, just as it did for Trump two years ago. While Kobach shares Brownback's tax-cutting philosophy, he contrasted himself with the former governor's leadership style and criticized his unwillingness to fight harder for spending cuts. "His leadership style was fairly passive," Kobach said of Brownback. "He didn't carry the standard forward at the front of the battle lines."
Kobach is nothing if not aggressive, and he's pitching himself as a fighter—much like Trump— who will execute a conservative economic and social-policy vision more effectively than Brownback did. Faced with the choice of higher taxes versus lower, of more spending versus less, Kansas voters, he reasons, are just not going to go that far left. In the interview, he challenged the popular narrative advanced by Democrats and, he said, in the local press that "Kansans are sick of tax cuts."
"That is absolutely false," Kobach said, pointing to primaries this summer in which conservative candidates ousted a handful of moderate Republicans who had voted to roll back the Brownback cuts. "The polling does not reflect that. Kansans are actually feeling overburdened by high taxes right now."
Yet recent actions taken by conservative leaders seem to belie that confidence in Kansas voters. The first was the retribution exacted upon Barbara Bollier, who was attending a conference in New York City when she found out via Twitter that, in response to her endorsement of Kelly, the Senate leadership had booted her from her post. As the vice chairwoman of the committee that oversees public health and welfare, she helped pass an expansion of Medicaid that could be revived if the governorship turns blue.
A month later, the Republican majority leader of the state House, Don Hineman, wrote a letter to more than two dozen party moderates warning them not to endorse either of Kobach's opponents. Doing so, he wrote, "could be a career-ending move."
The threats may have had their desired effect. The Republicans who've endorsed Kelly since Bollier have, by and large, been those retired from elected office, as opposed to those with active political careers. Stephanie Clayton, a state representative whose district overlaps with Bollier's, has said she won't support Kobach but isn't endorsing Kelly or Orman. "My district is pretty Republican. It's a high-turnout legislative district, and it's just tricky, tricky, tricky," she explained in an interview. "I don't want to alienate those people, because a lot of those people who would vote for Orman are also Stephanie Clayton voters, and I don't need to make them mad."
Bollier, however, was undeterred. She cut a television ad for Kelly last week, and she told me the response from her constituents has been overwhelmingly positive. "I have been shocked," Bollier said. In the first two months since her endorsement, she said, she heard from a total of three constituents who were unhappy, compared with "hundreds" who gave her praise. "I still hear daily—daily—from people thanking me. That's nuts."
When I asked her about the prospect of a Kobach governorship, she cast the coming election as an existential choice, using words that underscored just how wide the split within the Kansas Republican Party is.
"God help us," she shuddered. "It strikes fear into my heart for the viability of our state long-term. I don't know if a state can go under, but … "