Kellyanne Conway Defends Trump's Record on Women
The presidential aide says that her boss doesn't get as much credit as he deserves because of excessive politicization in the country.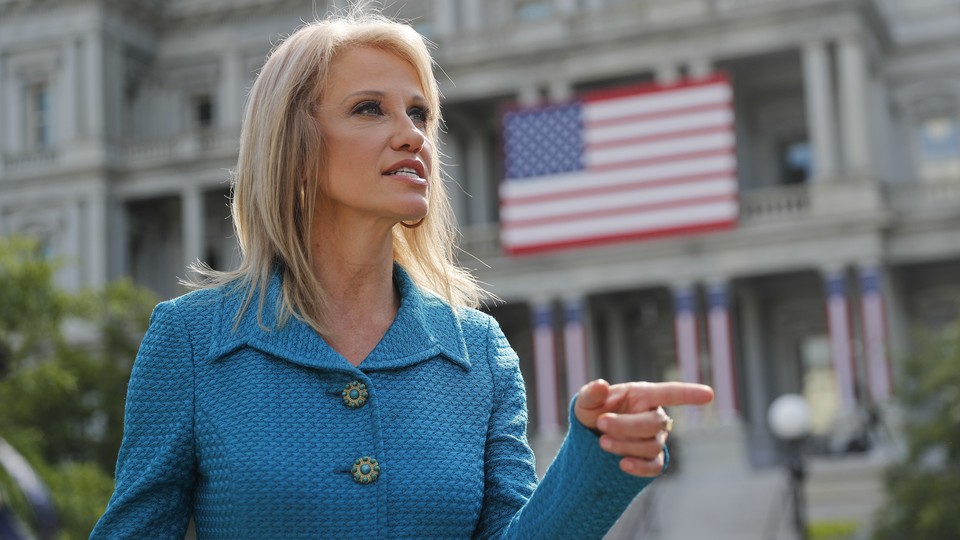 Between the allegations of sexual assault and misconduct against the Supreme Court nominee Brett Kavanaugh and President Trump's own sniping at female reporters Monday, the past few days have seemed like a tough stretch for the White House with women.
But Kellyanne Conway, a counselor to the president, says that's not an accurate picture of what's going on. She portrayed Trump as far more attuned and sensitive to gender issues, and responsive to women's concerns, than he receives credit for. To start with, Trump creates a welcoming environment for female employees, she said Tuesday in an interview at The Atlantic Festival in Washington, D.C.
"He's a great boss, particularly to the women of the White House," she said. "Why else would I be there?"
It was Conway's signature phrase, "alternative facts," in action. She defended that locution to interviewer Steve Clemons, saying her point in using that language was not that fiction is equivalent to truth. She explained that she meant instead that sometimes there are facts that don't fit the popular narrative. But Conway demonstrated how slippery that boundary between contradictory facts and pure spin can be with her defense of the president.
For example, Conway trumpeted the fact that even though a majority of the electorate was female in 2016, it had rejected a famous woman, Hillary Clinton, in favor of Trump—but she skipped over the fact that most women had voted for Clinton. Despite what Americans may have heard, Conway said, the White House is calm, collaborative, and collegial. She discounted stories told to the press by "sources close to the White House," although she's been known to use that phrase herself.
"Some people don't want to see the success," Conway said. "They don't want to see him as president. I don't know if we've ever had this many people refusing to accept an election result and see how they can help."
She said Trump hasn't gotten the media credit he deserves for his stewardship of the economy, handling of the opioid crisis, and negotiation of trade deals, though she also said she believes voters have a clear view of the president's accomplishments.
Conway made headlines on Sunday when she mentioned on CNN's State of the Union that she is a survivor of sexual assault. She said Tuesday that her disclosure wasn't planned—"I think if I made a decision, I would have articulated it better," she asserted—and that she didn't plan to discuss the matter in more detail. But she said the key point for her is that she doesn't hold Trump, Kavanaugh, or anyone else uninvolved with the assault responsible. Conway said she worried about different cultural issues being improperly conflated.
"When people look through their partisan lenses at fundamentally nonpartisan, nonpolitical issues, that I think is where the trouble begins," she said.
It's a potentially valuable lesson for an overheated, highly polarized time—especially if Conway can find a way to impart it to her boss.