The Kavanaugh Pressure Campaign on Red-State Democrats
Of the five lawmakers conservative groups have targeted, only one, Joe Manchin of West Virginia, is still publicly undecided.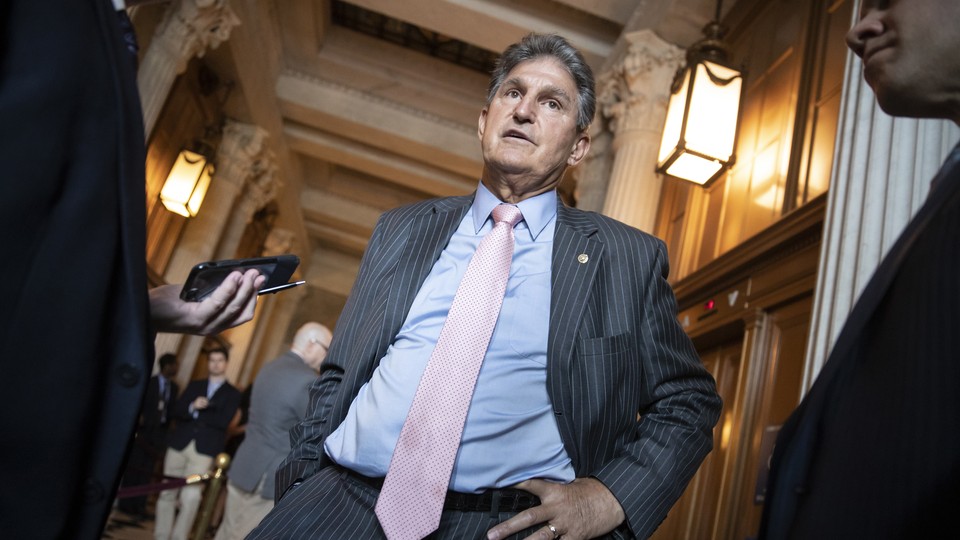 "You don't vote him, I won't vote for you." A passerby shouted these words at Democratic Senator Joe Manchin at the West Virginia Pumpkin Festival on Monday, in a moment captured on video. "I gotcha—I've heard that a lot," Manchin replied.
He probably has. Ever since President Donald Trump nominated Judge Brett Kavanaugh to the Supreme Court, conservative activists and interest groups have put increasing pressure on Democratic senators running for reelection in red states to vote yes on Kavanaugh's confirmation. Of the five senators they've focused on, only Manchin is still publicly undecided. Missouri's Claire McCaskill, Indiana's Joe Donnelly, Montana's Jon Tester, and, most recently, North Dakota's Heidi Heitkamp have all announced their opposition. But even though most of their votes are a foregone conclusion, the spending campaign seems likely to continue through the midterms.
The stakes have become far more intense since the psychologist Christine Blasey Ford publicly accused Kavanaugh of sexual assault last week. On October 2, for example, the conservative Judicial Crisis Network (JCN) pledged to spend $400,000 just this week in West Virginia and North Dakota to push Manchin and Heitkamp; the latter senator only announced her opposition on Thursday afternoon. More-liberal groups have gotten in on the action, too: The ACLU announced on Monday a $1 million ad buy to pressure Manchin and five Republican senators to oppose Kavanaugh.
The spending on the conservative side seems to correspond with growing affinity for Kavanaugh among Republican voters. Jennifer Duffy, a senior editor at "The Cook Political Report," told me that pollsters have seen an increase in "intensity" from Republican voters since Ford came forward with her allegations. Tim Chapman, the executive director of Heritage Action, the Heritage Foundation's political arm, agreed: "I think to the extent that there was a real problem, two to three weeks ago, with a sense of sort of apathy amongst the conservative base, that has completely been erased over the last week and a half." Like multiple other operatives and activists I spoke with this week, Chapman said the allegations, and the delay in a Senate vote, have jolted conservatives. Earlier this week, my colleague Emma Green reported that conservative women activists in particular are mobilizing in the wake of Thursday's Senate hearing, where Ford and Kavanaugh both testified.
According to the nonpartisan Center for Responsive Politics, JCN is by far the biggest spender when it comes to both digital and television advertisements about the Supreme Court, though as a 501(c)(4) nonprofit, it doesn't disclose its donors. The group spent $7 million on ads lobbying to block former President Barack Obama's Supreme Court nominee Merrick Garland and $10 million lobbying for Neil Gorsuch's confirmation.
JCN pledged to spend another $10 million on Kavanaugh. In July, it announced a $1.5 million ad push in West Virginia, North Dakota, Indiana, and Alabama. More recently, it focused its spending on West Virginia and North Dakota. While Carrie Severino, JCN's chief counsel and policy director, told me that her group is not attempting to influence the midterms, its new ads say voters will "never forget" how Heitkamp and Manchin vote.
Some conservative groups have focused their efforts on dethroning Democrats who've already said they're voting no. Donnelly, for example, announced late last week that he wouldn't support Kavanaugh, though he added that he would "welcome the opportunity to work with President Trump on a new nominee." Since that announcement, the anti-abortion group Susan B. Anthony List said it's visited "more than 345,000 Indiana voters' homes to educate them on Donnelly's record." (Meanwhile, Michael Feldman, the spokesman for the Indiana Democratic Party, told me in a statement that "Hoosiers appreciate the serious and thoughtful approach [Donnelly] has taken on this confirmation process.")
It's still uncertain, though, whether a yes or no vote on Kavanaugh will be influential among voters in red-state Democrats' reelections. Eitan Hersh, a political-science professor at Tufts University, told me that taking a hard line against Kavanaugh could make it more difficult for those Democrats, because their strategy isn't purely focused on turning out the base. "It's not clear that a forceful opposition to [Kavanaugh] is a good strategy when you're not just focusing on mobilization," Hersh said.
But Larry Sabato, a political scientist at the University of Virginia who founded the political-forecasting website Crystal Ball, argued that red-state Democrats "aren't getting but a handful of Republican voters in any event.
"Voting 'no' keeps Democratic activists engaged in their campaigns," Sabato told me in an email. "Intensity matters enormously in a midterm."
It's similarly unclear whether conservative pressure swayed senators' thinking at all, even if most ultimately came to a no vote. Perhaps predictably, both Severino and Chapman argued that Heitkamp and Manchin would see a benefit from voting yes. "All the polling that I have looked at there shows that Manchin stands to gain anywhere from, like, five to 10 points in favorability if he votes for Kavanaugh," Chapman said.
Sabato suggested the opposite would happen if he votes no: Republicans will get a boost. "If Manchin votes 'no' … Trump's 42-point margin in West Virginia gives the GOP a fighting chance there—though Manchin has consistently been ahead by a few points," Sabato wrote me.
John Henderson, a political-science professor at Yale, doesn't think the pressure will ramp down after the vote on Kavanaugh. "Once the confirmation happens in a couple days, then it's off [to] the races, and we'll really see, I think, a lot of ads trying to pin senators to their vote," he said. He pointed out that while many of these races are getting closer, that's a common dynamic, as elections tend to tighten during the last month. To Chapman, the "real question" for conservatives between now and November is this: "This Kavanaugh bounce over this last week and a half—does it sustain itself?"