An Unmistakable Sign Kamala Harris Is Running in 2020
The California senator's prospective visit could soon take her across a symbolic but unmistakably significant line as a presidential candidate.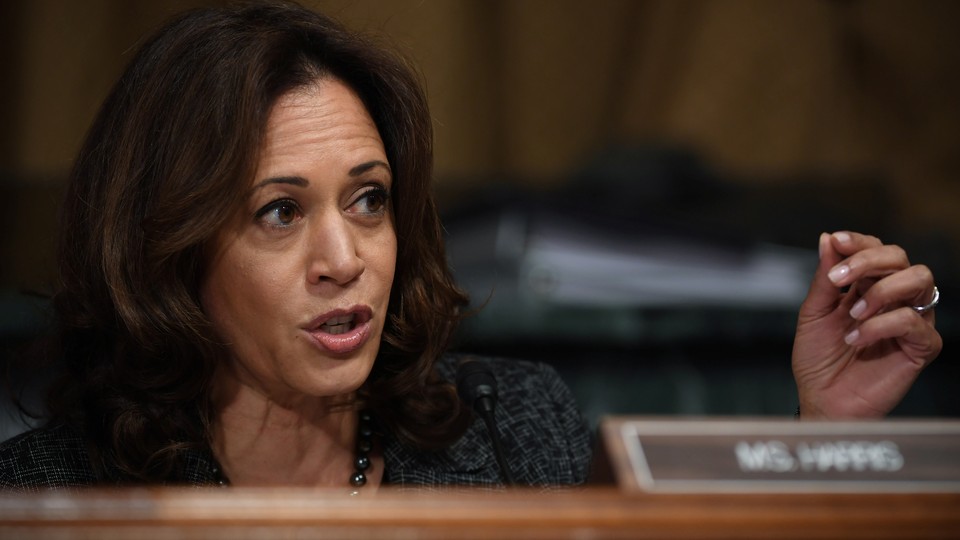 The presidential-primary dam is bursting.
Getting more serious about a 2020 run by the day, Kamala Harris has been reaching out to Democrats in Iowa to plan a trip there at the end of the month, according to people who know about the calls. The California senator is likely to spend the final weekend before the midterms in the home of the first caucuses, crossing a symbolic but unmistakably significant line toward owning her interest in a presidential campaign.
She endorsed Deidre DeJear for Iowa secretary of state in August, but this would be a much more extensive campaign swing, potentially over several days.
And it will be part of a lot more campaigning in the final stretch of the midterms geared toward states on every Democratic strategist's map for 2020. She's scheduled to do a swing through Ohio and to speak at the state Democratic Party dinner this weekend, and she has already announced an appearance at the Arizona Democrats' dinner and a return to Georgia to campaign for the gubernatorial candidate Stacey Abrams. More stops are already in the works.
Harris heading to Iowa is the latest sign that the cutesy denial stage of the 2020 race is ending for the expected top tier: Last weekend,  Senator Elizabeth Warren of Massachusetts acknowledged openly for the first time that she is thinking about running for president, and Senator Cory Booker of New Jersey is scheduled to be in Iowa for his own debut swing this weekend, which he'll follow with a trip to South Carolina later in the month. An Iowa poll earlier this week had Warren in second place for name ID, behind former Vice President Joe Biden and just ahead of Senator Bernie Sanders of Vermont. Harris was right behind, in fourth place, narrowly ahead of Booker.
Harris's spokeswoman Lily Adams declined to comment on the Iowa trip and the other travel. Like several other prospective presidential candidates, Harris and her team have been developing pieces that could be activated if she decides to run. She's finishing a memoir that will be out early next year and has been meeting with donors and other people who would be crucial to putting together a campaign after only two years in the Senate and in a primary field that could number a dozen or more Democrats.
All of this political planning has been while Harris leans into breakthrough moments in committee hearings. The viral reactions from her prosecutorial questions during those hearings played a significant role in making a serious White House campaign seem actually possible, people close to her have acknowledged. Brett Kavanaugh's confirmation hearings were, of course, the highest-profile moment yet—punctuating her opposition with a dismissive "nope" when asked last week for her vote on advancing his nomination to the Senate floor.