John Kerry Is Pushing Back Against Trump
The former secretary of state couldn't resist baiting the president in a tweet defending the Iran nuclear deal.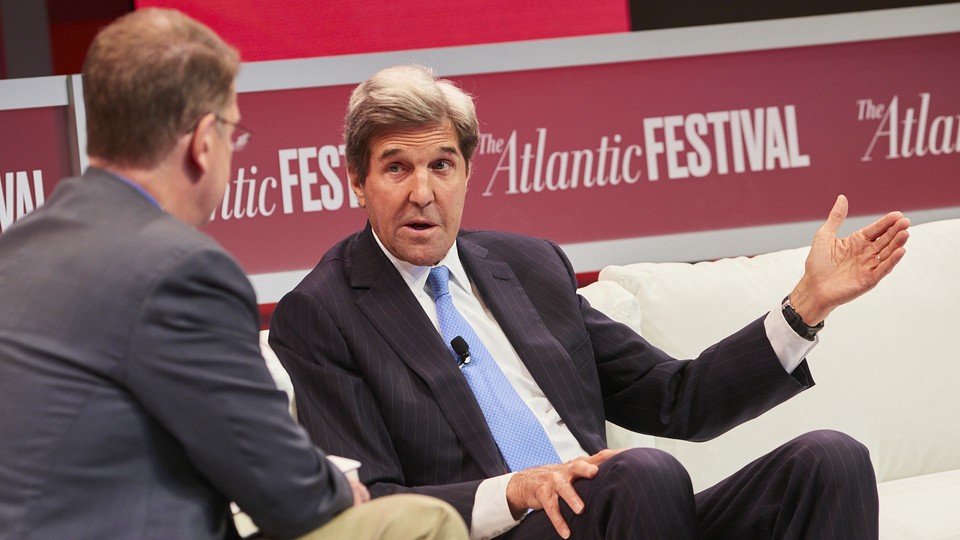 Whether it's speaking out against President Donald Trump, working to keep the Iran nuclear deal alive, or encouraging voters to participate in a "course correction" this November, former Secretary of State John Kerry says he's still in the game.
"I don't consider myself gone," Kerry replied when The Atlantic's Steve Clemons asked him at The Atlantic Festival whether he was mulling a return to politics. "I'm not ruling out running for office," said Kerry, the Democrats' 2004 presidential nominee. "But I'm focusing now on getting out the vote."
"When we are involved, when we hold politicians responsible and are engaged, then we can make things change," Kerry told a packed auditorium. "Right now we need to restore our democracy in our own country, get rid of money in our politics, and eliminate gerrymandering." The system, he added, is "fixed—and people know it's fixed."
In the brief but wide-ranging conversation, Kerry also defended some of the Obama administration's most controversial foreign-policy achievements, including the Joint Comprehensive Plan of Action—known colloquially as the Iran nuclear deal—and the decision to work with Russia to destroy Syrian President Bashar al-Assad's chemical-weapons stockpile. He denied that any of those deals were rooted in naïveté or blind trust. "Our policy was 'Don't trust, but verify,'" he said, riffing on Ronald Reagan's famous "Trust, but verify" mantra.
Still, some have been critical of Kerry's seemingly cozy relationship with Iran's foreign minister, Javad Zarif, whom he has sat down with "three or four times" since leaving office last year. Trump called those meetings "illegal" in a tweet last month, and Kerry said on Wednesday that while he usually views responding to Trump as "a waste of time," he couldn't help but respond.
"Mr. President, you should be more worried about Paul Manafort meeting with Robert Mueller than me meeting with Iran's FM," Kerry tweeted, referring to the president's former campaign chairman who is now cooperating with the special counsel's office in the Russia investigation. "But if you want to learn something about the nuclear agreement that made the world safer, buy my new book, Every Day Is Extra."