Jamal Khashoggi's Friends in Washington Are in Shock
The Saudi journalist, allegedly murdered in Istanbul, is mourned by friends and associates who knew him here in exile as more of a Saudi patriot than a dissident.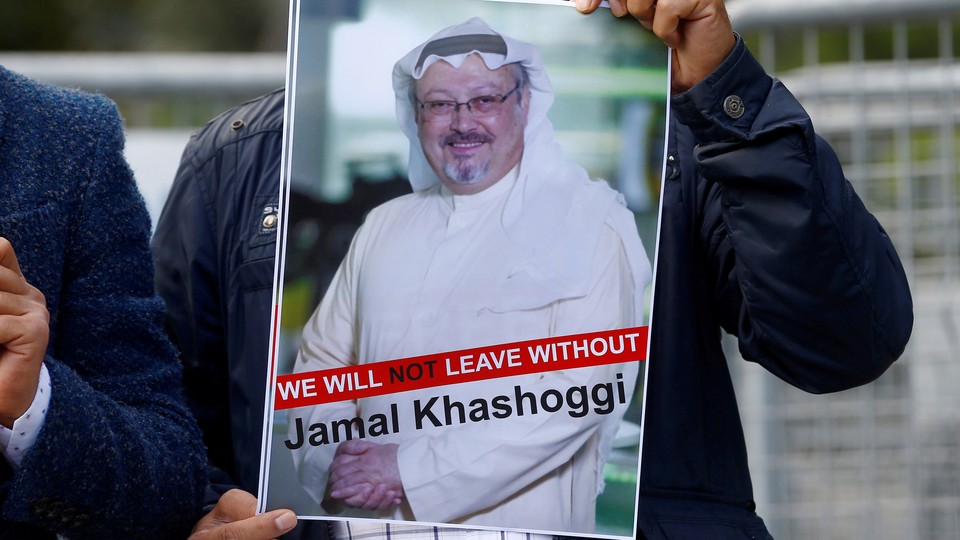 Karen Attiah knew Jamal Khashoggi's name and face. She saw him constantly on TV, heard him on the radio, and read his name quoted in countless articles. But it was only after she edited his first column in The Washington Post that she came to understand that he was living just a few miles away from The Post's newsroom, in exile from Saudi Arabia.
Khashoggi had lived in Washington before, and quickly plugged back into a large circle of friends, associates, and acquaintances. His criticism of Saudi Crown Prince Mohammed bin Salman and newly elected President Donald Trump made life in his homeland risky and, ultimately, untenable in the summer of 2017.
Now, with Khashoggi allegedly murdered by a Saudi assassination team inside the Saudi consulate in Istanbul, Attiah and others are left mourning the big, burly, generous man they came to see as more of a heartsick patriot than an angry dissident. Which, they say, is also the way he saw himself.
Hardly a household name in the United States, Khashoggi had 1.69 million followers on Twitter and was widely known in Middle East circles as an editor and a journalist unafraid to call out what he saw as the crown prince's misguided policies. He was last seen more than a week ago entering the consulate in Istanbul, where he had gone to get a document he needed to certify his divorce and marry his Turkish fiancée.
Khashoggi's intellect, intimate style, and principled ferocity were evident in that first Post column, which appeared on September 18, 2017:
When I speak of the fear, intimidation, arrests and public shaming of intellectuals and religious leaders who dare to speak their minds, and then I tell you that I'm from Saudi Arabia, are you surprised? With young Crown Prince Mohammed bin Salman's rise to power, he promised an embrace of social and economic reform. He spoke of making our country more open and tolerant and promised that he would address the things that hold back our progress, such as the ban on women driving. But all I see now is the recent wave of arrests. Last week, about 30 people were reportedly rounded up by authorities, ahead of the crown prince's ascension to the throne. Some of the arrested are good friends of mine, and the effort represents the public shaming of intellectuals and religious leaders who dare to express opinions contrary to those of my country's leadership.
His friends and colleagues describe him as a man of great humility and generosity. "He was one of those guys that we all knew who he was, and we all wanted to drink from his wisdom," Sigurd Neubauer, a Middle East analyst based in Washington, said in an interview Wednesday. "I got to know him shortly after he had moved to D.C., and what struck me with Jamal was his availability to everybody. Everybody who was interested in Saudi Arabia or in the region, he would make himself available to them. It didn't matter whether you were the top of your field or whether you were somebody like myself who is a mid-level analyst."
Whether he was eating breakfast with Neubauer at Le Pain Quotidien in Tysons Corner, guest lecturing at a friend's college class, or meeting new faces around D.C.'s foreign-policy circuit, Khashoggi had a passion for his work that underscored every conversation he had. Friends note that his demeanor was always soft and humble, never braggadocious. But when he started talking about important policy issues affecting the Middle East, his demeanor would become very serious.
Khashoggi, his friends said, had an academic approach to the issues he covered—always seeking to challenge his preconceptions and meet with people he may have disagreed with. He was, in a word, open-minded.
"He regularly met with people advocating the Saudi and [Mohammed bin Salman] position in Washington," Neubauer said. "He regularly met with them and engaged with them. On a personal level, it seemed that there was no acrimony between them. They knew him, he knew them, and that was the end of it. It wasn't like he was just hanging out with the echo chamber of Washington policy people or journalists. He engaged people that disagreed with him, and that was so remarkable."
Mike Franc, the Hoover Institution's director of D.C. programs, liked that Khashoggi wasn't trained in, or devoted to, much of the traditional philosophy of state building or what makes a democracy tick. Franc also valued Khashoggi's tempered and nuanced approach to politics.
"I don't recall he ever said anything mean about a person—even MbS. He never uttered a nasty word about him," Franc told me, referring to the crown prince by his initials. "He was critical in a very clinical sense and in a sad way. You know, he was sad for the direction this is taking his country that he loves, and there were no gratuitous moments where he would just utter a bunch of expletives about a situation when he easily could have."
Franc's partner, Maggie Mitchell Salem, the executive director of the Washington-based Qatar Foundation International, had been very close with Khashoggi since 2002. But they had grown even closer since he'd returned and moved just a few miles away, in Northern Virginia. Khashoggi's first tour in Washington had been from 2005 to 2007, when he served as media adviser to Prince Turki al-Faisal during the prince's tenure as Saudi ambassador to the U.S.
Indeed, Khashoggi's disappearance and alleged demise at the hands of what a Turkish official has described as a Saudi execution squad is all the more chilling, given his years of service as a privileged insider. While never one to go along to get along—he was fired by the Saudi government as editor of Al Watan in 2003—he immediately went on to serve under Prince Turki al-Faisal, the former Saudi intelligence chief, in London before moving with him to Washington. He then became the editor of Al Watan again in 2010—only to be fired again.
"I often say that the only thing that's black-and-white about the kingdom are the clothes that you see people wear," Mitchell Salem said. "Everything is so, it's so richly textured … It's just that people don't understand that complexity. And so you know, imagine you've been fired by the king and your next job is to be a media adviser to the former intelligence minister, who is ambassador in London. In what world does that happen? You know, in Arabic, the word is eadi …'It's normal.'"
After Donald Trump took office in January 2017, Khashoggi told The Washington Post that believing the newly elected president would bring stability to the region was "wishful thinking." He called Trump's stance on Middle East issues "contradictory" in a speech to the Washington Institute for Near East Policy. That might seem like tepid criticism to an American, but Trump's allies in Saudi Arabia saw it as much more.
Before Khashoggi left Saudi Arabia for good and came to Washington in September 2017, the Saudi government had shut down his Twitter account and banned him from all public media. He lost his column in Al-Hayat, he stopped appearing on radio and TV, and he stopped speaking at conferences. "His silence was deafening," Mitchell Salem said.
She remembered the pained look on Khashoggi's face at a dinner party in London two months earlier as he no doubt contemplated the decision he was about to make: fleeing his home country for the right to speak his mind in America. Even the date seemed prescient: July 4, 2017.
"This is the juncture," she said, expounding on his conundrum. "To keep quiet, to sit in his house in Jeddah and smoke cigars, to say nothing. Or speak and go to jail. He had been warned by his friends that he needed to leave. And so he went to London to weigh his options: Either he was going home, going to Istanbul, or going to the U.S."
Mitchell Salem spoke to me by cell phone from an Acela train northbound to New York, where she would see two of Khashoggi's adult children. Her voice shook as she remembered the past year, when he became a regular presence at dinners in Washington. She and her friends took the initiative to build a family around him, she said, understanding that his new life must have been lonely. His marriage had recently ended, his family was spread out around the world, and he was living alone in Tysons Corner. He talked about his children and how proud he was of them. He told Attiah, The Post's global opinion editor, that he was depressed at times.
Mitchell Salem recalled a trip she made with him to Men's Wearhouse shortly after his arrival in Washington last year. He had agreed to appear at the Brookings Institution's U.S.-Islamic World Forum in New York. "We're in Men's Wearhouse, and I was like, 'Jamal, maybe you should get two jackets … one casual, one—' He said, 'Maggie, I'm a minimalist. I don't want to have a lot of things.'"
He drove to the conference with Mitchell Salem, Franc, and an acquaintance of Mitchell Salem's who was in town from Doha. On the way, they all helped Khashoggi prepare to be interviewed by the BBC. "There was something about his Saudi accent that precluded the proper pronunciation of the word Orwellian," Franc recalled. "We had this stupid belly laugh, all of us trying to get him to say Orwellian." He needed the word for a certain point he wanted to make.
When the time came, they stopped on the side of the road on a hot day, turned off the air conditioning to make the car as quiet as possible, and let Khashoggi do the interview.
His life in exile was filled with journalists, diplomats, and think-tank experts with similarly fond memories.
Kristian Coates Ulrichsen, a Khashoggi friend who works as a Middle East fellow at Rice University's Baker Institute for Public Policy, offered what became a common observation: that he deeply loved his homeland. "My impression was that Jamal remained a Saudi patriot to the end, and that any sense of freedom he felt at living in Washington and being able to express himself was tempered by a sense of concern at the path that he saw Saudi Arabia's new leadership going down," Ulrichsen said. "Jamal spoke out about his country out of a sense of civic and patriotic duty and not because he wanted to see the crown prince fail; rather, he felt the crown prince and those around him were making mistakes, and was hoping that they would be able to learn from them."
Attiah, his editor at The Washington Post, made the same point in a column she wrote last week. Since his disappearance, she has been indefatigable in telling his story. Between cable-news appearances, radio interviews, and her own work, she said she still hasn't had time to decompress (she took Thursday off, she told me, though we spent 45 minutes talking in the morning on the phone). She has gone back through her WhatsApp messages with Khashoggi, but until now she hadn't looked through her initial emails with him.
He told her that it was painful for him to write that first piece for her, and that he never thought Saudi Arabia would go the way of Egypt "with intimidation, lies, and hate," she said, reading one of his first emails to me.
The two met in person not long after, in October of last year. They would often go to lunch at Pennsylvania 6, a restaurant across Franklin Square from the Washington Post building. They talked about work, and Khashoggi would invite Attiah to dinners and parties with his friends. He asked her to go with him to see Victoria & Abdul, a biographical drama about Queen Victoria and her Indian Muslim servant—he loved movies. She persuaded him to write about Black Panther and what Saudi Arabia could learn from the fictional land of Wakanda.
Attiah rejoiced recently when she got a deputy to help her with her workload. "I was juggling a lot at the time … but I was like, great. Now I have time to focus on Jamal," she said, tearing up as we talked. "He was one of the ones that, I thought, I'd have more time for him."
His last column for Attiah ran in The Post on September 11. It was about Saudi Arabia's costly role in the war in Yemen, and he held Crown Prince Mohammed bin Salman accountable:
Saudi Arabia must face the damage from the past three-plus years of war in Yemen. The conflict has soured the kingdom's relations with the international community, affected regional security dynamics and harmed its reputation in the Islamic world. Saudi Arabia is in a unique position to simultaneously keep Iran out of Yemen and end the war on favorable terms if it change its role from warmaker to peacemaker. Saudi Arabia could use its clout and leverage within Western circles and empower international institutions and mechanisms to resolve the conflict. However, the window for achieving a resolution to the conflict is rapidly closing.
If Khashoggi was, in fact, murdered, his death is a tragedy, an international crime, a threat to a free press and democracy everywhere. But to those who knew him as a person, the loss is even more tragic—deeply felt, shocking, incomprehensible.
Khashoggi's silence is deafening.